College Football: 25 Major Schools That Have Never Won a Championship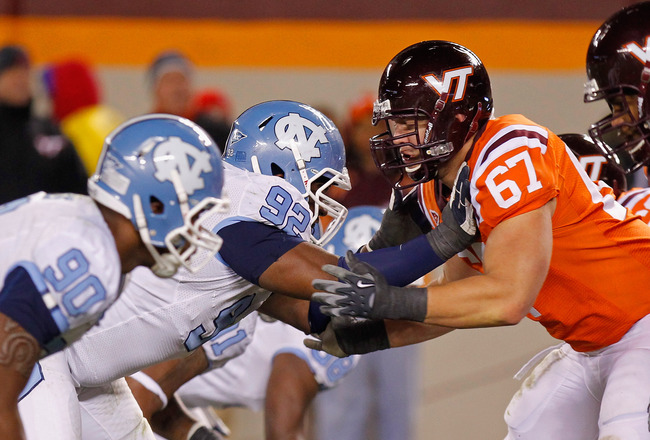 Geoff Burke/Getty Images
Many prestigious programs in college football have had their chances to compete for and win a national championship, but could not get the job done.
A few famous programs have never even contended for a title. It may surprise you that some of these teams have yet to win a national championship, whereas others may not shock you.
Without further ado, here are 25 college football programs that have never won a national championship.
Note that the Heisman wasn't rewarded until 1935, and 1926 was technically the first season where college football attempted to recognize a clear-cut national champion.
Boston College Eagles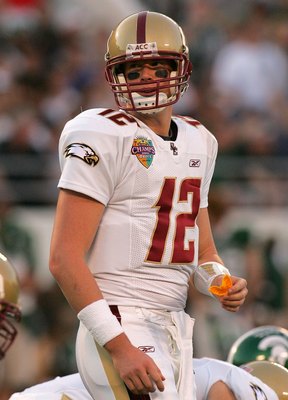 Sam Greenwood/Getty Images
John Dunlap gave Boston College an 8-1-1 record in 1899, but BC has not had many opportunities to compete for national championships.
The 1920 team went undefeated at 8-0, but there were no clear-cut champions during the '20s. In 1940 the Eagles went undefeated again at 10-0 (including a 19-13 Sugar Bowl victory over Tennessee). They finished fifth in the Associated Press Poll, as Minnesota was rewarded the national championship by the voters.
Doug Flutie put together a few magical runs. The best one came in 1984, but the squad ended at only 10-2.
A solid football program and tremendous university is still waiting for that first ever national championship.
Washington State Cougars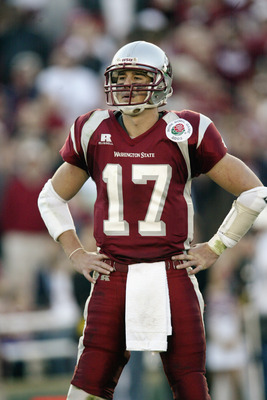 Scott Halleran/Getty Images
The Cougars were undefeated in 1917, but Georgia Tech was awarded the national championship. Washington State won the Pacific Coast Conference that season, and they have since taken three more conference tiles (1930, 1997, 2002).
In 1930, Wazzu went undefeated during the regular season, but they were taken to the woodshed by Alabama in the Rose Bowl, 24-0.
In 1997 they won their conference again, but are best known for losing to Michigan and Heisman Trophy winner Charles Woodson, 21-16.
Ryan Leaf was a star that season, but WSU came up a play short (596 Switch) to the Wolverines, and also lost to ASU earlier in season. A 10-2 season was tremendous, but it wasn't until 2002 that they would have another chance to shine.
Jason Gesser led Washington State back to a Rose Bowl appearance, but they ended up with three losses (10-3). Forget about the Cougars contending for a future national championship, will they compete for a conference title in the next five years?
Arizona Wildcats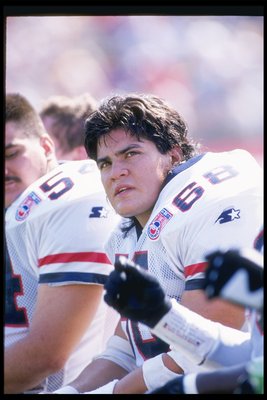 Otto Greule Jr/Getty Images
This shouldn't come as too much of a shocker, since the Wildcats have never been to a BCS bowl and only a couple of prime-time games ever.
A few trips to the Fiesta Bowl in 1994 and 1979 were when the 'Cats were at their best, but the program has never run the table. It was the 1993-1994 season under Dick Tomey where they finished in the top ten of both polls thanks to a 29-0 beatdown over the mighty Miami Hurricanes.
Their luck has not been as fortunate in recent memory, as the team is just trying to remain relevant in their own conference, let alone the national stage.
Utah Utes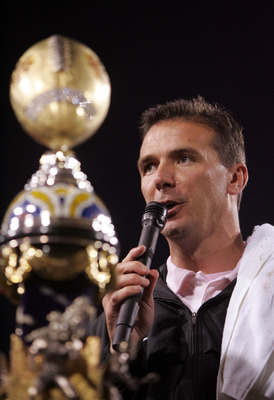 Jeff Gross/Getty Images
Urban Meyer gave them their shining moment in the 2004-05 season which was topped off by a Fiesta Bowl massacre of Pittsburgh (35-7).
Meyer went 22-2 in his two seasons with the Utes, but Kyle Whittingham has since done a marvelous job with a respectable 66-25 record. Can he put the Utes into Pac-12 and eventually national contention?
That is a question that Ute fans would love to see answered, since they came so close as non-automatic qualifiers.
Texas Tech Red Raiders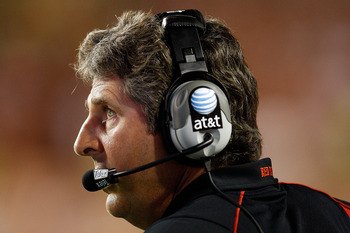 Ronald Martinez/Getty Images
The Red Raiders have never run the table, and they are still looking for their first national championship.
That is not to say they have not achieved anything throughout their storied years as a program from the Big 12 (SWC, Border, Independent).
The closest Tech has been in recent memory was in 2008, where infamous quarterback Graham Harrell threw the game-winning touchdown pass to Michael Crabtree against Texas, knocking the rival Longhorns out of the BCS National Championship. Texas would have to watch Oklahoma ultimately lose to Florida.
Unfortunately, Texas Tech lost to Ole Miss in the Cotton Bowl to finish just outside the top ten.
Mississippi State Bulldogs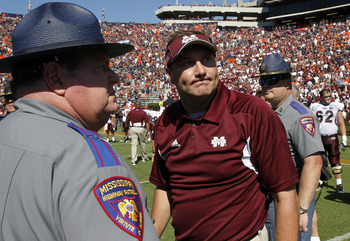 Butch Dill/Getty Images
Dan Mullen has changed the culture a bit in Starkville, but he is going to have a do hell lot more if ever wants to pull a near-miracle and win the SEC.
The last and only SEC title for the Bulldogs came in 1941, but many fans believe that they had a major claim to a national title in 1940 (10-0-1).
Minnesota was given the national title instead that season, and the Bulldogs still look to a future date to stand on top of the mountain.
North Carolina State Wolfpack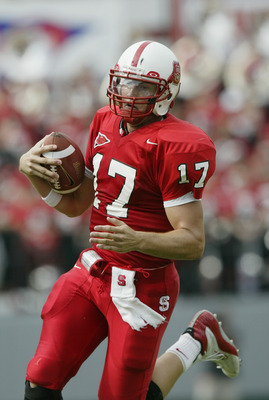 Craig Jones/Getty Images
The Pack has never had an undefeated season in which it avoided a tie, but the program has had its fair share of conference titles.
It's 11 at the moment (7 ACC), and Tom O'Brien is hoping he can bring another conference crown back to Raleigh before it is too late.
The 2002 season was the last in which North Carolina State was relevant, as the team went 11-3 and finished just outside the top ten in the final polls (11th and 12th).
Oklahoma State Cowboys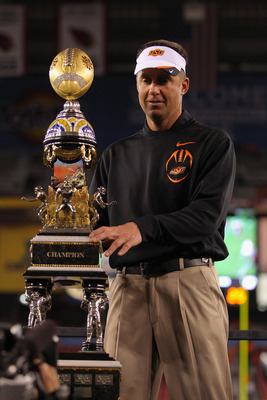 Doug Pensinger/Getty Images
Barry Sanders is the lone Heisman winner from Stillwater, but the 'Pokes do have nine conference titles. Having the bagel for that vital trophy is something Sanders' former quarterback is still attempting to accomplish.
Mike Gundy and his Cowboys came so darn close last season, and had it not been for a bad overtime loss on a Thursday night to Iowa State, perhaps they would have earned their first ever title.
Since 1988 when Barry Sanders won the Heisman, Oklahoma State hasn't exactly owned the national landscape. However, Gundy has now won 23 games in two seasons, and some firmly believe he will give them that coveted national championship.
Missouri Tigers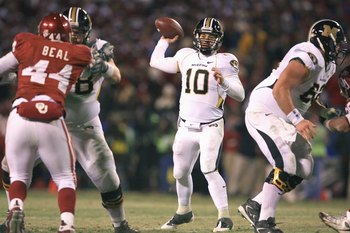 Jamie Squire/Getty Images
Heading off to the SEC is something I would never attempt to do with my program, unless of course I was a dominant BCS team that takes no prisoners.
Similar to former Missouri squads (15 conference titles, 12 Big Eight), the Tigers are trying to make the national scene while heading to their first season in the SEC.
While in the Big 12, Mizzou's best opportunity was easily when they were ranked number one in the land before they were trounced by Oklahoma in the 2007 Big 12 title game.
Don Faurot and Dan Devine were icons as coaches, but as great as they were, they could not find a way to win a national title for Tiger Nation.
South Carolina Gamecocks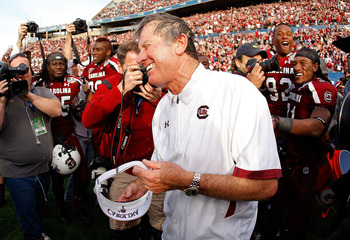 Mike Ehrmann/Getty Images
Before Steve Spurrier took over, the Gamecocks had never won more than 17 games in consecutive seasons. Lou Holtz had done so in 2000 and 2001, but that was the best the program had ever seen.
The football program is back and better than ever, as Spurrier has won 20 games over the last two seasons.
Unfortunately, the SEC as a conference is the best in the business, so they will need a few more magical moments if they expect to get another crack at an SEC Championship.
If they can find a way to go 11-1 or 12-0 and beat out Georgia in the East, they would technically be just one win away from a BCS title appearance.
Oregon Ducks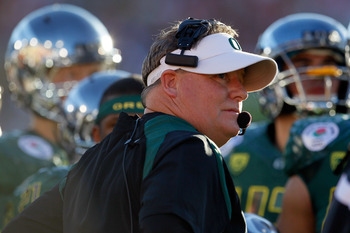 Jeff Gross/Getty Images
The year was 1894 when the Oregon Ducks started competing, but they have only appeared in three Rose Bowls since 1959 (1-2, 2-4 overall).
Oregon had a chance at their first ever national championship two seasons ago, when they had Auburn right where they wanted them. A time-expiring field goal did them in, but the program hasn't gone anywhere.
By that, I mean they will be contending for a ton of Pac-12 and BCS titles in the near future. The only question is whether or not Chip Kelly's offense is the perfect recipe to knock off a likely SEC champion.
Boise State Broncos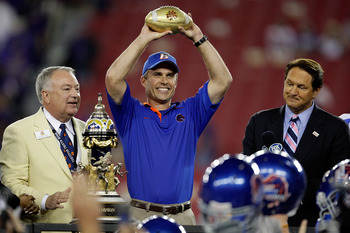 Jamie Squire/Getty Images
The Broncos won the 1980 I-AA National Championship over Eastern Kentucky, but we are talking FBS titles here.
It was 1996 when the Broncos started their journey to becoming FBS juggernauts for the non-automatic qualifiers. They started out in the Big West before moving to the WAC, and eventually headed to the Mountain West.
In 2006 and 2009, as many of you should still remember, the Broncos were flawless. They went undefeated with Fiesta Bowl victories to cap off their seasons. However, competing outside of a BCS conference ended up costing them an appearance in the BCS National Championship.
Heading off to the Big East in the 2013-14 season, Boise State may finally get a fair crack at their first ever FBS national championship.
Miami Ohio Redhawks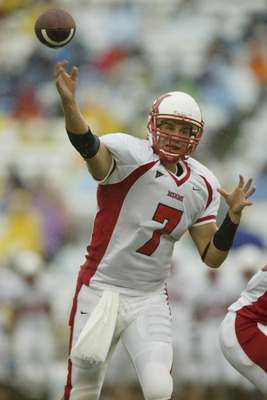 Craig Jones/Getty Images
This program will forever be known as the "Cradle of Coaches," and their 22 conference titles back up their success.
However, they have never won a national title, despite having an undefeated season in 1970 (10-0).
In fact, they finished that season at No. 15, despite running the table, and have since struggled to finish anywhere close (besides finishing No. 10 in 2003 with Big Ben).
Arizona State Sun Devils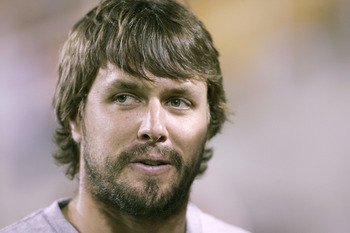 Donald Miralle/Getty Images
It was just 1975 when the ASU Sun Devils went undefeated, including a Fiesta Bowl victory over Nebraska.
However, ASU was rewarded with just the number six ranking in America, and never had a chance to play for the national title.
Since then there have been a few classic moments that fans in Tempe would prefer to forget about. It was in the 1997 Rose Bowl where ASU was undefeated and had the Buckeyes' number, or so it seemed.
They came up just short (20-17) with Jake Plummer as their quarterback, and have failed to become a dominant national title contender since.
West Virginia Mountaineers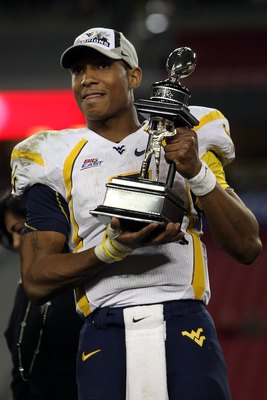 Stephen Dunn/Getty Images
The Mountaineers have a storied program, make no mistake about it.
However, their program would obviously be far better off with a national title. Their lone chance came against Notre Dame in 1988 (1989 Fiesta Bowl), where they lost 34-21.
West Virginia has had a few chances down the road, like 2007, where WVU was one home win away from playing in its first-ever BCS National Championship Game.
It was the Backyard Brawl, and Pittsburgh ruined their chances by completely bottling up Pat White. They lost 13-9, and had to settle for a Fiesta Bowl victory over Oklahoma (48-28) as they finished the season ranked sixth.
Virginia Tech Hokies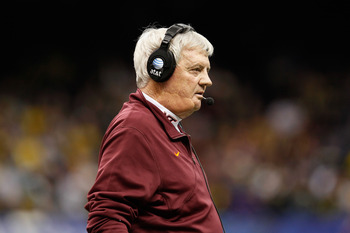 Kevin C. Cox/Getty Images
Frank Beamer has been as consistent a coach as we have seen in the recent history of college football, but his boys have never won that coveted national title.
In 1999 they had the sensation known as Michael Vick at quarterback, and he took the Hokies all the way to the title game before they ran into the buzzsaw known as Florida State, 46-29.
The game was much closer than the scoreboard indicated, and although they have played in five more BCS games, they have not been close enough to compete for a national championship.
Wisconsin Badgers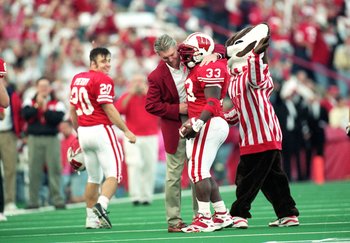 Matthew Stockman/Getty Images
The classic 1962 Rose Bowl defeat to USC cost the Badgers a national title, and there have not been any chances since.
Many were realistically hoping that Russell Wilson might bring a title back to Madison this past season, but they were only able to appear in Pasadena instead.
Brett Bielema is the man in town, and there should not be much hatred going around since he has brought them to national prominence.
Cincinnati Bearcats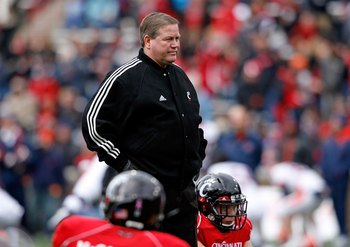 Andy Lyons/Getty Images
Despite claiming 11 conference titles, the Bearcats have never come close to garnering a national title outside of their 2009 season under Brian Kelly.
They missed out on the title game, and were romped by Tim Tebow and the Florida Gators in the Sugar Bowl, 51-24.
They are hopeful, however, that Butch Jones can give them another crack at a national championship.
Purdue Boilermakers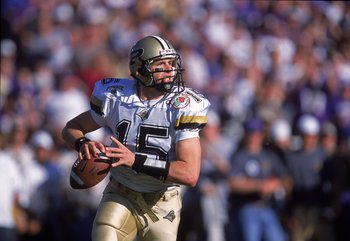 Stephen Dunn/Getty Images
Boiler Up!
Purdue has claimed 12 conference titles and has landed 19 All-Americans. They are well-known as QB U (Cradle of Quarterbacks) since they have produced so many NFL signal-callers.
However, that has not translated into any appearances for a national title in the Big Ten. Purdue is often the underdog, as they have knocked off the top ranked team in the country more times than any program in the FBS not named Notre Dame or Oklahoma.
Dan Hope hopes to not play the underdog role anymore, as he would much rather become a top dog before his time is up in West Lafayette.
Louisville Cardinals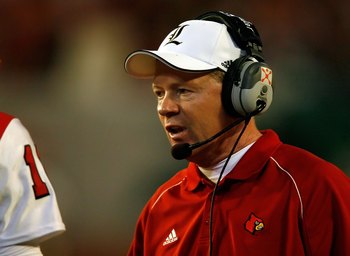 Eliot J. Schechter/Getty Images
The 'Ville was a place that many successful and or famous coaches have been to. Frank Camp coached the Cardinals to a 7-0-1 record, and he eventually coached Johnny Unitas as his quarterback.
It never led to a national championship. Lee Corso, Tom W. Alley, Vince Gibson, Bob Weber, Howard Schnellenberger, Ron Cooper, John L. Smith and Bobby Petrino could not find a way to give them a title, either.
The closest Louisville came was when Petrino was the coach in 2006. They lost a thriller to Rutgers which cost them a shot at the BCS National Championship (12-1).
Steve Kragthorpe took over after Petrino had a short stint with the Atlanta Falcons, and now Charlie Strong is the man in charge of attempting to bring the Cardinals back to national contention.
Vanderbilt Commodores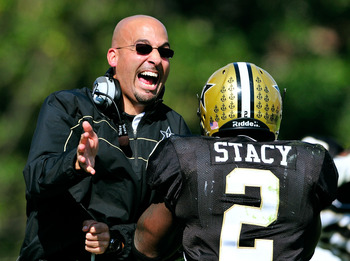 Grant Halverson/Getty Images
Sure, the Commodores do not come to mind when talking about national title contenders. However, they have won 13 conference titles (none in SEC) and their best chance to win a title was in 1922.
Vanderbilt was essentially flawless, going 8-0-1, but college football rewarded Princeton (CFRA), California (NCF) and Cornell (HAF) the title.
The Commodores have now gone to consecutive bowl games, and while nobody will be expecting them to compete for an SEC title, James Franklin has a chance to continue to build this program.
Indiana Hoosiers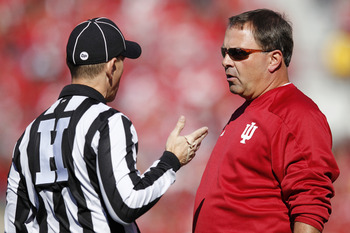 Joe Robbins/Getty Images
So many prestigious basketball programs do not have the swagger or power to do the same in college football. Indiana football has not been successful, but nearly every team from the Big Ten has had a run in which they have shined brightly.
Indiana is still waiting to get their shot in the spotlight, but Kevin Wilson is expected to at least put them in bowl contention.
If he cannot get the players, it may be a while before Indiana ever contends for a Rose Bowl berth, let alone a BCS National Championship.
Kansas Jayhawks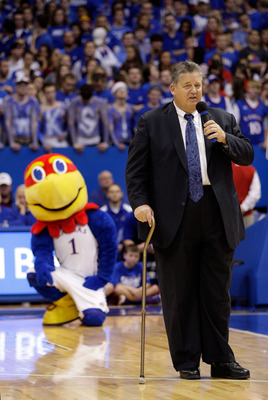 Jamie Squire/Getty Images
The Rock Chalk Jayhawks have claimed eight conference titles, but their all-time record (573-570-8, 50.1 percent) indicates that they have not come that close to contending for a national title.
Fielding Yost did coach Kansas to an undefeated 10-0 record in 1899, but it was Harvard and Princeton who were rewarded (they did not have clear-cut champions).
Kansas' greatest coach in terms of a tenure had to be Mark Mangino, and what he gave the program was nothing short of a dream come true.
Kansas nearly won the Big 12 in 2007, as they went 12-1. It included an Orange Bowl victory over Virginia Tech, and KU finished the season ranked ninth.
Duke Blue Devils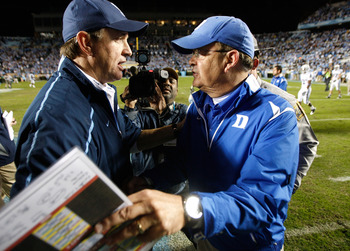 Streeter Lecka/Getty Images
The Dukies have claimed 17 conference titles (10 with ACC), but they have received hardly any love from the media. They have not gone to a bowl game since the 1995 Hall of Fame Bowl against Wisconsin.
They had 8-4 seasons in both 1989 and 1995, but the Blue Devils are one of the few teams on this list that have never had a legit chance at a national championship.
Stranger things have occurred, but it may be a long time before Duke has half as popular a football squad as their basketball teams.
North Carolina Tar Heels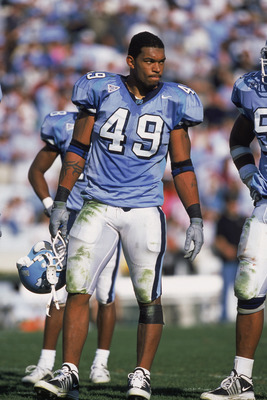 Craig Jones/Getty Images
Arguably the greatest basketball program out there—minus that team from Lexington—North Carolina has had a bunch of superstars on their football team (Lawrence Taylor, Julius Peppers).
It was in 1980 that the Tar Heels finished tenth in the final polls, but they were just 10-2.
As great of a team as 1980 squad was (including a Bluebonnet Bowl victory over Texas), they did not compete for a national title.
When will their time come?
Many are hoping Larry Fedora is the guy to take them to that next level, but they need to develop more superstars on offense and pray that their recruits pan out and get coached up a bit on defense.
Keep Reading