Miami Heat vs. Dallas Mavericks: Live Blog, Analysis and Reaction
March 29, 2012

Ronald Martinez/Getty Images
Considering how these two teams faced each other in the NBA Finals last year, with Dallas winning in six games, this game was ridiculously one-sided.  With some great defense and some clutch baskets from everyone, the Heat beat the Mavericks to win their 15th consecutive home game.
The Heat needed this win after losing two straight by wide margins.  Head coach Erik Spoelstra mentioned in a sideline interview that the team was looking to find its "identity" again, and the way they played the game tonight, they did that and more.  Yet, this is the last time that LeBron & Company should get cocky, as four of Miami's next five games come against playoff-caliber teams.
Speaking of LeBron, what a game he had!  Even with a dislocated finger, he managed to score 19 points while pulling down nine rebounds and dishing out five assists in the win.  He and his team also played some great defense as they stole the ball from Dallas 10 times and forced 15 turnovers.
These teams don't face each other again for the rest of the year, but after this game, I'm sure Dallas really wants a rematch in the Finals.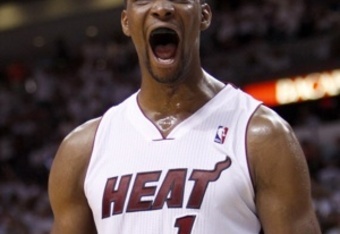 PLAYER OF THE GAME: Chris Bosh.  His 19 points and nine rebounds may seem modest, but he exhibited great toughness in every minute he played.  On top of that, he drained a rare three-pointer in the first quarter and did everything he had to do to keep his team in the game.
Thanks for watching tonight and following along, folks.  See you for the next game!