2012 MLB Predictions, AL West: Will Pujols and the Angels Place First in 2012?
March 30, 2012

Christian Petersen/Getty Images
The American League West was one of the most active leagues this offseason, if not, the most active. The AL West managed to scoop up the top two international free agents in Yu Darvish (Texas Rangers), and Yoenis Cespedes (Oakland Athletics).
Couple those acquisitions with the Angels free-agent shopping spree and the Seattle Mariners acquiring one of the games best young players in Jesus Montero, and you have a pretty exciting offseason, to say the least.
It is arguable that every team in the AL West improved this offseason, and the division will look to prove that this season. It looks as if the division is a bit top-heavy, but Oakland and Seattle will look to change that. But for now, all eyes will be on the Texas Rangers and the Los Angeles Angels. Those two teams will seemingly duke it out for first place.
1. Texas Rangers
The Texas Rangers made their second straight World Series appearance last season—only to lose again. It was a painful finish to a great Rangers season, and Nolan Ryan was determined to help push his team over the top this offseason.
However, things didn't start off so good for Texas this offseason. C.J. Wilson chased the money that the Angels offered him, and Texas ended up losing their ace for the second straight year. Ryan didn't let that get to him though; he went made a hard pursuit for Japanese phenom Yu Darvish.
Darvish is said to be the best pitcher to ever come out of Japan, and it isn't even fair to compare him to the likes of Daisuke Matsuzaka and Kei Igawa. Darvish is in a whole different league than these pitchers.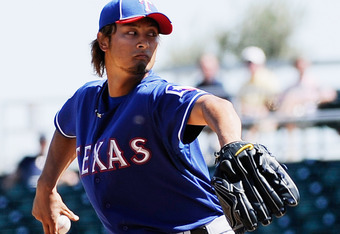 Kevork Djansezian/Getty Images
A strong season from Darvish could help the Rangers get back to the World Series, and possibly win it this time.
It is also no secret that the Rangers have a high-powered offense. Players like Josh Hamilton, Ian Kinsler, and Nelson Cruz are big boppers who can change the game with one swing. Pair them with young speedsters like Elvis Andrus and Julio Borbon, and you have yourself a lethal lineup.
The Rangers have the best lineup in the AL West from top to bottom, and their pitching rotation doesn't fall too far behind. With that said, the pitching rotation can really hurt Texas this season. It is filled with a slew of unproven pitchers, and it looks like it will be "all or nothing" this season.
Good defense and a strong bullpen will help Texas no matter what, and if the pitchers don't perform, the lineup will still give the team a chance to win every day. This is a very talented team with a great blend of youth, experience, talent and hunger. Expect the Rangers to make a run at their third straight World Series, and possibly earn a trophy this go-around.
Key Pitcher: Yu Darvish
Key Batter: Julio Borbon
Percent Chance That They Win The AL West: 40 percent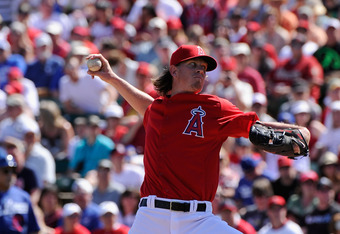 Kevork Djansezian/Getty Images
2. Los Angeles Angels
The Los Angeles Angels had the biggest offseason in all of baseball. They hauled in the best player in MLB, Albert Pujols, and managed to lure in a top-notch pitcher in C.J. Wilson. They had money to spend and spend it they did.
Los Angeles is far from invincible though. Their lineup has a couple of holes, and Albert Pujols can't do all the work. Howard Kendrick is very talented and he should perform this season, but not many other players are as good with the bat as those two.
Alberto Callaspo and Erick Aybar are unproven, while Vernon Wells and Torii Hunter aren't getting any younger. Bourjos is exciting, but he is still very young and can go either way this season. Kendrys Morales can provide this team with a huge offensive spark though.
Morales has been working his way back from that freak injury during his walk-off home run celebration. If he can put together a relatively healthy season, then he will elevate the Angels lineup to another level. Prospect Mike Trout also has the potential to do that.
Trout will most likely play a big part with Los Angeles sometime during the season, and if he performs up to his potential then he will definitely help this team greatly.
The Angels will have to hope for a lot to happen on offense, but they should be perfectly fine when it comes to their pitching. The starting rotation possesses three aces in Weaver, Haren and Wilson. Ervin Santana and Jerome Williams are also pretty good pitchers themselves.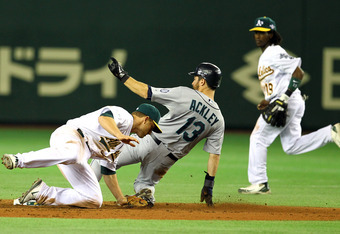 Koji Watanabe/Getty Images
The rotation will give LA a chance to win every night and it will greatly help their playoff hopes. 
If Ervin Santana can pitch up to his potential, the Angels will have a supreme pitching rotation. It might even be as good as Philadelphia's rotation.
The Angels bullpen isn't a strength or a weakness. Jordan Walden will be relied upon heavily this season, and if he can build on his strong rookie campaign, then the Angels will be overjoyed. Scott Downs and Latroy Hawkins are great options for the end of the game, but the bullpen depth ends there.
This Angels team will be extremely competitive this season, and will contend with Texas for most of the season, but I believe that the Rangers are just a bit better than L.A. The Angels will need a few things to right for them if they are going to win this division in 2012.
Key Pitcher: Ervin Santana
Key Batter: Kendrys Morales
Percent Chance That They Win The AL West: 35 percent

3. Seattle Mariners
Seattle's true strength lies behind Felix Hernandez. The presence of a true ace helps any team greatly, and Hernandez is no exception to that. Hernandez guarantees his team a chance to win every five days, and that is a luxury that every team does not have.
The pitching behind King Felix is average at best, but it has potential. Jason Vargas won't blow anybody away with his skills, but he has the potential to become a solid back of the rotation starter for a contending team. The problem is that Vargas is Seattle's number two starter, and that worries some people.
Hector Noesi is a pitcher to keep an eye on. He has a good build for a pitcher, and has a lot of potential. I believe that he will have a very good season for Seattle this year, and he will greatly help the Mariners pitching rotation. Signing Kevin Millwood wasn't a sexy move, but he will provide the rotation with experience and consistency.
Despite Felix Hernandez, the Mariners strength could possibly lie behind their offense. This is really team without an identity right now, but there is nothing wrong with that. This team has a handful of young talent, and I really expect Dustin Ackley to have a breakout campaign.
Justin Smoak and Jesus Montero could provide the Mariners with a great amount of pop in the middle of the lineup, and Mike Carp could turn himself into a decent hitter too. The M's lineup has the potential to score a lot of runs this season. And don't forget about Ichiro. He's not getting any younger, but the guy can flat out rake at the plate.
Seattle's bullpen is pretty weak though. The bullpen is littered with question marks, and a poor bullpen could really hurt a team. Brandon League is a good pitcher, but I don't expect him to routinely convert save opportunities against the premier talent that the Mariners will have to face this season.
The Mariners are on to something, but I just don't see it coming to together for them this season. The division is simply too good for them to compete, but this season might prove to be very useful. The 2012 season will allow Seattle to evaluate their players and see which guys that they would like to have going forward. The young talent will surely impress the front office and make for an exciting season.
Key Pitcher: Hector Noesi
Key Batter: Dustin Ackley
Percent Chance That They Win The AL West: 15 percent

4. Oakland Athletics
The Athletics simply aren't good enough this season. They have a bunch of exciting players scattered around the roster, but they are brought down by the uncertainty surrounding the rest of the team. You know you have a thin team when Bartolo Colon is your number two pitcher. 
I'm a big fan of Billy Beane, but it just seems as if he is stuck between rebuilding and trying to compete. That mix usually results in lost seasons. Jemile Weeks, Yoenis Cespedes and Brandon McCarthy are very talented players who I believe will have great seasons, but there is not much surrounding those players.
Injuries have weakened an already weak team, and I believe that it will be a tough season for Oakland. They have some pieces in place, but most of their help is still in the minors. This looks like it will be a transition season, and Billy Beane is hoping that his team performs well enough to earn a new stadium in the near future.
Key Pitcher: Tom Milone
Key Batter: Yoenis Cespedes
Percent Chance That They Win The AL West: 10 percent