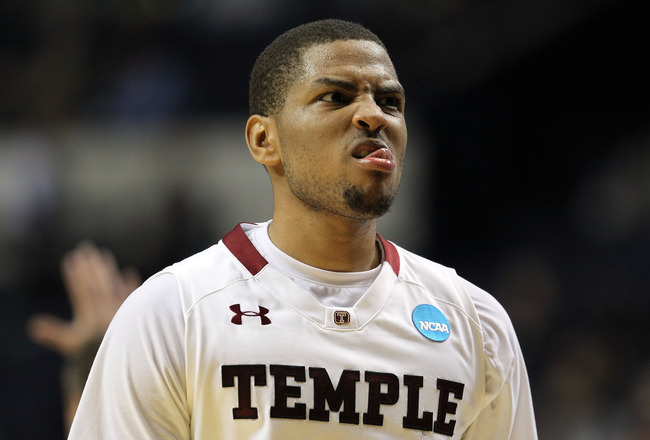 Jamie Squire/Getty Images
After UMass's defeat at the hands of Minnesota in Tuesday's NIT Final Four matchup, the 2011-12 season has come to a conclusion for the Atlantic 10.
So how'd everyone do?
This past season turned out to be a fairly impressive one for the conference, as four teams made the NCAA Tournament field and four more were invited to the NIT. All eight teams in their own right deserved to be present in the postseason, but some clearly lived up to the calling more than others.
Each A-10 team has a grade based on their performance in their respective tournament. Note that I did not give a grade boost to a team just because they made a better postseason tournament—the grade is solely based on their national tournament play.
I did, however, separate the grades by tournament, so neither you nor I could get the two tournaments mixed up.
Did your team make the grade? Time to find out.
Saint Joseph's Hawks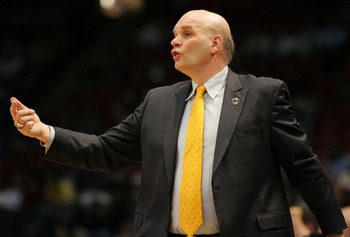 Dave Martin/Getty Images
After a solid rebound season for Phil Martelli's squad, Saint Joe's was poised to make a postseason impact as a 2 seed in the NIT.
Then they promptly laid an egg in a 67-65 loss to Northern Iowa.
In a game played in your home gym where the opposing team shot only 37 percent overall, and a disgusting 3-20 from beyond the arc, your team should come out with a W. But after leading almost the entire first half, the Hawks gave the game away and whimpered out of the tournament as quickly as they came.
It wasn't an entirely embarrassing loss. It wasn't a blowout, and the UNI Panthers were a fairly tough draw as a No. 7 seed.
But hitting only 13 of 22 free throws and 6 of 21 three-pointers clearly leaves something to be desired. Martelli, who looks like the math teacher from every nightmare you've ever had, certainly knows those numbers don't add up.
Postseason Grade: D
Dayton Flyers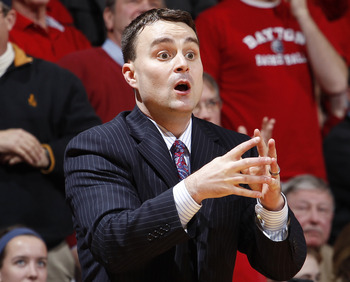 Joe Robbins/Getty Images
I feel bad for Dayton. I really do.
Despite earning a No. 2 seed in the NIT, Archie Miller and Co. were forced to play on the road due to a conflict with the NCAA Tournament. Not only that, but they had to play Iowa, a Big Ten school with a Big Ten-sized fan base that hadn't seen the postseason in six years.
But empathy will only get you so far.
The Flyers didn't look like the better seed, especially in the second half, and they clearly folded under the pressure of a postseason road game, resulting in a disappointing first round exit after their 84-75 loss.
You could attribute this to Miller's inexperience. This past season was his first as a head coach at any level of basketball, and there are some things that can only be learned by experiencing them.
You could also attribute it to the players' inexperience. Regular season road games at Xavier and Saint Louis might be the only games even comparable in atmosphere to this one, so there really was no past game for the Flyers to draw from in preparation.
Neither of these excuses fly in the NIT.
Postseason Grade: C-
La Salle Explorers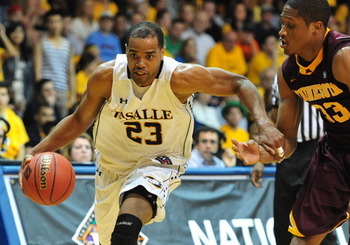 For the La Salle Explorers, making it to the NIT was a huge deal. This was the school's first postseason action in 20 years, a fantastic accomplishment for Dr. John Giannini's squad.
That doesn't mean they wouldn't like to have their first-round game back.
In a 3-seed vs. 6-seed matchup, La Salle was unable to capitalize on their home-field advantage against a Minnesota team that would continue on to the NIT Finals.
It was a very close game the whole way through, with the margin only widening to 70-61 due to desperation fouls. La Salle shot well (47 percent from the field, and 5-10 from downtown), and they never showed a glaring weakness, but they caught Minnesota at the wrong time.
After a ninth place showing in the Big Ten, a young Minnesota team finally figured out how to play well together in the Big Ten Tournament and would carry that momentum into the NIT, steamrolling through Miami, Middle Tennessee and Washington before falling to Stanford in the championship game.
La Salle has nothing to be ashamed of with the way they played. They were just beat by the better team.
Postseason Grade: C
UMass Minutemen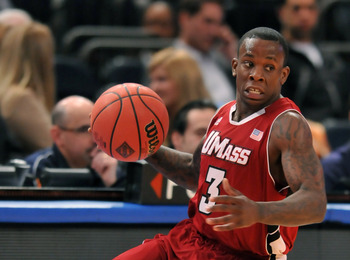 Jason Szenes/Getty Images
What a showing for the Minutemen!
After being seeded as a No. 5 in the NIT (the lowest overall position of the Atlantic 10 teams that made the postseason), UMass went on to win more tournament games than anyone else in their conference and finished in Madison Square Garden as a member of the NIT Final Four.
It wasn't an easy road by any stretch of the imagination. Derek Kellogg's team had to beat two teams that just barely missed inclusion in the NCAA Tournament, and a double-overtime game against Mississippi State in the first round to boot.
It also took some heroics from Chaz Williams, who scored 28, 20 and 20 points, respectively in leading UMass to victories over Mississippi State, Seton Hall and Drexel, before finally succumbing to eventual NIT champion Stanford (Williams still managed to score 19).
The Drexel game was particularly impressive, as the Minutemen rallied from a 17-point deficit with 16 minutes remaining to beat a club that many believed to be the team knocked out of the tournament by, interestingly enough, A-10 Tournament champion Saint Bonaventure.
In that second half, UMass shot 17 for 24 for an insane 70.8 percent mark.
While that may be just a C in some places, that's a solid A in my book.
Postseason Grade: A
Temple Owls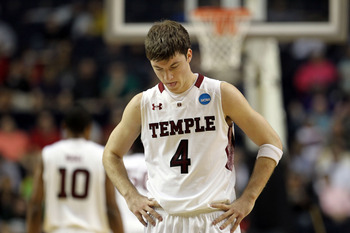 Jamie Squire/Getty Images
The South Florida Bulls shot 34 percent for the game and 11 percent in the first half, after which they only had 15 points. There was a 16 minute stretch where South Florida did not make a single field goal.
Easy win for Temple, right? Wrong.
The Owls, coming into the NCAA Tournament as a No. 5 seed, let one of the worst offensive first-half performances in tournament history go unpunished as they lost in the second round (but really the first round) to South Florida by a score of 58-44.
A loss in that fashion is indefensible.
For a team that averaged 76 points throughout the season, 44 is ridiculous. After the first half was over, while most people gawked at the abysmal 15 points put up by South Florida, I couldn't help but notice that the "favorite" in this matchup was still only up by four points.
Little did I know things could get even worse.
The Bulls were one point shy of scoring as many points in the second half as Temple did the entire game. It seemed as if the Temple players were constantly torn between wanting analysts to start discussing how bad their defense was and wanting them to keep talking about how bad their offense was.
Both were fairly easy topics of discussion.
Don't forget that Temple was the only Atlantic 10 team placed in the top half of the NCAA Tournament seeding. I guess the selection committee believed they were the best the A-10 had to offer.
After this game, they were stuck eating crow, or I guess in this case owl.
Postseason Grade: F
St. Bonaventure Bonnies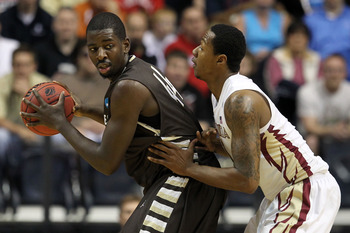 Jamie Squire/Getty Images
In his first chance to perform on a national stage, Andrew Nicholson lived up to the hype.
His team certainly exceeded theirs.
In a matchup between conference tournament champions, 14th seeded St. Bonaventure nearly took down the ACC champion Florida State Seminoles in a 66-63 second round (not really the second round) loss.
Nicholson had a great game, with 20 points and seven rebounds, and the Bonnies led for the vast majority of the game, only to let what once was a 10 point lead slip away.
Such is the way of the NCAA tournament.
All the credit in the world has to go to Mark Schmidt and the preparation of his team. With Nicholson, a major NBA prospect, sitting on their roster, the Bonnies were not a No. 14 seed that would be able to slip under-the-radar. In fact, Nicholson had his playing time reduced a bit due to some early foul trouble.
The rest of the team stepped up.
Demitrius Conger, among others, took it to the Seminoles like they were two evenly-matched teams, and the end result makes it seem that way.
A loss, however, is still a loss, and the Bonnies early exit from the tournament extends their winless streak in the postseason to 17 years.
Postseason Grade: B-
Saint Louis Billikens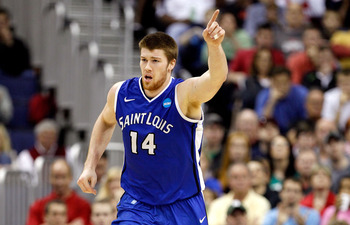 Rob Carr/Getty Images
Rick Majerus was finally back in the NCAA tournament this season, and his team certainly made their presence known.
The Saint Louis Billikens, making their first tournament appearance in a dozen years, beat the toughest No. 8 seed in the tournament in Memphis, before succumbing to No. 1 seeded Michigan State in the third (second!) round.
The ninth seeded Billikens were almost universally picked to be beat by Memphis, who undoubtedly deserved a higher seed than a No. 8. Memphis was a very athletic, fast-paced team, and most analysts believed Saint Louis wouldn't be able to keep up.
They didn't have to.
SLU controlled the pace for the majority of the game and their defense, one of the best in the nation, held Memphis to its lowest scoring effort of the season, winning 61-54.
They had a good shot at Michigan State, too.
Despite shooting just 35 percent from the field, the Billikens held tight with the Spartans and were never out of it until time ran out. A 65-61 loss against a top seed is nothing to be too disgusted with, and Saint Louis has to be pleased with its first tournament appearance in a long time.
Postseason Grade: B
Xavier Musketeers
Kevin C. Cox/Getty Images
When I say that Xavier had an easy road to the Sweet 16, I don't mean that as a slight in any way to the Musketeers. They had a great tournament, no doubt about it.
But you have to admit they were pretty lucky too.
Seeded as a No. 10, Xavier had the pleasure in the second (first!) round of facing annual NCAA tournament doormat Mike Brey, and his No. 7 seeded Notre Dame Fighting Irish.
One stellar 25-point performance from Tu Holloway, and one lane violation later, Xavier moved on to face Duke.
Oh wait. No they didn't. They got the 15th seeded Lehigh instead!
Xavier probably was thinking the same thing I was going into the game—easy peasy lemon squeezy.
This is probably why they were down by 15 halfway through the first half to a Lehigh team that was much better than their seeding would suggest. Thankfully for Chris Mack and his squad, Kenny Frease went bananas and carried the Muskies past Lehigh with a final score of 70-58.
Sadly, Xavier ran out of tournament magic in the Sweet 16, falling to a Baylor team that held the lead from wire to wire. Holloway was brilliant once again with 22 points, but an early 18 point deficit proved to be too difficult to surmount as they lost 75-70.
Postseason Grade: B+
Keep Reading
Load More Stories