MLB 2012: Picking Every Regular Season, Postseason Finish and Award
March 29, 2012

Christian Petersen/Getty Images
American League East
New York Yankees (96-66): Brilliant trade of budding superstar Michael Pineda for unproven-but-promising Jesus Montero to Seattle. Added Hiroki Kuroda to rotation on same day, giving GM Brian Cashman more activity and greater impact in a single day than entire off-season. Bringing back Pettite is an added bonus.
Tampa Bay Rays (93-69) Does anyone recover nicer than them with player replacement? After getting burned last season in my predictions, I am not getting fooled again. Matt Moore is the real deal and they already locked him up for five years after just 19IP. Added DH Luke Scott and Fernando Rodney in shrewd but typical "Rays-like" budget moves.
Toronto Blue Jays (87-75) OK, I am taking the leap. Every year this team wins 85 games and finishes 4th. This year, many of their wins have to come as a direct result of the Red Sox dysfunction, which is already starting with the Bobby Valentine managerial hire. Major depth added to their bullpen in Darren Oliver, Jason Frasor and Francisco Cordero. This gives them plenty of options to go with the usual good hitting.
Boston Red Sox (81-81) Last year's collapse aside, I think the rest of the division is catching up to them. Carl Crawford was a bust last year, David Ortiz is a year older and Daisuke Matsuzaka is a complete mess and unreliable. Add that to the loss of John Lackey for the entire season—and they didn't really replace him with anyone. The leadership and depth lost from the retirements of Tim Wakefield and Jason Varitek will be huge in the clubhouse. Finally, the Jed Lowrie trade was stupid. Youthful, cheap, streaky hitter to a team that is old.
Baltimore Orioles (68-94) Until owner Peter Angelos realizes its not 1992 and you have to spend money to win (especially in this division), the O's stay here. Unlike years past with hyped moves (Kevin Gregg, Derrek Lee, Mark Reynolds) that fell flat, the biggest thing this team did was trade embattled starter Jeremy Guthrie to the Rockies. Maybe the minimal activity is actually a good thing as a new strategy?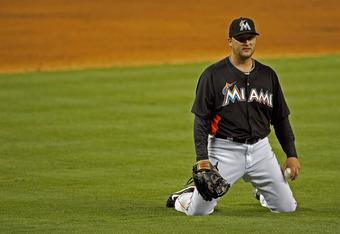 Mike Ehrmann/Getty Images
American League Central
Detroit Tigers (98-64) Lost Victor Martinez for the season but made up with his production by overpaying Prince Fielder to come to the Motor City. While they will score runs, their defense could be atrocious as Miguel Cabrera, Fielder and Delmon Young will all be starting at once. Could be errors galore. That could be their undoing.
Minnesota Twins (85-77) Yeah I'm a homer—so what. If you read my earlier piece, I absolutely love the Ryan Doumit and Josh Willingham move. Chris Parmalee really came on strong in his late season September callup when the rest of the team had quit. Bust Tsuyoshi Nishioka is already buried in AAA where he belongs. We don't have to waste time and at-bats on him anymore. That will allow Jamey Carroll and Alexi Casilla to play. Finally, the pitching can't be worse than it was last year and a healthy Joe Mauer and Justin Morneau are like adding two major free agents as they are both former MVPs. When teams count them out, is exactly when they have success.
Cleveland Indians (82-80) Got hot last year but faded. Grady Sizemore is already banged-up. They have the controversy surrounding the former Fausto Carmona and Chris Perez their closer is hurt. An Indians fan friend of mine said once the American League figures out Ubaldo Jimenez that "isn't going to work" and he'll get hit hard, which is basically what I expect.
Kansas City Royals (77-85) No longer a boring, team but they still don't have the pitching to balance the youthful and promising hitting. Hosmer, Moustakas, Butler, Gordon, and re-signed Alcides Escobar are a nice core. They could easily be flipped with Cleveland and finish 3rd. Until their pitching balances their hitting they stay here.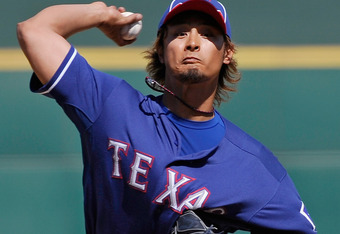 Kevork Djansezian/Getty Images
Chicago White Sox (69-93) Gave away Carlos Quentin in sending him home to San Diego and didn't replace him. Lost heart-and-soul solid pitcher in Mark Buehrle to Miami. No major free agent moves. Depending on the recovery of Peavy and bounce-back from Adam Dunn to have a chance. Ouch.
American League West
Anaheim Angels (94-68) Basically won the division the day they signed Albert Pujols and CJ Wilson. Added Chris Ionetta in a smaller but wise depth move. Edwin Santana is their 4th starter, enough said.
Texas Rangers (90-72) This won't be the run-away you might think because of the Rangers depth. Added Yu Darvish from the Japanese leagues and re-signed solid 16-game winner Derek Holland. Didn't really lose anyone offensively and added Joe Nathan at the back of the bullpen.
Oakland A's (77-85) Probable Rookie of the Year in Jesus Cespedes who orginally wanted to play for Miami as a Cuban defector. Took a beating in lost players: Gio Gonzalez, Trevor Cahill, Craig Breslow, Willingham, but what else is new in the life of an A's fan? Until they get that stadium in San Jose, this is how its going to be. Manny Ramirez isn't worth my analysis since his impact will be minimal and he's just a side-show at this point in his "career."
Seattle Mariners (68-94) Got robbed in the Michael Pineda deal. No other major free agents came here, what a shock. Can you name their starting outfield?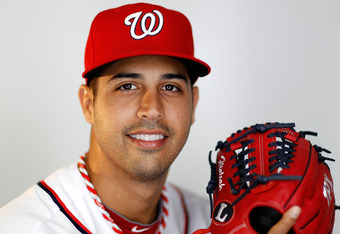 Mike Ehrmann/Getty Images
National League East
Miami Marlins (95-67) Yeah I'm going for it. Signed Mark Buehrle, Heath Bell, and Jose Reyes in splashy (see what I did there?) moves. Get on the bandwagon now (if merchandise is any indication from what I've seen, people are). The problem is—what about 3 years from now when the new-ballpark smell has worn off in fickle Florida? You can read the second of my two pieces on this team and a the reason for optimism linked here and the first one here.
Washington Nationals (86-76) In my boldest move, they won 80 games last year basically without Stephen Strasburg who is back for the full season. Adam LaRoche too. Traded for 16 game winner Gio Gonzalez from the A's and re-signed cornerstone Ryan Zimmerman. I love the Brad Lidge bullpen signing too. Added Edwin Jackson for depth purposes.
Philadelphia Phillies (85-77) Still don't have a right fielder to replace Raul Ibanez, who departed to the Yankees. Loss of Ryan Madson will hurt but they replaced him with Jonathan Papelbon. I have no idea what Jim Thome is doing here, other than grasping for a ring because he'll have to pinch-hit if he wants to play as he can't play the field and their is no DH.
Atlanta Braves (82-80) Lost Derek Lowe to the Tigers but actually paid them to take him off their hands. The last time the two teams made a trade, Jair Jurrjens-Edgar Renteria it worked out better for Atlanta. They'll be 'in it' like they always are, but then fade. Their pitching will keep them in it, both starting and bullpen.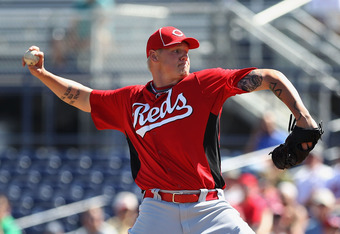 Christian Petersen/Getty Images
New York Mets (55-103) In what has to be seen as a lost-season, lost Reyes to the division rival Marlins where he actually went to a smaller market in a refreshing sign MLB needs more examples. Financial mess. Johan Santana is fragile at best. Not much depth beyond Pelfrey and lost Angel Pagan to San Francisco. David Wright can't demand a trade soon enough.
National League Central
Cincinnati Reds (86-76) Lost Madson for the year, but someone will step up and replace him. Paid a premium of top 2 minor league players for former Padres Ace Mat Latos. Added Sean Marshall for bullpen depth and also ___ proving they knew they had the hitting, they just needed the pitching.
Milwaukee Brewers (84-78) Even though I have no idea who plays first for them, recovered the lost power of Fielder about as nice as could be expected with Aramis Ramirez at third. Dodged a bullet when Braun's suspension was overturned. Still have nice starting pitching and two-headed bullpen monster in K-Rod and John Axford. Lost Saito and LaTroy Hawkins in the bullpen.
St. Louis Cardinals (82-80) At least this championship wasn't as annoying as 2006's, but Pujols was their marquee player and he's gone. Berkman at first just won't get it done production-wise in comparison to Pujols— but really, no one can. Playoff stud Allen Craig in right can only replace him so much. Chris Carpenter is already hurt, and they lost their leader in the retirement of Tony LaRussa and replaced him with Mike Matheny who has no experience, like the White Sox did with player-turned-manager Robin Ventura. The only reason they are this high is because they are champs—until otherwise noted.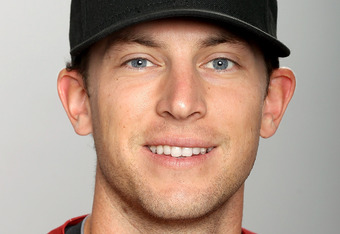 Matthew Stockman/Getty Images
Pittsburgh Pirates (80-82) 2/3 of their outfield is signed for the next 6 years. Did you know that? Jose Tabata last year and Andrew McCutchen this off-season. Add that to Garrett Jones and that's as good as any core. Signed Nate McLouth, who returns to the Steel City for depth, which at this point in his career is better suited for him. In a curious move, traded for AJ Burnett and his still-hefty salary even if the Yankee$ are paying part of it. I just don't see what his age adds to the bullpen beyond veteran experience. It isn't all-good and do you want your young players emulating him? Still, he had his best years in the NL, so who knows. Erik Bedard adds depth but little else.
Chicago Cubs (73-89) Didn't really add anyone in the off-season and lost Ramirez. How does that equate. Also, traded Marshall to the division-rival Reds when he was one of the best relievers in the entire game last year. Signed Theo Epstein to be President but so what? He largely disappointed in his first off-season after so much promise.
Houston Astros (58-104) I loved the Lowrie trade who should get a chance to start every day here. Not much else. Another long, lost season and moving the American League won't help.
National League West
Arizona Diamondbacks (95-67) The top 3 teams in this division could go either way. Signed Jason Kubel in a nice move and traded for Trevor Cahill and Craig Breslow. Should continue to improve on last year.
San Francisco Giants (90-72) Added Pagan and didn't really lose anyone of substance. Steady rotation and lineup.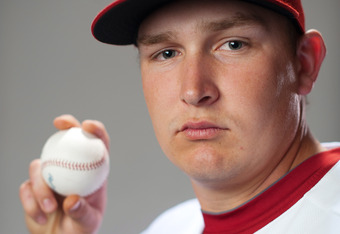 Rob Tringali/Getty Images
Colorado Rockies (83-79) Added Michael Cuddyer and Guthrie but he (Guthrie) basically has to fill Jimenez's role which isn't going to happen. Made a lot of moves, but I am not sure how many of them were good.
Los Angeles Dodgers (77-85) I could get used to seeing them here, but even with the turmoil of the dwindling fanbase because of the pending sale, they still have an MVP candidate in Matt Kemp and Cy Young winner in Clayton Kershaw. Somehow, they'll compete.
San Diego Padres (69-93) I love the Quintin move but I don't like the Latos trade. It reminds me of Adrian Gonzalez leaving town as he was to pitching what Gonzalez was to their hitting.
Awards:
AL Rookie of the Year: Yeonis Cespedes, Oakland A's
NL Rookie of the Year: Bryce Harper, Nationals (if he's called up from AAA, Yonder Alonso, Padres if he's not
AL Manager of the Year: Mike Scioscia, Angels
NL Manager of the Year: Davey Johnson, Nationals
AL MVP Pujols, Angels
NL MVP: Kemp, Dodgers
Managers to get fired: Bud Black, Padres, (honestly other than him, I can't predict any more even though we know every year 3-5 are fired. Everyone seems to have been hired post 2010.
Playoffs:
Stupid 1 game "play in game" (2nd Wild Card) Texas Rangers beat Tampa Bay Rays
San Francisco Giants beat Washington Nationals
American League Divisional Series: Texas Rangers over New York Yankees in 5
                                                           Anaheim Angels over Detroit Tigers in 4
National League Divisional Series: Miami Marlins over San Francisco Giants in 4 (2003 anyone?)
                                                         Arizona Diamondbacks over Cincinnati Reds in 3
ALCS: Anaheim Angels over Texas Rangers in 6
NLCS:  Miami Marlins over Arizona Diamondbacks in 7
World Series: Anaheim Angels over Miami Marlins in 6
MVP: Mark Trumbo (Ha! Didn't see that coming, did you?)
Information from Wikipedia directly contributed to this article.