Predicting the New York Knicks Starting 5 Next Season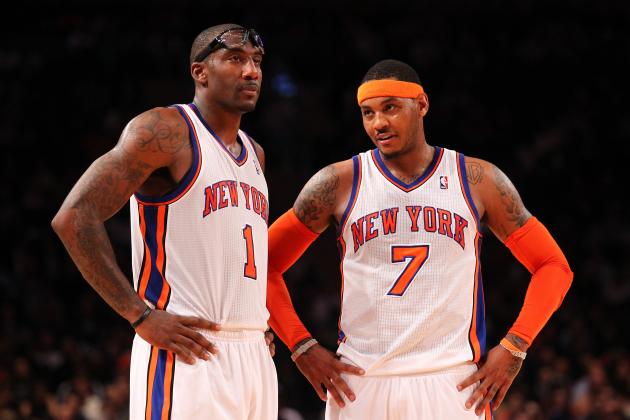 Al Bello/Getty Images

The New York Knicks have done a lot of work to build this current roster they have.
They have made numerous blockbuster trades—most notably the one with the Denver Nuggets to acquire Carmelo Anthony—and have made a huge splash signing some of the top free agents available, including Amar'e Stoudemire and Tyson Chandler.
It's crazy to think about, but the player on the roster who has been a member of the Knicks the longest is actually Tony Douglas, who is only in his third season with the Knicks.
I believe all the hard work has finally paid off, though, and the Knicks currently have a core group of players that they can build a championship team around.
Here is my prediction for what the New York Knicks starting lineup will look like next season.
Begin Slideshow

»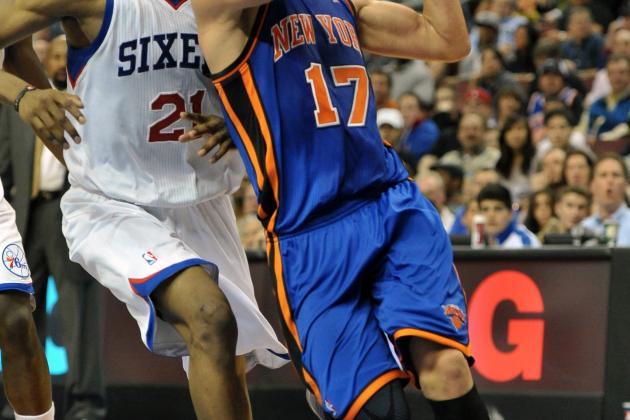 Drew Hallowell/Getty Images

2011-2012 Statistics: 14.6 PPG, 6.1 APG, 1.6 SPG
Contract Status: Free Agent After This Season
Jeremy Lin will be a free agent and have the option to sign with any team this offseason, but I believe he will stay loyal to the Knicks since they finally gave him a chance to make a big impact in the NBA. Not only that, but Lin has said numerous times how much he loves the city, fan base and most importantly, his teammates here in New York.
The Knicks couldn't have asked for a better point guard to fall into their laps. Lin is extremely unselfish, and even though he has shown he has the ability to put up huge scoring totals, he definitely plays pass-first since he understands the talent he has surrounding him.
Unless the Knicks can somehow get Deron Williams, they would be foolish if they didn't do everything in their power to make sure Lin is a Knick for the next couple of seasons.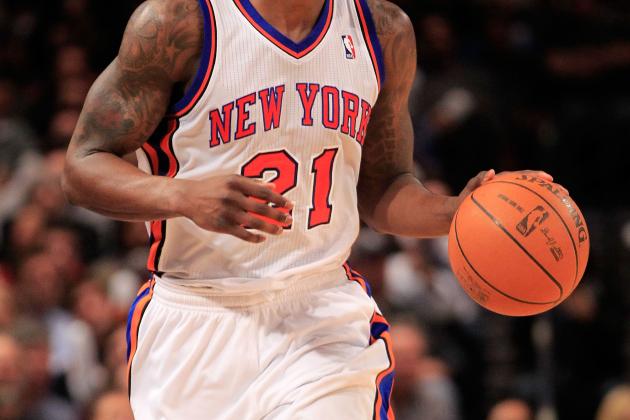 Chris Trotman/Getty Images

2011-2012 Statistics: 9.5 PPG, 3.2 RPG, 1.7 SPG
Contract Status: Signed Through 2012/13, Team Option For Following Two Seasons
Iman Shumpert has definitely excelled since the addition of Lin, because he now plays his more natural position, shooting guard.
I believe Shumpert will start next season because he is the best perimeter defender the Knicks have. As a rookie, he is already Top 10 in the league in steals per game.
With a full season under his belt, I believe his defense and offense will only improve and you will be hearing his name in consideration for the All-Defensive Teams soon.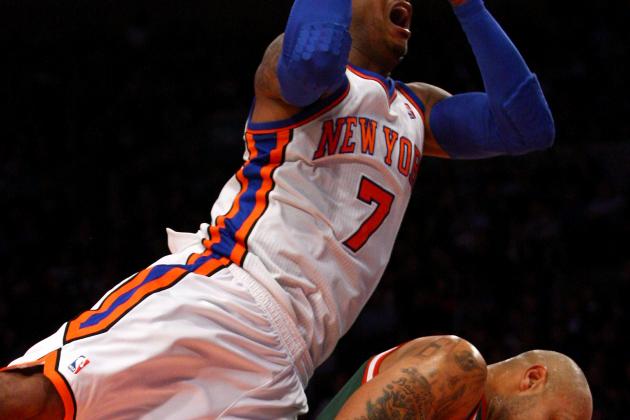 Chris Chambers/Getty Images

2011-2012 Statistics: 20.3 PPG, 6.0 RPG, 3.7 APG
Contract Status: Signed Through 2013/14, Player Option For Following Season
This is the most obvious starter for next season.
The Knicks put in so much effort to bring Carmelo Anthony to New York, so obviously I expect him to be the starter there for the entirety of his contract. Who could the Knicks possibly even replace him with?
Besides LeBron James or Kevin Durant—who don't appear to be leaving their respective teams any time soon—there are no better scorers at the small forward position in the league. Melo has lacked that same effort on defense at times this season, but not enough where the Knicks would ever consider trading him before the start of the following season.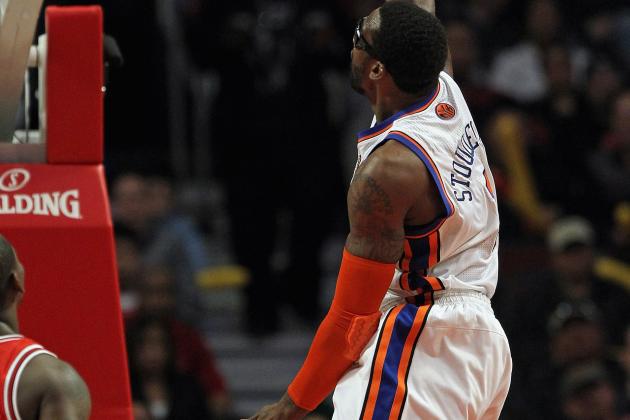 Jonathan Daniel/Getty Images

2011-2012 Statistics: 17.6 PPG, 8.0 RPG, 0.9 BPG
Contract Status: Signed Through 2014/15
Amar'e Stoudemire's name has been thrown around in many trade rumors this season, but I doubt any of them will play out before next season starts, mainly because of his recent injury problems.
STAT has already been hampered quite a bit with injuries as a member of the Knicks. Last season he hurt his back during the playoffs and was extremely unproductive as the Celtics swept the Knicks in the first round. This season he's already missed eight games and is expected to be out another two-four weeks with a bulging disk in his back.
The injury to Stoudemire really hurts the Knicks' chances of winning the division and making the playoffs this season, but I'm confident he'll be back and ready to go as the Knicks starting power forward next season.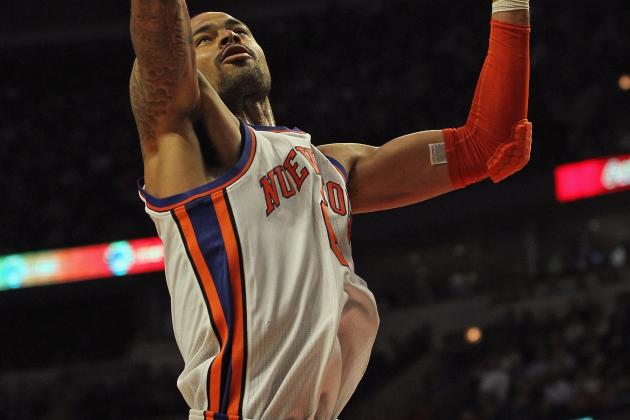 Jonathan Daniel/Getty Images

2011-2012 Statistics: 11.2 PPG, 9.7 RPG, 1.5 BPG
Contract Status: Signed Through 2014/15
Tyson Chandler has really given the Knicks a boost with his intense rebounding and defense this season.
Last season, the Knicks were one of the worst defending teams in the league. Opposing teams shot 47.2 percent against the Knicks and scored a ridiculous 105.7 points per game against them.
Chandler changed that completely, though, and now has the Knicks in the top half of the league on defense. Teams are now only shooting 44 percent against them and opponents' scoring is down to a respectable 94.6 points per game.
Chandler will definitely be back next year as the Knicks starting center after his very successful first year with the team.