10 Ways You Know You're an Oregon Ducks Fan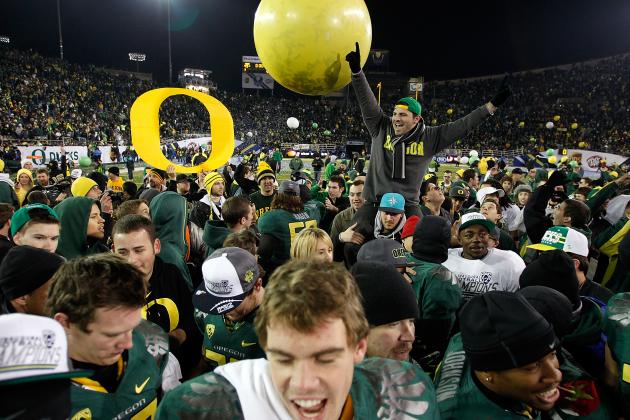 Jonathan Ferrey/Getty Images

Some of you have been around for a very long time. Some of you are new to the Ducks bandwagon. But you are all passionate, loyal fans of the green and yellow.
You have been through the depths of hell with your football team. You have rocketed to the moon with the Ducks' ascent to the BCS National Championship game. And back to the depths, losing a close-fought battle to the Auburn Tigers and their friggin' War Eagle (what does that even mean, anyway?!?).
What sets Ducks apart from other, lesser college football fans?
Here are 10 ways you know you're a Duck.
Begin Slideshow

»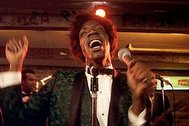 Google Images
Regulars at Autzen Stadium, no matter the score of the game, look forward to the end of the third quarter almost as much as they do their pre-game brewski.
Why? For the chance to jump up and "Shout" along with Otis Day and the Knights. The ritual has taken on a life of its own, with grandma and grandpa "Shouting" along with the crazies in the student section (sometimes even louder).
The fun has even been known to migrate to the opponent's team; I've seen players and even one coach on the opposing team dancing along with the Duck faithful. It's a magical moment and very difficult to resist.
For the record, Otis Day and the Knights were originally created as a fictional band for the movie "Animal House", filmed on the University of Oregon campus. Wonderful real-life musician Robert Cray played bass in the movie. The band has since toured as a real band, and has been featured at Oregon pep rallies at bowl games.
You know you make me want to SHOUT.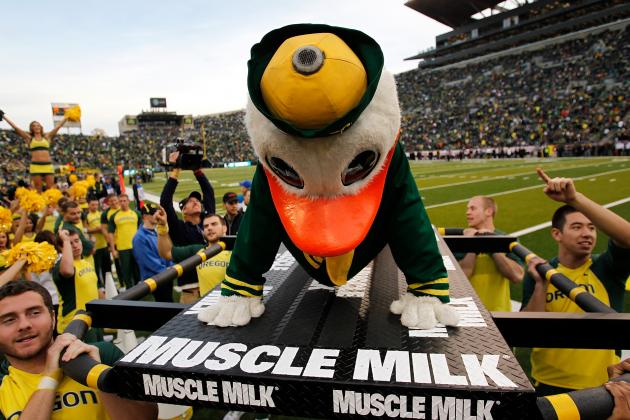 Jonathan Ferrey/Getty Images

Possibly the thing Ducks' opponents hate the most about playing Oregon is The Duck doing pushups after every Oregon score.
While the entire stadium counts along, the ripped Duck does his (her?) thing. With the pace and production of Oregon's offense the past few years, it must get tiring towards the end of the game.
The Duck is not allowed, under any circumstances, to utter a word. Wonder if that includes grunts?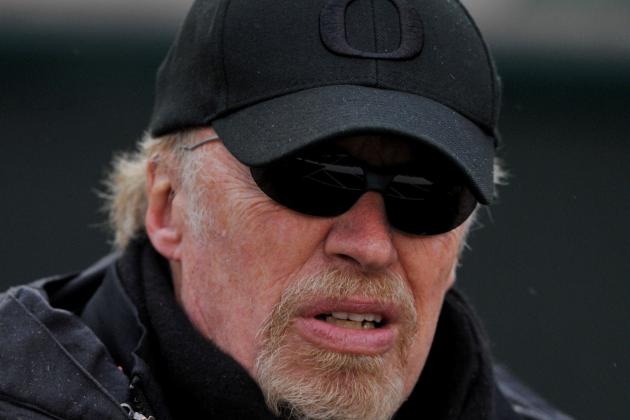 Steve Dykes/Getty Images

Unless you are Phil Knight or a brand new Oregon Ducks fan, you can really get annoyed at being told to wear black or some other color to a game.
The University of Oregon's official colors are green and yellow. Not grey and white. Not black. While Nike's design team is very talented, and we appreciate the innovation that goes into making Oregon's uniforms the talk of the nation—and a hit with prized recruits—some fans would like the Ducks to look a little more, well, Ducky.
The only time I will ever again wear black to a Ducks game is if it's a Halloween night game, and we're aiming for a "blackout" in Autzen Stadium. Otherwise, it's simply not appropriate.
And, besides, I look great in yellow.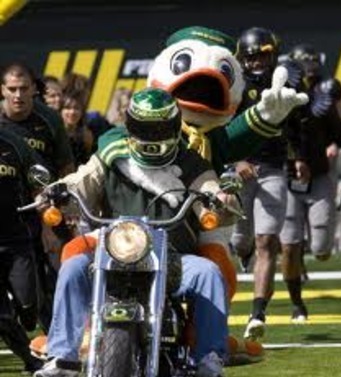 Google Image
Duck fans know it's time to stand up and cheer when the motorcycle carrying The Duck roars out of the tunnel and leads the team onto the field at Autzen Stadium.
The motorcycle, originally driven by former Duck and Pro Hall of Fame offensive lineman Gary Zimmerman, circles the field so everyone can wave at The Duck.
Even though in real-life I'm terrified of motorcycles, riding it onto the Autzen Stadium field in front of the team just once is on my bucket list—probably me and about 59,000 other fans.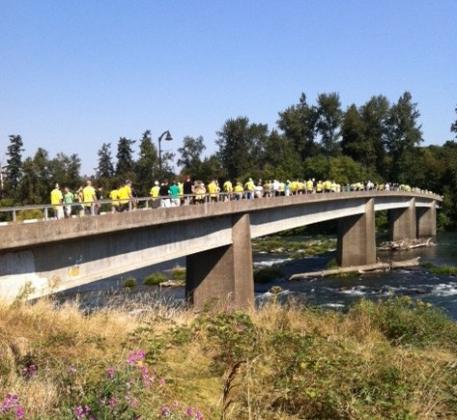 theopinionpaige.wordpress.com
Oh, sure. It looks pleasant enough here. A lovely stroll across Oregon's beautiful Willamette River on a sunny September afternoon.
But try it on a cold, dark November night in a driving rainstorm.
Many of us consider the footbridge walk to Autzen Stadium one of our favorite pre-game traditions, rain or shine.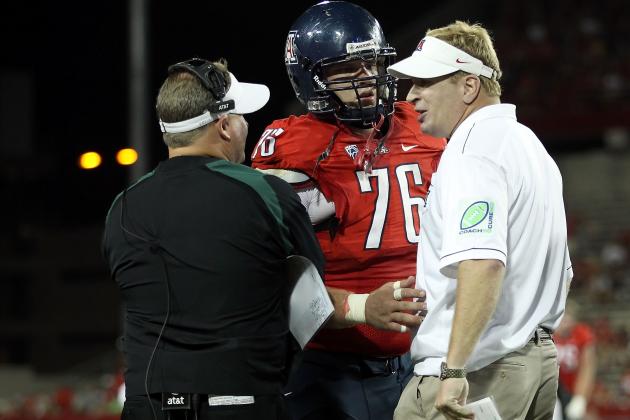 Christian Petersen/Getty Images

Whether it's Mike Stoops having to be restrained by one of his own players, or his older brother Bob still whining about the call on the onside kick Oklahoma got at Autzen Stadium in 2006, most Duck fans would prefer a Stoops not set foot inside our stadium again.
By all accounts, people say the Stoops Brothers are decent human beings when off the football field.
We haven't seen that side of them, frankly, and I think their mom needs to revisit the "manners" talk.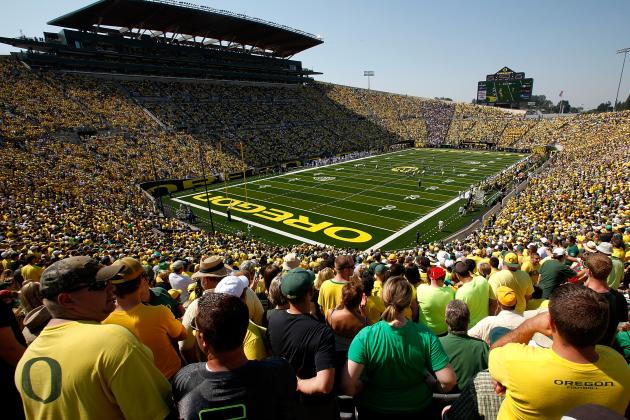 Jonathan Ferrey/Getty Images

Sometime back in the 1990s, beloved Autzen Stadium announcer Don Essig gave the standard pre-game weather temperature, but added a catchy line. It went something like this: "The temperature at game time is 72 degrees, but we all know the real weather forecast is that it never rains in Autzen Stadium."
And from such humble beginnings, a star was born. Now, all in attendance say it in concert with Essig, no matter the current conditions.
The really amazing thing about this quirky Autzen tradition is how often it doesn't rain during Ducks' games. Considering Oregon's average rainfall, it is truly surprising how many games we don't get wet.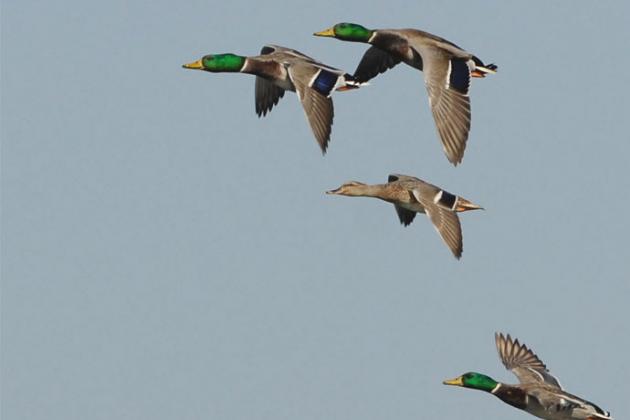 grahamowengallery.com
Once, while at the outdoor wedding of a good friend's son in another state, a flock of Ducks swooped low during a crucial moment in the ceremony, barely missing the groom's head.
The groom's mother—a huge Oregon fan—and I turned to look at each other and simultaneously mouthed "Go Ducks".
Anytime two or more people are together and a flock of Ducks flies by, you are almost required by Oregon law to say "Go Ducks". If the person next to you looks strangely at you, they are almost certainly a Beaver, and you need new friends.
And, even stranger, do you know that if you Google "Ducks in flight images", you get a photo of some hockey player on a plane?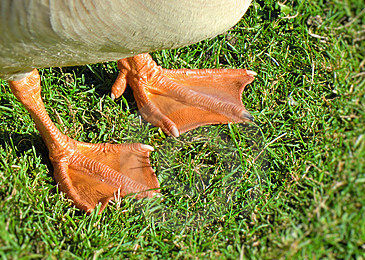 dreamstime.com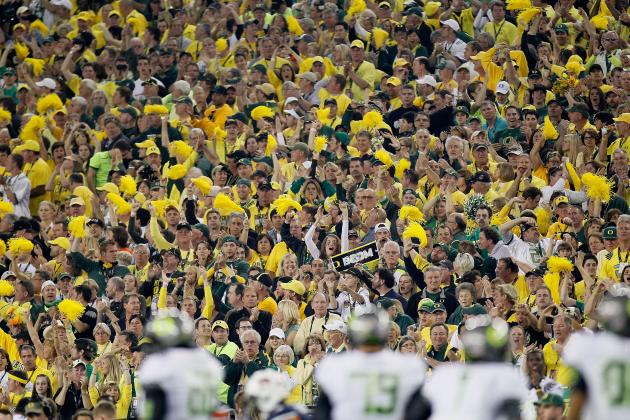 Kevin C. Cox/Getty Images

Preferably to Pasadena on January 1, or even more preferably to Miami on January 7.
Nuff said.