Fantasy Baseball Sleepers 2012: Relief Pitchers That Will Save Your Season
March 29, 2012

Hannah Foslien/Getty Images
Relief pitching is unheralded in fantasy baseball, especially if you find guys who keep their ERA's and WHIP's down. These relievers are available in the overwhelming majority of fantasy league and will all turn in nice seasons by the time it's all said and done this year. 
The saves will be solid at season's end, and these arms will produce spectacular numbers in the other areas as well.
Greg Holland, Kansas City Royals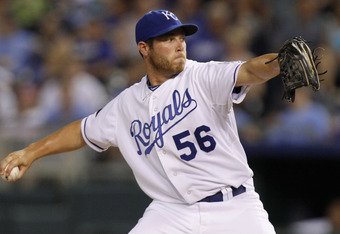 Ed Zurga/Getty Images
First of all, let's talk about the known positives. In 60 innings last year, Holland had a sub 2.00 ERA, a WHIP below 1.00, and had more than 11 strikeouts per nine innings. Even if you're in a standard league that uses wins, strikeouts, ERA, WHIP, and saves, that is going to be a valuable player.
Relief pitchers tend to be all over the place with ERA and WHIP, so if you have one that will be bankable all year, he has value. 
Now, he's not guaranteed the closer's role, but Jonathan Broxton hasn't won it either. Even if Broxton starts the season as the closer, he's not the kind of pitcher who will reliably hold the job all year. 
Still, for the sake of discussion, let's say that Broxton gets the job and holds it. Holland is still going to be putting up good numbers all year and striking a lot of hitters out. That is what teams look for in a closer and these are the kind of players that get traded every season as the deadline approaches. 
Dixon's Projections
| | | | | | | | | |
| --- | --- | --- | --- | --- | --- | --- | --- | --- |
| Innings   | Hits  | BB   | ER  | Ks  | Wins  | Saves  | ERA  | WHIP  |
| 63 | 47 | 17 | 16 | 79 | 4 | 24 | 2.29  | 1.02 |
Luke Gregerson, San Diego Padres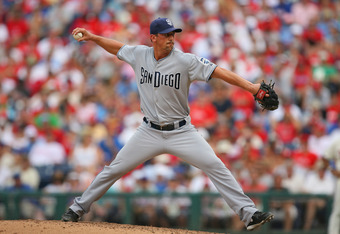 Hunter Martin/Getty Images
Gregerson will not start the year as San Diego's closer, but that doesn't mean he won't lock down some saves for you. 
For one, he fits very much the same description as Holland. The ERA and WHIP will be solid, and the strikeouts will be high. These are the kind of players that often end up closing the season somewhere by way of a trade. Don't be surprised if Gregerson is traded somewhere to close, or Huston Street is moved, opening up a door for Gregerson in San Diego. Stuff like that happens far too often to discount.
The rest of the numbers will be stable, including possibly wins. San Diego is not an offensive team, so many of their games are decided in the bullpen. That will open the door a decent win total from a late-reliever. 
Ultimately, it's the possibility of becoming a closer combined with what will be solid numbers across the board everywhere else. 
Dixon's Projections
| | | | | | | | | |
| --- | --- | --- | --- | --- | --- | --- | --- | --- |
| Innings   | Hits  | BB   | ER  | Ks  | Wins  | Saves  | ERA  | WHIP  |
| 57 | 46 | 16 | 17 | 59 | 8 | 17 | 2.68  | 1.09 |
Matt Thornton, Chicago White Sox
The White Sox closer position is currently in a state of flux, but check out what Thornton's ESPN Fantasy Profile has to say about the situation.
Thornton is probably the favorite to start the season as the closer, but that does not mean he will retain it for the entire season.
Yes, other options do exist, but Thornton is good enough to hold the job for a while. If he's the favorite to start the season as the closer, don't expect him to lose that job any time soon. Even if you don't believe Thornton will get a full season's haul at the closer position, look at it this way. 
He's the favorite to take the job and at this point and you can pencil him in, given the experience edge he has over the rivals. Even if the White Sox look to bring in one of the other guys, you can ride Thornton while he has the job. Then, if he gets demoted, look to bring one of the other guys in, as the majority of their projected saves (from me) will be coming in the second half of the season. 
With Thornton and either Gregerson or Holland, you can put together a package that will get you a good closer's season. 
Dixon's Projections
| | | | | | | | | |
| --- | --- | --- | --- | --- | --- | --- | --- | --- |
| Innings   | Hits  | BB   | ER  | Ks  | Wins  | Saves  | ERA  | WHIP  |
| 66 | 58 | 22 | 23 | 71 | 5 | 21 | 3.14  | 1.21 |