NCAA Final Four 2012 Predictions: Matchups That Will Determine Winners
March 29, 2012
Andy Lyons/Getty Images
You can talk all you want about the X's and O's of the game, but the NCAA tournament ultimately comes down to matchups.
Will that inconsistent point guard step up, or will his crafty opponent take him out of the game? Will that underdog's protector in the paint be able to stack up with the unstoppable superstar? Will that red-hot freshman overtake the more talented NBA prospect?
Here's a look at the matchups that will determine the Final Four winners.
Chane Behanan (F, Louisville) vs. Terrence Jones (F, Kentucky)

On a low-scoring Louisville team, Chane Behanan has been a pivotal player. The Cardinals may be known more for their defense, but without some semblance on offense they wouldn't be in the Final Four.
Behanan has played beyond expectations in the NCAA tournament, averaging 14 points and 7.7 points while going a collective 23-of-36 from the floor (63 percent). Against Florida in the Elite Eight, Behanan posted 17 points, seven rebounds, two blocks and a steal. Not bad for a freshman.
Behanan will likely be matched up against Kentucky's Terrence Jones. Jones has become a more disciplined and heady player this season, particularly in the NCAA tournament. Labeled as immature in his freshman season, Jones has worked hard to shed that tag. He's basically been the Lamar Odom of the tournament—scoring, passing, rebounding and using his length to create problems on defense.
If these two were matched up last year, I could see Behanan actually outplaying Jones. But Jones has brought it all together in the tournament, and I see him continuing his hot streak.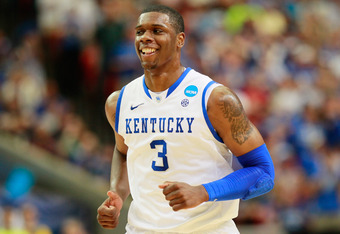 Kevin C. Cox/Getty Images
Gorgui Dieng (C, Louisville) vs. Anthony Davis (F, Kentucky)
Gorgui Dieng has been a big part of Louisville's defense this season and has been a difference-maker with his rebounding and shot-blocking in the NCAA tournament.
The sophomore has 13 blocks in four tournament games, and he's averaging 8.0 rebounds on the big stage. He had nine rebounds and seven blocks against Draymond Green and No. 1 seed Michigan State in the Sweet 16.
But, against Anthony Davis of Kentucky, Dieng has an entirely different monster on his hands. Davis is the likely No. 1 overall pick in the NBA draft this year. He has the explosiveness to simply overtake Dieng. I would like to see Dieng, as an underdog, surprise Davis defensively, but the reality is, nobody can really stop Davis this year.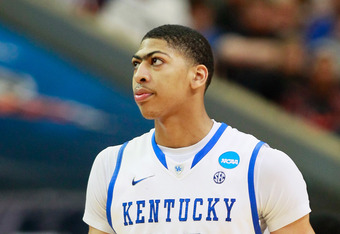 Kevin C. Cox/Getty Images
Tyshawn Taylor (PG, Kansas) vs. Aaron Craft (PG, Ohio State)
I would like to see Kansas make it to the national championship game because I think Thomas Robinson and Jeff Withey at least give the Jayhawks a chance against Anthony Davis and Co. But I think point guard Tyshawn Taylor will struggle against Ohio State, and that will ultimately be the difference.
Ohio State's pesky Aaron Craft is the type of defender nobody wants to face. He's averaged 2.5 steals this season for the Buckeyes, and he's constantly pressuring the ball and making life miserable for opposing point guards.
Taylor's consistency, or lack thereof, bothers me. Until his Elite Eight performance against North Carolina, Taylor was virtually non-existent in the tournament. He's had several instances this season in which he's unraveled.
Craft is the last guy Taylor wants to face. Taylor does have star power, but matched up against a ball hawk like Craft, I see him struggling and having a rough go against Ohio State's swarming defense.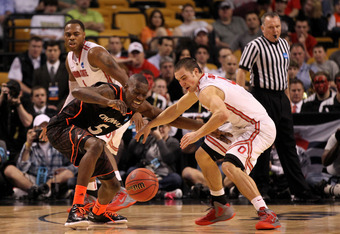 Jim Rogash/Getty Images
Follow me on Twitter. We can talk about the Final Four matchups together.