NCAA Tournament 2012 Schedule: 25 Bold Predictions for Final Weekend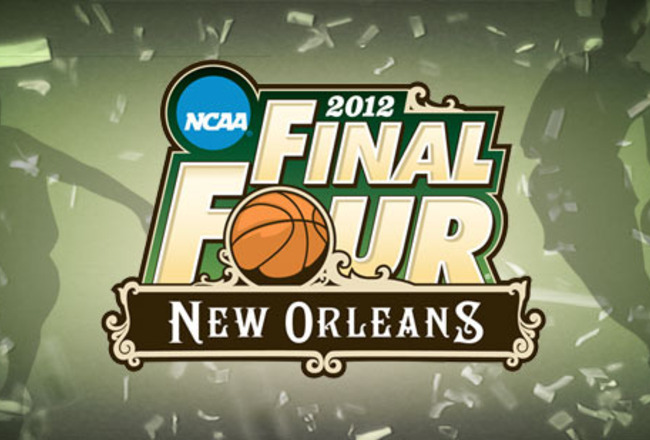 http://67.225.169.216/~geauxfor/wp-content/uploads/2011/10/FinalFour-NewOrleans-column.jpg

The 2012 NCAA tournament field has dwindled down to the Final Four, featuring Kentucky, Louisville, Ohio State and Kansas. In the tournament's final weekend we will crown a team National Champion, and these are my bold predictions for the action this weekend.
Kentucky and Louisville will renew an old rivalry. The two played earlier this year, with Kentucky winning by seven at home. However, this game is at a neutral site, and both teams have changed since December 31.
Ohio State and Kansas will play in a game featuring similar styles in a game that is also a rematch. Ohio State came into Kansas and won by 11 points, but both teams have grown since that experience, and Kansas will be seeking revenge.
With only three games left in the Big Dance, these are my predictions for the action we will be seeing.
Final Four: Kentucky vs. Louisville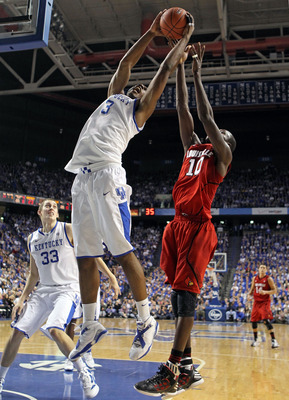 Andy Lyons/Getty Images
Saturday March 31, 6:09 pm ET
Kentucky and Louisville renew their rivalry in the second game of the Final Four, in a rivalry so heated that two dialysis patients came to blows when talking about the game.
Anthony Davis Dominates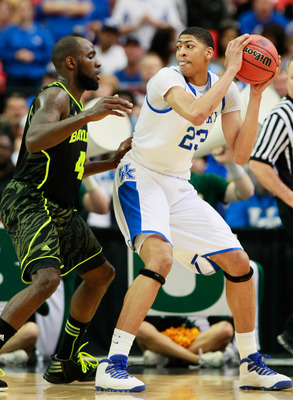 Kevin C. Cox/Getty Images
Not exactly the type of prediction that makes people think you're crazy, but still a prediction.
Anthony Davis has been dominating all season as a freshman, averaging a double-double in points and rebounds, not to mention leading the country in rejections with 4.6 blocks per game.
When Kentucky takes on Louisville, the Cardinals will not have anyone who can stop Davis inside. Davis is developing his offensive game and he remains dominant on defense, blocking almost five shots per game. He is going to be giving Louisville coach Rick Pitino fits when the two play.
Louisville Plays Tight Defense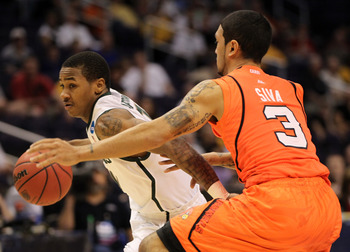 Jamie Squire/Getty Images
Louisville has been playing stingy defense during the NCAA tournament, holding opponents to an average of 57.5 points per game. Playing against great teams like Michigan State and potent offenses like Florida, this is no small feat.
The Cardinals have been taught well by Rick Pitino, and they have been able to overcome their lack of firepower against great teams because of their defense.
While this team won't be able to stop Anthony Davis, they will still be playing great defense because of Peyton Siva's play against freshman Marquis Teague.
Peyton Siva Plays Well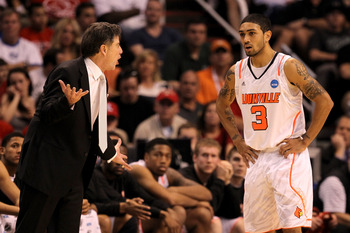 Jamie Squire/Getty Images
Peyton Siva is the leader of the Cardinals, and Louisville consistently relies on him to help them win games.
In his last game, Siva fouled out with under four minutes to go after scoring only nine points, but he also recorded eight assists, leading the team on its way back from a huge deficit. Then, backup Russ Smith led them to a victory.
Siva knows that he has underachieved so far, and that knowledge, along with a favorable matchup against freshman Marquis Teague, will have him ready to go in this one.
Marquis Teague Struggles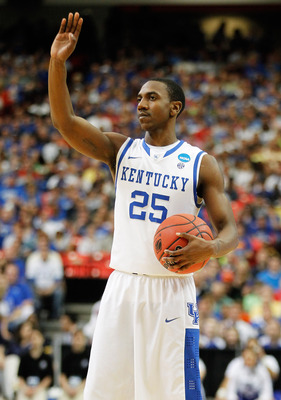 Streeter Lecka/Getty Images
Marquis Teague was the No. 8 recruit in the country in the Class of 2011, but he is the weak-point of this Kentucky team.
Teague is inexperienced and streaky, and he is going to be playing against an experienced junior in Peyton Siva.
Teague started the tournament well, but has cooled off, with his point total and assists going down in his last three games, while his turnovers and fouls have been going up. Teague is cooling off, and having to play against an elite point guard like Siva is going to be disastrous for him.
Michael Kidd-Gilchrist Stumbles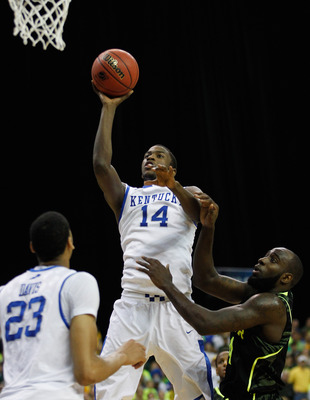 Streeter Lecka/Getty Images
Michael Kidd-Gilchrist has been hot, averaging 21.5 points and 7.5 rebounds per game over the last two games, and shooting 56 percent from the field.
However, Louisville plays excellent defense, and both Kyle Kuric and Chane Behanan can matchup with MKG to shut him down.
While I do think he isn't done with his hot streak just yet, MKG will struggle to make a big impact during this game.
Terrence Jones Steps Up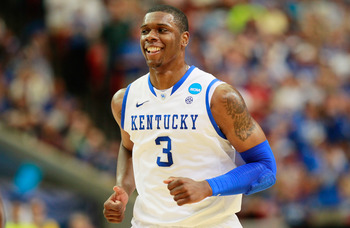 Kevin C. Cox/Getty Images
Terrence Jones was considered a lock to be a lottery pick coming into the season, but playing for such a talented team, he has been overshadowed.
Jones is one of the few players on this Kentucky team that has actually been to the Final Four, and that experience will help him
Despite only being a sophomore, this will probably be the last season for Jones, and he will be looking to step up for the team (and improve his draft stock). I see Jones playing well against a team that does not have a big, athletic power forward like him.
Louisville Doesn't Have Enough Firepower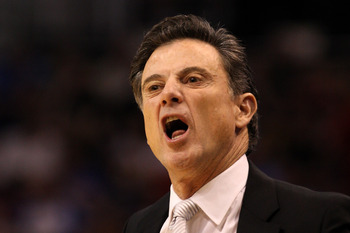 Christian Petersen/Getty Images
In what should be a close game, Louisville simply will not have enough firepower to keep up with Kentucky.
The Wildcats are one of the most talented teams in the country, and they have much more offensive weapons than Louisville.
Despite Louisville playing better defense, they won't have the talent to keep up with Kentucky offensively.
Kentucky Wins the Rivalry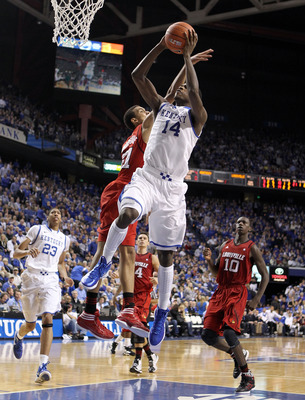 Andy Lyons/Getty Images
Despite playing tight defense, Louisville won't be able to score more than 70 points in this game, and that will lead to the end of their title hopes.
Having seven future NBA studs, Kentucky will be able to overcome Louisville's challenge, and win this game, pulling away at the end with some free throws during garbage time to make this look worse than it was.
This will be the second time Kentucky wins in this rivalry this season.
Prediction: Kentucky 72, Louisville 65
Final Four: Kansas vs. Ohio State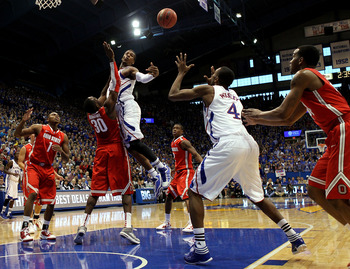 Jamie Squire/Getty Images
Saturday March 31, 8:49 pm ET
Kansas and Ohio State play the second game of the Final Four in a matchup featuring two very similar teams.
Benches Score Less Than 10 Points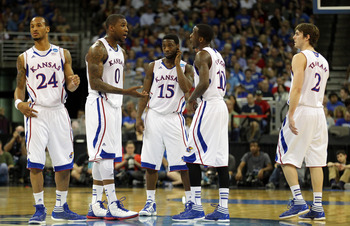 Doug Pensinger/Getty Images
Kansas and Ohio State don't rely heavily on their benches. In fact, neither bench scored a total of more than eight points in its last game.
The starters will be key for victory in this game. Which ever team's starters play well will win, as both teams have a huge gap between their starters and bench players.
Neither team has much depth, and this game will be all about the starters.
Aaron Craft Shuts Down Tyshawn Taylor
Jim Rogash/Getty Images
Aaron Craft is one of the best defenders in the nation. He has the ability to completely shut down any point guard, and he has been doing so in the NCAA tournament.
Craft's next foe will be Tyshawn Taylor of Kansas. Taylor struggled in the beginning of the tournament, and he finally snapped out of his slump in his last game against North Carolina.
While Taylor has been improving, he is not necessarily ready to play well against a defender like Craft. His 22-point effort came against two backup point guards Stilman White and Justin Watts, and he has yet to play well against a good point guard.
Because of these two factors, I see Craft taking Taylor out of the equation.
Jared Sullinger and Thomas Robinson Have Even Battle Inside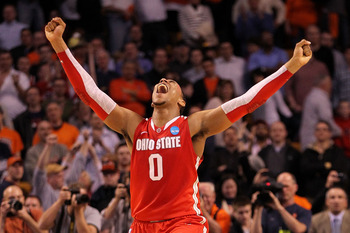 Jim Rogash/Getty Images
Jared Sullinger is a man in the paint, and it is next to impossible to stop him from getting a double-double. Thomas Robinson is a National Player of the Year finalist, and he can dominate inside.
These two are both fantastic players, and when they match up inside I don't see either dominating the other.
While Jeff Withey will probably cover Sullinger at times, and DeShaun Thomas will take Robinson too, when these two dominant big men play each other inside we will see a fair matchup.
Travis Releford Stops William Buford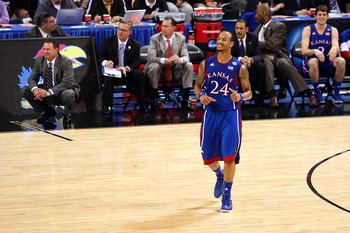 Chris Chambers/Getty Images
William Buford is Ohio State's only starter who is not playing up to his potential. Buford can give this team a great outside game when he is hot, but I don't see that happening against Kansas.
Swingman Travis Releford has the height and length to matchup with Buford, which is not something that everyone as athletic as Buford has.
Releford is a good athlete, but what will allow him to shut down Buford is his intelligence. Releford is an incredibly smart player who knows how to take bigger, more talented opponents out of game, and that's what I see him doing to Buford.
DeShaun Thomas Burns Kansas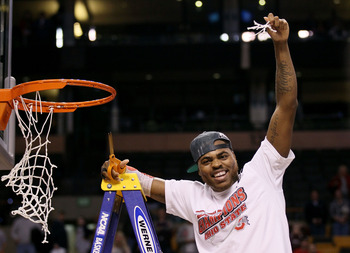 Elsa/Getty Images
DeShaun Thomas is playing the best basketball of his career right now, averaging no less than 21.8 points and 8.5 rebounds per game during the tournament.
Thomas is simply a monster, and his ability to play inside or step out and hit threes makes him special. You can also always count on him to give you good minutes, as he has missed just two minutes total in his last three games.
Thomas has scored no less than 14 points in a game during the Big Dance, and Kansas doesn't have anyone who can stop him except for potentially Thomas Robinson. When it comes to who Robinson will be guarding, Bill Self will have to pick his poison, and I see him letting Thomas beat them than Sullinger inside.
Jeff Withey Does Not Take Advantage of His Size Advantage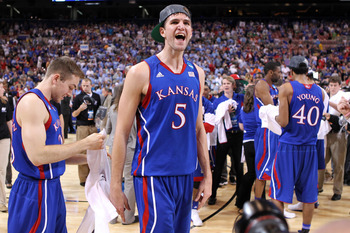 Andy Lyons/Getty Images
Jeff Withey is a big dude, standing at 7' tall. He is huge, and he will have a three-inch advantage over anyone he will be playing against Ohio State. Withey won't be taking advantage of his height advantage on offense, however, as he seems to play his best against other big men.
Withey had a good advantage against the big men he faced against No. 15 Detroit, No. 10 Purdue and No. 11 North Carolina State, but he did not even reach double-digit points against any of them.
I see another mediocre game for Withey against the Buckeyes.
Bigs Control Ohio State-Kansas Game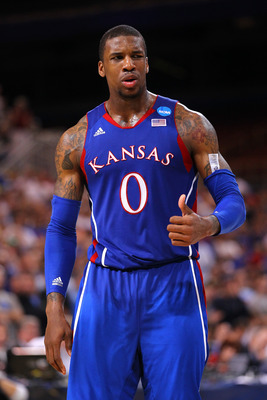 Dilip Vishwanat/Getty Images
Thomas Robinson, Jeff Withey, Jared Sullinger and DeShaun Thomas will be the deciding factors in the outcome of this game.
With Aaron Craft shutting down Tyshawn Taylor, and Travis Releford giving William Buford trouble, the game will come down to the big men.
The different potential matchups inside are interesting, as having only one seven-footer (Withey) and three athletic big men (Robinson, Sullinger, Thomas) will lead to some interesting results.
Ohio State Tops Kansas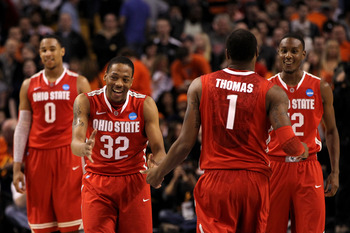 Michael Heiman/Getty Images
In what is guaranteed to be a great game, I see Ohio State edging Kansas for a spot in the National Championship Game.
Both teams' X-factors will be taken out of the equation, with Taylor being stopped by Craft, and Buford being nullified by Releford. This will come down to a close game between big men.
With a dominant Jared Sullinger and a hot DeShaun Thomas, I don't see how Kansas can stop the Buckeyes on offense. Whichever man they put seven-footer Jeff Withey on will play well, as both Sullinger and Thomas can knock down threes.
Withey's inability to play shut-down defense or take advantage of his size on offense will lead to Ohio State coming out on top.
Prediction: Ohio State 67, Kansas 62
National Championship Game: Kentucky vs. Ohio State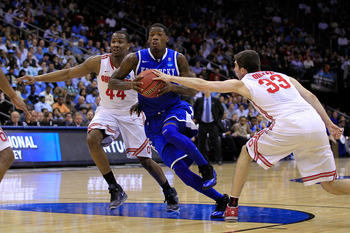 Chris Trotman/Getty Images
Monday April 2, 9:00 pm ET
In what promises to be an exciting finale to a great tournament, No. 1 overall Kentucky and No. 2 Ohio State will battle in New Orleans for the right to be called champions.
Aaron Craft Shuts Down Marquis Teague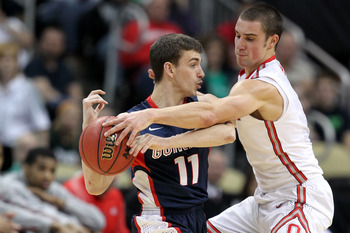 Gregory Shamus/Getty Images
As I've said before, Aaron Craft is an incredible defender against point guards, and Marquis Teague is arguably the worst point guard left.
Craft should have no problem rattling the freshman, using his intelligence and natural abilities to make sure Teague has a poor showing when it matters most.
Look for Craft to attack the weak point of Kentucky: Teague.
Jared Sullinger and Anthony Davis Wage War Inside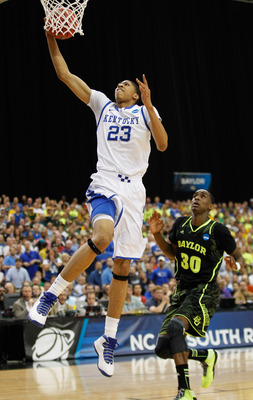 Streeter Lecka/Getty Images
Anthony Davis and Jared Sullinger are among the best centers in the country, and they will be having a battle inside that is nothing short of war.
Davis is the taller, defensively-oriented between the two, while Sullinger is shorter, stockier and is dominant on offense.
These two will be going back-and-forth inside, and it will be a great chance to see two of the best bigs in the country do battle.
Michael Kidd-Gilchrist Raises Draft Stock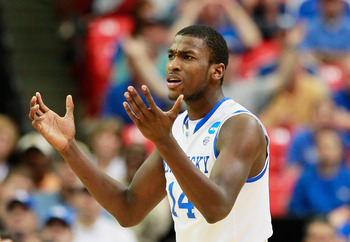 Kevin C. Cox/Getty Images
Michael Kidd-Gilchrist may have struggled against Louisville, Ohio State does not have anyone who can completely matchup with him.
William Buford or Lenzelle Smith Jr. will probably be covering MKG, but Smith Jr. is too short, and Buford may not be athletic enough to keep up with MKG (which is truly saying something).
The reason MKG is averaging over 20 points and seven rebounds per game over his last two games is because he is a mis-match, and that will help him burn Ohio State.
William Buford Struggles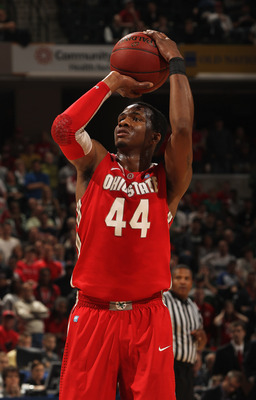 Jonathan Daniel/Getty Images
Like I said on the last slide, Michael Kidd-Gilchrist is an athletic freak, and he will be giving William Buford a hard time on Monday.
MKG is big, long, athletic and surprisingly intelligent for someone who is so naturally gifted he could have skated by on pure skill.
This is a difficult matchup for a player who is on-and-off like Buford, who can score 20 points on one night and then two on the next, and I expect him to be having trouble when it matters most.
DeShaun Thomas Plays Well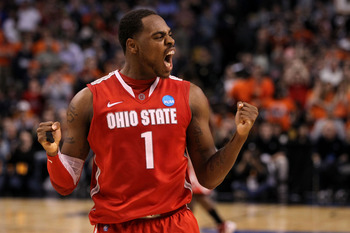 Michael Heiman/Getty Images
DeShaun Thomas is the hottest player in the country right now, averaging 21.8 points and 8.5 rebounds per game in the tourney.
Thomas is a strong, versatile player who can step out and hit a three, or pound it inside. He will be matched up with Terrence Jones inside, who is a similar player.
While this will be one of the few times Thomas will be playing someone similar to him during the tournament, I see him overcoming this adversity on the offensive end. I think that both of these players will excel on the offensive end, despite struggling on defense.
Doron Lamb Steps Up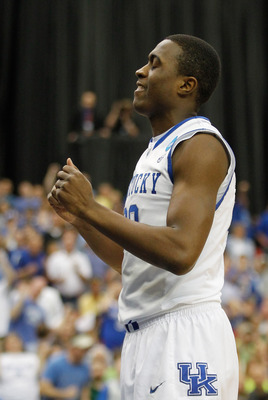 Streeter Lecka/Getty Images
Doron Lamb is an elite shooting guard, and he will be able to breakout against Ohio State.
The Buckeyes will need to have Lenzelle Smith Jr. cover Lamb, which is favorable for the taller, more skilled Lamb.
Lamb is hot right now, averaging 17.5 points per game in the last two games, getting to the free throw line and shooting 40 percent from three. Lamb will be able to take his shots during this game, and he is going to be making the most of them.
Kentucky Wins It All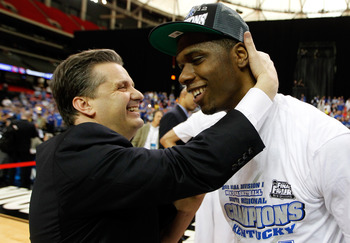 Streeter Lecka/Getty Images
With more talent, more firepower, and more potential than any other team in the country, Kentucky will be crowned National Champions this year.
With Doron Lamb and Michael Kidd-Gilchrist stepping up, and Anthony Davis stifling Jared Sullinger, Kentucky will be able to beat Ohio State for an eighth title.
Prediction: Kentucky 74, Ohio State 68
John Calipari Wins First of Many Championships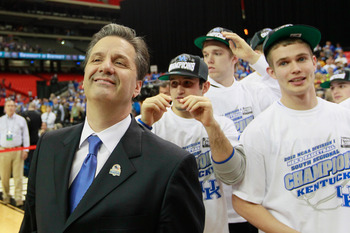 Kevin C. Cox/Getty Images
John Calipari is an excellent recruiter, and he could be the best in history. And despite what some critics (including myself) say, he is a great coach.
Calipari takes young, talented kids and molds them into future NBA players. While a lot of coaches could be successful with the type of talent he gets, he has the ability to teach young kids how to make smart decisions, which will be vital to his success.
This will be the first of many championships Calipari wins, and he will most likely go down as one of the best coaches ever.
While I disagree with his use of the one-and-done system, he is truly a great coach, and no one can take away his achievements.
This Championship Game Is Much Better Than Last Year's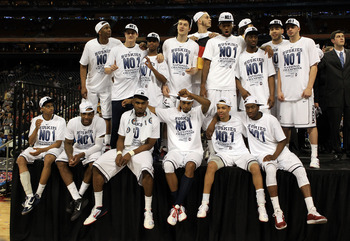 Streeter Lecka/Getty Images
Last year's tournament championship was...well, awful. The defensive struggle that it turned out to be was more a result of both teams playing sloppy basketball than stellar defense.
The game was incredibly low-scoring and many people who filled out brackets and finally watched a game turned off last year's championship because they found it to be boring.
With two incredibly talented teams, each individual matchup will be scrutinized, and this game will be much better than last year's in terms of both play and coverage.
Keep Reading