Jeff Gordon or AJ Allmendinger: Who Needs a Better Run at Martinsville?
March 29, 2012

Jared C. Tilton/Getty Images
There may not be any two NASCAR Sprint Cup Series drivers more different than Jeff Gordon and AJ Allmendinger.
Gordon is a wily old veteran with 85 career Cup victories while Allmendinger is an up-and-coming kid still looking for his first.
Gordon is a quiet yet solid racer while Allmendinger is charismatic yet brash.
Gordon is in his 20th season driving for Hendrick Motorsports while Allmendinger is in his first for Penske Racing.
Yes, Jeff Gordon and AJ Allmendinger are different in almost every way, save for two things:
Both drivers call California home, and both are in desperate need of a good run this weekend at Martinsville.
For Jeff Gordon, it's been a year of bad breaks. Three times in the season's first five races, the four-time Sprint Cup champion has found himself running inside the Top 10 before trouble struck.
At Daytona, Gordon was running eighth when his engine expired 81 laps in. Two weeks ago at Bristol, Gordon was racing for fifth with teammate Dale Earnhardt Jr. when Junior's No. 88 car made contact with Gordon's, cutting the No. 24's tire down and sending Gordon into the wall.
And at Fontana last Sunday, Gordon was headed for a possible Top Five when a penalty on the final green flag pit stop before the rains came, relegating him to a 26th-place finish.
For AJ Allmendinger, it's just been a bad year. Through the season's first five races, the Los Gatos native has finished no better than 15th.
It's not all Dinger's fault. At Daytona, Allmendinger barely had the chance to get up to speed before a pit road accident with Ryan Newman punctured his radiator and sent him to the garage.
At Phoenix, Allmendinger was running in the Top 15 when contact with Paul Menard took him out of contention for a good finish. At Las Vegas, fuel injection problems plagued his No. 22 car,  and at Bristol, suspension issues did him in after he led 55 laps.
Through five races, these two very different drivers have suffered very similar fates. Gordon sits 25th in points, while Allmendinger sits just three points behind him in 26th.
Both drivers are in need of a solid run this weekend, but which driver is most in need of having a good run this Sunday at Martinsville?
For Gordon, his need for a good run is all about expectation. The fans expect to see Gordon up front every week contending for good finishes and wins, as well as making a run at the Chase.
Not sitting 25th in the standings.
Gordon also needs a good run to boost his confidence, to let him know that he really can run up front and end well instead of hitting a wall or being sent to the garage.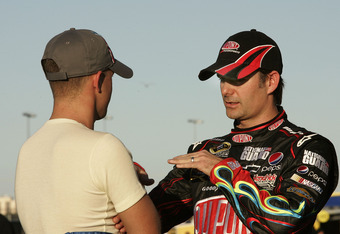 Jerry Markland/Getty Images
But while Gordon needs a good run to bolster his Chase hopes, Allmendinger needs it for an entirely different reason: job security.
Allmendinger is in the early stages of a one-year deal with Penske Racing. But so far, his "opportunity of a lifetime" has produced little in the results department.
Sure, luck has had something to do with that. But that is of little relevance to teams nowadays. If you're a driver in a short-term deal, you either run well or you don't.
If you have tough luck, tough luck.
While it's true Allmendinger won't be fired if he has another rough race on Sunday, momentum plays a huge roll in NASCAR. A good run could go a long way for Allmendinger, while a bad run may just continue to snowball his rough start.
In sum, the cases for each of these two drivers is simple.
Gordon is expected to make the Chase while Allmendinger is not, and thus needs a solid run to start making his move up in the standings.
But Allmendinger is under pressure for a good run so he can start building a solid season to keep his ride, while Gordon's ride is secure for as long as he drives.
So which driver needs a better run at Martinsville?
You be the judge.