Washington Huskies Football: Top Position Battles This Spring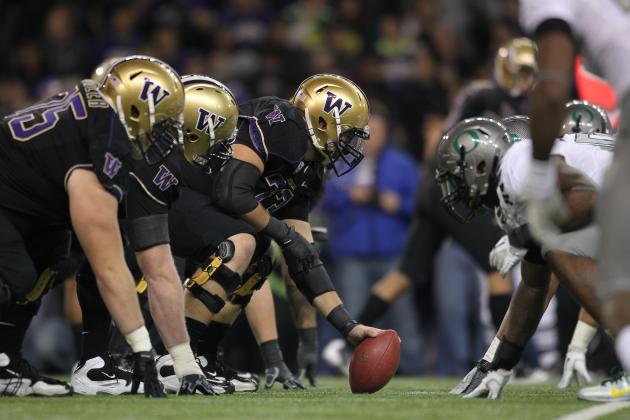 Otto Greule Jr/Getty Images

As the Washington Huskies start spring football, several starting positions are wide open.
The month of April will see players battling for spots on both sides of the ball, and the 2012 Huskies want to improve upon two straight bowl appearances.
Here's a look at the fiercest position battles this spring.
Begin Slideshow

»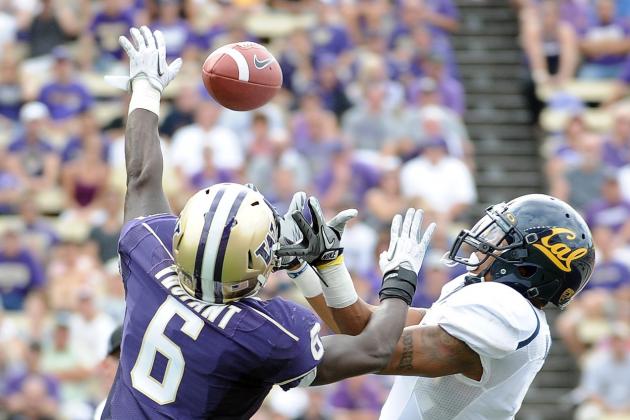 Harry How/Getty Images

Can a college football team benefit from a starter graduating?
As cornerback Quinton Richardson departs the program, his vacancy may actually benefit a pass defense that couldn't cover anybody last season.
Senior Desmond Trufant has the No. 1 cornerback position sewn up, but the question mark surrounding the No. 2 spot makes it one of the most exciting position battles this spring.
Marcus Peters and Antavius Sims headline this spring's untested (and highly touted) corners.
Peters, a star recruit from Oakland, Calif., impressed the UW coaches as a redshirt freshman last season, so much so that they toyed with burning his red shirt midway through 2011.
Sims is intriguing for his size (6'2") and his athleticism, not to mention his age. Sims has two years of experience in junior college ball, making him a contender to play right away.
Peters and Sims will compete against the more experienced, but perhaps less talented, Anthony Gobern and Greg Ducre, cornerbacks who both saw action last season.
Improving pass coverage is critical to the defense's success in 2012, and that starts with the cornerbacks.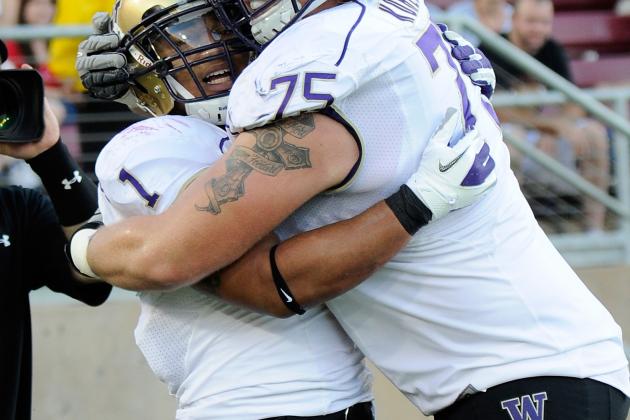 Thearon W. Henderson/Getty Images

With Senio Kelemete graduating to the NFL, the Huskies have a giant hole to fill on their offensive line.
Junior Erik Kohler could slide into left tackle after playing his first two seasons primarily at right tackle.
Kohler played left tackle in high school, protecting the blind side of former Husky QB Nick Montana at Oaks Christian. Kohler has shown flashes of dominance but struggles with inconsistency and foot speed.
Sophomore Micah Hatchie will also get plenty of looks at left tackle. Hatchie played in every game last season on special teams and filled in sparingly on the offensive line.
The late-season injury to guard Colin Tanigawa also means that some underclassmen will get opportunities.
Ben Riva, at 6'6" and 300 pounds, has impressed the coaches with his strength and agility, and James Atoe, another 6'6" offensive lineman, should figure into the mix this spring.
Losing a senior leader like Kelemete will be difficult to replace in 2012, but the Dawgs have a lot of young—and big—contenders.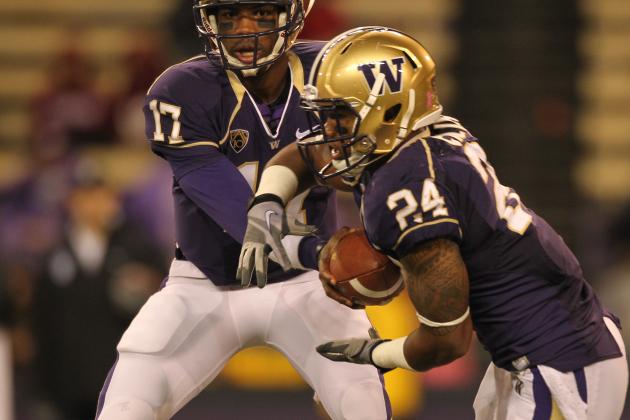 Otto Greule Jr/Getty Images

One of the biggest questions heading into camp is: Who will replace running back Chris Polk?
A better question may be: Will anyone emerge as the team's primary ball carrier, or will UW use a committee of tailbacks all season?
The running backs most likely to succeed Polk are last year's other top rushers: No. 24 Jesse Callier, a junior who had 47 carries in 13 games in 2011, and No. 25 Bishop Sankey, a sophomore who played in 12 games his true freshman season, running the ball 28 times for 187 yards.
Callier has the speed to get to the edge, and this kind of off-tackle running balanced well with Polk's bruising style. But is he the kind of every-down back UW needs?
Sophomore Bishop Sankey showed flashes of his explosive talent in 2011, demonstrating to UW fans why many considered him the best in-state high school running back in the 2010 recruiting class.
While Callier and Sankey lead the running back group, the health of Deontae Cooper and Johri Fogerson will impact the team's depth.
Replacing arguably the best Washington running back of all time will not be easy, and the murkiness surrounding a true successor to Polk makes the running back position one of the most intriguing this spring.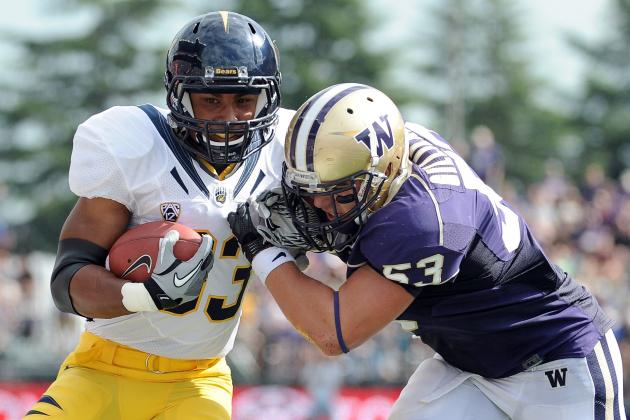 Harry How/Getty Images

Cort Dennison and his "what I lack in talent, I make up for in effort" MLB stylings have graduated, leaving middle linebacker as the biggest hole to fill this spring.
The heir apparent to Dennison appears to be Thomas Tutogi, a big-name JC transfer who played some MLB last season for UW. Tutogi spent his freshman year tackling everyone in Southern California's JC circuit before coming to Montlake.
Lurking behind Tutogi is Garret Gilliland, another junior who has spent some time backing up Dennison. Gilliland got a surprise start against Nebraska his freshman season and has since contributed on special teams.
A fun wrinkle to this position battle is that new defensive coordinator Justin Wilcox has suggested that he wants to run a 3-4 defense but won't make that change until he has all the pieces.
Switching to a 3-4 base could mean that Tutogi and Gilliland play together on some downs, complementing UW's stable of young outside linebackers, including Jamaal Kearse and John Timu.
A 3-4 defense may help the Huskies compete with the high-flying Pac-12, and getting the right player at middle linebacker is one of the keys to making that jump.
If middle linebacker is truly the quarterback of the defense, then UW has its own kind of quarterback controversy this spring.