Michael Jenkins and 5 Minnesota Vikings Who Must Be Replaced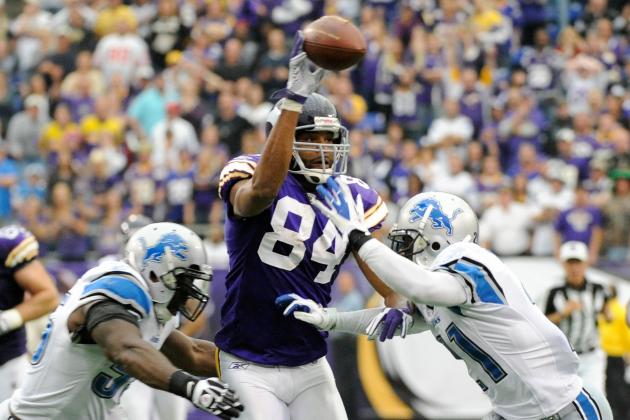 Hannah Foslien/Getty Images

With an abysmal 3-13 record in the 2012 NFL season, the Minnesota Vikings need to look at finding some new starters on all three sides of the ball.
The team was awful in almost every single statistical category last year, except for their running game.
Free agency is already in full swing and the team has gone ahead and replaced some starters already. The signing of John Carlson was made to replace free agent Visante Shiancoe. The team has yet to re-sign E.J. Henderson, which means that either Jasper Brinkley will start or the team will find a new middle linebacker in free agency.
What the team has not done yet is address two of their three biggest needs—left tackle and wide receiver. Their record in 2011 only has one positive to it, and that is that the team will have the third draft pick in the 2012 NFL draft. The team will likely use it on left tackle Matt Kalil to sure up their offensive line.
Minnesota also needs to find a replacement for Michael Jenkins, who has never been and will never be a No. 1 option at wide receiver.
Regardless of how they do it, the Vikings must replace these next five players.
Begin Slideshow

»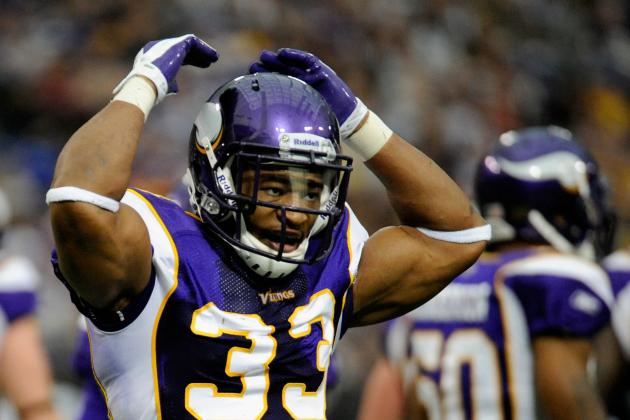 Hannah Foslien/Getty Images

In his first year as a full-time starter for the Vikings, Sanford actually put up some decent numbers.
In 15 games, Sanford had 76 tackles and two interceptions. Although that may sound good, the bad that surrounds Sanford does not show up on the stat sheet.
Sanford was very poor at protecting the deep ball. Teams were able to have their way with the Vikings secondary because they allowed receivers to get open down the field for easy catches.
Sanford and Hussain Abdullah, who is not on the team anymore, were a terrible combination at the safety position. The Vikings need to address their safety position and find a replacement for Sanford in the draft. Whether the Vikes can steal Mark Barron in the second round or draft Markelle Martin in the third, the team needs to make a move.
The team already let Abdullah go, which means the free safety job is ready to be passed down to Mistral Raymond. Now the Vikings need to find someone to replace Sanford and sure up the safety position.
When you have Aaron Rodgers, Jay Cutler and Matthew Stafford in your division, you should make sure you have safeties who can cover the deep pass.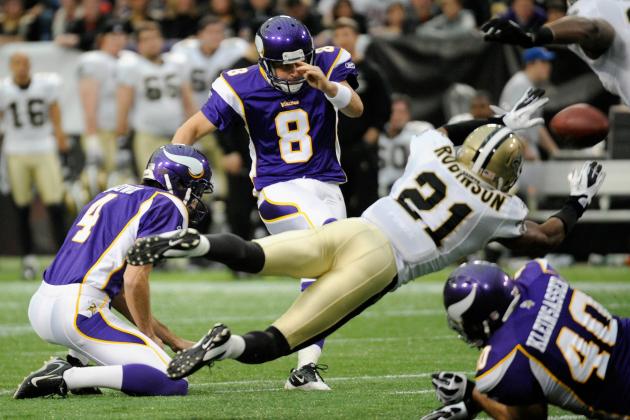 Hannah Foslien/Getty Images

In 2011, with 78.6 percent of his field goals made, Ryan Longwell had his third-worst season of his career.
Longwell is not very old in kicker years at 37, but his talents are definitely diminishing. Although he is usually very accurate, his kick distance is declining.
The Vikings need to find someone who can come in and help the team successfully kick a 50-plus-yard field goal when they need to. Longwell may have been the guy to do that for the team in the past, but not anymore.
Minnesota should look to draft a kicker in the sixth or seventh round and make sure that the new kicker is able to provide the team with some distance on his kicks.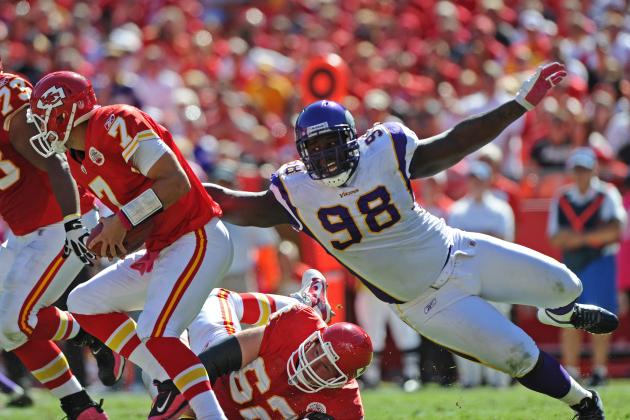 Peter Aiken/Getty Images

For whatever reason, the Vikings went ahead and re-signed Letroy Guion to a three-year contract this offseason. The Vikings are going to move him to the starting nose tackle position for the 2012 season.
In his four years and 40 games as a Viking, Guion has only notched in two sacks and 38 tackles. Albeit he was not a starter for the team, but he was never very impressive.
The Vikes should look to find a replacement for Guion if he does not come out and play well in his first year as a full-time starter for the Vikings. The Vikings received two fourth-round draft picks in compensation for the loss of Ray Edwards and Sidney Rice, so the team should use one of those on a talented defensive tackle.
Guion should not be replaced immediately, but if he does not pan out, then the team needs to make sure they have someone who can take his spot and dominate offensive lines with Kevin Williams, Jared Allen and Brian Robison.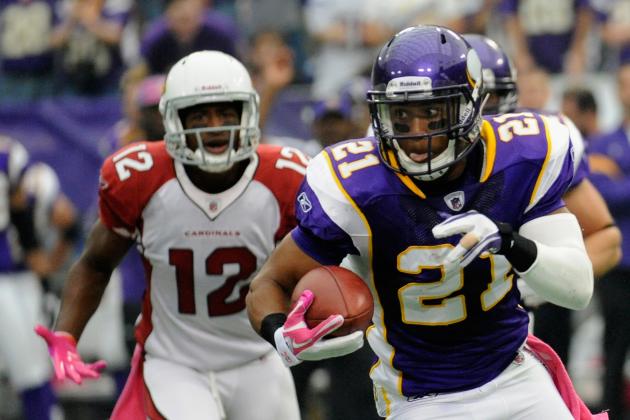 Hannah Foslien/Getty Images

Asher Allen is lucky to even be on a football team in the NFL. Allen needs to go as soon as possible. Maybe the Vikings already found a replacement for him with the signing of free agent Zach Bowman.
Allen is not technically a starter, but he did start some games last year and he did play horribly. With Chris Cook coming back from jail and Antoine Winfield coming back from injury, you will likely never see Allen start on the Vikings again.
Even if he does not start, he should not be in many nickel or dime packages because he somehow allows any receiver to catch any pass they want.
Luckily for the team, this years draft is full of talented cornerbacks. The Vikes will be able to find some young talent in the mid-rounds that can easily replace Allen. The best name to hang onto is Chase Minnifield out of Virginia. If the Vikes can snag him in the third round, you won't be seeing much of Allen anymore.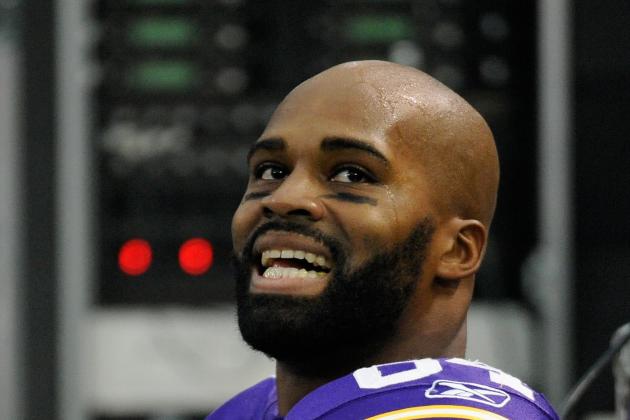 Hannah Foslien/Getty Images

Michael Jenkins is the definition of a typical second option at wide receiver. Unfortunately for the Vikings, he is the team's No. 1 option. If the Vikes want Christian Ponder to become a successful quarterback in the NFL, they must give him a true No. 1 option at wide receiver.
Jenkins has never caught over a 1,000 yards or put up double-digit touchdown numbers. It's not as if he is going to see the light next year in his ninth season and put up huge numbers. He needs to move to the second option, which will then help Percy Harvin, the best wide receiver on the Vikings, move to his comfortable position in the slot.
The Vikings are in a prime position to select wide receiver Justin Blackmon out of Oklahoma State with their third pick in the 2012 draft. However, it is unlikely that the team will go ahead and draft Blackmon because they need to address their left tackle position and they will likely go ahead and draft Matt Kalil instead.
The good news is Alshon Jeffery and Rueben Randle, two great wide receiver talents, will likely be available in the second round when the Vikings make their selection. The addition of either of these two means that Jenkins can move to second option, Harvin can move to the slot, and Randle or Jeffery could automatically become the Vikings first option at wide receiver.
With all these moves, Ponder will definitely shine and the team will win way more than three games in 2012.
Follow me on Twitter for everything NFL/NBA/WWE @ThaFreakness_BR.