2012 NFL Mock Draft: Busts That Will Prove Experts Wrong
March 29, 2012

Darren Carroll/Getty Images
NFL draft experts usually know what they are talking about. They are experts because they have spent countless hours studying tape on these potential first-round draft picks. 
However, every year there are players that sneak into the first-round who some of the experts do not believe should have been drafted there. 
A player like quarterback Ryan Tannehill will shock the experts when he is drafted by the Miami Dolphins at No. 8 and carries them to multiple winning seasons. 
1. Indianapolis Colts: Andrew Luck, QB, Stanford
Luck is the best player in the draft this year, and will be selected by the Colts to be their quarterback for the future. With Peyton Manning gone, Indianapolis will move onto the Luck-Era. 
2. Washington Redskins: Robert Griffin III, QB, Baylor
The Redskins went all-in for RG3 when they traded their next three first round picks for the number two spot in the draft. Griffin III had a great combine and will be expected to be the leader of the Redskins for the next 10 years. 
3. Minnesota Vikings: Morris Claiborne, CB, LSU
The Vikings were awful in pass defense this year, giving up a league high 34 touchdowns. Claiborne is the best corner in the draft and should go to Minnesota at No. 3.
4. Cleveland Browns: Trent Richardson, RB, Alabama
Richardson is the best running back in the draft, and with the Browns losing Peyton Hillis to free agency, the smart move is to take Richardson at No. 4.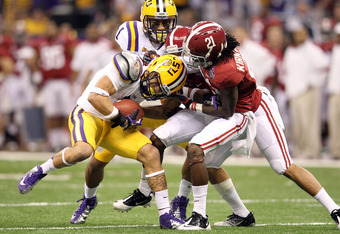 Andy Lyons/Getty Images
5. Tampa Bay Buccaneers: Dre Kirkpatrick, CB, Alabama
Kirkpatrick comes into Tampa Bay and is their best cornerback from day-one. With Tampa giving up 30 touchdowns to opposing quarterbacks this year, they will have to take Kirkpatrick at No. 5. 
6. St. Louis Rams: Matt Kalil, OT, USC
The Rams cannot afford to lose their franchise quarterback Sam Bradford to another injury. Taking Kalil, who impressed during his workout at the combine running a 4.96 40-yard dash and finishing in the top 10 of the bench press, will help keep Bradford healthy. 
7. Jacksonville Jaguars: Justin Blackmon, WR, Oklahoma State
The Jaguars had the worst passing offense in the NFL last year. Drafting Blackmon gives them a legit target for Blaine Gabbert or for Tim Tebow if they trade for him. They have to take Blackmon at No. 7. 
8. Miami Dolphins: Ryan Tannehill, QB, Texas A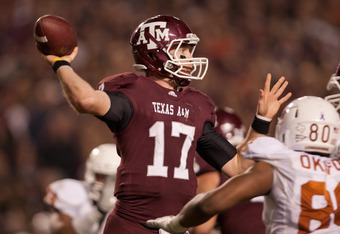 Darren Carroll/Getty Images
Miami needs a quarterback and Tannehill is the best one that will be available. With Dolphins offensive coordinator Mike Sherman now with the team, drafting his quarterback while at A&M is the smart move. 
9. Carolina Panthers: Devon Still, DT, Penn St. 
The Panthers need help on their run defense, and Still is the best tackle in the draft. They will take the PSU run stopper at No. 9.
10. Buffalo Bills: Jonathan Martin, OT, Stanford
Buffalo needs help on their offensive line to keep running back Fred Jackson and quarterback Ryan Fitzpatrick healthy. Taking Martin is the right and smart move.  
11. Kansas City Chiefs: Riley Reiff, OT, Iowa
 The Chiefs need help on their offensive line, and Reiff is one of the best players on the board in this position. 
12. Seattle Seahawks : David DeCastro, OG, Stanford
Seattle gave up 50 sacks to their quarterback last year. DeCastro will help in fixing that problem. 
13. Arizona Cardinals: Quinton Coples, DE/DT, North Carolina
Coples is a fierce pass rushing defender that the Cardinals desperately need. Taking Coples here will help keep a Cardinals defense that ranked in the middle of the NFL in passing defense.  
14. Dallas Cowboys: Janoris Jenkins, CB, North Alabama
The Cowboys have been known to take risks on players with checkered pasts. Jenkins is a great cornerback with a past that has him down on a number of mock drafts. Cowboys' owner Jerry Jones will take a risk on Jenkins at No. 14.
15. Philadelphia Eagles: Dont'a Hightower, LB, Alabama
Hightower is a high-energy player who hits anything that moves. He can help a rushing defense that ranked 16th last year. 
16. New York Jets: Dontari Poe, DT, Memphis
The Jets need help with their run defense, which ranked 22nd in the NFL. Poe would fill that hole in their defense.  
17. Cincinnati Bengals (via Oakland Raiders): Stephon Gilmore, CB, South Carolina
The Bengals did have the ninth-best passing defense in the league; however, they were torched for 21 touchdowns last year to receivers. They should take Gilmore with No. 17 and fix the cornerback position. 
18. San Diego Chargers: Zebrie Sanders, OT, Florida State
The Chargers allowed teams to constantly hit QB Philip Rivers, which was a reason why they finished at 8-8. Taking Sanders at No. 18 will help correct this and improve their record next year.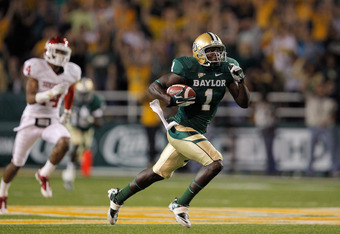 Sarah Glenn/Getty Images
19. Chicago Bears: Kendall Wright, WR, Baylor
The Bears have a physical receiver, Brandon Marshall, for quarterback Jay Cutler to throw to. However, they need a true receiver as a dangerous deep threat. Wright and his 4.4 40-yard dash will be a great fit for the Bears at No. 19.
20. Tennessee Titans: Melvin Ingram, DE, South Carolina
Ingram will come in to help a Tennessee defense that ranked 24th in rushing and 14th in passing. His speed and aggression will help improve this Titans defense.  
21. Cincinnati Bengals: Lamar Miller, RB, Miami (FL)
Miller is the second-best running back in this draft, and with the Bengals potentially losing Cedric Benson to free agency they can add the speedy back from Miami (FL). With Andy Dalton and A.J. Green, Miller could be the third piece to the young nucleus on their offense. 
22. Cleveland Browns (via Atlanta Falcons): Alshon Jeffery, WR, South Carolina
Jeffery is the best receiver in this draft who isn't named Justin Blackmon. Cleveland needs a receiver, and drafting Jeffery is the smart decision. 
23. Detroit Lions: Mike Adams, T, Ohio State
The Lions gave up 36 sacks last season, which wasn't awful, but it wasn't great. They have room to improve to keep quarterback Matthew Stafford healthy for a full 16-game season. Taking Adams will be a perfect fit for this Lions offensive line. 
24. Pittsburgh Steelers: Luke Kuechly, ILB, Boston College
The Steelers are getting older on the defensive side of the ball. Taking Kuechly to replace James Farrior will help keep this defense one of the best in the NFL.  
25. Denver Broncos: Michael Floyd, WR, Notre Dame
The Broncos need a No. 1 receiver to be Peyton Manning's go-to guy. Picking Floyd, who impressed at the combine behind his 4.47 40-yard dash, at No. 25 will be the best move for the Broncos. 
26. Houston Texans: Brandon Thompson, DT, Clemson
Houston has a good defense, but adding Thompson would make them an elite defense. They can add the run-stopper from Clemson at No. 27 and watch as teams fail to run on them next year. 
27. New England Patriots (via New Orleans Saints): Jared Crick, DE/DT, Nebraska
The Patriots did not have a pass rush this year, only sacking the quarterback 40 times. Crick can help in adding a great pass rush to a defense that ranked 31st last year. 
28. Green Bay Packers: Peter Konz, C, Wisconsin
Green Bay needs a Center, and Konz is the best one in the draft. It's a match made in heaven for the Packers. 
29. Baltimore Ravens: Andre Branch, DE/OLB, Clemson
The Ravens have a way of taking athletic defenders from college and turning them into great professionals. Taking Branch at 29th would be a great fit for this Ravens defense.  
30. San Francisco 49ers: Cody Glenn, Guard/T, Georgia
If the 49ers lose quarterback Alex Smith to free agency, they will be moving to first-year starter, Colin Kaepernick. They'll have to do everything they can to give him as much time as possible.
31. New England Patriots: Courtney Upshaw, DE,OLB, Alabama
The Patriots need a pass rushing defender, and selecting Upshaw with their second first-round pick will give them exactly what they're looking for.  
32. New York Giants: Mark Barron, S, Alabama
Barron is one of those combination defenders that can defend the pass just as well as he defends the run. The Giants have to take him at No. 26 and will improve an already good defense.