Fantasy Baseball Sleepers 2012: Underachievers Ready to Break out
March 30, 2012

Rich Pilling/Getty Images
As an avid participant in fantasy baseball, there are inevitably going to be players who screw me over with poor performances on a yearly basis. While my first instinct is usually to shun that player for all eternity, that can often come back to bite you as disqualifying a player from consideration limits your options.
Not every player lives up to expectations immediately, but some of them do reach their potential just a little bit later. Ask Kansas City Royals outfielder Alex Gordon about that as he went from the top prospect in baseball, to a bum and finally to an All-Star-caliber player last year.
Here are three young players who have underachieved to this point, but are finally ready to bust out this season.
OF Cameron Maybin (SD)
Just a few short years ago, outfielder Cameron Maybin was considered a can't-miss prospect in the Detroit Tigers' system. He didn't seem to be blossoming, however, so Detroit dealt him to the Miami (then Florida) Marlins in a trade that brought Miguel Cabrera the other way.

The Marlins gave Maybin parts of three seasons to prove himself, but they were unimpressed, prompting him to land with the San Diego Padres last season. Maybin received more than 300 at-bats for the first time in his career and he made major strides with nine home runs, 40 RBI and 40 steals.
Maybin was thought to have had 30-home run, 30-steal potential, though, so he still has a lot of work to do. Spacious Petco Park isn't the best place for Maybin to develop his power, but the speed is already there. If he can make more consistent contact and turn some of those doubles into homers, there is no reason why Maybin can knock 20 out of the yard and swipe another 40 bags.

The Padres have nothing offensively, so Maybin will be given every chance to succeed and it should result in a career year.
C Matt Wieters (BAL)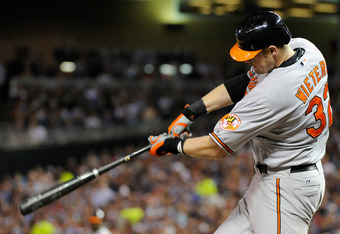 Hannah Foslien/Getty Images
It isn't often that a catcher is as highly touted as the Baltimore Orioles' Matt Wieters, but a couple seasons back he was one of the hottest prospects in baseball. It wouldn't be fair to say that he has been a disappointment as he made his first All-Star team last year, but he hasn't exactly lived up to expectations either.
Wieters was said to have been similar to Minnesota Twins catcher Joe Mauer, only with more power. The power is coming around as he hit 22 bombs last year, but he needs to become more well-rounded.
Mauer is a perennial .300 hitter, but Wieters hasn't eclipsed .262 in either of his two full seasons. He hit .288 over 354 at bats in 2009, though, so there is reason to hope.
With the Orioles relying on younger players, Wieters will be expected to carry much of the load offensively. With more responsibility and a cushy spot in the batting order, I anticipate Wieters developing into the complete package that everyone envisioned.
OF Dexter Fowler (COL)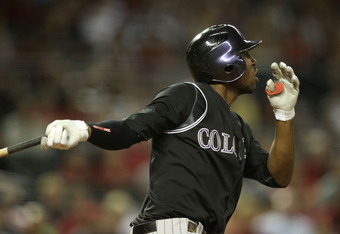 Christian Petersen/Getty Images
Sometimes the pressure of being the next big thing really weighs on a player, and that has been the case with Colorado Rockies center fielder Dexter Fowler. We've been hearing for the past few years that Fowler can be a five-tool player, but he has never eclipsed six home runs in a season and has had more than 13 steals just once. Despite all of that, his talent is evident and the fact that he plays at Coors Field gives me hope that a break-out season is still in the cards.
Fowler is going to bat leadoff, so as long as he can find a way to get on base, he'll be in a position to steal plenty of bases. Steals along can make a player extremely valuable in fantasy baseball as only Atlanta Braves outfielder Michael Bourn stole more than 49 bases last season.
If Fowler can eclipse his steals total of 27 from a few years ago, get into the 10 to 15 home run range and hit for a respectable average, he'll be invaluable in fantasy terms.