NHL: 25 Midseason Call-Ups Poised for Breakouts in 2012-13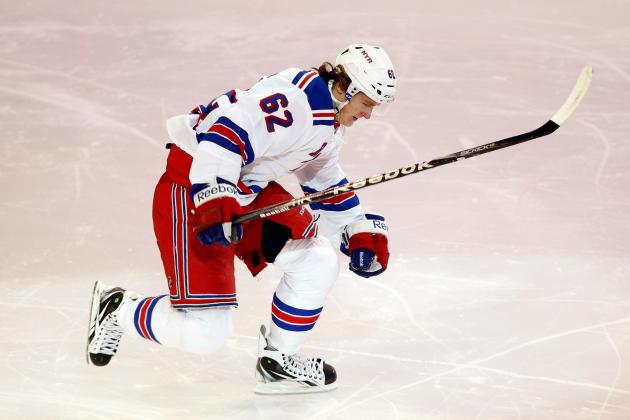 Gregory Shamus/Getty Images

One of the most intriguing aspects of any given NHL season is that you never know who's going to step up and rise to the occasion.
This year, several players have shown flashes of brilliance, and while some of them were expected to all along, there are a handful who did not receive such accolades.
Here's 25 players who were given a shot this season, made the most it and have the potential to become even better over time.
Begin Slideshow

»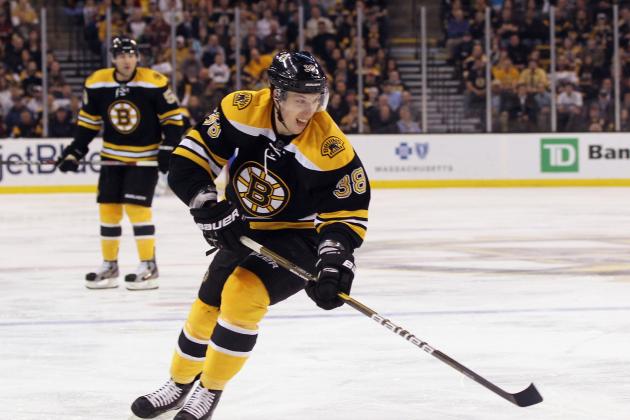 Bruce Bennett/Getty Images

Jordan Caron, Boston's first-round pick (25th overall) in 2009, has 15 points (seven goals, eight assists) in 47 games this season.
He doesn't log much ice-time, but as was the case with Tyler Seguin last year, it's because of the incredible amount of depth in this Bruins lineup—not because he isn't a talented hockey player.
Merely being able to crack the top four lines is an impressive feat, especially for a youngster like Caron.
Caron has plenty of size, checking in at 6'3", 204 pounds. But make no mistake; there is more to his game. He has the talent to be, at the very least, a 40-point player in the near future. I see him as a bigger, stronger Brad Marchand-type player.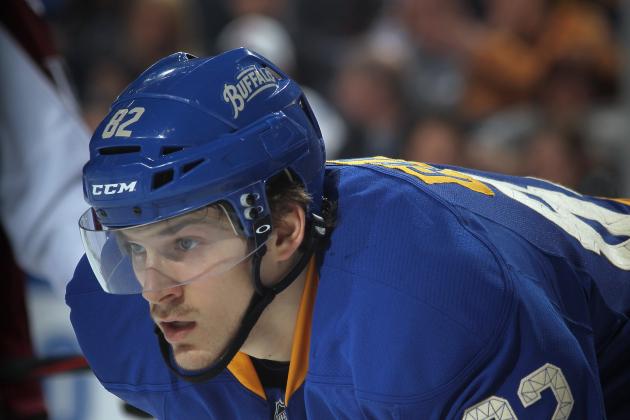 Bruce Bennett/Getty Images

Marcus Foligno, son of former Sabre Mike, was Buffalo's fourth-round pick in 2009.
He's been productive in his limited time with the club in 2011-12, racking up thirteen points (six goals, seven assists) in 14 games. Foligno currently sports a plus-six rating, a testament to his strong instincts at both ends of the ice.
At 6'3", 222 pounds, Foligno can wreak havoc in front of the net and along the boards. In due time, I strongly believe he has the potential to be Buffalo's answer to Milan Lucic.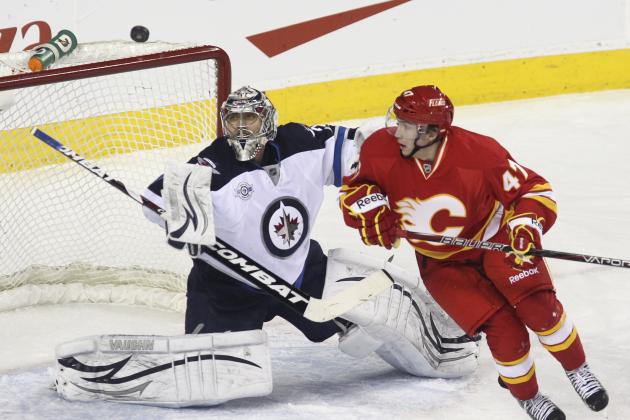 Mike Ridewood/Getty Images

Baertschi, Calgary's first-round pick (13th overall) this past summer, is back with the Portland Winterhawks (WHL) now, but recently got the chance to strut his stuff in the big leagues.
If his performance, albeit within a small sample size, is any indication, Baertschi has all the tools to be a scoring threat. He potted three goals in the five contests he suited up for.
Unlike fellow countryman Nino Niederreiter, this Swiss sharpshooter is rather smallish (5"10), but develop him properly and he'll be just fine, no doubt about it.
By the looks of things, Baertschi is the prime candidate to be Jarome Iginla's long-term replacement as Calgary's go-to-guy on offense.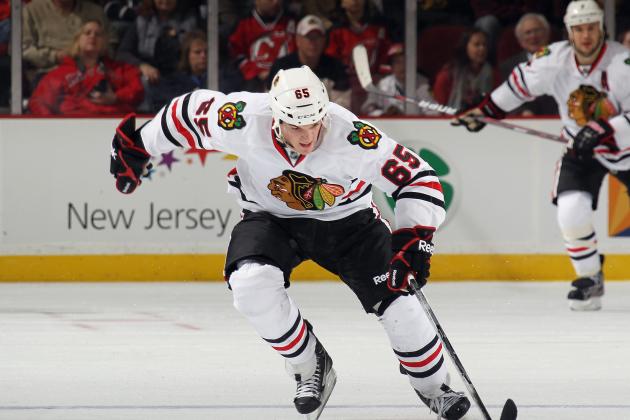 Bruce Bennett/Getty Images

It's not often that a fifth-round pick makes an immediate impact in the NHL, but in 2011-12, Chicago's Andrew Shaw has done just that.
This season, Shaw's collected 22 points (11 goals, 11 assists) in 36 games for the Blackhawks.
He doesn't log a ton of minutes, nor does he have much size at 5'10", but Joel Quennevile and the rest of the coaching staff really likes his work ethic and compete level.
His combination of grit and skill, along with his aggressive style of play, will make Shaw a highly effective and productive forward for many seasons.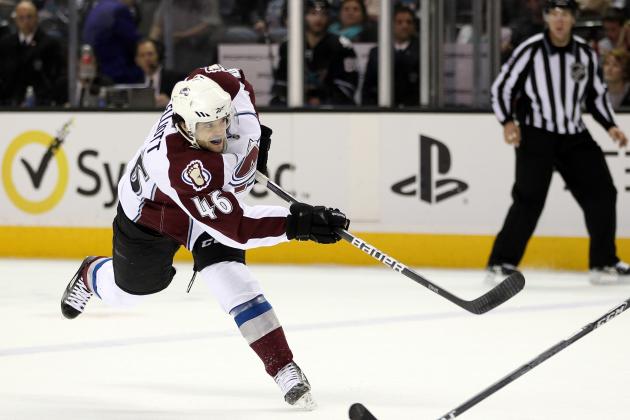 Ezra Shaw/Getty Images

Stefan Elliott, the Avs' second-round choice in 2009, has 13 points (four goals, nine assists) and a plus-two rating in 39 games.
Elliott's shown he's reliable in both zones and can be a key cog on the blueline. He's not the biggest skater out there—he's just 6'1", 190 lbs—and isn't an overly physical player, but he does get down in front of shots.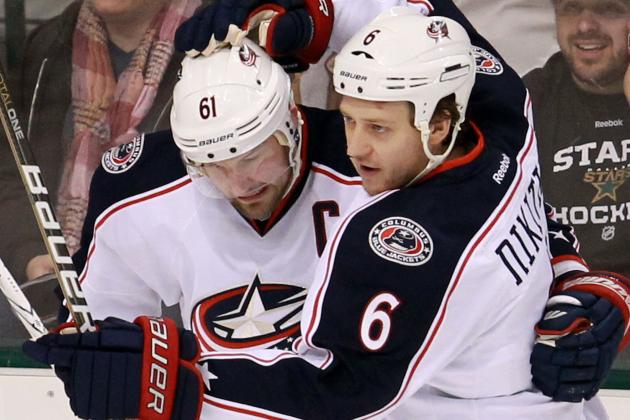 Ronald Martinez/Getty Images

Nikita Nikitin is not just a fun name to say, it could become a household name in 2012-13.
Nikitin, a 2004 fifth-round pick (136th overall) of the St. Louis Blues, has been red hot since being traded to the Columbus Blue Jackets for Kris Russell. He's amassed 31 points (seven goals, 24 assists) in 60 games.
He is also underrated as a passer and has strong offensive instincts. At 6'3", 215 pounds, Nikitin's also a big body, one that doesn't use his size nearly enough. That should change over time.
Don't look now, but Nikitin has all the tools to be an excellent defenseman in the NHL.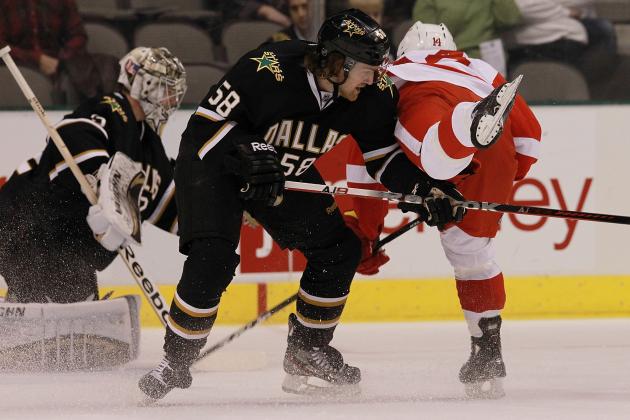 Ronald Martinez/Getty Images

Jordie Benn—brother of fellow Star, Jamie—went undrafted, but he is being given the chance to earn his way into the big leagues.
Benn's not quite there yet, but in the two games he played this season, he certainly impressed, recording an assist, being physical and making smart decisions on the ice.
He's more of a wild card pick, but I think he has a real shot to crack the Stars' lineup next season.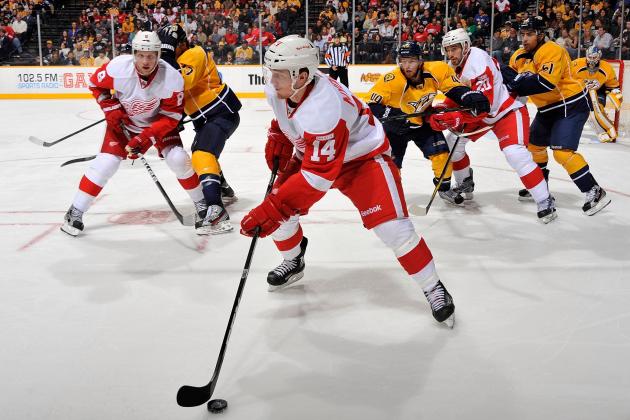 Frederick Breedon/Getty Images

Nyquist has only played seventeen games with the Red Wings this season, but his performance over that stretch might be enough to convince the Detroit brass to give him a full-time job in 2012-13.
He's racked up seven points (one goal, six assists) and has gotten scoring opportunities every night.
Kenny Holland's fourth-round selection in 2008 has the chance to be yet another under-the-radar Swede to make waves in the NHL (see: Lidstrom, Kronwall, Zetterberg, Franzen).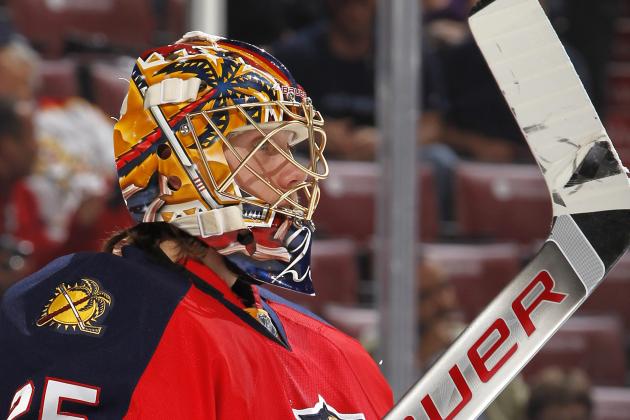 Joel Auerbach/Getty Images

Markstrom didn't have a winning record this season, but I'd hardly blame him for that.
He was downright phenomenal between the pipes on most nights, stopping as many as 41 pucks in a win against Montreal. He also made 38 saves in a loss to Ottawa, and Markstrom posted a .923 save percentage over the handful of contests he played.
Florida's 2008 second-round pick has all the talent in the world. Now, he just needs to get his chance.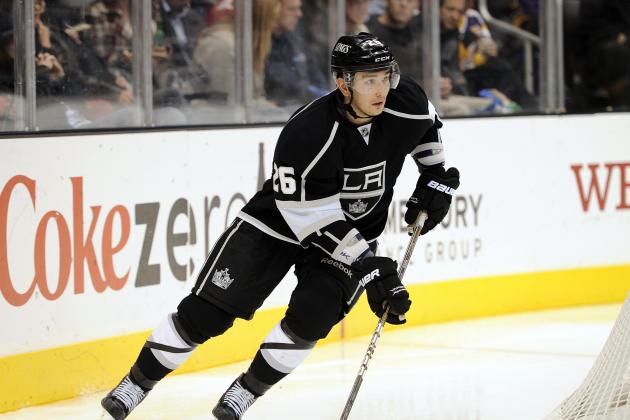 Harry How/Getty Images

When the Kings traded Jack Johnson to Columbus, they were banking on Slava Voynov, the team's second-round pick in 2008, to step up.
Voynov has shown he's got the talent to do so, putting up 20 points (eight goals, 20 assists) in 53 games this season. He's still a work in progress, but Voynov is getting more and more acclimated to the NHL.
Despite his smaller stature—he's just 5'11"—Voynov's filled-out that frame quite nicely at 202 lbs. But he's also much stronger than his height suggests.
The defenseman isn't one-dimensional either. Voynov sports a plus-12 rating and blocks a ton of shots. He's starting to become a more reliable defenseman in his own zone, and again, will only improve as he goes along.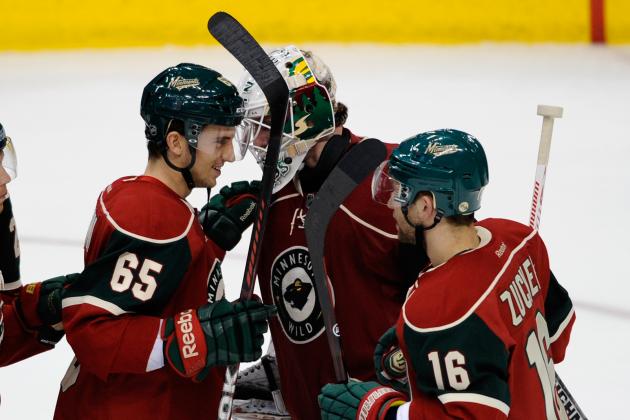 Hannah Foslien/Getty Images

Zucker, Minnesota's second-round pick in 2010, made his NHL debut on March 29. He's played five games in the big leagues and has two assists to show for it.
Both of those points came on March 31, during a 4-3 shootout win over the L.A. Kings.
Zucker received over 15 minutes of ice-time in that contest, but he's averaged just ten minutes per game in that department since he joined the team.
Wild GM Chuck Fletcher said he envisioned Zucker as a third-line energy guy who can score but also play with grit and kill penalties.
I think Zucker's got "Ryan Callahan" written all-over him. He's a natural leader, as he captained Team USA at the World Juniors. And he also wears his heart on his sleeve and tries to contribute in as many ways as he possibly can.
Over the five games he's played with the Wild, Zucker has three hits and has blocked a pair of shots. He also has nine shots of his own.
It won't be long before Zucker's a fan-favorite in Minnesota, that's for sure.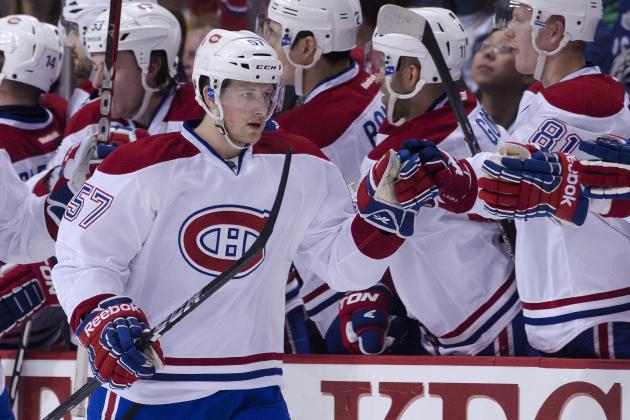 Rich Lam/Getty Images

Blake Geoffrion was originally drafted by Nashville in the second round in 2006, but was acquired by Montreal as part of the Hal Gill trade.
Considering the fact that his grandfather Bernie "Boom Boom" Geoffrion is a Habs legend, this is no typical acquisition.
He won't be Boom Boom, but he will undoubtedly become a key part of this team. Geoffrion projects as a grinder with some scoring touch, and in time, he can definitely be a 40-point guy who plays well at both ends of the ice.
With just five points (two goals, three assists) this season, Geoffrion's still got work to do, but he'll get there. Habs fans will have to exercise patience, which is something they generally don't do.
Ezra Shaw/Getty Images

The Habs made a huge splash when they selected the Quebec native 18th overall at the 2009 Entry Draft in Montreal.
Much like David Desharnais, Leblanc is going to be a productive forward in the NHL. He won't be a star but will always be a significant part of the offense.
Leblanc has ten points (five goals, five assists) and 55 shots in 41 games this season. He also sports a plus-three rating and 67 hits.
Leblanc's not particularly strong and needs to bulk up, but that hasn't stopped him from being aggressive on the ice. I like his compete level and work ethic; he just needs more experience, and he'll be just fine.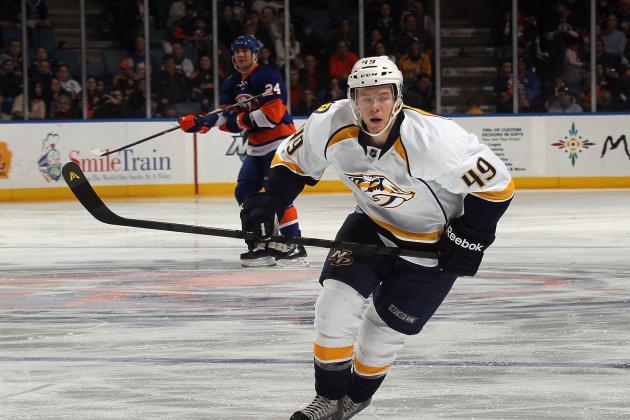 Bruce Bennett/Getty Images

Ryan Ellis is going to be one of the premiere offensive defensemen in the NHL. That's precisely why the Predators chose him 11th overall in 2009.
He'd already been a fixture on most rosters but hasn't been able to crack Nashville's. Given how much depth they have on defense, that's not exactly surprising either.
Ellis has skated in 31 games for the Preds this season and has 11 points (three goals, eight assists) over that span.
At 5'10", Ellis isn't an imposing figure, and he's not going to be a shut-down rearguard. Fortunately, Nashville has the luxury of not one, but two such players in Shea Weber and Ryan Suter.
What Ellis will be, however, is a lethal force on the power play.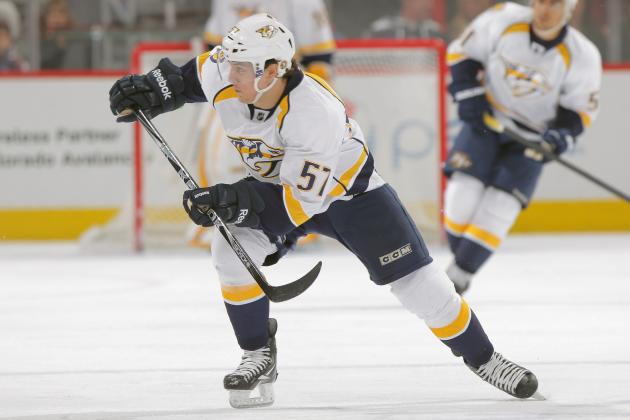 Doug Pensinger/Getty Images

Bourque, Nashville's fifth-round selection in 2009, has had to claw his way into this Predator lineup.
He's done it by working hard, and in doing so, he's impressed head coach Barry Trotz. Now, Bourque is getting rewarded with more ice-time, and he's made the most of it, notching eighteen points (five goals, 11 assists) in 42 games this season.
He may be small, but Bourque is as physical as they come—he's thrown 65 hits.
With a work ethic like Bourque's, he's going to be an effective two-way forward in this league, one that's only going to improve with more experience.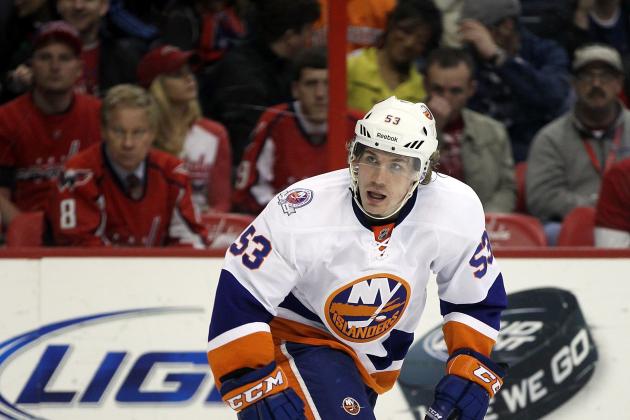 Bruce Bennett/Getty Images

Cizikas, a fourth-round pick of the Islanders in 2009, has all the tools to be an excellent two-way forward in the NHL.
This kid knows how to forecheck, something that, as a whole, this Islander team does not do effectively. Cizikas has a bit of a scoring touch as well.
He recorded four assists in the 15 contests, before going down with an injury on March 31.
But during that stretch, Cizikas dished out 26 hits and was a plus-one.
With Ryan Strome coming aboard next season, the Islanders are going to have depth down the middle, with John Tavares, Strome, Frans Nielsen, which means Cizikas is likely to find himself on the fourth line.
But make no mistake, he's going to play a vital role, regardless of what line he's placed on.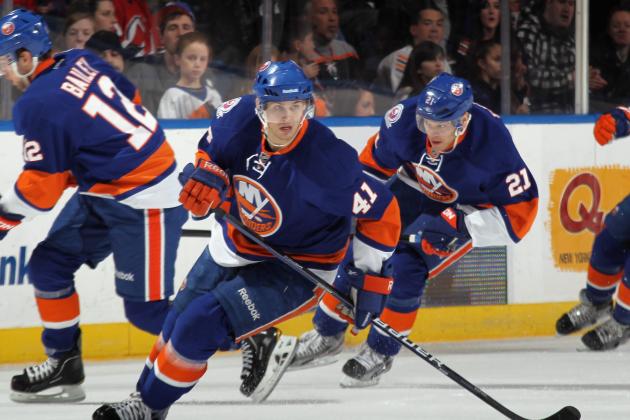 Bruce Bennett/Getty Images

David Ullstrom, the Isles' fourth-round pick in 2008, has size, speed and skill.
He racked up eight points (four goals, four assists) in 29 games with the Islanders this season, and he was recently returned to Bridgeport (AHL), where he's played most of the year and has been a major reason why that team is headed to the Calder Cup playoffs.
I love what this kid brings to the table, and I think he's going to be for the Isles what Carl Hagelin (who coincidentally appears on the next slide) is for the Rangers. He's a guy who can spark the offense and is strong on the forecheck.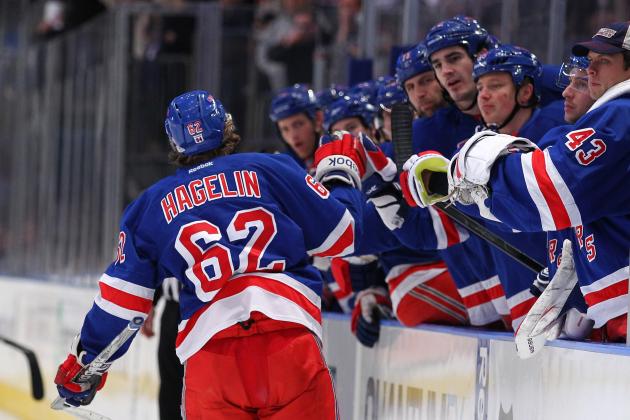 Al Bello/Getty Images

If Carl Hagelin had played the entire season, he'd undoubtedly be part of the Calder Trophy discussion right now.
New York's 2007 sixth-round pick racked up 38 points (14 goals, 24 assists) in 63 games this year. He's contributed in all different situations and has two shorthanded goals and two game-winning goals. He's taken 128 shots.
He's not afraid to go to the dirty areas in front of the net to score and will generally do whatever it takes to put the puck in the back of the net. He's aggressive without the biscuit too (77 hits), even despite his 5'11" stature.
But perhaps his strongest asset is his speed. Hagelin won the fastest-skater competition during All-Star Weekend, and that wasn't by accident. This kid can actually fly.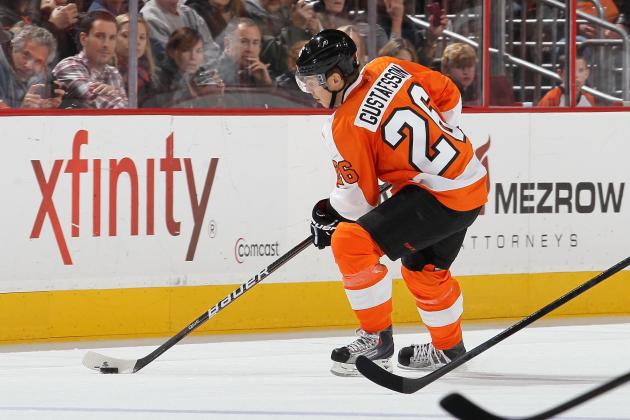 Jim McIsaac/Getty Images

Erik Gustafsson went undrafted, but that didn't stop the Philadelphia Flyers from taking a chance on him.
That move has paid off.
Gustafsson has five points (one goal, four assists) and a plus-12 rating in 33 games for the Flyers this season, and he's been on the team full-time since being called-up in January.
Gustafsson's small, but he's reliable in his own zone. He blocks a ton of shots. Thirty-six of 'em, in fact.
I like what he brings to the table, and I think he'll be a quality defenseman in this league.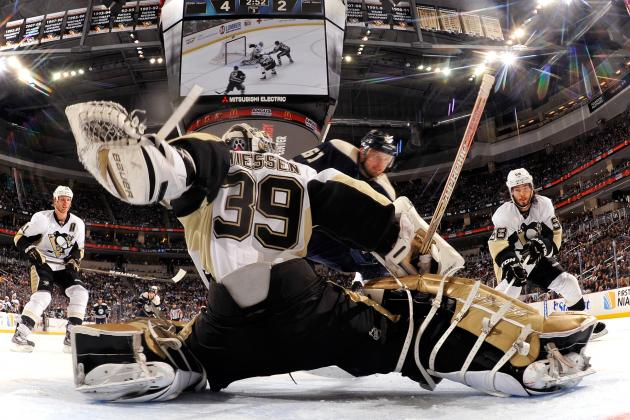 Jamie Sabau/Getty Images

Brent Johnson better watch his back, because Thiessen's making a case for himself to be the backup in Pittsburgh next season.
The undrafted 26-year-old doesn't have terrific stats, but the bottom line is, he's played four games for the Penguins this year and has won three of 'em. The stats are not indicative of his talent.
Give him time, the numbers will improve. He's got good reflexes and just needs to find some more consistency.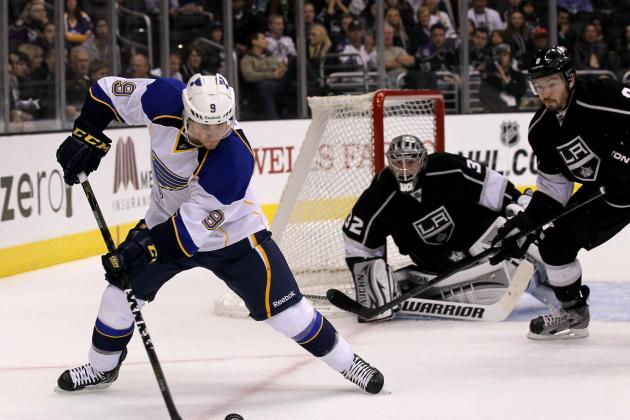 Stephen Dunn/Getty Images

Schwartz, the Blues' first-round pick (14th overall) in 2010, recently signed his entry-level-contract and is being given the chance to play for a top-tier team in the Western Conference.
He's fitting right in, notching three points (two goals, one assist) in six games thus far.
There's a reason this kid went early in the draft. He's got scoring touch and good offensive-awareness. He's going to be a nice compliment to the group of quality young forwards St. Louis has amassed. (David Perron, TJ Oshie, etc.)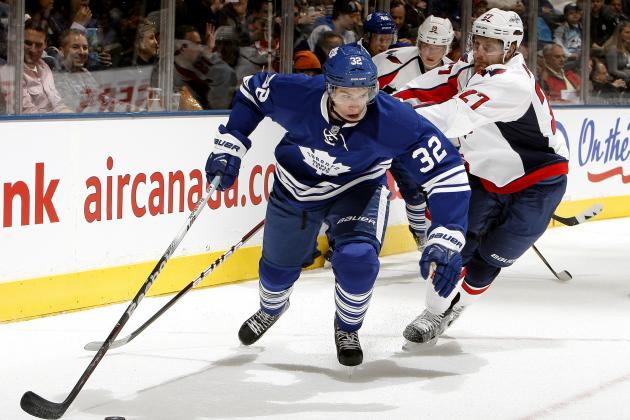 Abelimages/Getty Images

Colborne, Boston's 16th-overall pick in 2008, came to Toronto in the Tomas Kaberle trade last season.
He had four points (one goal, three assists) in nine games with the Leafs, before he was reassigned to the Marlies (AHL). At 6'5", 213 pounds, Colborne has a rare combination of size and skill and uses it well. He threw 20 hits and blocked eight shots in those nine games.
I see Colborne as, at the very least, an excellent No. 2 center or 1-A option for the Maple Leafs down the road.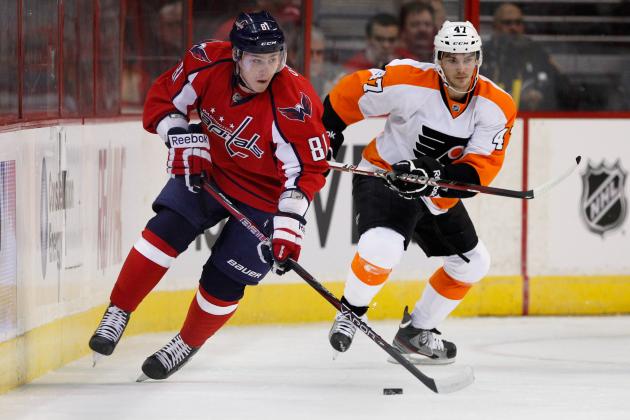 Rob Carr/Getty Images

The Capitals selected Orlov in the second-round during the 2009 Entry Draft.
He's been excellent in all three zones for the Caps (19 points, plus-one rating, 99 hits, 54 blocks) in the 59 contests he's skated in this season.
Orlov also has decent size at 6'0", 210 pounds), and he's not afraid to be physical.
If Karl Alzner is the best all-around defenseman in Washington, Orlov is right behind him.
Rob Carr/Getty Images

Machacek has been red hot since being called up on March 18, racking up nine points (two goals, seven assists) and posting a plus-nine rating in 12 games.
Atlanta/Winnipeg's third-round pick in 2007, Machacek has size (6'1", 200 pounds) and likes to use it; he has 24 hits in those 12 contests.
This kid has the intensity and scoring touch to be an effective forward in this league. It's not always pretty, in fact, it usually isn't, but Machacek gets the job done in the offensive zone. He could be a key cog on the Jets' power play in front of the net.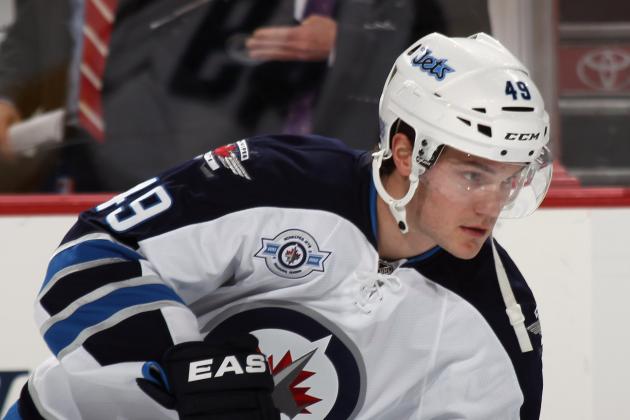 Bruce Bennett/Getty Images

The Jets claimed Maxwell, originally a second-round pick in 2006 of the Canadiens, off waivers from Anaheim back in December.
Maxwell has six points in 15 games this season, and five of those points have come in the last five contests. He has decent size at 6'1",195 pounds but isn't overly-physical.
This kid clearly has talent. If he can be more consistent, he can be a quality forward for Winnipeg.