NCAA Tournament 2012: Breaking Down Thomas Robinson's Performance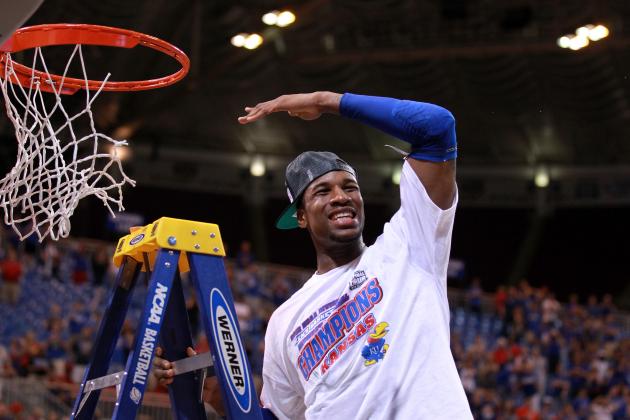 Andy Lyons/Getty Images

Player of the Year candidate Thomas Robinson has been one of the most exciting surprises this season.
After averaging under 15 minutes of playing time last year, Robinson now plays for more than 30 minutes and brings home 17.7 points points per game, while grabbing 11.8 rebounds to top it off.
As for intangibles, Robinson is a leader at heart and has been the go-to guy for this surprisingly great Kansas team. He helped lead the Jayhawks to yet another Big 12 regular season title during an extremely difficult and emotional time for him personally.
Yet, how has this phenom performed on college basketball's biggest stage? The following is breakdown of Thomas Robinson's performance thus far.
Begin Slideshow

»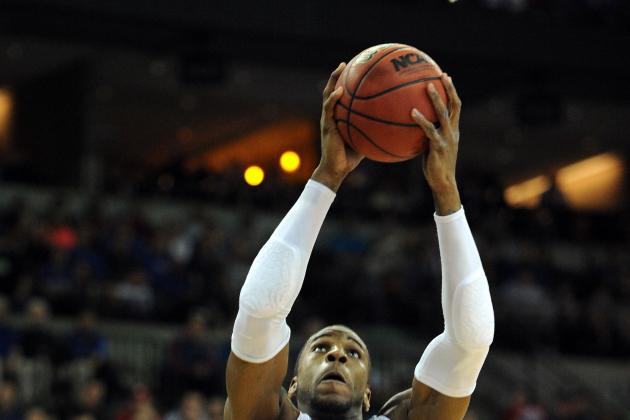 Eric Francis/Getty Images

Play Time: 27 minutes
Points: 16
Rebounds: 13

Miscellaneous: 2 assists
Analysis: Robinson helped start a 13-2 first half run by Kansas that led the Jayhawks to victory over the upset-minded Detroit Titans.
Robinson showed off his strength and skill in the first half, slamming down five dunks to help give his team a nine-point lead heading into halftime.
From there, he did not put up outstanding point totals in the second half, finishing at a respectable 16. However, what he did do was help break down the Titans' defense and force more defenders to focus on Robinson, opening up opportunities for other players to shine.
Do not overlook his rebounding total, either. However, that has become a staple this season for Thomas Robinson.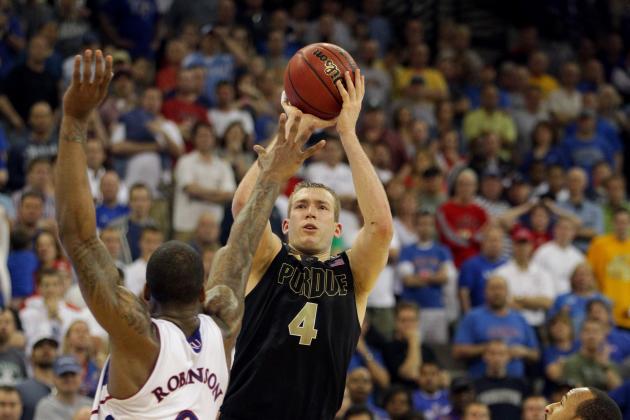 Doug Pensinger/Getty Images

Play Time: 35 minutes
Points: 11
Rebounds: 13

Miscellaneous: 16.7 percent field goal success
Analysis: A simply glance at the stat line will show that Thomas Robinson had another good game. Not great, but still good.
However, look closer and one will see that his performance against the Boilermakers is easily identifiable as his weakest of the tournament. Of the 11 points that Robinson brought home, seven came off of free throws. This is, of course, due to the fact that he only sank two out of his 12 field-goal attempts.
The Boilermakers decided to double-team Robinson from almost start to finish and this proved effective at halting (and obviously frustrating) the star player.
On defense, Robinson had a hard time guarding against senior forward Robbie Hummel, who would eventually finish with 26 points and a memorable final performance.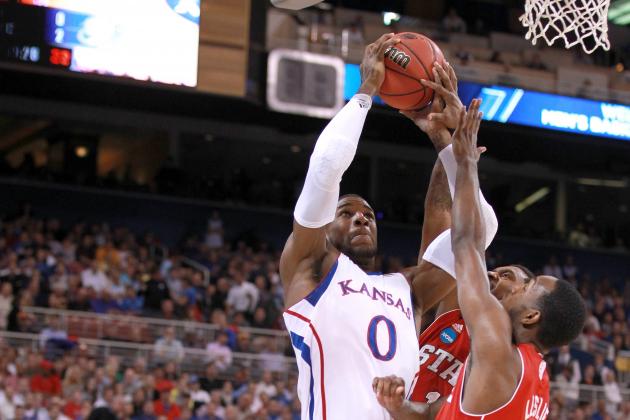 Andy Lyons/Getty Images

Play Time: 32 minutes
Points: 18
Rebounds: 15

Miscellaneous: 2 steals
Analysis:
It seems as though Purdue set the blueprint on how to effectively defend Robinson.
The double-teaming and field-goal troubles continued for Thomas Robinson against North Carolina State. He only sank seven of his 17 attempts; However, that paved the way for an 18-point performance.
In the end, it was the less flashy statistics that helped seal the deal for the Jayhawks. Robinson fought for 15 rebounds and teammate Jeff Withey swatted away 10 shots to create just enough of a cushion for Kansas to win.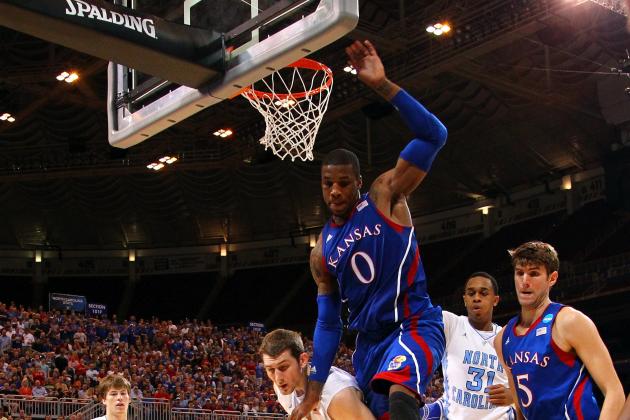 Dilip Vishwanat/Getty Images

Play Time: 32 minutes
Points: 18
Rebounds: 9
Miscellaneous: 5-of-5 free throws made
Analysis: The big story in this game was not the performance of Thomas Robinson, but the resurgence of Tyshawn Taylor.
As a result, Robinson sort of took a backseat approach, for lack of a better phrase, in this outing. That is not to say, however, that his impact was not felt. He posted the Jayhawks' second highest point total (second to Taylor) and was an emotional force on the court.
On a side note, this was Robinson's first game of the tournament in which he did not post a double-double.
Even though he has not been blowing opponents out of the water with his play alone, with a shot at the National Championship on the line, it is safe to bet that Thomas Robinson will solidify his tournament performance in the coming game(s).