2012 Fantasy Baseball Projections: Highlighting Top Stolen Base Leaders
March 29, 2012

Scott Cunningham/Getty Images
If you are lucky enough to nab Albert Pujols or Ryan Braun in your fantasy draft, you could be set with hitting. But we all know the real winners are decided in the depth and getting the most out of each of your picks. A stat like steals may not be able to grab you wins on a regular basis, but it could make all the difference in the close matchups.
Steals are often an overlooked category. As the game has become more about the long ball, the ability to run the bases is more and more a specialized trait that you cannot waste a pick on. However, there have been a reasonable number of players who you could deem a base stealer and hitter.
Ian Kinsler, Matt Kemp, Jacoby Ellsbury and Ryan Braun all made the 30-30 club last season. But odds are these players will go early anyway for reasons other than their speed on the basepaths.
Here are four base stealers that are sure to make a difference on your fantasy team in the later rounds.
Michael Bourn, ATL
The Braves center fielder is seen as one of the fastest men on the basepaths. Bourn led the majors last year with 61 stolen bases and is projected to post similar numbers this year.
He is a slightly above average hitter, batting a career .271 with a .336 OBP. Not exactly dazzling for his skill set. If he can get that up a bit, then he will surely make more impact in the steals department.
He is not exactly a hidden gem, but could fall late in most drafts and be a nice pickup. You are not necessarily sacrificing in other departments to get him, but he will not really make an impact in those departments either.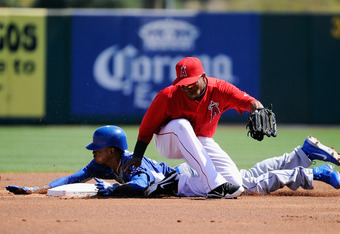 Kevork Djansezian/Getty Images
Looking forward, you could even see him getting more aggressive in a season where the Braves will be trying hard to get Chipper Jones one final playoff appearance before he retires.
Dee Gordon, LAD
Dodgers top prospect Dee Gordon is a true talent that may be ready to have a breakout year. With the new energy that is surrounding Dodger Stadium, the franchise will look to build and support the immense talent they have, as well as bring a certain flair to the game.
His 24 stolen bases in 2011 tied for the most by a rookie and is even more incredible because it was done in only 56 games.
He had a very good batting average (.304), but failed to leave the park, expected from this type of player. But he could become an even more valuable of an asset with his run total surely going up from the bats of Matt Kemp and Andre Ethier in support.
Cameron Maybin, SD
The Padres outfielder will have to be on the move often this season if he wants to give his new team any playoff hopes. Petco Park is notorious for being a deadball stadium, and often runs are scored from the basepaths, not beyond the fence.
Maybin tied for fourth last season with 40 steals, becoming the ninth player in the franchise's history to reach the mark.  He is also praised as one of the best acquisitions in the team's history and will likely repeat as their team MVP.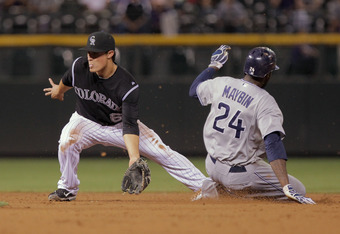 Doug Pensinger/Getty Images
San Diego players are generally passed over in drafts because of their lack of impact on the game, but Maybin could be a mid-round steal. He will likely come close to that 40-steal mark again and continue to produce at the plate. He is one of the rare leadoff men that produces power as well, belting nine home runs last season.
An all-around value pick.
Carl Crawford, BOS
If you talk to a Boston fan, you will probably hear Crawford's name in a slew of curses. But to the impartial fantasy owner, he could be the prize ticket.
Crawford had a disappointing season in 2011 to say the least, never really delivering on his huge contract. However, those numbers should be seen more as an outlier than the norm. At age 30, he still has plenty of time to prove that so.
The Red Sox will surely not allow the collapse of last year and go all out in pursuit of the playoffs. This includes allowing Crawford to do what he does best—run the bases. ESPN projects him to have 31 on the season. With the big bats that are behind him, that should translate into runs and more points.
You may find him falling in your draft as the perception of him being a washout lingers. But it could be the perfect situation for you to pick up a late-round player who just oozes points.
Follow me on Twitter: @thecriterionman