Ilya Kovalchuk's True Goal Is Winning
March 29, 2012

Mike Stobe/Getty Images
His hockey resume is jam-packed with accolades and accomplishments, including two 50-goal campaigns, but Ilya Kovalchuk's bottom line has nothing to do with individual successes.
From the moment he was selected first overall by the Atlanta Thrashers in the 2001 NHL Entry Draft, Kovalchuk, who hails from Tver, Russia, was primed and ready to make an impact at hockey's elite level.
And now, almost 800 games into his NHL life, Kovalchuk, who recently became the 87th player in the history of the league to score 400 goals (an NHLPA-recognized number), hasn't changed his mindset when it comes to what he wants from his career.
"The only thing I care about is to win," Kovalchuk told NHLPA.com, just days after he scored the only goal in a 1-0 road win over Eastern Conference rival Ottawa. "This is the best league in the world with the best players in the world."
As for his most recent notable moment, one the 2004 Maurice 'Rocket' Richard Trophy winner (he shared the award for most goals with fellow NHLPA members Jarome Iginla and Rick Nash) is truly humbled by, he wasn't thinking of himself when the red light came on against the Senators.
What was going through his mind?
"When I scored, I just hoped we would win the game," said Kovalchuk, a three-time All-Star Game participant. "That's what made me most happy when the game was over. We won and we got two points. This is a team sport and it was a big game for us."
Kovalchuk, who scored 29 goals with 51 points in his 2001-02 NHL rookie season, despite missing 17 games with a season-ending shoulder injury, also praised his teammates, past and present.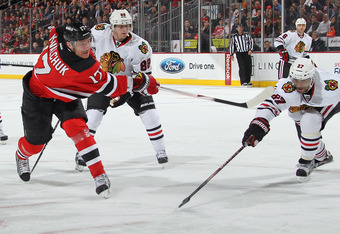 Bruce Bennett/Getty Images
"Without them, I would not be able to get this accomplishment," offered the forward, who was named the sixth team captain in Atlanta Thrashers history during the team's Casino Night charity event on January 11th, 2009.
"I am lucky to be able to have played with good players and good people. I couldn't have done this without them."
The 28-year-old, who was traded to New Jersey on February 4th, 2010, along with defenceman Anssi Salmela, in exchange for defenceman Johnny Oduya, rookie forward Niclas Bergfors and junior prospect Patrice Cormier, and a first-round selection in the 2010 NHL Entry Draft, has established himself as one of the game's top offensive performers.
This season, Kovalchuk, who scored 52 goals in both 2005-06 and 2007-08, is playing at just over a point per game clip, while reaching the 30-goal plateau.
He also recorded his first hat trick as a member of the Devils on February 14th in a 4-1 victory against the Buffalo Sabres. Less than a month later, he netted his 13th career hat trick in a 5-1 triumph over the New York Islanders, taking first star honours.
If that wasn't impressive enough, Kovalchuk has also tallied three short-handed goals in 2011-12, half of his career total at the NHL level.
"We work together to put pressure on the other team when we are short-handed," noted Kovalchuk, who has played for Russia in the IIHF World U18 Championship, World Junior Championship, World Championship, World Cup and Winter Olympics, including gold medals in both the 2008 and 2009 World Championship.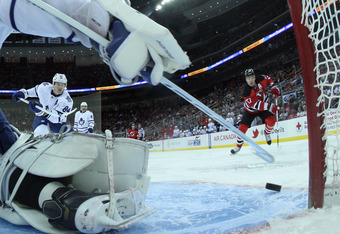 Bruce Bennett/Getty Images
He's also eager to build on his nine games of playoff experience, especially after New Jersey failed to qualify in 2010-11.
"We have great chemistry and a great locker room," said Kovalchuk, who had six points in four games in the 2009-10 Stanley Cup Playoffs, as the Devils lost in five games to the Philadelphia Flyers in their Eastern semifinal matchup. "We have a lot of fun and we are all on the same page."
As for what's next on his list of accomplishments, Kovalchuk, closing in on 800 regular-season NHL games, could have talked about reaching the 1,000-game mark, or he might have noted that he's also zeroing in on 1,000 points.
But, in typical fashion, Kovalchuk, who had nine game-winning tallies for New Jersey last season, is after something else altogether.
"What I want right now is the playoffs coming up, to be there and to win," he said. "That is my goal, to help my hockey team win."
Related Content
Video: Meet the World's Toughest Directors, Player's Playbook
CBC Hockey Night in Canada/NHLPA Player Poll Results
Lots of Hockey Left for Zubrus