AC Milan vs Barcelona: Ranking Most Important Players on the Pitch
March 29, 2012

Claudio Villa/Getty Images
AC Milan and Barcelona played about as exciting match as you can get in a goalless draw Wednesday night at the San Siro.
The Italians will be happy to go to Nou Camp, knowing that a draw with goals will be enough to get them through.
But some players will need to step up to make that happen.
Similarly, the Barca stars will need to be at their best to not be upset and risk missing out on any major silverware this campaign.
Here is a ranking of the top five most important players to be on the pitch next Tuesday.
5. Clarence Seedorf
Seedorf had a very strong game in the midfield for Milan.
His experience and veteran qualities were felt throughout the match as the hard-tackling Dutch player set the tone early, taking down Xavi with a hard foul. However, that kind of play is necessary to maintain some sort of hold on the Barca players.
He was also effective in the attack, orchestrating some nice buildup play. His through ball to Zlatan Ibrahimovic should have dealt with better by the Swede and put the hosts up 1-0.
What Seedorf did in the first leg with need to be multiplied as they head to Nou Camp.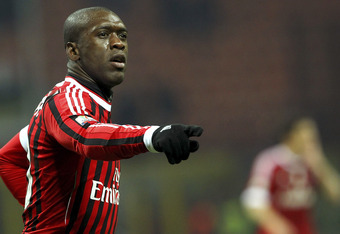 Marco Luzzani/Getty Images
The incredible 65 percent possession Barca enjoyed could climb to 70 percent, so he will have to be true on his tackles, closing down quickly to prevent that decisive pass.
He also presents their best chance at starting the attack that will give them their vital goal.
The game could very well be decided based on his all around play.
4. Iniesta
A rare poor performance by the midfield maestro had him being subbed off after 65 minutes.
Iniesta never seemed to find his touch or stride in this match as the Milan midfield never gave him enough room and played right in his chest.
Statistically, it was one of the poorer games he has ever played, turning over the ball and making no real passes of interest. Odd for a player who regularly will make two or three assists a game. His frustration began to show as he unleashed an ill-advised shot from a sharp angle.
He will have to be greatly improved when he returns back to Nou Camp if Barca are to advance to the semis. If he is his normal self, he should have little trouble picking apart the Milan back line, especially in the comfort of his home.
3. Zlatan Ibrahimovic
Ibrahimovic has to be one of the most frustrating players in all of sports to watch. His immense talent and skill is often overshadowed by a seemingly lackadaisical approach he takes the match.
He had a commendable game in the first leg, helping to create opportunities, but as a striker you are purely judged by results and goals—neither of which favored Milan yesterday.
They were gifted a rare turnover in the midfield, allowing Ibrahimovic a chance on goal, but he took it poorly.
Those chances will be even rarer in the return leg and there will be punishment for not making the most of them.
Should he finish his chances, the odds favor Milan to advance. A single goal could be enough to get them through and two would almost surely be the magic number.
Ibrahimovic is the kind of player that can create out of nothing and he will have to with the few times he will see the ball next Tuesday.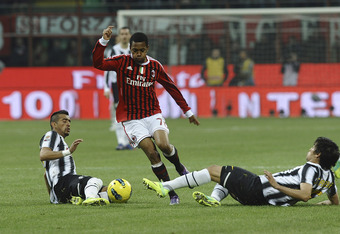 Dino Panato/Getty Images
2. Robinho
The closest thing Milan have to their own Messi is his Brazilian counterpart Robinho.
The flair and creativity we associate with the Joga Bontio style is always on display through the feet of this forward.
Robinho was poor for the Italians struggling to find his groove and cut out the kind of niche for himself in the attacking third that we have all become accustomed to seeing.
His volley well over the net after Ibrahimovic set him up, was kind of indicative of his day – doing everything well, but failing to take the step that mattered the most.
He left the game in the 52nd minute due to injury, but it also may have been a bit tactical, with Massimiliano Allegri recognizing that a 0-0 draw favors them.
Should he be fit, he will have to assume a much larger role in the attacking end. The Rossoneri will likely have a defensive frame of mind and will need Robinho to counter and invent with little support.
He has the ability to do it and if he does, we may be looking at a shock upset.
1. Lionel Messi
Who else would be the most important player in any game Barca plays?
The Argentinean was excellent on the day, making his trademark slaloming runs and cutting up the Milan defense with ease. He registered six shots, but only two challenged the keeper.
His inability to score was the difference in the game. He had plenty of opportunities and it will be argued that he "should" have had at least one. But it is a nice reminder that at least he is human.
Milan will probably not be so lucky the next time around.
Messi has failed to score in just five games at Nou Camp all season, but one of those was their 2-2 draw against Milan in the group stages.
If he goes scoreless against in Barcelona for the second straight time, the tournament favorites could be in trouble.
But if he does find the net, odds are it will be enough to see them through.
Follow me on Twitter: @thecriterionman