Paul Bissonnette Is Making the Most of His Time
March 29, 2012

He plays less minutes than most of his teammates, and often finds himself engaging some of the game's toughest players. But it doesn't stop Paul Bissonnette from making his mark in Phoenix.
On a typical night, Bissonnette, the Coyotes' rough and tumble forward, usually sees around five minutes of ice time. Though the number pales in comparison to almost every other skater, the 6'3", 220-pounder works overtime to ensure he makes his mark.
"My mindset is to go out there and do something positive, something that can maybe fire up our team," offered the 27-year-old, who served as the captain of the Ontario Hockey League's Saginaw Spirit, before being traded to the Owen Sound Attack, where he finished the 2004-05 season.
"Whether it's throwing my body around, trying to keep the other team pinned in their own end, or being tough on the forecheck, I always look to create some kind of impact."
Usually, Bissonnette achieves his end goal, using his size to its full advantage.
Still, the player who launched his professional career in 2005 with the Wheeling Nailers of the East Coast Hockey League, appearing in 14 games, then skating in 55 games with the Wilkes-Barre/Scranton Penguins of the American Hockey League, admits his role does have its challenges.
"It's not easy to go out there and bring some energy and then know you might not be out there for a while," said Bissonette, who was claimed off waivers by Phoenix on October 1, 2009.
"You get geared up when you jump over the boards to take a shift, but you have to make sure you maximize what you are going to with your time."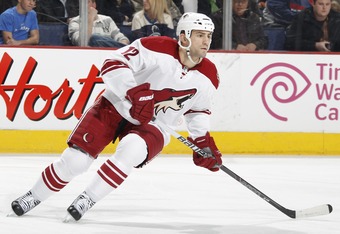 Gregory Shamus/Getty Images
Trying to rein in the adrenaline is Bissonnette's biggest predicament.
"That's exactly it," noted the Welland, Ontario native, who signed a two-year contract extension with the Coyotes in October 2011.
"Since I don't play the same minutes as most guys, you are pumped when you get your opportunity. But you have to find a balance between going out there, running around and getting too carried away, and being physical, passionate and doing something that has some edge to it, but ultimately helps your team."
It becomes even more important as the campaign pushes closer to the playoffs.
As in recent seasons, securing a postseason berth in either conference is anything but a given.
Once again, Phoenix finds itself in a tussle to net a spot in the top eight of the Western Conference.
While the Coyotes might not have the same big-name talent as some of their rivals, the Pacific Division club has earned a reputation as one of the league's hardest-working squads, a group of players who play a full 60 minutes or more every night.
"We have guys that understand the importance of teamwork and unselfish play," said Bissonnette, who netted the game-winning tally on November 19, 2011 against the Buffalo Sabres, playing in front of his mother and grandparents for the first time as an NHL player.
"Our roster is very deep. We have guys playing on our fourth line that are former first-round picks. That tells you a lot. Everyone knows what it takes for us to be a success."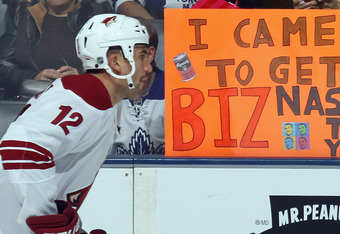 Bruce Bennett/Getty Images
After a February that saw Phoenix sport a sparkling record that saw them go unbeaten in regulation (11-0-1), including six one-goal wins, giving up one or less goals in eight of the contests, the Coyotes stumbled in early March.
"We never get carried away when we're winning because we all know how tough this league is, how difficult it is to win," told Bissonnette of the team that has made the playoffs the past two campaigns, losing in the Western Conference quarter-finals to the Detroit Red Wings on both occasions.
"It's unbelievably close almost the whole season. One day, you're in a playoff spot, the next moment you could be on the outside looking in. It's crazy."
With less than 10 games left in the regular season, Bissonnette and his teammates will look to book their third consecutive trip to the Stanley Cup Playoffs.
Although his ice time will be limited, the left winger, who has built up a legion of fans on Twitter, intends to play his part in the team's push for the post-season.
"I'll do whatever I can to help us get two points," said Bissonnette. "That's the way I see it whenever I take a shift."
A player willing to go that extra mile to make sure every second counts.
Related Content
Video: Meet the World's Toughest Directors, Player's Playbook
CBC Hockey Night in Canada/NHLPA Player Poll Results
Ray Whitney: Underrated, But Not Underappreciated