New York Knicks: How They Have Become the NBA's Most Dangerous Cinderella Team
March 29, 2012

Chris Trotman/Getty Images
Mike Woodson is 8-1 as the head coach of the New York Knicks, and the narrative surrounding the team has completely changed from where it stood under Mike D'Antoni.
Now over the .500 mark at 26-25 and just 2.5 games behind the Philadelphia 76ers and Boston Celtics for first place in the Atlantic Division, the postseason prospects for New York are much brighter than they were just a couple of weeks ago.
Despite a bulging disc that will keep Amar'e Stoudemire sidelined indefinitely and both the buzz and production of Jeremy Lin dying down, the Knicks are playing a solid brand of basketball at this time.
Despite the popular belief that New York is not a defensive team, the Knicks are currently fifth in defensive efficiency, trailing just Philadelphia, Chicago, Boston and Miami.
The team is just No. 23 overall in offensive efficiency, but it's the effort on the defensive end that has brought the turnaround and should inspire hope for continued success.
In eight wins under Woodson at the helm, the Knicks have held their opponent to under 100 points in every game except for a single contest against the Pacers.
By comparison, under D'Antoni, the Knicks had given up 100 or more points in five of six games before the former head coach decided to resign.
That signals a strong shift in performance.
The Knicks appear to be playing harder under Woodson, and most fans would agree that it was time for a change. It was time for a new voice and a new approach to get this team to fulfill its potential.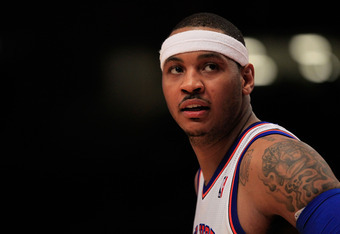 Chris Trotman/Getty Images
So far, so good.
Now comes the tough challenge at the back end of the schedule.
After the remaining two games in March, the Knicks have 13 games in a 24-day span, with two contests against Chicago and one game each against Indiana, Milwaukee, Miami, Boston, Atlanta and the Los Angeles Clippers.
It's not going to be easy, but nothing worth anything is supposed to be simple to achieve.
The Knicks are playing their best basketball at the right time of the season, and the team has to be hoping that the success carries over to the postseason.
If the team can't move up the standings, New York will have a first-round playoff date with either Chicago or Miami—two teams that nobody wants to face.
With the team confident and rolling and Woodson holding his players accountable, the only thing that might trip this club up is a regression to the performance we saw under D'Antoni.
But this is a new Knicks team with a completely altered outlook, and there is a fire underneath everyone that simply wasn't there previously.
Buckle up, because the Knicks are taking us all for an unpredictable ride.