2012 NFL Draft: What Direction Are the New York Giants Going as Draft Nears?
March 29, 2012

Patrick McDermott/Getty Images
NFL Draft time is upon us. Unlike last year, this season's draft will follow over a month of busy free agent activity. Well, busy for many teams, quiet for some.
The New York Giants have all but trademarked a counterculture stance when it comes to the open veteran market. Jerry Reese has zero intention of building a team comprised of outsourced stars and cap casualties. 
His focus being on value, Reese has opted to make a handful of pedestrian signings while letting marquee names leave his organization during each of the past two offseasons.
When last year's free agency period could finally commence (following the lockout that ended mid-summer) it had appeared that the Giants were intent on making wholesale changes. 
Veterans and key components to the Super Bowl XLII winning roster, Shaun O'hara and Rich Seubert, were cut. Mark Herzlich, arguably the most celebrated UDFA, was snatched up immediately. 
But the Giants veteran acquisitions held very little sizzle for the fans to salivate over—the notable names? And a guard turned center and a punter. 
C David Baas would struggle, miss several games due to injury and spearhead one of the more questionable offensive lines in franchise history. He would be forced to take a drastic pay cut this month in order to remain with the team.
P Steve Weatherford provided more satisfactory results for the Giants. A significant upgrade from the woeful Matt Dodge, Weatherford recently signed his second contract (a 5-year deal) with the team. He is the replacement for Jeff Feagles that the organization has been searching for.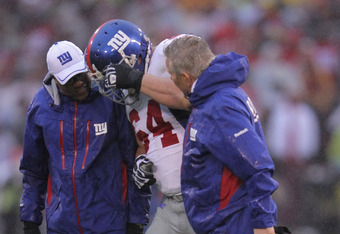 Doug Pensinger/Getty Images
That is what the Giants gained. It had appeared that they were losing much more. 
Reese let three key contributors to the '07 title run walk out the door. He nearly let Ahmad Bradshaw walk too, but after several failed attempts to join another roster, the fragile but dangerous feature back was able to come to a financial agreement with the team.
Kevin Boss and Steve Smith's departure appeared to leave significant holes at the TE and WR spots respectively. Boss was the only TE on the Giants roster with significant experience as a starter, and Smith had at one time been a leading receiver for New York. Both were among Eli Manning's favorite targets.
Moves that seemed unwise in August were obviously forgiven by February. Victor Cruz and Jake Ballard's emergence, coupled with unproductive seasons for Smith and Boss, reinforced Reese's theory that homegrown talent could be a better option than established household names. 
But even after winning a Super Bowl with his "Money Ball" strategy, it may appear that perhaps Reese is being a bit too passive this offseason. 
Is it wise to doubt a champion? Probably not. But this year's mass exodus of veteran contributors is far larger than 2011's. 
Even if you buy into Reese's strategy (and I do), one would have to think that messing with a proven formula isn't wise. Unlike last offseason, the players leaving the Giants franchise are defending champions and not just second contract veterans who missed the postseason and are too injury riddled to deserve a blockbuster contract.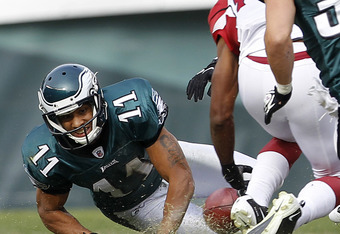 Rich Schultz/Getty Images
Brandon Jacobs's departure won't be met with much opposition. He was clearly unable to contribute on a consistent basis. Mario Manningham might still have his best years ahead of him, but keeping him would have been far too impractical.  The Giants will have a hard enough time retaining both Victor Cruz and Hakeem Nicks after this season. 
But what about the valuable players that fly somewhat under the radar?
They might not sell jerseys, but guys like Dave Tollefson and Devin Thomas were necessary ingredients to the Super Bowl recipe in '11. Thomas is already a Chicago Bear and Tollefson may be joining Green Bay (the team that drafted him) shortly. 
Chase Blackburn and Jonathan Goff are currently still on the market. Goff is actively pursuing other options. Meanwhile, the Giants are without a veteran option at MLB. 
The three-headed passing attack that generated championship level success is now holding open tryouts for the third slot. Domenik Hixon (who lost both of the last two seasons to the same torn ACL) and unproven Jerrel Jernigan are the top candidates to fill Manningham's role.
So now the stage is set for the second leg of the veteran acquisition process: The NFL Draft. 
Thanks to Reese's strategy, the Giants are still left with three significant holes. New York needs to replace Jacobs, Manningham and Blackburn.
WalterFootball.com's most recent mock draft have the Giants handling Jacobs' vacancy first. They have them tabbing David Wilson out of Virginia Tech.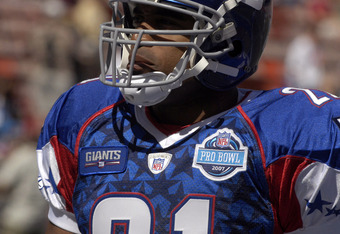 A. Messerschmidt/Getty Images
What is their argument for the selection? That Reese prefers to take the best player available even if the need isn't the most pressing.
I certainly can't disagree with that observation.
Last year's first round selection of CB Prince Amukamara surprised analysts and fans alike. Amukamara was not expected to drop nearly as far as he did, but with the 19th overall pick the Giants decided to abandon their plans of selecting a stud OL.
I fully expect the Giants to stick to this plan. This strategy has allowed the organization to find valuable players at every level of the draft. Justin Tuck was a third round selection. Bradshaw was a seventh.
Bradshaw, in fact, is part of the reason I have to disagree with WalterFootball.com. In today's NFL, where the players are now bigger and stronger than ever before, RBs do not enjoy the shelf life that they used to. 
Tiki Barber was able to play a full ten seasons for the Giants. Not only was he a star and their primary offensive weapon, but he was also a workhorse. He rarely missed time due to injury.
Bradshaw on the other hand, has proven equally valuable to the team's success but cannot physically handle the duty of being a workhorse back. Like most star running backs in today's NFL, his durability is a serious question.  
Even for the backs that are "healthy enough" to play on a more consistent basis, productivity over a long period of time can be a serious issue. Jacobs enjoyed dominant seasons of 1,009 and 1,089 yards in '07 and '08. His numbers suffered a significant drop off in '09, '10 and '11 (835, 823, 571).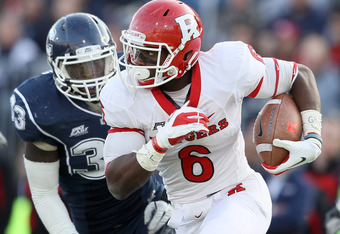 Elsa/Getty Images
Running backs are valuable, and the Giants certainly need one. But selecting one with the team's first pick is not the type of long-term move that Reese is known for. Why select a player that is likely to only give you a handful of good years over a player that could be a key cog for perhaps a decade?
The Giants will address MLB, but I don't see it being in the first round. They currently have two second year players on the roster that were brought in to eventually compete for that spot in Herzlich and Greg Jones. What they lack is a veteran presence. That may still be remedied by reeling either Blackburn or Goff back in to the fold.
The other pressing need for the Giants is the one created by Manningham's departure. Reese is high on Jernigan, but that doesn't mean that he'll pass on a highly rated receiver should he fall into the GM's lap. 
WalterFootball.com has WR Mohamed Sanu out of Rutgers going to the Eagles with the 51st pick. I don't think he makes it that far. He's a big physical receiver (which the Giants have failed to obtain with Ramses Barden) with great hands (something they failed to obtain with Jernigan). He's also a local star. 
Sanu would be the perfect fit for a receiving rotation that prefers to slide Cruz to the slot when three wide sets are used. 
Perhaps Sanu would be a bit of a reach, but he won't likely be still on the board when the Super Bowl champions get another shot to select in the second round. The team needs an affordable Manningham replacement, and Sanu fits that bill.