Boston Red Sox: Breaking Down the 2012 Hall of Fame Class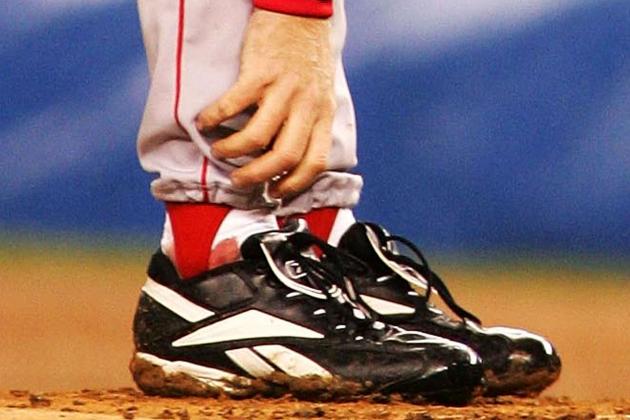 Al Bello/Getty Images
The iconic bloody sock (and its owner) lead the 2012 Red Sox Hall of Fame class
The Boston Red Sox announced their 2012 Hall of Fame class last night, and there's no shortage of star power.
Leading the way will be playoff hero and current ESPN analyst Curt Schilling, whose Game 6 performance against the Yankees in the 2004 ALCS will forever live in Red Sox lore. Though he only spent four seasons in Boston, Schilling left an indelible mark on the franchise.
Joining Schilling will be Ellis Burks, who came up with the Sox in 1987 as a top prospect. Burks went on to play 18 MLB seasons for five teams, including one last go-round in Boston as part of the 2004 championship squad.
Marty Barrett is in as well. Barrett is best known as a key cog in the 1986 AL champion team that lost in heartbreaking fashion to the Mets in the World Series. Barrett enjoyed several fine years for the Sox, setting the standard for future Boston second basemen.
Joe Dobson, a righty who played alongside Ted Williams, Dom Dimaggio, et al. will be inducted as well. Dobson played a total of nine seasons for the Sox, and would have pitched even more had he not missed the 1944 and 1945 seasons to serve his country in World War II.
Hubert "Dutch" Leonard will be joining his fellow Sox posthumously. Leonard pitched for the Sox from 1913 to 1918, with the team amassing three World Series victories over that brief time span.
There will also be two non-players inducted: late owner John I. Taylor, and former head groundskeeper Joe Mooney.
Taylor's lasting legacy will be that he was the man who got Fenway Park built. Taylor owned the Sox from 1904 to 1911.
Mooney, the beloved former Fenway groundskeeper, rounds out the Hall of Fame Class of 2012. Known for his colorful demeanor and passion for his job, Mooney still holds a position with the Red Sox as "Director of Grounds, Emeritus."
Here's a closer look at each member of the 2012 Hall of Fame inductees:
Begin Slideshow

»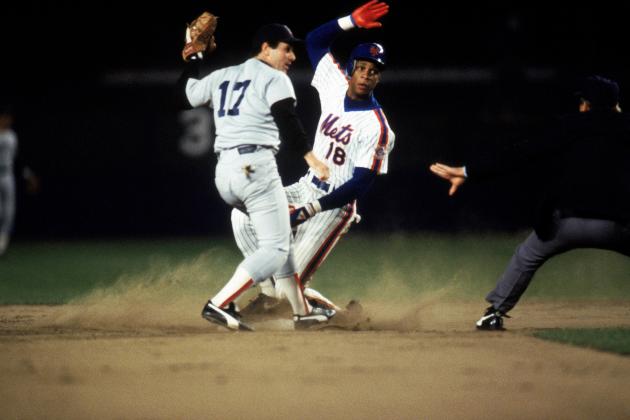 T.G. Higgins/Getty Images
Barrett applies the tag too late in the 1986 World Series
In the 1986 playoffs, Marty Barrett was perhaps the Sox' best player. He hit .367 en route to winning the MVP of the ALCS and followed that up with a .433 average against the Mets, tying the World Series record with 13 hits. Though that series will be remembered for defensive miscues, it certainly was not Barrett's fault; in the playoffs he fielded 79 chances without making an error.
Barrett enjoyed several outstanding regular seasons for the Sox as well. His best all-around years came in 1984 (where he hit .303 with a .741 OPS and 2.8 WAR) and 1986 (.286-.733-2.6).
Barrett also got it done with his glove, leading the AL in fielding percentage in 1987 and finishing near the top of several all-time defensive categories for the Sox.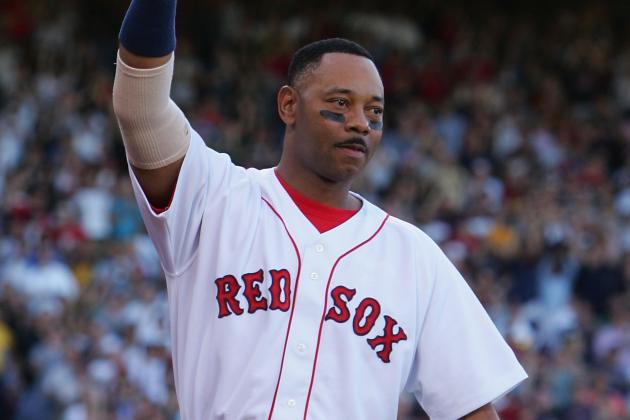 Al Bello/Getty Images
Burks won his first World Series in 2004, a "farewell tour" with the Red Sox
When he arrived in the big leagues, Burks was a classic five-tool player. He proved to be a valuable compliment to mainstays Wade Boggs and Jim Rice, eclipsing the .830 OPS mark in three of his first four seasons in Boston.
Burks enjoyed his finest season for the Sox in 1990. He made the All-Star team and finished in the top ten in the AL in hits, total bases, extra base hits and fielding percentage. For his efforts, Burks was given both Gold Glove and Silver Slugger awards at the end of the season.
While he only appeared in 11 games with the 2004 team, Burks was nevertheless rewarded for an excellent career with his first World Series ring.
Dobson, shown here playing for the White Sox, had an excellent career for the Red Sox
Joe Dobson enjoyed a fine career for the Red Sox, playing for the team for nine years and appearing in one World Series.
Interestingly, Dobson enjoyed great success for the Sox (106 wins and a 3.57 ERA) in spite of losing his left thumb and a forefinger in a childhood accident.
Dobson enjoyed his best year for the Red Sox in 1947, where he went 18-8 with a 2.95 ERA. That season, he had the odd distinction of finishing second in the AL in WHIP while also leading the league with 11 wild pitches.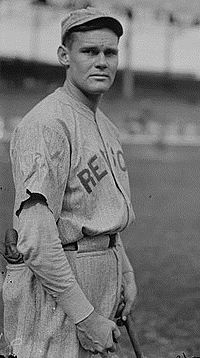 Dutch Leonard was perhaps the greatest lefty in Red Sox history
With apologies to Jon Lester, Mel Parnell and George Herman Ruth, the man known as "Dutch" may just be the greatest left-handed pitcher in Red Sox history.
Leonard's 1914 season can only be described as transcendental. In compiling 19 wins and a staggering 17 complete games, Leonard posted a 0.96 ERA.
That's right, 0.96.
That number still stands as the greatest single-season ERA for a starter in modern MLB history.
Leonard's career for the Sox, though only spanning six years, brought the franchise three championships and he personally earned 90 wins in 161 starts.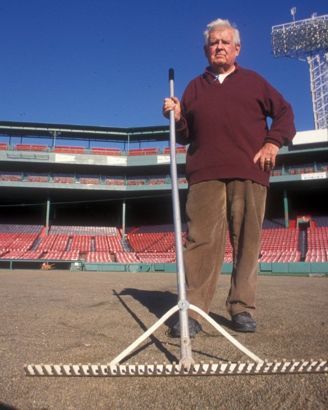 Joe Mooney is a legend at Fenway Park, with a career spanning 50+ years
Having only met him once, I will defer describing Joe Mooney and what he has meant to the Red Sox to one of his former employees:
For me, Joe Mooney is Fenway Park; nobody ever has or ever will know that facility as intimately. As a boss, Joe used his gruff exterior and sharp tongue to mask his biggest secret: he happens to be an incredibly kind-hearted, trustworthy, and knowledgeable man.
Joe's most enduring legacy amongst his employees is his absolute sense of loyalty; if you were on the field ready to go every day by 7:30, worked hard, and had a quick wit, you could always count on the fact that Mooney had your back unconditionally.
Many former grounds crew members have gone on to do great things - they are teachers, doctors, lawyers, and law enforcement officers - but I guarantee none has ever forgotten their days working for Joe Mooney, and doesn't remain grateful for having had the opportunity.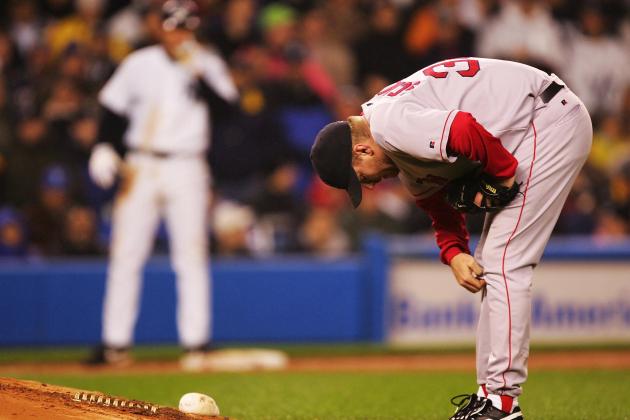 Ezra Shaw/Getty Images
Schilling's performance in Game 6 of the 2004 ALCS is the stuff of legend
Curt Schilling will rightly be remembered as the man who helped deliver the Red Sox' first championship since 1918. The famous "bloody sock game" gave Sox fans an indelible image that has become one of the most celebrated moments in team history, and forever cemented Schilling's Boston legacy.
In 2004 Schilling was also outstanding in his less-talked about start in Game 2 of the World Series, going 6.0 innings without allowing an earned run in 48° temperatures at Fenway.
Equally legendary was Schilling's love of media attention; he even started his own blog "38pitches" in 2007 to document his day-to-day career experiences.
Although he only ended up pitching four seasons for the team (he signed on for a fifth, but injured his shoulder and never took the field), Schilling's contributions to two championship teams will be forever remembered by Red Sox fans.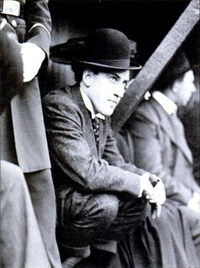 Taylor gave the Red Sox and Fenway Park their namesakes
Though he may not be well-known to modern fans, every member of Red Sox Nation owes a great debt of gratitude to John I. Taylor. In fact, without him, they might still be known as "Americans Nation."
In 1907, Taylor changed the team color to red and renamed the team from the "Americans" to the "Red Sox." His other major contribution will be brought into even sharper focus this year: the building of Fenway Park.
After playing for several years at the Huntington Avenue Baseball Grounds, Taylor purchased a parcel of land bordered by Brookline Avenue, Jersey Street, Van Ness Street and Lansdowne Street. He named it "Fenway Park" after the neighborhood it was located in, and the park opened in 1912.
100 years later, it still stands and has rightfully earned its distinction of "America's Most Beloved Ballpark."