4 Los Angeles Lakers Who Will Be Gone After This Season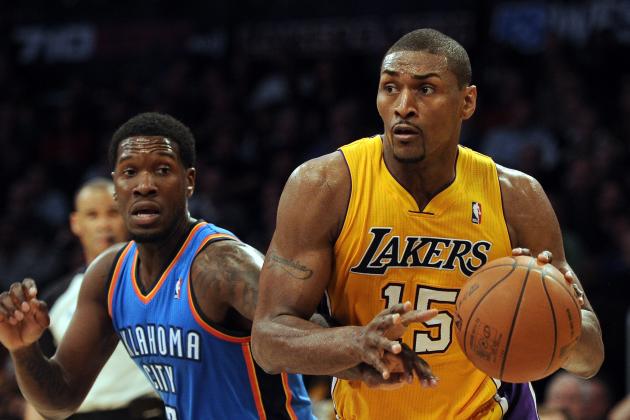 Harry How/Getty Images
Could Metta World Peace be leaving Los Angeles next season?
Teams always make changes.
Some seasons there are major changes and some seasons are not quite as dramatic. The Los Angeles Lakers already made some significant changes to their roster this season. Most notably, Derek Fisher and Lamar Odom have departed, while Ramon Sessions and Jordan Hill have arrived.
Los Angeles is done for this current season, but more changes are on the horizon. This offseason will see some members of the Lakers departing.
Who won't be wearing purple and gold when the 2012-2013 season tips off?
Begin Slideshow

»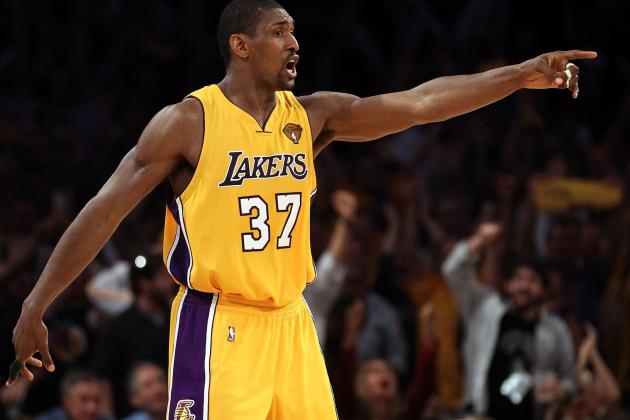 Christian Petersen/Getty Images
It's hard to tell which way Metta World Peace's career is heading.
Peace-out? There are two separate dynamics at work here. It seems fairly likely that Metta World Peace and his contract will be amnestied, and thus Peace will be released.
Now, once Peace gets released it could get interesting. After all, the Lakers could re-sign Peace for a lot less money and still retain his defensive prowess and veteran presence on the team. That might be a wise decision. There's no certainty that happens though.
The first part, the part where Peace gets amnestied, seems too logical for the Lakers to not do. Peace is due $7.25 million next season and then $7.75 million the season after that. It's too much money against both the salary cap and the luxury tax.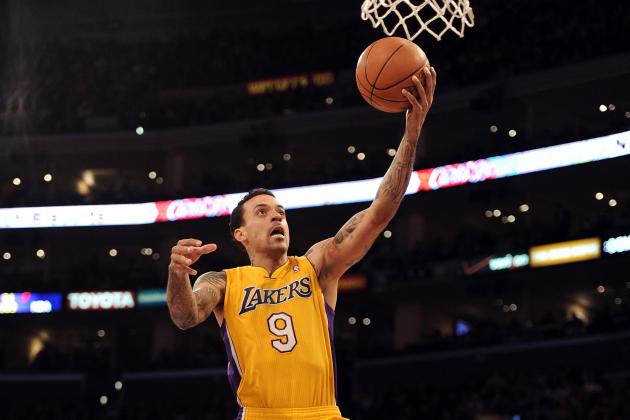 Harry How/Getty Images
Matt Barnes has played well this season but he'll probably be wearing a different uniform next season.
The problem for Matt Barnes is simple. His contract is up, and the Lakers are going to be on the hunt for more offensive production from the small forward position.
At 32 years old, Barnes isn't likely to develop a new shot and he's not going to show up in some sort of tremendous physical shape the likes of which we've never seen from him before. He's Matt Barnes. There's nothing wrong with that, but the Lakers just won't be pursuing a free agent small forward who averages 7.3 points per game and 4.4 rebound per game over a nine-year career.
The Lakers are the eighth NBA team Matt Barnes has played for in his career. We'll probably know who the ninth team will be when next season tips off.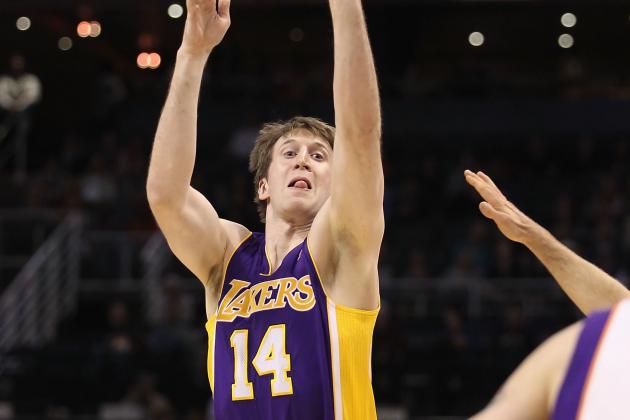 Christian Petersen/Getty Images
Troy Murphy will probably be on a different team next season.
Troy Murphy was never slated to be a key component of the 2011-2012 Los Angeles Lakers. On a team with both Pau Gasol and Andrew Bynum there will be a limited amount of time available for backup big men.
As this season has progressed, Murphy's minutes have been on the decline. Over the past 10 games Murphy has been playing about 11 minutes a game. That's well below the 17 he's averaging over the entirety of the current season.
With Josh McRoberts locked up through the end of next season, there's very little reason to think Murphy will be back in Los Angeles. Troy Murphy's career has been that of a journeyman and the journey will continue somewhere else next season.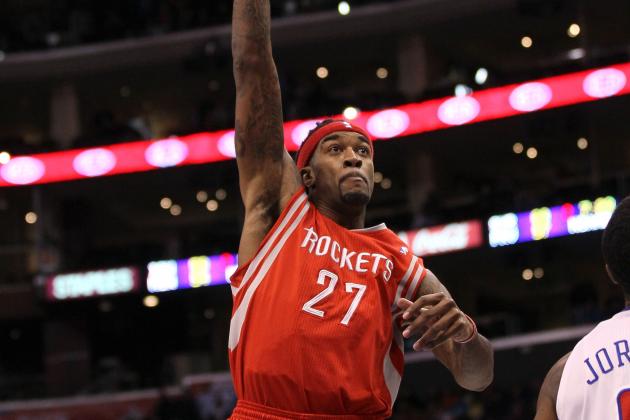 Stephen Dunn/Getty Images
Jordan Hill has been used sparingly since arriving from Houston.
Another impressive draft pick by the New York Knicks. Jordan Hill was chosen eighth overall in the 2009 NBA draft. Ahead of players like Brandon Jennings, Ty Lawson, Jrue Holliday and Darren Collison. Hill was dealt to Houston shortly thereafter, and he wasn't too impressive while playing for the Rockets.
Hill was dealt to the Lakers in the trade deadline day Derrick Fisher trade.
Why would the Lakers make that deal? Simple: money.
Following this season, Hill will be slated to earn $3.6 million next season. The only issue is that the salary is tied to a team option. That's an option that won't be picked up. The Lakers will be thrilled to clear additional cap space and make a run at some of the talent on the free-agent market.