Thunder vs. Lakers: 5 Outrageous Predictions for Western Conference Battle
March 29, 2012

The Oklahoma City Thunder and Los Angeles Lakers square off in a Western Conference showdown on Thursday evening in a game that draws heavy interest.
Several analysts have pegged Oklahoma City as a team that will make the NBA Finals, but the Lakers are looking to prove that they belong to be in that conversation as well.
Here are five predictions as to what will happen in the heavily anticipated matchup.
Kobe Bryant and Andrew Bynum Each Have 25-Plus Points
The last time these two teams met, the Lakers lost by 15 points, and neither Bynum nor Bryant reached the 25-point plateau.
Each will look to change that this time around.
Bryant and Bynum should easily outperform the 12-of-39 shooting performance they combined for back in late February, and each will be looking to show that they are unfazed by recent trips to the bench.
Ramon Sessions Has a Double-Double
Sessions' move to the starting lineup has come with mixed results through his first three games in that role.
After delivering a debut performance of 20 points and 11 assists against Portland, Sessions has struggled to find the same success over his last two games.
Despite a tough matchup against Russell Westbrook on Thursday, look for Sessions to bounce back in a big matchup.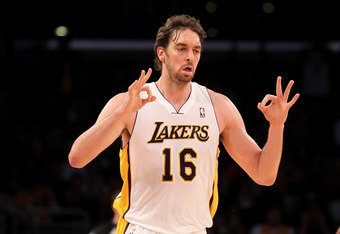 Stephen Dunn/Getty Images
Pau Gasol Flirts With a Triple-Double
Although most of the attention in Los Angeles has been on Kobe Bryant and Andrew Bynum, Gasol has put together an incredibly successful season.
The talk of Gasol's decline was greatly exaggerated, and the big man is averaging 16.6 points, 10.4 rebounds and 1.6 blocks since the All-Star break.
He had 10 assists in one game earlier this season and had eight in a game earlier in March, so it's very conceivable he could flirt with a triple-double coming off of three straight double-double performances.
James Harden Is Second-Leading Scorer for Thunder
Harden is one of the most underappreciated players in the league and the current front-runner to bring home the Sixth Man of the Year Award.
He has scored 65 points over his last three games on 22-of-31 shooting (with 17 assists); that is just a ridiculously efficient effort from the third-year player.
After scoring 20-plus points in two of his last three, look for Harden to take advantage of the lack of perimeter speed the Lakers have and bring down the house with an emphatic scoring performance.
Serge Ibaka Records More Than Five Blocks
Ibaka has blocked 12 shots over his last three games, and there is no doubt that he's becoming the most feared shot-blocker around the league.
He has had more double-digit-block performances (three) than games than games with zero blocks (two), and there is nobody who can compare with him in that regard this year.
Ibaka's ability to change shots is just frightening for the opposition, and he's taking a major step forward at just 22 years old.