2012 NFL Draft: Players Redskins Must Draft to Complement Robert Griffin III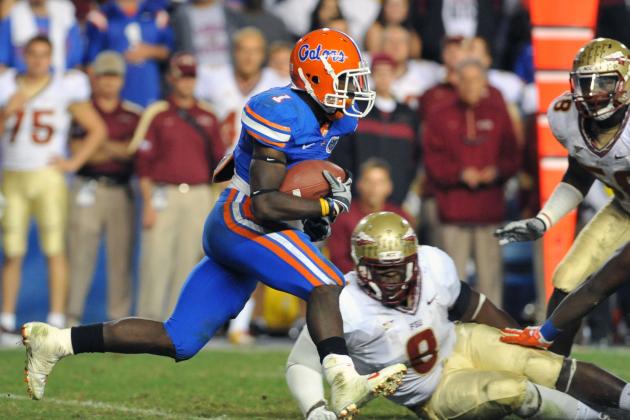 Al Messerschmidt/Getty Images
Florida RB Chris Rainey
For the Redskins, the heavy lifting is done.
The No. 2 pick in the 2012 NFL draft is secured and all signs point to Robert Griffin III heading to Washington.
Now the time comes to complement the massive talent that is RG3.
After the Redskins pick second overall, they will have six remaining picks in the draft.
They'll have one third-round pick, two in the fourth, then one fifth, one sixth and a seventh.
Being cautionary, you would have to expect the Redskins two spend at least two of those picks on defensive players in keeping with the trend of stockpiling young talent.
That leaves four picks to help round out an offense that will be shouldering some hefty expectations come fall.
With that in mind, here are four offensive players the Redskins must draft in order to complement Robert Griffin III.
Begin Slideshow

»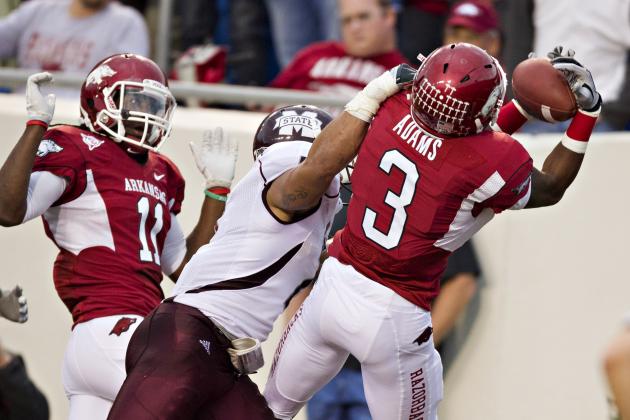 Wesley Hitt/Getty Images

I'm anticipating the Redskins go defense in Round 3 after snagging a monster offensive player in Round 1.
In the fourth round, however, the Redskins look back to offense and Joe Adams makes perfect sense.
With Santana Moss on the decline, the Redskins will need to add depth to the slot receiver position.
Yes, they have Brandon Banks, but aside from his prowess on special teams, he isn't the type of guy to make a huge impact getting regular reps on offense.
Adams has prototypical size for a slot guy at 5'11" and 179 pounds.
At Arkansas, he was an integral part of one of the SEC's best passing attacks and though his numbers don't burn up the stat sheet (54 catches for 652 yards), he's a lightning bug type of player who can turn and burn in the open field and make people miss.
With the Redskins stricken by salary cap reductions, it makes sense to draft someone who can be molded and given time to improve physically up until the time his number is called—or until Moss turns in his burgundy and gold.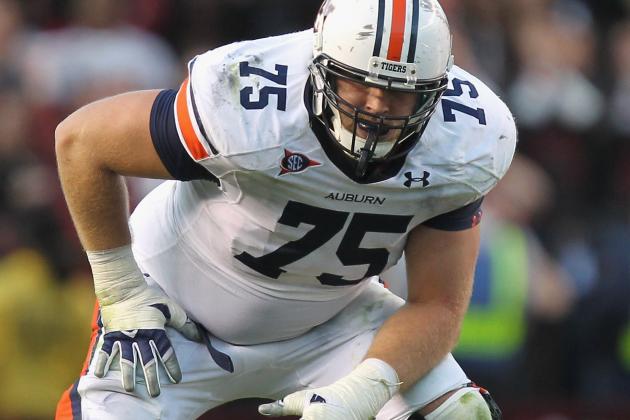 Streeter Lecka/Getty Images

With their second fourth-round pick, the 'Skins would be wise to look to their O-line.
Brandon Mosley is a good guy to consider here.
A former tight end and JUCO star, Mosley went on to start in 23 games in two seasons at Auburn. His athleticism paid off in helping him transition into his role on the offensive line and factored greatly in his ability to open up holes for erstwhile Tiger Michael Dyer.
With Jamaal Brown's situation still uncertain, the need for a young, athletic talent at the right tackle spot is pretty urgent.
In terms of protection, Mosley is far more efficient in run-blocking than he is at pass-blocking.
But the second-team All-SEC selection has a huge upside and could be a great new addition to a rebuilding Redskins O-line unit.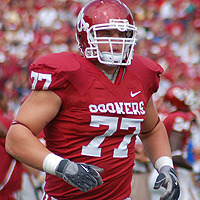 With guard Kory Lichtensteiger rehabbing a season-ending knee injury, the Redskins need to address concerns along the interior of the offensive line.
Stephen Good was a vital part of a Sooners' rushing attack that racked up more than 160 yards per game in 2011 behind a balanced, multi-back attack.
Good isn't an elite athlete. What he does have though is versatility as he logged time at various spots across Oklahoma's offensive front over the last two seasons before settling at guard.
He's also a pretty balanced blocker and showed he could be effective both in the run and the pass game.
Not showing up to the combine certainly didn't help but Good is a worker (he claims to look up to Colts center Jeff Saturday as a model for work ethic) and he will put in the effort if his comments in this interview with NFL writer Matt Miller are to be believed.
This could be a good grab for the 'Skins add some depth to the interior of their line which has been problematic in recent years.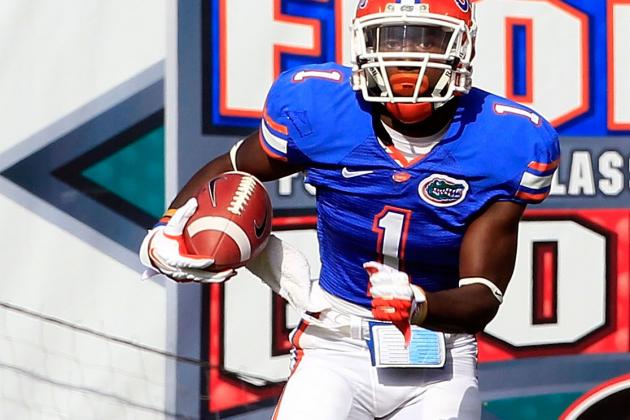 Sam Greenwood/Getty Images

Versatility is a coveted trait at any level and it is especially so in the NFL.
The Redskins could benefit from having a new "swiss army knife" type player and Chris Rainey certainly fits that description.
At Florida, Rainey was an explosive playmaker in almost every area of the game. He was the Gators' leading rusher with 861 yards and their second leading receiver with 381 yards on the season.
He was also a special teams stud, either returning kicks or blocking punts. Whatever your flavor, Chris Rainey seems to have it to some degree.
He's a 4.3-4.4 guy who can win a foot race or create yards after the catch with his lateral quickness.
There are some questions to his off-the-field persona after a problematic stalking charge from 2010. However, the incident seemed to be isolated and Rainey managed to keep himself reined in from that point on.
If the Redskins are looking to dig a surprise playmaker out of the late rounds, it'd be hard to top Rainey, whose skill set makes him a threat in any given situation.