WrestleMania 28: Why Undertaker and Triple H Will Highlight Event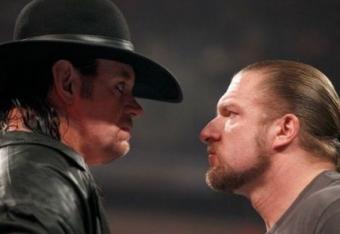 Don't be fooled into thinking that Triple H and Taker are too old or too worn down to tear the house down in Miami. These are two of the smartest wrestlers to ever set foot in a ring, and on Sunday they'll craft a match that's perfectly suited to their abilities.
Undertaker and Triple H squared off in a match at WrestleMania 27 that was a departure from the breathtaking back-to-back matches Taker had with Shawn Michaels years before. Triple H and Taker both knew that they weren't the kind of force that could pull off high flying maneuvers and get away with countless near-pin-fall exchanges.
They did what they can do best: inflict pain.
Expect them to take this Hell In A Cell to places it's never been before. They know this can't be a retread of the power and brute force we saw last year. WWE fans will be hungry for something better, something more powerful.
Will Undertaker vs. Triple H be the best match of the night?
Expect Attitude Era blood. This match has been billed as the end of an era. They'll make their mark by giving the fans exactly what they want: a fight to the death.
For those thinking that Shawn Michaels will pull a screw job, forget it. In all likelihood he'll act as a hero to whoever is taking the most abuse. He'll call the match before he screws anyone.
This match has to have been carefully thought out and with both performers wrestling on a very limited schedule there is no question that they will do whatever it takes to deliver.
People might be talking Rock vs. Cena on Monday morning, but they'll remember Taker vs. Triple H for the rest of their life.
This article is
What is the duplicate article?
Why is this article offensive?
Where is this article plagiarized from?
Why is this article poorly edited?