WrestleMania 28: The Top 6 Missed Opportunities for the WrestleMania Go-Home RAW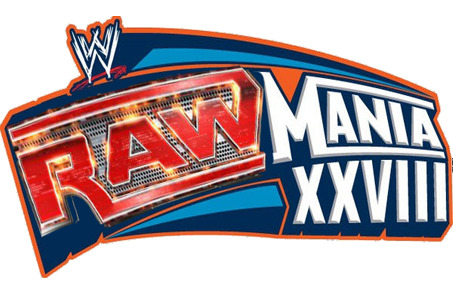 It truly feels like the WWE is a week behind in their storylines. Am I alone in thinking that the RAW go-home show did not feel like the last RAW before WrestleMania?
There was some very average booking during this show and some of the things I saw made it very clear why RAW ratings have been well below expectations recently.
Don't get me wrong, I can't wait until WrestleMania. All the matches on the card excite me in one way or another. I was just simply disappointed with the go-home RAW as a whole. For all its good moments, there were things that could have been done better, or moments that were completely missed.
With that being said, here are the top six opportunities the WWE didn't take during the go-home show.
Begin Slideshow

»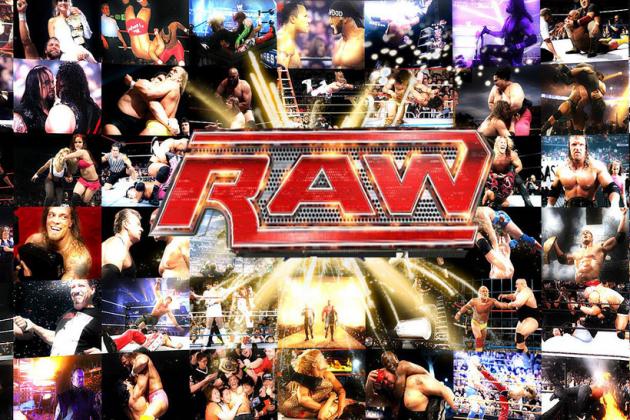 This was the final RAW before the biggest pay-per-view of the year. But other than the small recaps shown for some of the feuds being built for Mania, this didn't feel like it was the final RAW before the biggest pay-per-view of the year.
The recaps and video packages used during the show were much of the same we have seen over the last few weeks, and as a result it kind of feels like there should still be another RAW. Where was the epic WrestleMania promo?
At this point, I would like to give credit to the production team. Their recent video packages, particularly involving The Undertaker and Triple H, have been fantastic. They have put these together with real class and a genuine sense of timing and emotion. I have absolutely enjoyed them.
But where was the video package of past WrestleMania moments? Where was the montage that revisited Warrior, Hart, Hogan, Savage, Taker, Austin, HBK and all the legends that have helped build this into the most anticipated event each year?
I would have loved to have seen a video package hyping the fact that in a few short days we go into perhaps the biggest Mania of them all. Remind us, excite us and make use of that great production team.
I think the WWE could have shown a video package that revisited the magic that is WrestleMania, showing us the past, what's to come and truly create some hype out into the crowd and the WWE Universe.
This was an opportunity to capture some magic and set the mood, but it was an opportunity missed.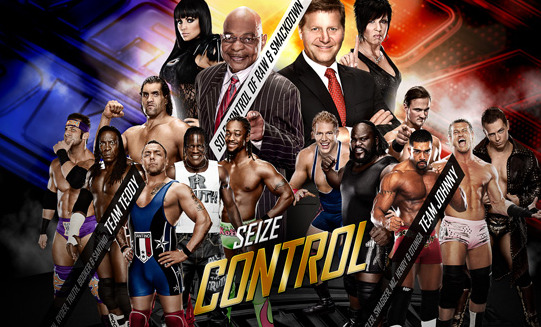 In essence, the 12-man tag match featuring Team Johnny vs. Team Teddy is the replacement for Money in the Bank and is WWE's way of getting plenty of superstars on the WrestleMania Card. While this match isn't for everyone, it does offer some potential.
We are going to get some laughs in the form of Santino Marella and R-Truth, some great spots with Ziggler and Kingston and some fan-fare with Booker-T and Zack Ryder.
There are some great points to this match. However, I feel they dropped the ball on the go-home RAW. While Booker-T joining Team Teddy needed some focus, I think WWE missed the opportunity to build some excitement with the all-in brawl.
It was great to see Team Johnny form the defensive line while Ace and Mark Henry took to Teddy. It was equally great to see members of Team Teddy rush in to attempt the save. However, rather than use the brawl to build some excitement, we got to see some painfully tame efforts before the camera panned to the Booker-T save.
Although seeing Booker generated a buzz, the brawl could have mattered here and really laid a platform for a great match.
Did anyone notice R-Truth roll over like someone had dropped him after he rushed out despite nobody attacking him? Did anyone notice that when Booker-T took out Henry, that for no reason at all, the brawl on the outside broke up and didn't end up in the ring?
I truly feel the brawl should have escalated and become a crazy all-in brawl in the ring with all 12 superstars unleashing hell on one another until (presumably) Team Teddy cleared the ring and rallied the crowd. Instead, the actual "fight" became an afterthought.
Yes, have Booker make the save and announce him as the final piece of the puzzle, but have it happen after a bit more madness. Have some referees come out to attempt to break it up. Have some other superstars get involved to create some hysteria. Add some mayhem, please!
It was a heel team vs. a face team, so have some heels and faces come in to highlight the importance of this match. After all, this is for the management rights to both shows and affects all superstars.
This was a missed opportunity to create some excitement.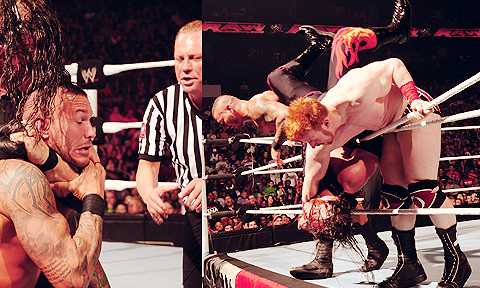 Just to clarify, I am talking about any momentum surrounding Sheamus vs. Daniel Bryan and Randy Orton vs. Kane.
Many out there will say that there is no excitement surrounding either match, but there are fans of all these men out there that I'm sure are disappointed by this soft showing. In fact, I feel this tag match just about made the Mania matches pointless.
Sheamus vs. Daniel Bryan and Randy Orton vs. Kane should have been given more excitement and momentum going into WrestleMania. Instead WWE did the opposite.
First, WWE had been doing a lot to build the momentum of Sheamus going into Mania. Strong wins following his Royal Rumble victory saw him pegged to win the title from a weak Daniel Bryan.
Now, while I understand that the WWE was trying to plant the idea that he is beatable and Bryan had a chance, it effectively made Sheamus look weak and undid all the work gone into building him up. Instead of weakening Sheamus, they could have given Daniel Bryan a little more strength, right?
Second, why were these men in a terrible tag match as the opening match of the go-home show anyway?
Have them squash some lower-card players. Have them interrupt each other's matches and see the heels resort to nasty tactics. Have only one of the teams take on Primo and Epico for the tag titles and have the other two get involved and stop them winning.
Do anything else. Anything you can think of. Anything but the actual match that took place.
Finally, if you have to have a tag match that takes away the thunder of the actual WrestleMania matches and that weakens the image of any wrestler, don't have it finish with a clean pin. I know it wasn't clean as such, but don't have a certain ending. Have the expected count-outs or disqualifications.
This match just stole any momentum and excitement that may have surrounded the respective WrestleMania bouts. The WWE missed an opportunity here to do anything other than put on this match.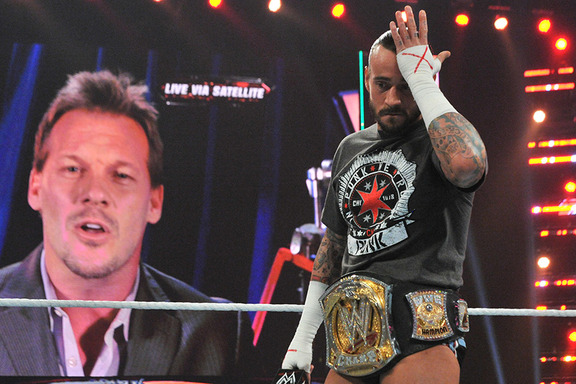 For me, this is the match I am most excited to see. As has been stated so many times on this site and to the point of exhaustion, this is the match that is likely to produce the best actual wrestling match.
But what was it about this feud that had everyone begging for it back when Y2J's vignettes first aired? It was the potential pipe-bomb war.
What I loved about the recent Jericho promos was the sensitive nature of the content, which ultimately allowed Punk to add another dimension to his character. I had wondered how Punk would develop the pipe-bombing character who had turned the industry on its head, and this is just what he needed.
Despite having enjoyed the different dimension these two have introduced of late, I think we needed to see one more epic face-to-face mic battle before Mania. I know that's what I wanted to see.
For all the smaller promos they have cut and the different ways they have gone about things lately, what the WWE should have done was to have Jericho and Punk cut one last full-on, all-out promo. Perhaps similar to what we saw from Punk and Cena in the lead-up to Money In The Bank.
I know there has already been plenty of talking from these two, and other superstars for that matter, but aren't these the two we could and would like to watch unleash one more epic microphone war before they lock horns?
I wanted to see Punk respond on the mic to Jericho and not to Josh Matthews. I wanted him to verbally rip Y2J apart.
They are the best in the business when it comes to talking and changing things up, but the WWE missed the opportunity to have these two have the big mic-off we have been waiting for. I can only hope there is more to come from these two.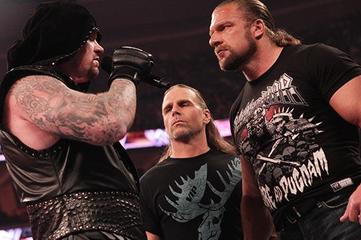 This is a simple one and I won't drag it out.
Where was the Undertaker? Where was Triple H? Where was HBK?
Clearly they have run out of things to say other than, "It's an end of an era", but surely there is a way they could have built this match, one show out from Mania, by doing something more than a video package.
Have Taker choke-slam Triple H, or at least attempt it. Have HBK shape to dish out Sweet Chin Music, decide against it, but make it hard to decide who it was aimed at. Have Taker and Hunter shape up, and when HBK moves in to separate them, they both shove him hard and out of the way.
Introduce some new tension. Just have them there!
This is, from what I can tell, the second-most important match on the WrestleMania card. A video recap does not come close to doing it justice. If they were going to take a break from TV and let the physical stand-offs simmer, it should have been a week or two before this.
The WWE missed an opportunity here to add something different to this feud, to move beyond the overly repeated words and add some old-school Phenom or Cerebral Assassin.
More importantly, they missed an opportunity by not having these men appear on the show at all.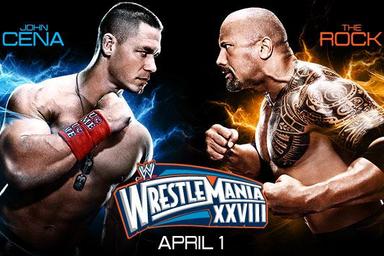 We have all watched the Cena-and-Rock feud build for the last 12 months. There have been times where it has been brilliant, times where it has been very average and certainly times where it has truly torn the crowd apart.
With that being said, other than the exchange of signature moves that has occurred in the months gone by, very little actual physical contact has been made.
I feel like this was the week to truly bring the tension to a boil; have a few pushes and shoves enter the scene once they begin their stare-down. Have all the referees and officials flood the ring and hold these two apart as best they can. Think Stone Cold and Mike Tyson.
If these guys truly don't like each other, as has been constantly reported, then let's see a scuffle break out. No actual fighting. Nothing substantial. Just enough to create a real buzz.
They had the stare-down, but where was the shove in the chest? Have us believe they want to go for it, as two men who get in a stare-down should.
Imagine this: The shoving starts and as they begin to reach the point where it escalates, enough referees have entered the fray to keep them separated. As the two men tussle to get their hands on one and other, enter Mr. McMahon. What a perfect time for him to return to TV.
Have him scream down the microphone that these two arrogant S.O.B's will not ruin his big payday by giving it away for free. Cena will be fired in a heartbeat if they do. Rock won't receive what's on the contract. Let's see the drama and the excitement here. Please!
It's all that was needed and was perhaps the biggest of missed opportunities on the RAW go-home show.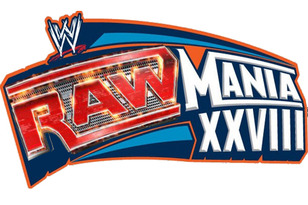 While the go-home RAW wasn't all bad, I feel WWE had just decided that enough had been done and that they could get by, expect good ratings and ease into WrestleMania.
If that were even remotely the case, a series of great moments that should have been may never make it to our screens.
I can't wait for WrestleMania. I can only imagine that feeling being elevated further had WWE Creative put some effort into this last RAW. There were some spots begging for more attention and thought, but were ultimately neglected.
I often wonder, as I watch WWE broadcasts in Australia and online (legally I assure you), if something has been lost in translation. If due to different editing or time constraints, I just haven't had a chance to see something or important segments of a show might be cut out.
Maybe this could happen. I don't think that could explain so many missed opportunities for what should be one of the most important RAW episodes of the year. Please, let me know any opportunities you think were missed.