NBA Rumors: Potential Return Dates for Derrick Rose, Amar'e Stoudemire and More
March 29, 2012

Kevin C. Cox/Getty Images
Injuries have been a major storyline of the 2011-12 NBA season, and there have been several marquee players who have suffered a variety of ailments.
With the playoffs coming sooner rather than later, there are some important players in street clothes on the sidelines who are unable to help their team on the court.
How long will it be until we see them again?
Amar'e Stoudemire, PF New York Knicks
The Knicks breathed a huge collective sigh of relief when it was revealed that Stoudemire would avoid surgery for now, but the star power forward is out indefinitely with a bulging disc.
After meeting with a Miami doctor, Stoudemire's timetable is two-to-four weeks and the big man will have an epidural as part of the rehab process.
With the playoffs less than one month away, the Knicks are hoping STAT's back won't be an issue in the postseason for the second straight season.
Derrick Rose, PG Chicago Bulls
Rose hasn't played since March 12 due to his current groin injury, and the Bulls won't rush him back to action until he's 100 percent healthy.
The team is playing incredibly well and still winning games, so there is no need for the reigning MVP to jeopardize his health before the postseason push begins.
Rose is still not doing contact work, so he needs to show that he can go through a full-contact practice before Chicago considers letting him return. 
Stephen Curry, PG Golden State Warriors
It's been a long season for Curry and the Warriors, as the third-year guard attempts to put his chronic ankle issues behind him.

Curry will be out at least two more weeks before being reevaluated and there remains a chance that he'll be shut down for the entire season.
The Warriors aren't going anywhere this season, but there is little doubt that Curry is champing at the bit to return to the starting lineup.
Al Horford, F/C Atlanta Hawks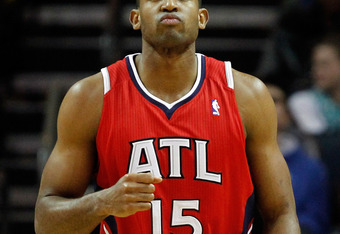 Streeter Lecka/Getty Images
The Hawks have had to play the majority of the season without Horford in the lineup, but Atlanta is hopeful that he  could return for the postseason. 
It's a very small possibility that Horford will be able to rejoin his teammates, but there is a chance we'll get to see him playing basketball again this year.
Ray Allen, SG Boston Celtics
There might not be a player in the league who keeps himself in better shape than Allen, but even he is not immune to injuries.
He's missed four straight games with an ankle injury, but the Celtics don't appear to be overly concerned about the severity of it.
Allen remains day-to-day and could be back in the lineup very shortly. 
Richard Hamilton, SG Chicago Bulls
The veteran free-agent acquisition has really been limited in how often he's been on the floor this season, but Hamilton is "very close" to finally returning. 
Although he probably won't be 100 percent for the rest of the season, anything Hamilton can give the Bulls will be a serious lift to an already incredibly deep team.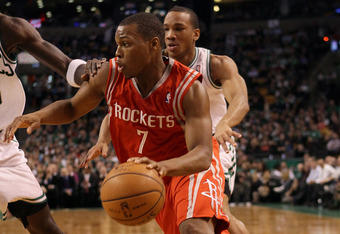 Elsa/Getty Images
Kyle Lowry, PG Houston Rockets
Lowry's absence from the lineup has really hurt the Rockets, a team that is in the midst of a heated battle for postseason position.
He's fighting a bacterial infection and is currently on antibiotics, and Lowry will be reevaluated in early April.
There is a chance he may not play again this season. 
Eric Gordon, SG New Orleans Hornets
Remember Eric Gordon? He's played in just two games this season for the Hornets, but he's not ready to pack it in for the year.
He's working hard to return from knee surgery and the shooting guard is on a mission to return to the starting five before the end of the season.
Gordon's return appears to be imminent after going through a full practice on Tuesday.