NFL Rumors: Why Asante Samuel Is Perfect Fit for Tennessee Titans Defense
March 29, 2012

Nick Laham/Getty Images
By the end of next season, Asante Samuel is going to be 32 years old. So, it's not surprising to see the Philadelphia Eagles make him available, when you consider his contract and their depth at the cornerback position.
According to CSN Philadelphia, the Tennessee Titans are interested in Samuel:
A league source tells CSN's Derrick Gunn that Samuel could be traded to the Tennessee Titans for a conditional third-round pick some time in the next few days.

'At this point, the Philadelphia Eagles are driving the train,' Samuel's agent Alonzo Shavers told TitansInsider.com. 'They don't have to do anything. They have always been very professional about their business and we would expect them to continue to be.'
This is not a bad option for the Titans, because they could also select a young corner in the late rounds to eventually take over for Samuel. At some point between Rounds 1-4, the Titans need to address the front seven.
Tennessee needs a well-established corner to make an immediate impact and play opposite of Jason McCourty. Last season, McCourty had a great year with 105 tackles, 13 passes defended and two interceptions.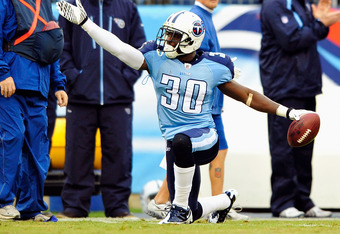 Grant Halverson/Getty Images
In 2010, McCourty accounted for 47 tackles, 10 defended passes and two interceptions. With a young, developing corner who has only improved each year, Tennessee can really remain stout against the pass with the addition of Samuel.
A three-time All-Pro selection (most recently in 2010) and 45 career picks in nine seasons, Samuel has not intercepted less than three passes since the 2004 season. Despite only playing in 11 games during the 2010 season, Samuel still managed seven picks and 14 total defended passes.
For his career, Samuel has compiled 617 interception return yards as well, which gives him an average of almost 14 yards per return.
Considering that Tennessee dipped way down in rushing offense last year, having to travel 14 less yards is a big boost, especially when facing tough AFC South defenses like Houston and Jacksonville.
As for the Tennessee defense, Samuel and McCourty would make up one of the better corner tandems in the game. Samuel is more of a cover corner who can lock down in man coverage, while McCourty isn't afraid to come up for run support.
Their man coverage skills will free up the safeties and play some Cover 1, while the front seven can blitz more often. A positive side effect of having Samuels will force quarterbacks to hold the rock longer, thus allowing guys like Akeem Ayers and Karl Klug to apply pressure.
Accumulating just 28 sacks in 2011, the Titans will improve that total as well as the No. 24 ranked rush defense. Samuel may not be a corner who's dominant against the run, but he reads it well, and his presence alone takes pressure off the front seven.
Plus, he'll read play action better to make plays when sitting in zone coverage.
Although he may only provide three years or so, Samuel is an upgrade for the Tennessee secondary that was the team's defensive strength in 2011. Now, it's just getting the job done at the line of scrimmage on both sides that will make the Titans legit divisional contenders.
John Rozum on Twitter.