2012 NFL Draft: 5 Mid-Round Prospects Who Could Help Dallas Cowboys on Offense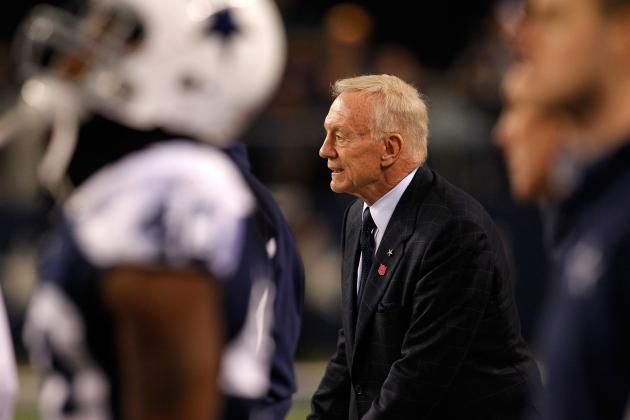 Tom Pennington/Getty Images

The Cowboys have made solid transactions to bring in help on offense. They've signed Kyle Orton to replace recently retired backup quarterback Jon Kitna. Also, the Cowboys signed Mackenzy Bernadeau and Nate Livings to plug holes on the offensive line.
Still, the Cowboys have needs to address on their talented offense in the draft. They may want to find someone to fill Laurent Robinson's spot as a deep-threat receiver. Drafting a center would be good.
Since many holes need to be filled on defense, the Cowboys may not need to address these needs until the middle rounds. Even though Jerry Jones may wait to draft offensive players, he could get starters or key role players in the middle rounds.
Follow along for a list of possible impact players Jones could grab for the Cowboys in the middle rounds.
Begin Slideshow

»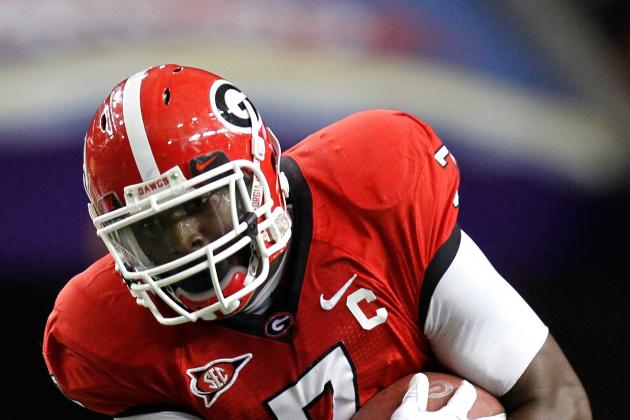 Kevin C. Cox/Getty Images

Orson Charles is a hot name among tight-end prospects. Charles has almost all the attributes teams would want in a tight end. He's versatile, having lined up next to the tackle, in motion and as an H-back. He's quick and can get separation. Despite not being very strong, he can push off defenders at the line of scrimmage.
He also has the moves to elude defenders both at the line and in open field. Charles has good hands and good hand-eye coordination.
Also, Charles can block well, which is something not many dual-threat tight ends can say for themselves.
Dallas let go of its second pass-catching tight end, Martellus Bennett.
The Cowboys might want to go after Charles in the third or fourth round to add a second pass-catching tight end to place opposite Jason Witten.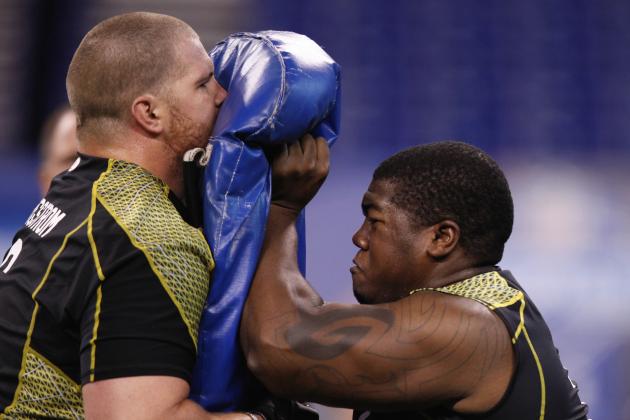 Joe Robbins/Getty Images

Philip Blake is a big, aggressive center coming out of Baylor. Blake has nice size (6'2", 320 pounds). He can make a lot of the blocks that are asked of him. Blake is a strong run-blocker who can pull defenders aside. He is strong enough to lay down big pancake blocks.
Blake shows good quickness, but sometimes goes wild and misses his blocking targets.
A couple of positional issues might affect Blake. Even though he's naturally a center, Baylor didn't start him at center until his junior year, putting him at right tackle before then. Also, while Blake is great shooting off shotgun snaps, he's hardly done anything other than shotgun in his Baylor career.
If Robert Griffin III's lack of experience in taking snaps under center is an issue, then people must consider Blake's lack of experience handing off at that close range.
Still, Blake has many attributes the Cowboys should like.
He moves quickly, can get out and cover space on screens and knocks defenders down. If the Cowboys were to go for him in the fourth round, they could count on him being a good contributor.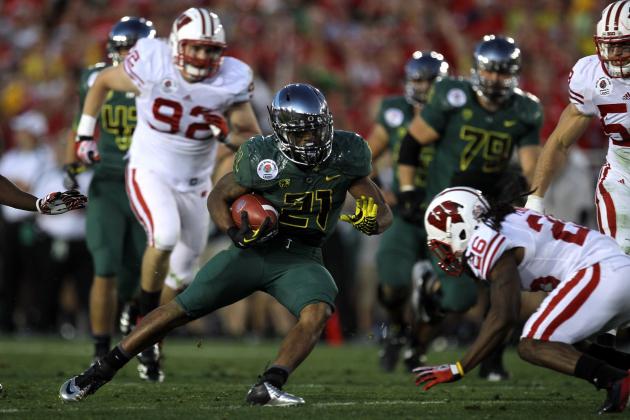 Stephen Dunn/Getty Images

LaMichael James is one of those prospects who looks like a high riser in college, but fades once people look at his pure attributes for the draft.
James has a great college resume. He ran for 1,805 yards and 18 touchdowns in 2011. His career rushing totals were 5,802 yards and 54 touchdowns. In 2010 and 2011, he was an AFCA All-American.
The 5'9" back is a great rusher. He's tough, elusive and fast, can cut back and break tackles. If chosen by the Cowboys, he'd be a bit different since he prefers to run inside.
James is looked down upon because he's small, but he has the skills to excel in the NFL. The Cowboys wouldn't do badly if they pick him in the third or fourth round.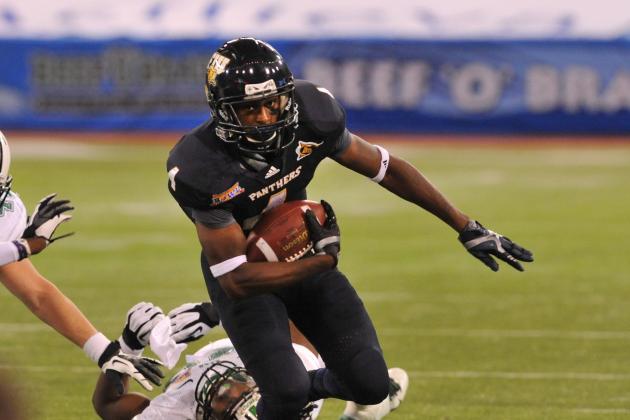 Al Messerschmidt/Getty Images

T.Y. Hilton has all the skills of a terrific wide receiver. He has great hands, spectacular explosion off the line, fantastic speed, amazing elusiveness and great ability to run after the catch.
There are just a few small problems with Hilton. First, Hilton is small (5'10", 182 pounds). Second, some might shy away from him just because he went to Florida International. Third, he suffered a quad injury in the Beef O' Brady Bowl.
He missed the Senior Bowl and the NFL Combine due to injury, but showed what a great athletic talent he is at the FIU pro day. Hilton ran a 4.36 40-yard dash, which put him with the fastest wide receivers.
Hilton made up for playing for a small program in a small conference by breaking out for 201 yards against Louisville early in the 2011 season.
The Cowboys could draft Hilton to replace Laurent Robinson as a deep-threat receiver.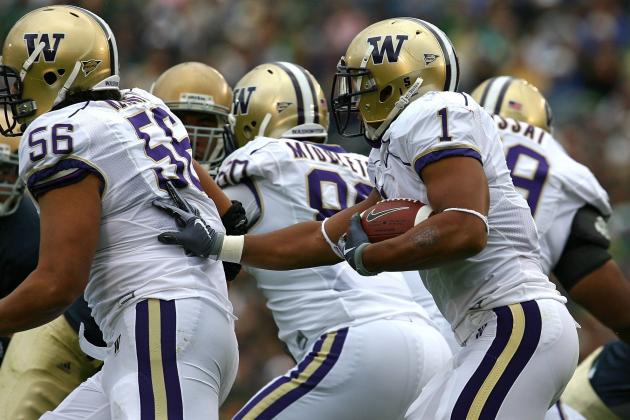 Jonathan Daniel/Getty Images

Senio Kelemete is a nice offensive-line prospect who could catch Jerry Jones' eye in the middle rounds. Kelemete is versatile, having played every position on the line. He started the last two years at left tackle for Washington, but would fit in better at guard. He's quick, can seal off defenders and goes hard at defenders.
Kelemete has good balance and agility, which is nice to see in a guard. His size is reasonable (6'3.5", 309 pounds).
He's shown leadership, serving as team captain for two years.
The Cowboys could do well by drafting Kelemete to add to the stable at guard and add a guy who can play anywhere on the line and play hard in any spot.