Los Angeles Lakers head coach Mike Brown made the right call in benching center Andrew Bynum against the Golden State Warriors on Tuesday.
After the first-time All-Star jacked up an ill-advised three-pointer with a plethora of time remaining on the shot clock, Brown was quick to take him out of the game.
And it was the right move.
Bynum sulked after Brown pulled him out of the game and did not join the huddle during timeouts, but this is all part of the growing process for Bynum as he evolves as a player.
There has been an incredible amount of scrutiny and criticism surrounding Brown and his coaching during his inaugural season in Los Angeles, but his Lakers are 31-19 and currently sit at third place in the Western Conference standings.
Bynum, who has turned in his most impressive season to date, owes a great deal of his breakout campaign to Brown, who has made it a point to make the center a focal point of the offensive attack.
Averaging 18.2 points, 12.2 rebounds and 2.0 blocks on 57.9 percent shooting for the season, Bynum is putting up gaudy numbers since the All-Star break: 21.7 points, 11.0 rebounds and 1.9 blocks on a ridiculous 63.6 percent shooting.
A big man that is that dominant in the key and is converting with such incredible efficiency has no business roaming the perimeter in an attempt to expand his game.
Bynum is 1-of-8 over the course of his career from beyond the arc, but he is striving to make the three-point shot a part of his game moving forward.
That's fine. If Bynum wants to increase his offensive repertoire, that's completely acceptable.
However, there is a time and place for everything, and it is not the time to begin experimenting at a critical juncture of the season with the postseason less than a month away.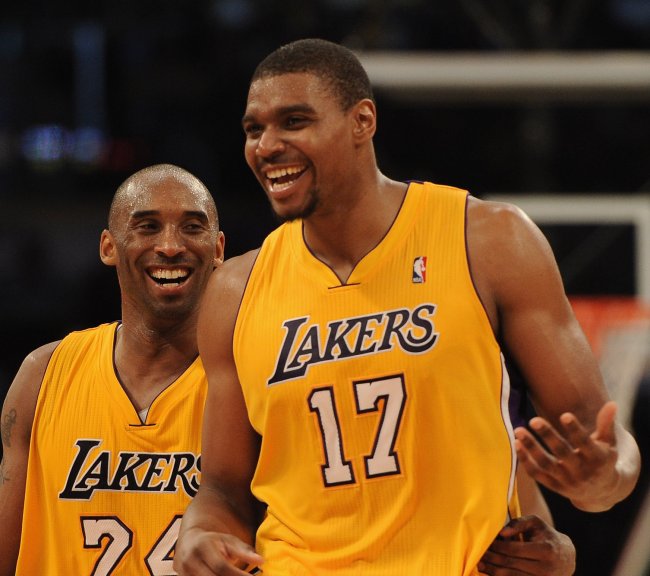 Harry How/Getty Images
Kobe Bryant offered an interesting take on Bynum taking the three-point shot and the benching that came along with it, via Kevin Ding of the Orange County Register:
I understand where he's coming from. And the first thing you want to do if you want to get the best out of somebody or the best out of your players is you have to understand what they're feeling; you have to understand where they're coming from and what they want to accomplish. That's why it's not that big a deal to me. You don't see me sitting here trippin' or sweatin' or anything like that. I've been there.
Bynum has a desire to be great—that's why Bryant understands where he's coming from.
For the first time in his career, Bynum is playing with an unmistakable confidence and is going out every night knowing that he's capable of hanging an emphatic performance against any opponent that lines up against him.
Accountability is a big part of Bynum taking the next step. He needs to understand what is best for his team and how he can best help the Lakers win games—and that's not by taking three-pointers right now.
Brown needed to deliver a message to his big man, and he did it in the most effective manner he felt that he could, by sending him to the bench.
"I don't know what was bench-worthy about the shot to be honest with you," Bynum said after Tuesday's game.
But there was a bigger issue than Bynum simply taking a bad shot when Brown pulled him out of the game.
As Mike Bresnahan of the Los Angeles Times reports, the big fella appeared to be mentally checked out of the action after he was sent to the sidelines.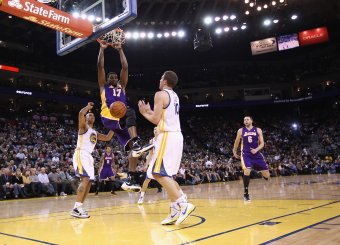 Ezra Shaw/Getty Images
"Bynum stood off to the side during timeouts and was shown by TV cameras shrugging and frowning while on the bench," Bresnahan said.
That's not something anybody ever wants to see from a great player, and it's not a sign of someone being a team leader.
Despite being in his seventh season in the NBA, Bynum is still just 24 years old. His behavior is a part of his maturation process, and it's something that he needs to go through in order to turn the corner and reach the next level as a player.
Brown explained his coaching decision at Lakers practice on Wednesday, via Lakers.com:
If I'm feeling like we're not getting production the right way from certain guys on the floor, I'll make a change. It's as simple as that.

I didn't think that defensively he was active enough when he went back in. I thought we needed to be more aggressive in the pick and roll on the weak side, on the ball, in the post.
In his first season as coach of the Lakers, Brown made a move that helped the team win another game.
When did winning games stop becoming the focus of attention?
Brown is having more success than almost anyone predicted he would with this team, and what he's been able to do without consistent production from his second unit has been remarkable.
He's making Bynum better. He has the players buying into his philosophies at both ends of the floor. And the Lakers remain firmly in the conversation when discussing teams contending for the title.
Job well done, Coach Brown.