Thunder vs. Lakers: Breaking Down Every Matchup for Thursday's Game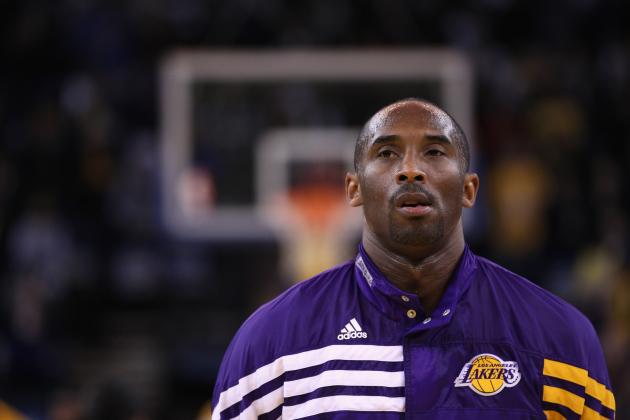 Ezra Shaw/Getty Images

It's going to be an emotional night in Staples Center on Thursday. Laker legend Derek Fisher will return to the arena in which he made Lakers fans all over the world fall in love with him, because of his legendary moments on and off the court.
That said, the Los Angeles Lakers know that their matchup against the Oklahoma City Thunder presents one of the toughest and most important challenges of the season.
It's a measuring stick of where they stand against an elite NBA team, and it's a possible preview of the Western Conference finals.
A Lakers victory will make it known to the rest of the NBA that they can hang with the Thunder and compete for a chance to play in the NBA Finals.
Meanwhile, the Thunder are sick of being pushed around by the Lakers. They're one of the best teams in the NBA right now, and they'd love to impose their will against the franchise that has tormented them ever since the Thunder played in Seattle.
As the next few slides will demonstrate, this matchup is incredibly even.
Begin Slideshow

»
Jeff Gross/Getty Images

Andrew Bynum (LAL) vs. Kendrick Perkins (OKC)
This isn't the first go-around for these two familiar foes.
Bynum and Perkins have been going at it since Perkins called Boston home. In fact, many Laker fans point to Bynum's absence as a major reason why the Lakers lost the 2008 NBA Finals.
In contrast, Celtic fans blame Perkins' injury in Game 7 of the 2010 NBA Finals as a factor in the Celtics' loss that season.
Now, Perkins is in Oklahoma City, and he's helped provide a great defensive presence in the paint for the Thunder. He's not going to put up Bynum-like numbers, but he does an excellent job in clogging the frontcourt and making it difficult for opposing centers to have big games.
That being said, Andrew Bynum is not your ordinary center.
He's turning into one of the most elite centers in the league. That is, if he decides to post up and pound the rock home, rather than suddenly fall in love with the three-ball.
Bynum has been under heavy scrutiny recently following his benching on Tuesday night in Oakland. His maturity has been questioned lately given his defiance, and it'll be interesting to see if Bynum brings the same effort he did earlier this month.
If Bynum has his head in the game, Perkins is going to have a difficult time containing him, and it's going to be a major advantage for the Lakers.
After all, Perkins isn't an elite defender this year—his opponents' player efficiency rating is over 15, which is the league average.
This means that Bynum has the chance to really have a big game. All he has to do is keep his emotions in check and play hard.
We're assuming that Kobe Bryant and the Lakers coaching staff has made sure Bynum stays focused for this big game.
Advantage: Bynum, but it depends on effort.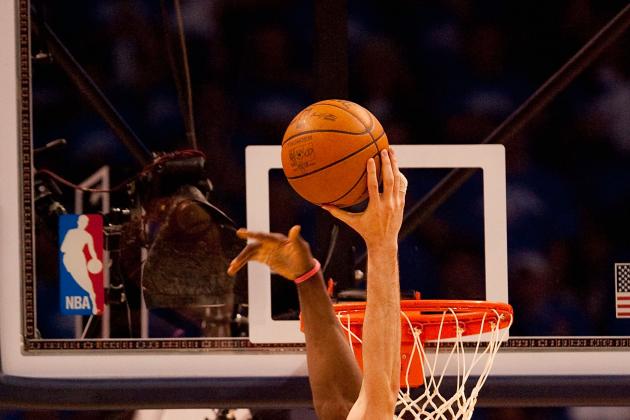 Dilip Vishwanat/Getty Images

Pau Gasol (LAL) vs. Serge Ibaka (OKC)
Serge I-block-a leads the league in blocking, and it ain't even close.
He's averaging 3.3 blocks per game, and Pau Gasol, who has had the misfortune of being labeled "Ga-soft" at times throughout his career, will have a difficult time against this beast of a power forward.
It's a true matchup between finesse and power.
It's important to note that Pau has been hot recently. He's coming off three consecutive double-doubles, including a 17-rebound performance against Golden State. He also has over 30 double-doubles this season and is averaging over 10 rebounds per game yet again.
Most importantly, Bynum's large presence in the paint allows Gasol to roam freely and use his mid-range game. This is an advantage for Ibaka, who relies more on being a factor in the paint, as exemplified by his high block total.
On the other side of the ball, Ibaka isn't really an offensive threat. This isn't Dwight Howard we're talking about.
Gasol should be fine. And let's face it: He's been a lot tougher against opponents this season compared to the past.
Power forwards have a Player Efficiency Rating of just 13.6 against Gasol, which is below the league average. In 2010, Gasol played both power forward and center because of Bynum's injuries, and opponents feasted on him. Both power forwards and centers had PERs greater than 16. This is a testament to Gasol's improved defensive play.
This is a huge game for the Lakers, and Pau is going to step up.
The slight edge goes to the Spaniard.
Advantage: Pau Gasol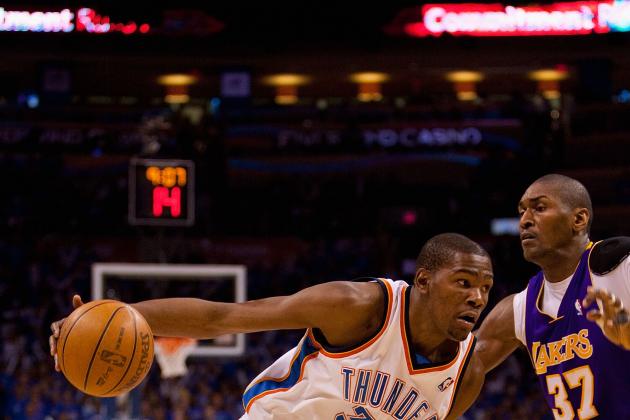 Dilip Vishwanat/Getty Images

Metta World Peace (LAL) vs. Kevin Durant (OKC)
It's obvious that Kevin Durant has a major advantage, but the key in this matchup is: How much can Metta World Peace contain the scoring threat?
Durant can score from anywhere on the floor, and his effectiveness will determine whether the Thunder will win or not. He can put up 40 points any night, and the Lakers are aware of that.
They'll have Metta, one of the best defenders in the league when mentally involved in the game, guarding him all night long. We saw what World Peace did to LeBron James earlier this month, practically giving him living hell on the court.
We'll see more of that with MWP tonight against Oklahoma City. He tends to shine in the biggest games, as evidenced by his strong performances against opponents like Dallas, Boston and Miami this season.
Finally, opponents have a terrible Player Efficiency Rating against Metta—just 10.7. This exemplifies Metta's dominance on the defensive side of the ball.
Let's also not forget that World Peace has a flair for the dramatic. He has a history of being clutch in big games, and let's not kid ourselves—this is a pretty big game for the Lakers.
All of that being said, Durant is still one of the best players in the league, and the Thunder have the advantage in this matchup.
Advantage: Kevin Durant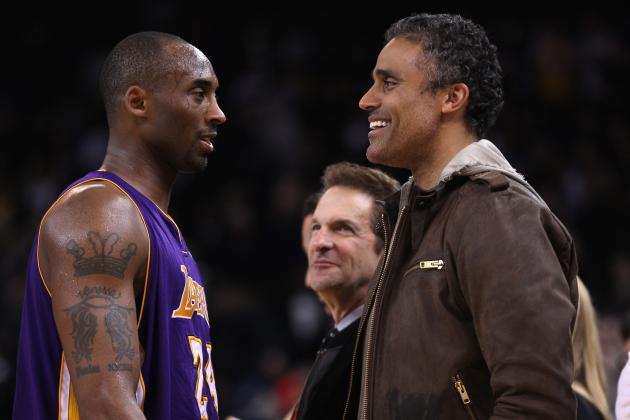 Ezra Shaw/Getty Images

Kobe Bryant (LAL) vs. Thabo Sefolosha (OKC)
The Los Angeles Lakers had better hope that Kobe doesn't try to shoot his way out of a slump in this game. It's just not going to work against Thabo.
Sefolosha is an elite defender in the NBA. Shooting guards have a meager Player Efficiency Rating of 6.9 against Sefolosha, and the league average is 15.
Bryant will definitely have his hands full.
That being said, he lives for moments like these. It's an absolutely massive game for the Lakers and a true litmus test against the best team in the Western Conference. You just know Kobe can easily drop 35 and make Sefolosha look like a fool.
However, if Thabo can contain Kobe, it'll be good enough for the Thunder.
Advantage: Kobe Bryant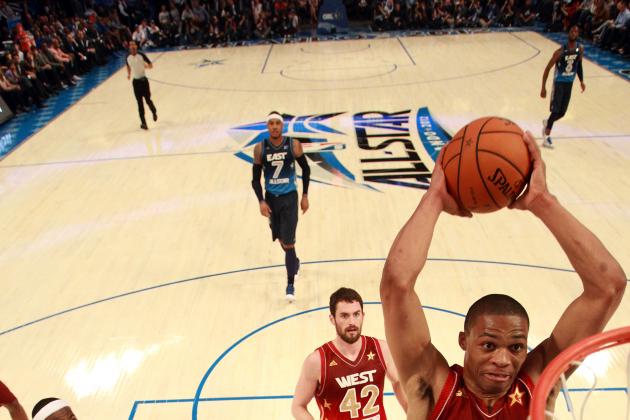 Ronald Martinez/Getty Images

Ramon Sessions (LAL) vs. Russell Westbrook (OKC)
Several weeks ago, the point guard matchup would've been the main reason why the Thunder were going to steamroll past the Lakers. Derek Fisher was no match for the younger, quicker Westbrook.
Now that the Lakers have Sessions, their team has changed immensely on both sides of the ball.
They have a guy that brings flow, energy and organization to the offense. The offense just looks smoother under Sessions. The Lakers finally have a point guard that can slash to the net, take outside jumpers and facilitate everyone else's job.
Defensively, Sessions can keep up with the league's best point guards, which is something Fisher couldn't do.
While Westbrook still has the clear advantage in this matchup, the gap between the talent level at point guard between these two teams has shrunk. It'll be interesting to see how Sessions will impact the Lakers tonight.
After all, this is why they traded for him.
Advantage: Russell Westbrook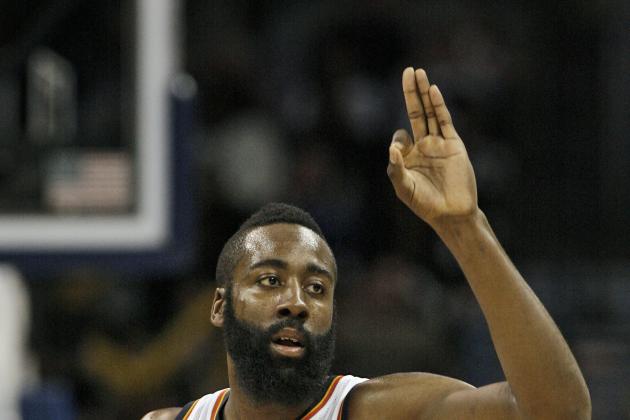 Brett Deering/Getty Images

Everybody wants to blame the Lakers bench for some of the team's losses this year. But the truth is that the bench has been terrible in both wins and losses for the most part.
However, the team has received inspiring play from Matt Barnes and Josh McRoberts recently. Barnes put up 18 points on Tuesday night at Golden State and has looked like a different player ever since Ramon Sessions was acquired by the Lakers.
It seems like Sessions has allowed Barnes to be more comfortable with the offense, and the numbers don't lie. Barnes is averaging 11.6 points and 6.1 rebounds per game with Sessions on the roster, both of which are well above his season averages.
All of that being said, the Thunder have James Harden, a potential Sixth Man of the Year candidate. Harden is averaging over 17 points per game and has been a catalyst for this team whenever it's needed one.
He's almost a 50 percent shooter from the field and has drained 38.8 percent of his triples. He helps maintain the energy and momentum for the Thunder, and he's a major reason why Oklahoma City is a contender this season.
Finally, the most popular player of the night will be sitting on the Thunder bench.
Derek Fisher makes his much-awaited return to Staples Center, and there is no doubt that the fans will give him a standing ovation for all of his contributions to the team.
Fisher played for the Lakers for many years, and he knows everyone's tendencies. He will indubitably share every bit of information with his teammates to give them an edge.
Although he is physically limited to contribute, his leadership, knowledge, basketball IQ and clutch moments may become a huge reason why the Thunder win tonight.
Advantage: Thunder, and by a lot.