QPR vs. Arsenal: 5 Hoops to Watch out for at Loftus Road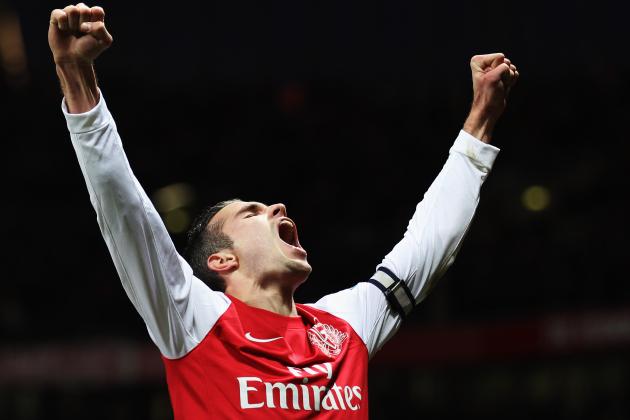 Clive Mason/Getty Images

W-W-W-W-W-W-W.
Seven League wins on the bounce. It's only the 11th time in Arsenal's history that this has happened, as I am reliably informed by arsenal.com's latest installment of "Behind the Numbers."
And while it is only correct that players, staff and fans revel in the glow of this unforeseen purple patch, Arsene Wenger's relentless focus on "the next game" should be the recurring theme.
Arsenal are only three points clear of Spurs in the race for third place, and a slip against lowly Queens Park Rangers at Loftus Road could have catastrophic consequences for the Gunners.
Our north London rivals have much the easier run-in, with Sunderland away looking like their most daunting fixture. Arsenal, on the other hand, still have to host Manchester City and Chelsea, and visit Stoke.
Make no mistake—this is a must-win for Arsenal.
QPR occupy 18th place in the latest Premier League table and will no doubt scrap for their lives to get even a point from this fixture. They lost disappointingly, 1-3 at Sunderland, in their last league fixture, but it was only two games ago that they found themselves trailing "mighty" Liverpool at home by two goals to nil after 77 minutes, only to storm back and win 3-2 in some style.
Arsenal must travel to west London expecting a fight, which they will undoubtedly get from any team managed by Mark Hughes. He has never endeared himself to Gooners, as a player or manager, and will certainly not be looking to make new friends this Saturday.
There is also the greater threat of Manchester City looming, as the Etihads come to the Emirates on the 8th of April. It would be fantastic to go into that game on the back of an eight-game winning streak.
QPR have invested in their playing squad ever since they were acquired by Tony Fernandes, and while he hasn't got the bang for the buck that he would have desired, they certainly have players who can hurt Arsenal.
Here are five of their most lethal weapons.
Begin Slideshow

»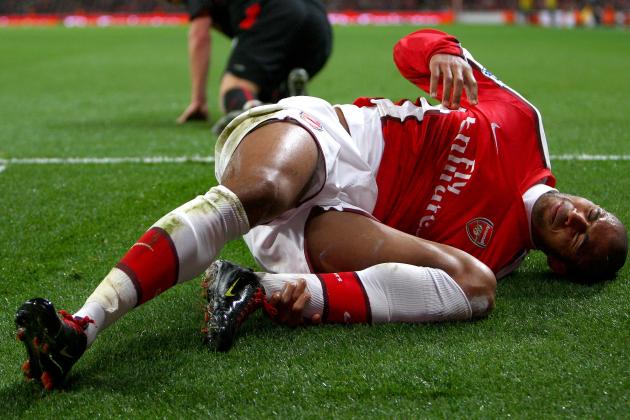 Phil Cole/Getty Images

This might be the enduring image of Armand Traore, the Arsenal player, in the minds of all Gooners.
And while that may be justified for a player who promised much and delivered nothing, there is nothing worse than an ex-player—also one who has been severely derided—coming back and haunting you with an outstanding performance for your opponents.
Traore has not set the Premier League alight since his shift across London, and he will have his hands full facing Theo Walcott and Bacary Sagna on Arsenal's right.
But he has pace and a good left foot, and I am certain that I am not the only Arsenal fan who thought he had some promise.
Heaven help us should some of that promise be realized on Saturday.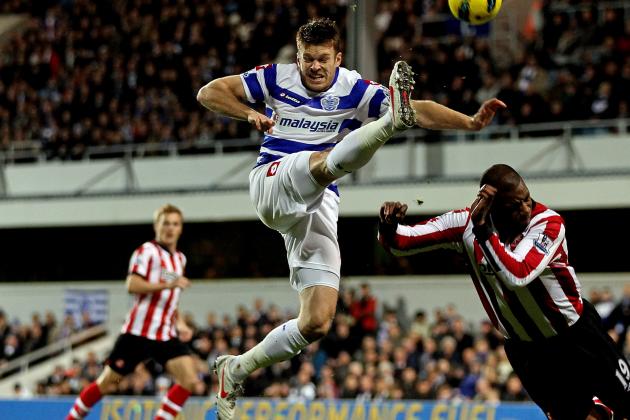 Scott Heavey/Getty Images

I think it is fair to say that Jamie Mackie was not a household name till a couple of months ago.
At 26 now, he has enjoyed a reasonable career at clubs like Wimbledon, MK Dons, Exeter City, Sutton United, Plymouth Argyle and now QPR.
And with 52 goals in 260 career games—exactly a goal every five games—he could hardly be called prolific, for an attack-minded player.
However, two of his recent performances have put him in the spotlight for all the right reasons—unlike his more illustrious teammate Djbrill Cisse—and he presents a potent threat for the home team.
A few games ago, he scored twice at Ewood Park to bring Rangers back from 0-3 down against Blackburn Rovers to almost snatch an unlikely point. And two weeks ago, he came off the bench against Liverpool to score in and inspire a famous 3-2 win, having been two goals down with 13 minutes to play.
Mackie is in a rich vein of form. What better way to endear himself to his manager and the QPR fans by turning the tables on Arsenal?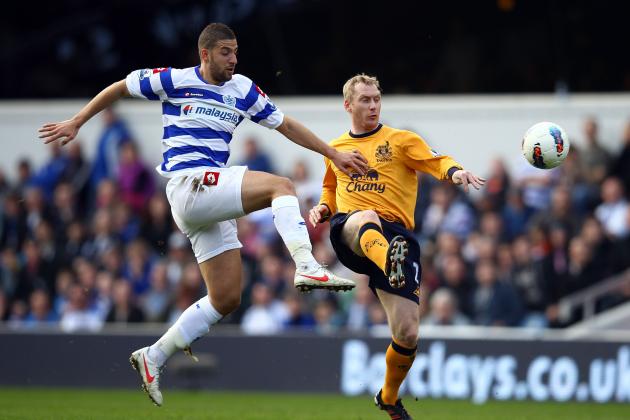 Julian Finney/Getty Images

There are two "coming back to haunt you" scenarios in football.
We've been through the "former player" option with Armand Traore.
The other scenario is that of "almost signed."
Meet Adel Taarabt. QPR's midfield magician was widely tipped to sign for the Gunners in the January transfer window. However, as with a majority of transfer "exclusives," nothing really happened.
The Moroccan midfielder started his career in the Premier League with Tottenham Hotspur before really making his name at QPR, first on loan and then after a permanent move.
He scored 19 goals for the Hoops in their promotion campaign and racked up a number of assists.
He was expected to take the Premier League by storm but has so far failed to impress. He has yet to score a goal and has only two assists in 18 Premier League starts, and with rumors circulating that he might be on his way to cash-rich PSG, he will be keen to make a mark against a big opponent.
Take a rain check, Adel—you're playing at Old Trafford on April 8th.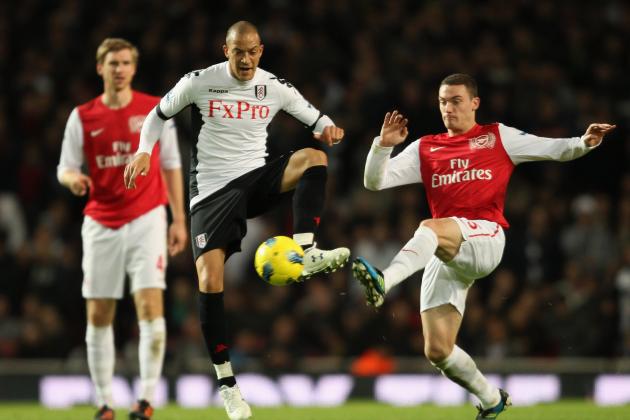 Scott Heavey/Getty Images

"If the ball hits your head, and you're sat in row Z, that's Zamora...."
A popular refrain (to the tune of "That's Amore") a few years ago, but one that the Englishman has done a lot to silence over the years.
Zamora has come on in leaps and bounds in recent seasons, and would certainly have been more of a household name were it not for his frequent run-ins with injury.
Arsenal fans do not need to go far back to remember when Zamora last hurt us.
Fulham vs. Arsenal at Craven Cottage, 2nd January 2012. Arsenal were leading 1-0 with 85 minutes gone, and after an equaliser from former Gunner Steve Sidwell, Zamora struck a devastating winner with only seconds remaining on the clock.
This started a sequence that gave Arsenal one point from their next four games—something our season could well have done without.
Zamora moved to QPR in the January transfer window and has thus far scored two goals in seven League starts. He will lead the line in the absence of Djbrill Cisse, and he could do with some careful supervision from Arsenal's defenders.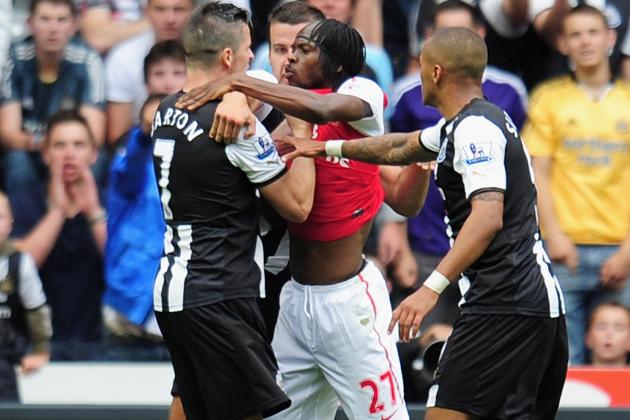 Shaun Botterill/Getty Images

It would make me very angry, irritated, upset, peeved, riled, agitated and frustrated if Joseph Barton does anything of significance in this game.
Except get himself sent off.
He's a reasonable footballer who somehow awakens the devil in every opponent—Abou Diaby, Alex Song, I'm looking at you—and does more by making others implode than by doing anything creative of his own.
He hasn't had a great season for QPR—two goals and three assists in 24 starts—but he's another one for the big occasion who'd like nothing better than to stick one past the Gunners.
Verminate him, I say.
Follow me on Twitter at @ratanpostwalla.