LeBron vs. Dirk: Which Superstar Is More Valuable to His Team?
March 29, 2012

LeBron James and Dirk Nowitzki faced off over an enthralling six-game NBA Finals series. The giant German's Dallas Mavericks came out on top.
One question that came to mind then and really comes to mind now is this:
Which of these two superstars would be missed most by his team?
On face value, the answer appears to be Dirk Nowitzki.
I mean, LeBron's Miami Heat boasts Dwyane Wade and Chris Bosh, two of the top 15 players in the league today.
Yet, we need to look beyond that.
Because really, it's LeBron who is the more important superstar to his team.
The reason Dallas won it's NBA championship last season was not on the back of star performance from one player (sure, it helps when you have a seven-footer capable of hitting unstoppable shots), but on the back of a balanced team effort.
Jason Terry, Jason Kidd, Tyson Chandler, Shawn Marion. Even tiny J.J. Barea.
All had a bigger input to their team's fortunes than the Miami Heat's roster outside of their "Big Three," which is why removing a member of that big three resulted in a loss.
It's tough to quantify this as few teams play like the Mavericks—with team effort coming before individual talent.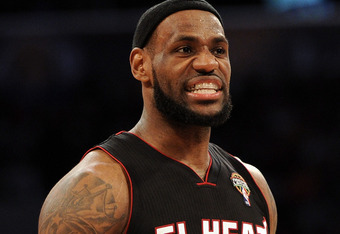 Harry How/Getty Images
However, when the Miami Heat faced the Chicago Bulls during the regular season, they did so without LeBron on one occasion. Chicago let the Heat continue with their isolation-heavy offense and locked them down, beating them using (a lot) of Derrick Rose but also a lot of everyone else on the Bulls' roster.
LeBron missing games puts so much more pressure on Dwyane Wade, who already has to shoulder most of the load in late-game situations. He can only handle so much each night, and with a hefty number of miles on the clock, Wade's prime is fast becoming his past.
Beyond Chris Bosh, the Heat have the very definition of role players on their roster. Their point guard is a three-point shooter. Their centers are undersized shot-blockers. Their bench is shallow; only rookie guard Norris Cole and wing-player Shane Battier come in with any sort of game-changing ability.
And only Cole can do that via offense.
LeBron's absence would put more load on these lesser talents, who are much more likely to fail. If you are playing the Heat, you'd be happy to let Mario Chalmers, Cole and Battier try to beat you.
Compare LeBron's supporting cast to Dirk's and you see why the Mavericks have it better should Dirk miss time.
Jason Kidd (as of last season at least) is still an elite-level point guard capable of finding his teammates with precise passes. He's also a decent three-point shooter.
Jason Terry off the bench was the key to the Mavericks' title success. Terry is not the best defender, but he scored in bunches in the finals, especially in crunch time, hitting big shot after big shot. Not just in the Finals—everyone remembers his nine three-pointers made in the final game against the Los Angeles Lakers.
Even Roddy Beaubois can now come off the Mavericks' bench, replacing departed J.J. Barea, and run the offense. The Mavericks' system is designed so well that anyone, it seems, can come in and find their shots and make them.
That's Dallas' advantage. It's what makes Dirk a little less depended on. Of course, when the game gets late and the score is close, the Mavericks would sooner go to the German, who's turnaround, fade-away, one-legged jump shot is a thing of beauty, just like any other team goes to it's star in important situations.
For the Heat, they rely a lot on LeBron to bring them back into games. He has the ability to start hitting insanely difficult shots. Losing him for a period of time deprives the Heat of their premier basket-attacker and the top talent in the NBA.