Scouting Running Back Prospects for the San Francisco 49ers
March 30, 2012

Jeff Gross/Getty Images
The San Francisco 49ers backfield has gotten pretty crowded over the course of the last three days. The addition of Brandon Jacobs, no matter how surprising it was, has to be considered an upgrade at this point.
He can fill that short-yardage need that the 49ers were missing in 2011. With all due respect to Anthony Dixon, he just wasn't getting it done.
Despite having four running backs on the current roster, San Francisco might still look at this position in the draft. However, it is hard to believe that the Niners are going to spend a top pick on this position.
Instead, the team is likely looking at possible mid-round steals that could create more competition in training camp.
We have to believe that neither Anthony Dixon nor Brandon Jacobs are locks to make the opening day roster. Both have relative easy outs on their contracts.
This will be the first of a series of articles that are going to focus on specific positions in the draft as they relate to the 49ers in April. I will scout each possible draftee in terms of how they fit the 49ers system on both sides of the ball.
The series will begin with the running back position.
Chris Polk, Washington
Probably the least likely possibility due to the signing of Jacobs, the former Washington standout will probably be drafted in the second round. I currently have Polk ranked No. 31 on my big board.
He provides the balance that San Francisco is looking for in a running back. Polk has the ability to catch the ball out of the backfield (recruited to Washington as a wide receiver). He also possesses the ability to bounce the ball to the outside and has pretty decent field vision.
Polk was considered a first-round lock prior to a pedestrian Senior Bowl performance that saw him struggle with speed and field vision. His stock balanced out a bit following a pretty good pro day performance this month. 
David Wilson, Virginia Tech
More of a runner than a running back at this point, Wilson has extremely good raw ability on the football field. He tends to struggle running too upright and lacks the necessary field vision to make an immediate impact.
Definitely more of a projection pick than anything else at this point. I will say that Wilson translates to being a good running back in the future. He has the size, speed and toughness to be a primary back on offense.
It is being reported by The Sacramento Bee that the 49ers plan to host the former Virginia Tech prospect a couple of weeks before the draft. This shows that they are interested to see what he has to offer.
Robert Turbin, Utah State
By far, the most intriguing prospect on this list. Don't let the fact that Turbin played against less-than-stellar competition in college fool you; he is going to be one heck of a player at the next level.
He's a running back that has the ability to shoulder the load on his own. Turbin has the prototypical size teams looks for in a running back at the next level (5'10" and 216 pounds). He possesses amazing strength and will not be taken down by an arm tackle.
The former Utah State star also has the ability to break the ball to the outside on a whim.
He would act like a great complementary running back to Kendall Hunter, once Frank Gore has to call it quits. He could probably be had in the third or fourth round.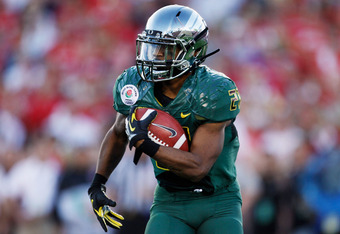 Jeff Gross/Getty Images
LaMichael James, Oregon
More of a scat-back prospect at this point, James cannot be counted on to carry the ball 20 times a game. He just doesn't have the strength or build to be an every-down back.
Instead, he's a player that reminds me a great deal of Darren Sproles and Reggie Bush, which isn't bad at all.
James will be a valuable player at the next level. He has explosive speed and can take it to the house every time he touches the ball—something that can't be said about a vast majority of the running backs in the NFL right now.
He would represent good value in the middle rounds.
Chris Rainey, Florida
Now, this is the type of running back I could see the 49ers making a play for next month.
Rainey is a late-round prospect with tremendous upside in both special teams and as a "toolsy" player on the offensive side of the ball.
At 5'8" and 180 pounds, Rainey is too small to be counted on consistently at the next level. Instead, he's a player that will touch the ball between five and 10 times a game, both in the passing game and running the ball.
He would fit what San Francisco is attempting to build in terms of athleticism on the roster. Rainey didn't return many kicks at Florida, but he should be stout in kick coverage. He can line up in the slot as a receiver and possesses some really soft hands.
Rainey is probably a sixth- or seventh-round pick at this point.
Tauren Poole, Tennessee
More of a mid-to-late-round prospect at this time, Poole didn't get a lot of attention playing for a marginal Tennessee football program. But he was a really solid performer against stout SEC defenses.
He runs with a tremendous amount of strength, consistently running with good pad level. This causes opposing defenders hassle in terms of bringing him down at initial contact.
Poole also possesses great field vision and uses blockers to the best of his ability. This is something that young running backs tend to struggle with. Most of the time, they lack patience in the backfield, but that's not the case with Poole.
He fits perfect on the 49ers because of his receiving and blocking ability.
Last Word
Running back is definitely not going to be an area of concern for the 49ers. They are not going to spend a first-round pick on a player like Doug Martin or Lamar Miller.
Instead, the team will be looking at mid-round and late-round steals.
I previously had Doug Martin going to the 49ers in the first round. That just doesn't seem to be in the cards with the signing of Jacobs.
Despite having four running backs on the roster, San Francisco might address this position in the draft. Jacobs and Gore are about to hit that evil age of 30, while Hunter hasn't proven he can shoulder the load in the backfield.
One of the best things about continued success in the National Football League is that a team can look beyond the following year when making decisions in the draft. With a limited amount of holes to fill in April, I expect the 49ers to do that.
Follow me on Twitter @VincentFrankNFL.