NBA Rumors: Why Mike Woodson Is Foolish To Expect Knicks To Contend for Title
March 29, 2012

Chris Trotman/Getty Images
Last week, interim New York Knicks Head Coach Mike Woodson sat down with Steve Serby of the New York Post for a one-on-one interview. 
Woodson opened up about a number of things from growing up in a family with 12 children to his recruitment by Bobby Knight and finally, some of the expectations he has for the Knicks. The subject eventually turned the the current Knicks and their postseason potential.
Q:"If you make the playoffs, what qualities do you want this team to have when the playoffs begin?"

 A:"They have a legitimate shot to win the title. When the playoffs come around, it's open season. Who's playing the hardest, the best … who believes that they can really get it done. Homecourt and all that goes out the door. It's great to have homecourt, but hey, we (2004 Pistons) didn't have it in the Eastern Conference Final that year, and we ended up beating the Pacers. We didn't have it in the Finals that year, and we beat the Lakers …and if these guys are honest with themselves, and hold each other accountable, their credibility is rollin' high, man, anything can happen in a playoff series. Anything."- Mike Woodson New York Post March 21, 2012
Woodson is correct in some of what he says. Then again who's playing the "best" as he points out often isn't all that far from who was playing the "best" during the regular season. The team with the best record doesn't always win the NBA title, but they do have a better chance than the seventh- or eighth-seeded teams do. 
Often it seems like coaches get asked questions for which there is no legitimate answer. If an interviewer asks a coach something like, "Coach do you think this team can win a title?" then the coach has almost no correct answer available.
If they say "yes" then they're bragging or cocky or overconfident. If a coach says "no" then they're not showing faith in their team or players. Either answer could elicit plenty of strong critiques.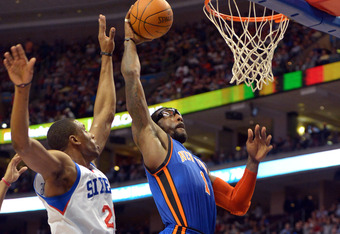 Drew Hallowell/Getty Images
This wasn't that type of question, though. In fact, it was seemingly structured to avoid forcing Woodson into making a potentially controversial statement. "Qualities" could be pretty vague. Woodson did touch on those. He discusses working hard, holding each other accountable and (the players) being honest with themselves.
"They have a legitimate shot to win the title."
That's the part where it gets fuzzy. The 1999 Knicks are the only eighth-seeded playoff team to even make the Finals. That team lost to the San Antonio Spurs. The 1995 Houston Rockets were the lowest-seeded team to ever win a title and they were a six-seed. So it can happen, but it's not likely and it's probably not legitimate to set the bar at that level. It might be legit behind closed doors, but not in New York City's most read daily paper.  
If Woodson wants to be honest with himself, an NBA Title might be a bit on the lofty side of rational expectations. The Knicks have a lot of talent, but Lin is too inexperienced to navigate the squad through the Eastern Conference Playoffs this season.
Amar'e Stoudemire's injury will shelve him through at least the end of the NBA season, which may prevent the Knicks from moving up in the Eastern Conference standings too much before the season concludes.
That makes it highly likely that any New York Knicks Finals appearances will occur without the team beating both Chicago and Miami first. Could the Knicks do that? Yes they could, but a better question would be "will they? "
The answer to that is "probably not." If Woodson disagrees that's fine, but there are plenty of people that don't live in the New York metro area who would be willing to bet that the Knicks wouldn't beat Chicago or Miami—never mind both of them.