WrestleMania 28: Stars That Must Make Their WWE Return
March 30, 2012

John Sciulli/Getty Images
WrestleMania 28 is a time for Vince McMahon and the WWE as a company to blow the lid off their biggest show of the year.
With their willingness to go over the top, bringing back former WWE stars is not out of the realm of possibility.
All of the following stars could be hearing their music played at WrestleMania if all the right stars align.
Lord Tensai
With two exciting promos teasing the return of former WWE star Albert as Lord Tensai, having him debut back in the company at WrestleMania would be a great way to have his run be memorable.
Lord Tensai can be the difference in the Team Teddy vs. Team Johnny match or cause CM Punk to lose the title and have him work for Jericho. Either way, Tensai would be a great addition to the post-WrestleMania roster.
With plenty of stars like Undertaker, Shawn Michaels and The Rock leaving for a few months at the very least, Lord Tensai will be the monster heel the WWE needs.
Rob Van Dam
With Rob Van Dam being off TNA Impact Wrestling TV for a few weeks, many fans think his time in the company may be over. A return to WWE is imminent.
The card is already stacked with plenty of great matchups, but there is a way to get him to the upper midcard to start. Let him face Cody Rhodes.
WWE could let Big Show come close to going over in this match, but RVD could interfere and help Rhodes win. After the match, Van Dam could attack Rhodes as well and make it clear he was going after the IC belt.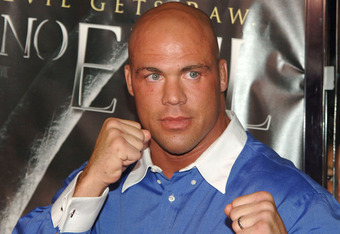 John Sciulli/Getty Images
The WWE needs to go all-in on the truly insane Kurt Angle. While Angle is going to be getting ready to train for the Olympics, he could make a stop in the WWE for a quick stint.
If TNA allows him off his contract to participate in the Olympics, he should do the double swerve and return to the WWE after the pursuit of another gold medal fails.
While this is obviously the most farfetched, it would be a dream come true for many wrestling fans to have Kurt Angle back in the WWE.
Check back for more on the World Wrestling Entertainment as it comes, and visit Bleacher Report's Wrestling Page to get your fill of WWE/TNA. For more Wrestling talk, listen to Ring Rust Radio for all of the hot topics you just can't miss (some language NSFW).