NCAA Tournament 2012: Ranking Top Final Four Performances in Past 25 Years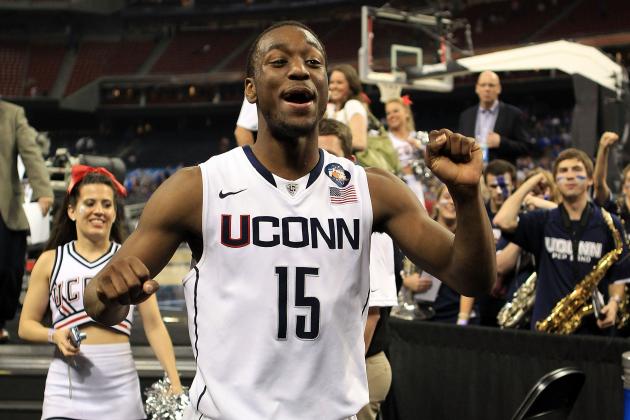 Streeter Lecka/Getty Images

Final Fours can often be remembered as much for individual performances carrying their teams to victory as for the teams themselves.
Kemba Walker, though not as dominant in the Final Four as he was earlier in the NCAA Tournament, is a pretty good example. By the time the calendar hit April, you couldn't mention UConn without following it or preceding it with the name Kemba Walker.
Through recent years, other players have created and taken on the identity of their team through their outstanding play on the biggest stage in college basketball.
Sometimes, however, teams play so well collectively in the Final Four that you simply cannot single out one player as the star of the weekend. Such team efforts should be acknowledged just as much as a heroic individual effort.
Here is a look at the 25 best individual and team performances in the Final Four over the past 25 years.
Note: This piece covers Final Fours played between 1987 and 2011. Not every single Final Four may be represented.
Related Final Four Articles:
Kentucky has Final Four History on Its Side
Twitter: @eschultz530
Begin Slideshow

»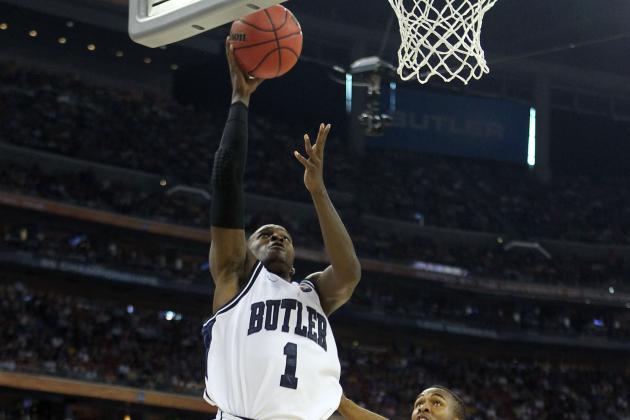 Andy Lyons/Getty Images

Shelvin Mack was the key in getting Butler back to an improbable second-straight NCAA title game.
Mack led all Butler scorers with 24 points in its 70-63 win over VCU in the national semifinal. He continually knocked down big shots, including 5-of-6 from three, to keep the Bulldogs in front.
On defense, he played outstanding against VCU point guard Joey Rodriguez, who had played so admirably in the Rams' run to get to the Final Four. Mack held Rodriguez to just one made shot in eight attempts, and just three points total.
As much of a team effort as it was for Butler to get all the way back to the title game, Mack certainly made the difference in the win over VCU.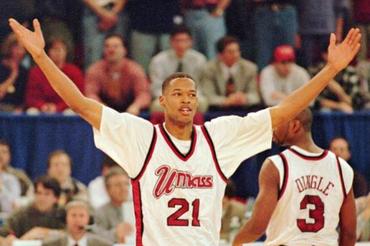 The first time Kentucky coach John Calipari made the Final Four, with Massachusetts, he had a player just as dominant, if not more, than Anthony Davis is now. That player was Marcus Camby.
Camby carried UMass into the Final Four back in '96, where they faced Kentucky. It was a matchup of coaches who will meet once again in the Final Four on Saturday: Calipari and Rick Pitino.
While Kentucky was the deeper and more talented team as a whole, Camby was clearly the best player in this game. He led all scorers with 25 points, and added eight rebounds and six blocks.
While Camby's outstanding effort kept UMass in the game throughout, Kentucky ultimately pulled out the win, 81-74. The Wildcats went on to beat Syracuse for the title.
Camby went on to win both the Wooden and Naismith award in 1996, and was then the No. 2 pick in the NBA draft that summer. At age 38, he is now with the Houston Rockets, and still making a significant impact in the NBA.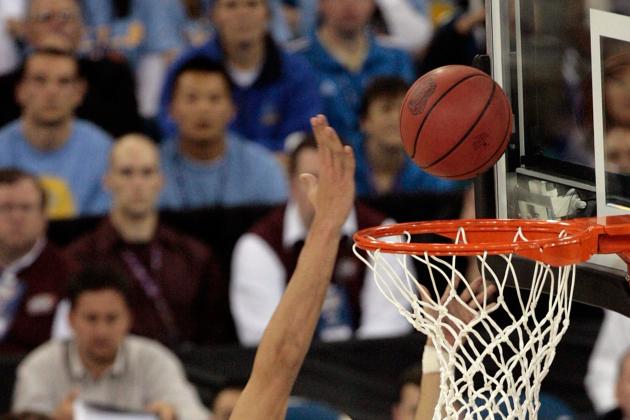 Win McNamee/Getty Images

Though coming within minutes of making the Final Four each of the last two years, Florida has not been able to replicate the success enjoyed by the teams that won back-to-back championships.
In 2006, Florida's first title year, Joakim Noah was the face of the Gator team. His high-intensity play on both ends of the floor set the tone in each of Florida's NCAA Tournament games.
Like Camby did ten years earlier, Noah made quite an impact in the Final Four blocking shots. Noah blocked four in the semifinal win over George Mason, and then six more in the championship game against UCLA. He also scored 16 points and had nine boards in leading the Gators to a relatively easy 73-57 win to take the title.
Noah appears to have a chance to reach another championship at the NBA level, as he has been an instrumental part of the Eastern Conference-leading Chicago Bulls.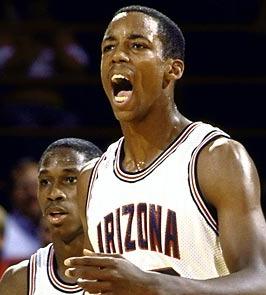 Prior to an extended successful NBA career with the San Antonio Spurs, Sean Elliott was one of the most dominant players in college basketball in his final two years at Arizona.
Elliott led Arizona to its first ever Final Four in 1988, one of four the school would reach under coach Lute Olson. Unfortunately for Elliott and the Wildcats, they ran into the nation's No. 1 team that season–Oklahoma.
Despite losing to the top-ranked Sooners, Elliott's sensational abilities were on full display at the Final Four. He led all scorers with 31 points, while also pulling down 11 rebounds. Elliott is one of just three players in the past 25 years to have a 30-and-10 performance in the Final Four.
The other two, whose teams each won a title, will be featured later in this piece.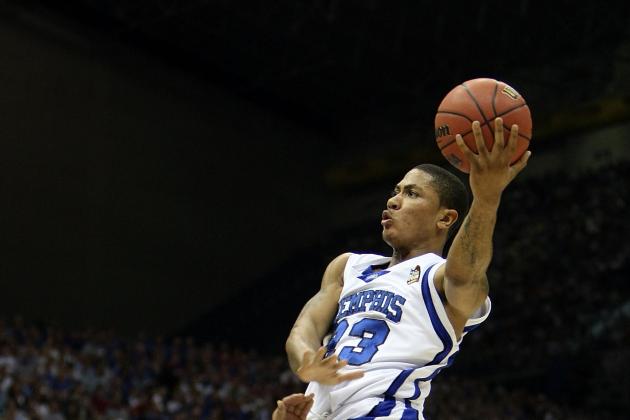 Jed Jacobsohn/Getty Images

Another one of Coach Calipari's former players put his talents on display in the Final Four. This one, however, did it in his first and only collegiate season.
Derrick Rose, who went to Memphis for one season before becoming the NBA's No. 1 overall pick, led his team to the Final Four in 2008. Once there, he then carried the team into the NCAA title game thanks to a dominant performance in the national semifinals.
Rose led Memphis with 25 points, nine rebounds and four assists (and only one turnover), as the Tigers took care of UCLA, 78-63. It was a particularly impressive effort from Rose against one of the nation's top defenses that season.
In the final against Kansas, Rose turned in a solid, but not outstanding, performance. He had 18 points, six rebounds and eight assists in nearly bringing a title to Memphis. However, Rose also committed five turnovers, and a couple of bad decisions late in the game cost his team a chance to close out the victory.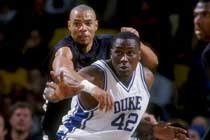 Elton Brand's dominance in the low-post in the late 1990's has since been seldom seen not only at Duke, but in all of college basketball.
In 1999, Brand led Duke to a No. 1 ranking, and was the reason the Blue Devils were the consensus favorites to win it all that year.
In the national semifinal against Michigan State, Brand showed exactly why. He had 18 points along with 15 rebounds in leading Duke to a 68-62 over MSU. Brand followed that up with another double-double (15 pts., 13 rebs.) against Connecticut in the championship game.
Duke, however, lost to UConn by a 77-74 final. Despite losing out on the chance for a title, Brand won almost all major awards in 1999, including the Wooden and Naismith awards. He was then the No. 1 overall pick in the NBA Draft a couple months later, taken by the Chicago Bulls.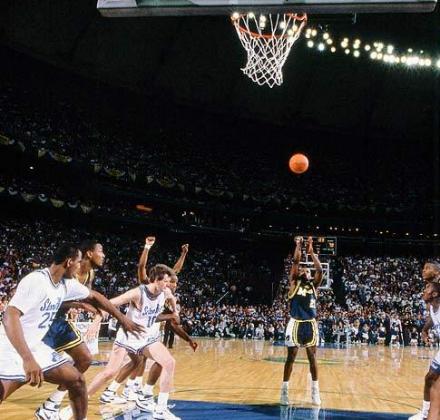 Michigan's run to the 1989 NCAA Championship was rather improbable in itself. Seton Hall's run to get the title game was even more unlikely.
The two biggest factors on that Seton Hall team were Anthony Avent, who played nine seasons in the NBA, and Andrew Gaze. However, it was guard John Morton who stole the show, and nearly led the Pirates to a stunning championship.
Morton, who averaged a respectable 12 points a game, saved his best scoring effort for his final collegiate game. He scored a game-high 35 against Michigan. That is also the most points scored by any player in a title game in the past 25 years.
Meanwhile, Morton's teammates Avent and Gaze did not play their usual large role for Seton Hall, with just seven points and six rebounds combined. As a result, the Pirates came up just short, losing 80-79 as Morton's desperation three in overtime fell short.
That dominant performance helped leverage Morton into a late-first-round NBA Draft selection, as he was picked 25th by the Cleveland Cavaliers.
Streeter Lecka/Getty Images

In 2007, Greg Oden led Ohio State through the NCAA Tournament in a way that was a little reminiscent of Michigan's "Fab Five" of the early 1990's.
Oden, one of four outstanding freshmen on that OSU team, helped get the Buckeyes all the way to the national championship game. While he wasn't particularly great (13 pts., 9 rebs.) in the semifinal win over Georgetown, Oden was dominant in the final against Florida.
The seven-foot Oden was not at all intimidated by the magnitude of the game or of the championship experience that Florida possessed. In fact, Oden appeared to be the one doing the intimidating. He led all scorers with 25 points, to go with 12 rebounds and four blocks.
Despite the great night by Oden, Ohio State came up a bit short in its quest for the title. Florida won the game 84-75 to earn its second straight championship, a feat that may not be duplicated for quite a while.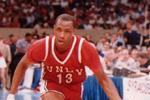 Most fans remember the dominant UNLV teams of the very early 1990s, led by Larry Johnson, Stacey Augmon and Greg Anthony. Some, however, may forget that UNLV had a really good team prior to those players' arrival in Las Vegas.
In 1987, UNLV was a No. 1 seed in the NCAA Tournament, led by Armon Gilliam and Freddie Banks. It was a terrific inside-outside duo that few teams could contain, particularly on the offensive end. The Rebels averaged over 90 points a game that season. These days, only a couple teams manage to break 80 a game on average.
Both Gilliam and Banks were outstanding in UNLV's Final Four matchup with Indiana. Banks, in particular, could not be stopped.
He scored 38 points, the most of any player in the past 25 years in the Final Four. Even more ridiculous was that Banks hit 10 three-pointers! That is also the most of any player in the Final Four over that period.
While Banks' dominating shooting performance couldn't get UNLV past Indiana and into the title game, it was a game that shouldn't be forgotten in Final Four history.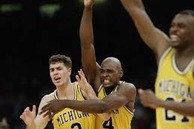 Everyone remembers "The Timeout." To get to that game, however, Michigan needed an extraordinary effort from the leader of its "Fab Five": Chris Webber.
Webber was dominant in Michigan's 81-78 semifinal win over Kentucky. He scored 27 points, to go with 13 rebounds in the game.
Even more impressive was that Webber was on the floor for all but one minute of the game. To sustain such a high level of play for an entire game and to get hardly any rest showed just how athletic and skilled Webber actually was.
That effort by Webber set up the championship showdown with North Carolina. Webber was almost as good in that game, at least statistically. He scored 23 in that one, giving Michigan an opportunity to win the game late.
However, with a chance to tie or take the lead, Webber made the costly mistake that eliminated any hopes of a title for Michigan.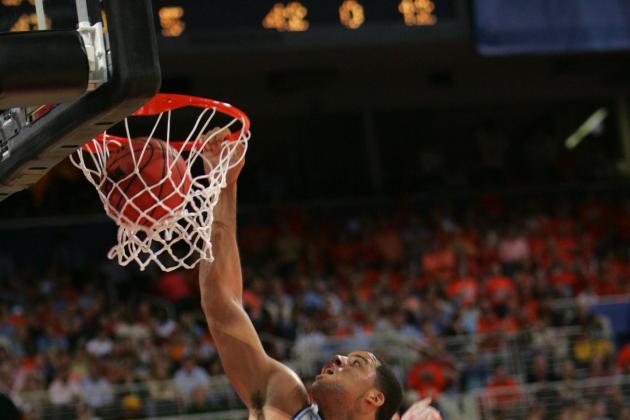 Ronald Martinez/Getty Images

In 2005, North Carolina was the team to beat. With four players who would go on to be NBA first-round draft picks that year, this was a title-or-bust year for the Tar Heels.
Thanks in large part to Sean May, one of those four first-round picks, UNC took home the title to Chapel Hill.
May stepped up his game when it mattered most, leading the Tar Heels with 22 points in an 87-71 win over Michigan State in the national semifinal. He was even better in the next game against Illinois, however. UNC's power forward put up a double-double, scoring 26 points and adding 10 boards in the Tar Heels' 75-70 championship game win over Illinois.
The two big-time performances by May in the Final Four earned him the event's Most Outstanding Player award.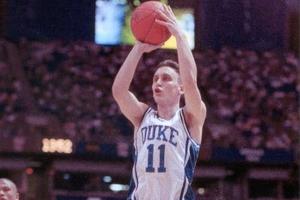 Christian Laettner's miraculous buzzer-beater against Kentucky got Duke into the Final Four. Once there, it was Bobby Hurley, however, who stepped up to give Duke a chance to win the national championship.
Hurley, a junior point guard on that great Duke team, came through in a big way against Indiana in the semifinal game. The Hoosiers did a great job slowing down Laettner, holding him to just eight points for the game. Hurley was able to step up despite Laettner's lackluster performance.
With 26 points against Indiana, Hurley helped Duke pull out a 81-78 win to advance to the title game against Michigan. Hurley made six three-pointers and some key free throws to help seal the win for the Blue Devils. After averaging just 12 points a game for the season, it was a great time to step up and score in a big way for Hurley.
Despite scoring just nine against Michigan in the final, Hurley deservedly won Final Four MOP honors. The championship may never have happened had it not been for Hurley's semifinal heroics.
While a starter for most of the season on the 1992-93 North Carolina team, Donald Williams was still a bit more of a role player, with Eric Montross and George Lynch being the focus of the team.
It was Williams, however, who stepped up in the '93 Final Four, helping lead UNC to a national title. It was the Tar Heels' first since winning it all in 1982, when the Final Four was also played in New Orleans.
Williams, just a sophomore at the time, scored 25 in each of UNC's two games against Kansas and Michigan, respectively. He shot 15-of-26 combined for the two games, and knocked down five threes in each contest.
With his outstanding efforts in both games at the Final Four, Williams deservedly won Most Outstanding Player honors. Williams reached the Final Four with UNC again in 1995, but lost to Arkansas in the semifinals.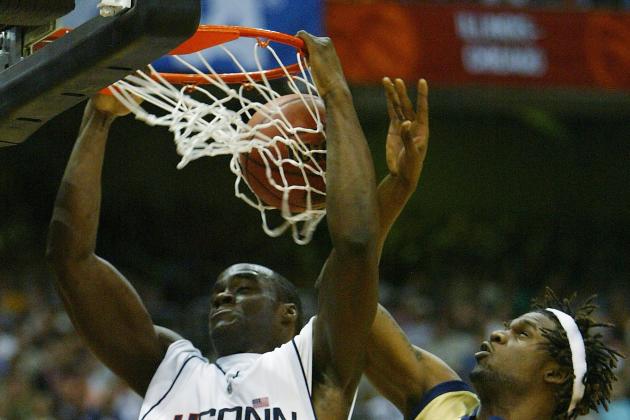 Doug Pensinger/Getty Images

In the 2003-04 season, no player was as dominant on the defensive end of the floor as UConn's Emeka Okafor. In the NCAA Championship game, however, Okafor was just as dominant on the offensive end.
Okafor scored 24 points to lead UConn to a 82-73 win over Georgia Tech to take the title, which at the time was the Huskies' second in six years.
Okafor also added 15 rebounds in the game and made sure Georgia Tech limited their scoring to the perimeter. With the Yellow Jackets shooting just 38 percent for the game, Okafor and the Huskies were able to win this game in relatively easy (by title game standards) fashion.
After winning a championship in his junior season, Okafor left for the NBA, where he was selected second overall by the Charlotte Bobcats.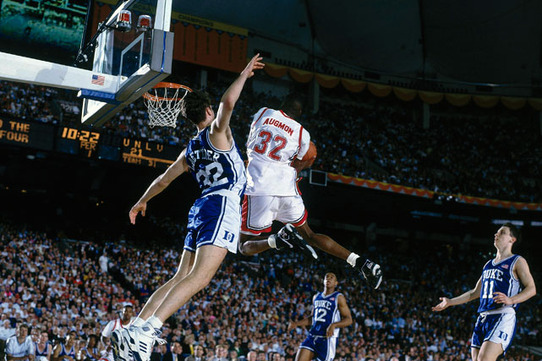 We haven't seen a team end the season undefeated in 36 years, when Indiana accomplished the feat. 15 years after Indiana, another team came very close to doing it: UNLV.
UNLV rolled into the Final Four at 34-0, with two games standing in its way to perfection. However, a Duke team which UNLV clobbered by 30 just one year earlier in the title game was ready to avenge that brutal loss.
Led by Christian Laettner, Duke pulled off the upset in the semifinal, beating UNLV 79-77. Laettner led the Blue Devils with 28 points and kept his team in the game throughout. While Bobby Hurley hit the key three-pointer with two minutes to go to spark Duke's final push to ultimately win the game, it was Laettner who put Duke in a situation to even have a chance.
After knocking off UNLV, Laettner went on to score 18 points against Kansas in the final game. Duke won that game 72-65, claiming the first of its two straight national championships. That is a feat that's only been duplicated once since (Florida in 2006-07).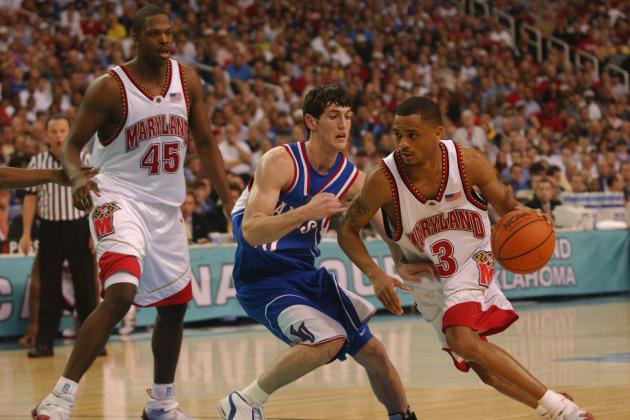 Doug Pensinger/Getty Images

Although only a semifinal game, the matchup between Maryland and Kansas was basically a de facto championship game in 2002. With a surprise No. 5 seed, Indiana, awaiting the winner, the winner of this matchup figured to also take the title.
Kansas was as talented and balanced as any team in the country, with an outstanding frontcourt led by Drew Gooden and Nick Collison. With a great backcourt as well, led by Kirk Hinrich, Kansas was a favorite, though not an overwhelming one, to win it all.
Maryland, however, had the one player who simply refused to be denied a title in his final collegiate games. That player was Juan Dixon.
Despite all of Kansas' talent, Dixon was the best player on the floor in this Final Four matchup. Dixon scored 33 points to lead Maryland to a 97-88 win. Dixon made 10-of-18 shots from the floor, including some key free throws late to seal the win for the Terrapins.
After leading his team to a huge win over Kansas, Dixon scored 18 in the title game against Indiana. Though not a dominant effort by Dixon, it was certainly enough to help Maryland win its only national championship in school history.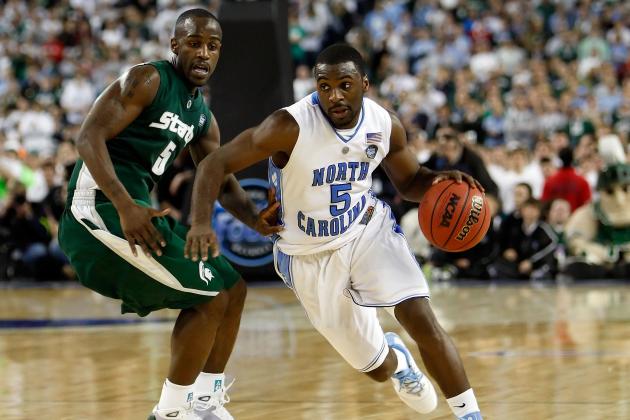 Streeter Lecka/Getty Images

For most of the 2008-09 season, North Carolina seemed to be a step ahead of everyone else in college basketball. In the '09 NCAA Tournament, including the Final Four, UNC showed its dominance, outscoring every opponent it faced by 10 points or more.
While Tyler Hansbrough was clearly the heart and soul of the team, the biggest reason for UNC's level of dominance in the tournament and Final Four was Ty Lawson.
Lawson used his incredible speed to get himself, and his team, in front of the opposition early in each of the team's Final Four matchups. Against Villanova in the semifinal, he helped UNC race out to a 23-10 lead just eight minutes in. Five minutes later, the lead was up to 16, and the Tar Heels would never look back from there.
In the final against Michigan State, Lawson led an unbelievable onslaught to start the game. After leading UNC to a quick 17-7 lead, Lawson managed to kick things into a totally different gear. With eight minutes left in the first half, the game was all but over, at 39-13.
While Lawson's overall numbers were extremely impressive over the two games (21.5 ppg, 5.5 rpg, 7 assists, 5 steals), it was simply his energy and ability to dominate the pace of the game that made him the key to the Tar Heels' title in 2009.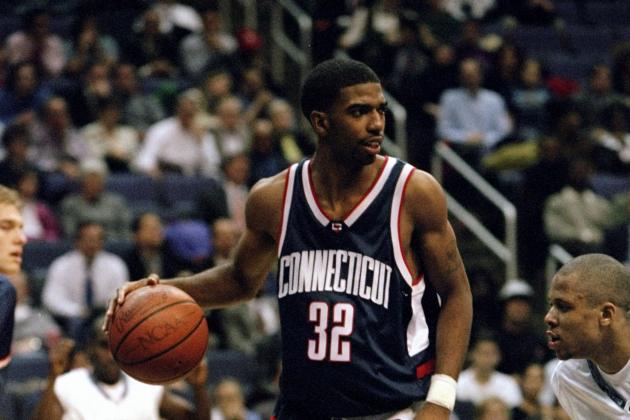 Ezra Shaw/Getty Images

Heading into the 1999 Final Four, Duke was the clear team to beat despite two other No. 1 seeds among the four teams who made it to St. Petersburg.
However, Richard Hamilton and his UConn team were up to the challenge. Hamilton led the Huskies into the final with a 23-point effort against Ohio State in the semifinal. However, he had a slightly better performance in store for Duke.
Hamilton kept UConn right in the game, despite trailing into the second half. Duke had trouble containing the All-American, and as a result couldn't close the door on the Huskies.
Eventually, Hamilton and UConn surged ahead in the latter portion of the game, taking the lead and holding on for a 77-74 win over the nation's No. 1 team. Hamilton ended up with 27 points and seven rebounds for the game, and earned Final Four MOP honors.
At the time, it was a bit of surprise to see UConn win a title. It was the first in the school's history, but Jim Calhoun went on to lead the Huskies to two more titles since that first back in '99.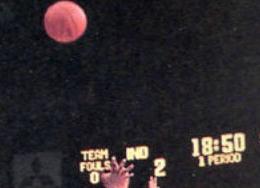 Everyone remembers or has seen "The Shot" from Keith Smart to win the title for Indiana in 1987.
It's pretty safe to say that shot would not have been possible had it not been for the efforts of Indiana's other great guard, Steve Alford.
To get to the title game against Syracuse, Indiana needed an enormous scoring effort from Alford against UNLV. That's just what the Hoosiers got, as Alford scored 33 to lead them in a tight 97-93 win over the Runnin Rebels. Alford hit 10-of-19 shots from the field, and also made 11-of-13 from the foul line to help preserve the win for Indiana.
In the final, Alford was once again excellent, leading all Indiana scorers with 23 points. He was on fire from outside, hitting seven three-pointers.
While Smart hit the game- and title-winning shot to earn Final Four MOP honors, a better case could probably be made for Alford, who averaged 28 points and hit plenty of big shots over the two games.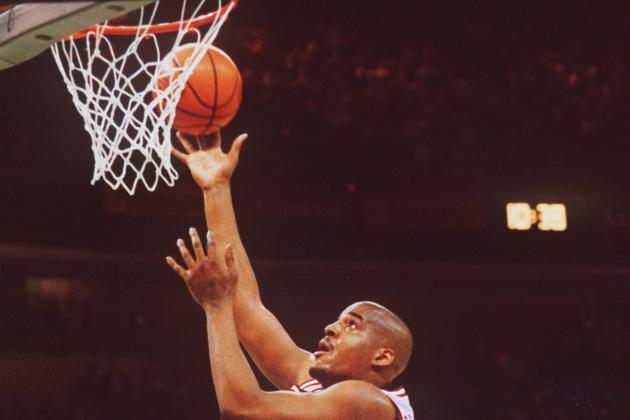 Doug Pensinger/Getty Images

Arkansas took the college basketball world by storm in the 1993-94 season. The "40 Minutes of Hell" run by coach Nolan Richardson often overwhelmed even some of the better teams in college basketball. With many talented players to execute Richardson's style of play at a high level, it wasn't a huge surprise to see Arkansas in the 1994 Final Four.
Once there, Arkansas needed its go-to player, Corliss Williamson, to step up in order to take home a title. That's exactly what Williamson did.
In a semifinal matchup with Arizona, Williamson was dominant. He scored 29 points to go with 13 rebounds in the Razorbacks' 91-82 win. In the title game against Duke, Williamson once again led the way for Arkansas, scoring 23.
While Scotty Thurman hit the key three pointer in the final minute to clinch the win for Arkansas, Williamson's 52 points over the two games was the biggest reason the Razorbacks took home the crown.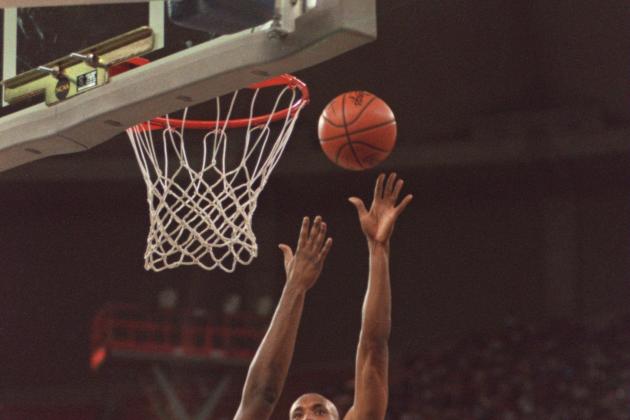 Stephen Dunn/Getty Images

With Corliss Williamson and almost the whole cast from Arkansas' 1994 NCAA Championship team returning to the 1995 Final Four, a repeat title was very much a possibility. UCLA, which lost just two games all season, was determined not to let that happen.
UCLA and Arkansas met in the championship game, with UCLA favored despite the Razorbacks' title the year before. Ed O'Bannon helped ensure there would be no repeat for Arkansas.
O'Bannon was absolutely dominant in the game, scoring 30 points and 17 rebounds to lead UCLA to an 89-78 win, and its first title since the days of John Wooden. The 30-17 performance is just one of two 30-point, 15-rebounds performance over the last 25 years (other to come).
Perhaps almost as impressive was how O'Bannon limited Corliss Williamson, the prior year's Final Four MOP, to just 12 points on 3-of-16 shooting. After Williamson had dominated the year before, it was a bit of a disappointing end to his collegiate career. However, O'Bannon and UCLA were truly a dominant team that season, and were most deserving of the title.
If Michigan was going to cap off an improbable run through the 1989 NCAA Tournament with a championship, it was going to need a monster effort from Glen Rice to do it. With his performance in both games of the Final Four, Rice did just that.
Rice was outstanding for Michigan in its semifinal win over Big Ten-rival Illinois. Rice scored 28 points in the Wolverines' 83-81 upset over top-seeded Illinois. As big as he was in that game, Rice had even more in store for the final game.
Rice scored 31 to lead Michigan in a thrilling game against Seton Hall. The game went to overtime, where point guard Rumeal Robinson eventually clinched the game with two free throws with just a few seconds to go put the Wolverines up one.
With an average of just under 30 points a game in the Final Four, Rice was the indisputable MOP of the Final Four. He went on to be the No. 4 pick in the NBA Draft just a few months later.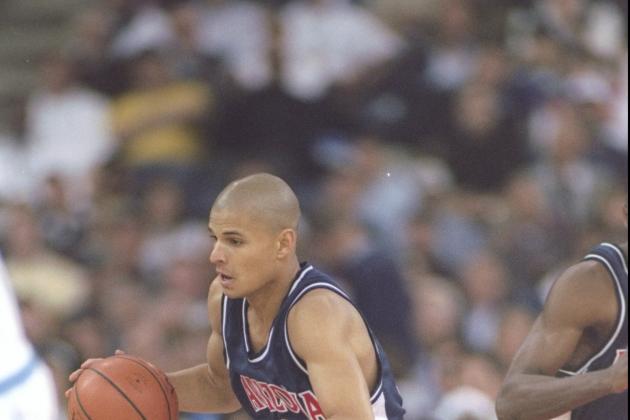 Brian Bahr/Getty Images

After finishing the regular season in fifth place in the Pac-10, Arizona wasn't given much of a chance to get to the Final Four. Even once they made it there, they were hardly given a chance to win given the fact there were three other No. 1 seeds in the Final Four.
That didn't matter a whole lot to Miles Simon and Arizona, who had already knocked off top-seeded Kansas to get to the Final Four. In fact, Simon was already used to be the often-overlooked player in his own backcourt, with Mike Bibby running the show for the team.
Simon certainly made quite a name for himself in the Final Four, however. He scored 24 against North Carolina in the semifinal in leading Arizona to a 66-58 win. It was the second win over a No. 1 seed for Arizona in the NCAA Tournament. With a matchup against Kentucky in the final, a third such win was a distant possibility, but possible nonetheless.
Once again, Simon came up huge for Arizona. He scored 30 points against Kentucky, and made countless clutch free throws in the second half and in overtime. In the end, Simon and the Wildcats prevailed 84-79 to complete an improbable run through the NCAA Tournament.
Averaging 27 points in the final two games, against elite competition the likes of UNC and Kentucky, Simon was the most deserving choice for Final Four MOP.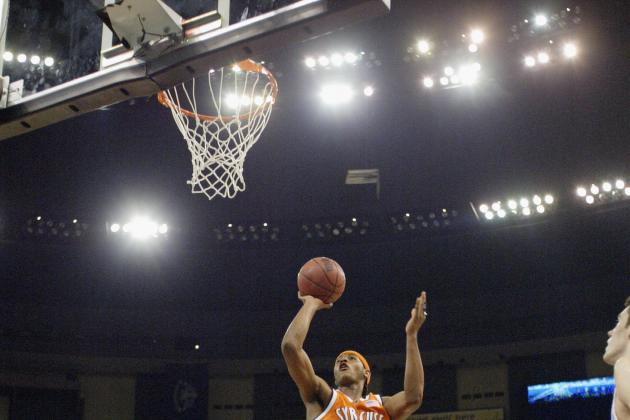 Craig Jones/Getty Images

Once Syracuse squeaked by surprising Auburn in the Sweet 16 in 2003, there was going to be no stopping the Orange. With freshman Carmelo Anthony leading the way, Syracuse got on a roll that took it all the way to a national championship.
Beginning with an Elite Eight win over Oklahoma which got Syracuse to the Final Four, Anthony put up three consecutive double-doubles. After a 20 point, 10 rebound effort against the Sooners, Anthony came up with a truly dominant performance in the Final Four against Texas.
Anthony put on a show in New Orleans, scoring 33 points to go with 14 rebounds to lead Syracuse to a 95-84 over the Longhorns. With the win, Anthony and company had one more Big 12 team to take down to take home a title: Kansas.
Kansas, knowing that any chance to win hinged on slowing down Anthony, did what they could to do so. However, it wasn't quite enough. Though not quite as dominant in the final, Anthony was still the key for Syracuse. He had 20 points, 10 boards as well as seven assists in leading Syracuse to a 84-81 win.
Anthony's breakout performance as a freshman in the Final Four earned him MOP honors. With a championship in his pocket, he went on to the NBA after just one season at Syracuse, becoming the third overall pick in that year's NBA draft.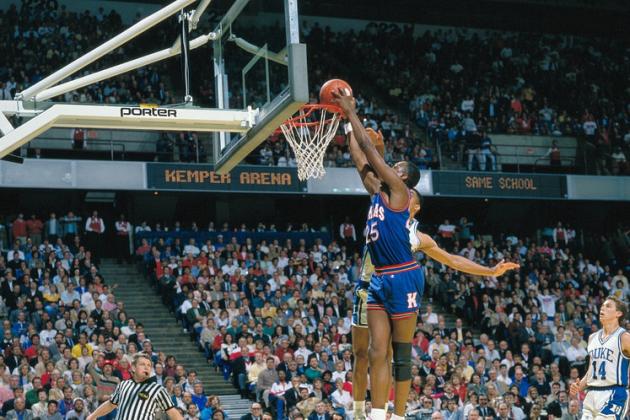 Thomas Robinson may be the reason Kansas is in the Final Four this season. That said, he can't match what Danny Manning meant to Kansas back in 1988. Manning literally put the team on his back and carried the Jayhawks to a title.
Manning led the sixth-seeded Jayhawks to the Final Four, and then to a national championship. The three-time All-American saved his absolute best for last.
In the semifinal against Duke, Manning had 25 points and 10 rebounds to lead Kansas to a 66-59 win. That set up a final showdown with No. 1 Oklahoma, where Manning couldn't have possibly been better.
Against a dominant team with the likes of Harvey Grant, Stacey King and Mookie Blaylock, Manning was by the far the best player on the court in this game. He scored 31 points while pulling down 18 rebounds against two of the nation's best big men in Grant and King.
The heroics of Manning were just enough to lift Kansas to a stunning 83-79 win over Oklahoma, completing one of the most amazing runs in NCAA Tournament history.
Needless to say, Manning was named Final Four MOP.
Related Final Four Articles:
Kentucky has Final Four History on Its Side
Twitter: @eschultz530