Floyd Mayweather: 5 Potential Opponents of "Money" May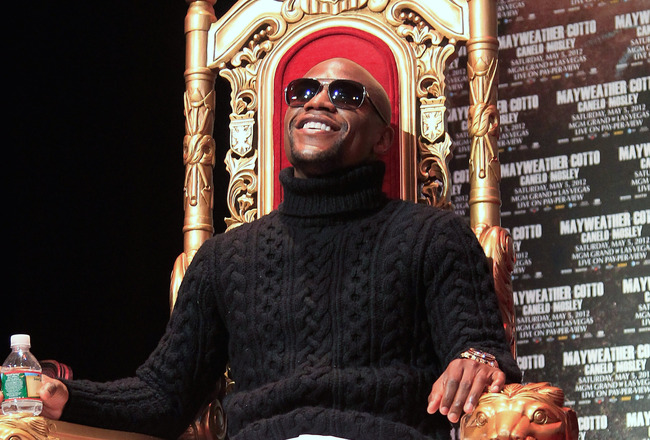 Chris Trotman/Getty Images
Floyd Mayweather has a very tough challenge ahead of him when he faces Miguel Cotto on May 5th in Las Vegas. Cotto is a world-class, elite level fighter who will come to fight and will give Floyd a real test, at the very least.
However, for the sake of this article, let's go with the current odds and assume that Floyd defeats Miguel Cotto. Here are five guys who I could see Money Mayweather fighting—after he serves his prison sentence, of course.
Floyd said he'll have five fights after Cotto, and if he fights all the fighters on this list, he'll be able to put an impressive ending on an already terrific, hall-of-fame career.
5. Saul "Canelo" Alvarez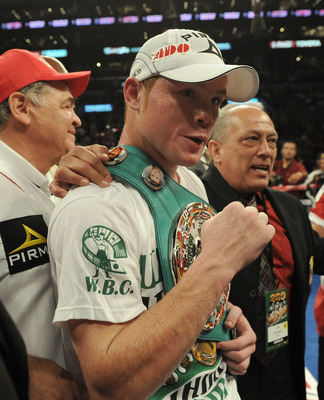 Harry How/Getty Images
This fight makes a lot of sense from a business standpoint. Saul Alvarez is only 21 years old, but is a proven ticket seller and a television draw as well. His fights routinely draw Super Bowl type numbers in his native Mexico.
While Canelo may be a little young and inexperienced for a fight of this magnitude, if he gets a win against Shane Mosley on May 5th you'd better believe he'll be calling out the winner of the fight due to take place about 30 minutes afterward in the very same ring.
Canelo vs Mayweather is a big money fight; they would be battling for the WBA/WBC/Ring titles at 154 and would likely be very fan friendly. As we've seen with Floyd, when it makes dollars it makes sense, so expect this fight to take place in either November of 2012 or May of 2013.
Frankly, I'd be shocked if this fight didn't eventually take place. If it happens, Canelo could absolutely pull off the upset and become a superstar overnight.
4. Andre Berto
Ethan Miller/Getty Images
Andre Berto vs Floyd Mayweather is a fight that I've been interested in seeing for quite a while. Berto would have to get through a very tough showdown in June with Victor Ortiz for this fight to come to fruition, but if he does I wouldn't be at all surprised to see it happen.
Berto has quick hands and power and is exactly the type of young fighter that we'd like to see Floyd face at this stage of his career. Berto has been fighting top guys as of late, and he's well known to HBO audiences, having been fighting on HBO regularly for some time now.
Berto would definitely push Floyd, and it could be a good fight for the fans.
3. Amir Khan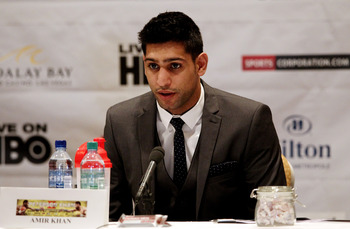 Scott Heavey/Getty Images
Amir Khan has been calling out Floyd Mayweather for a fight at 147 pounds for a long time now. Khan is a huge ticket seller and TV draw in England, and Floyd has stated on numerous occasions that he loves the fans in Great Britain and would love to fight there before he hangs em' up.
Khan is a brilliantly gifted fighter, but he has a lot of flaws which could make for an exciting fight. Khan of course has to beat Lamont Peterson in May, but I expect him to win in their rematch of December's controversial bout in DC.
Khan vs Floyd would be a big PPV fight, as Khan is becoming more and more well known in the US, and it would be an absolutely gigantic promotion in England. If Khan wins in May, this fight is too big a money opportunity for Floyd to pass up.
2. Sergio Martinez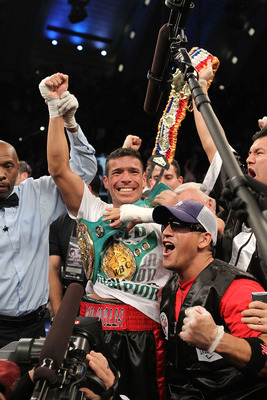 Al Bello/Getty Images
Of all the fighters on this list, including the fighter you all know is coming on the next slide, I'm most intrigued to see Floyd face Middleweight kingpin Sergio Martinez. Martinez is superbly talented and has power and can match Floyd in speed, something Floyd seldom has had to deal with.
Martinez has been calling out Floyd for a while now, but Floyd likely doesn't think he's a big enough draw yet to generate the type of money that would be needed to compensate for the risk of fighting a guy like Martinez.
However, I could definitely see this fight being made a 155 or 156 pounds in order to give Floyd a shot at the middleweight title and a chance to win a championship in a seventh weight division. It would be a heck of a fight, that's for sure.
1. Manny Pacquiao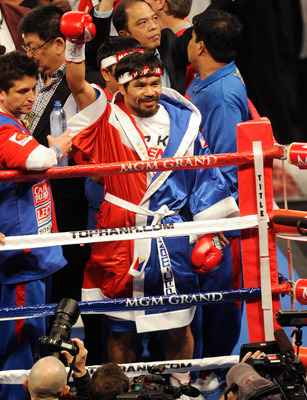 Ethan Miller/Getty Images
And we arrive at #1, which is of course Manny Pacquiao.
There's really not much to say here, and frankly I'm tired of talking about this fight. It'd be an absolutely enormous money generator for all parties involved, and it is very important to the sport as a whole that this fight gets made.
So, please guys, come to your senses and book the fight, you'll both make 65+ million dollars. Is that not enough of an incentive to sign on the dotted line?
Keep Reading