Anderson Silva vs. Chael Sonnen: 10 Reasons Silva Will Beat Sonnen at UFC 147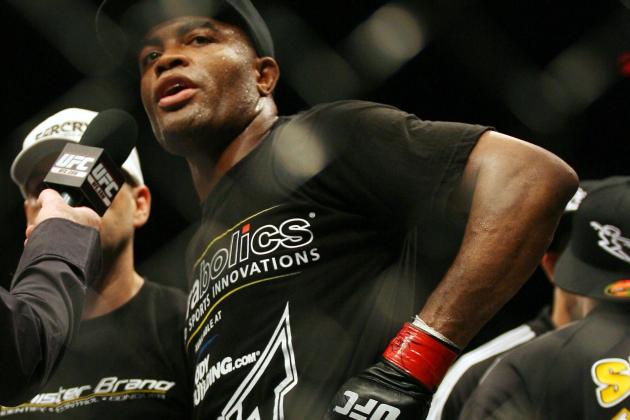 Tasos Katopodis/Getty Images

Anderson Silva will face Chael Sonnen in a rematch of their epic UFC 117 middleweight bout this June at UFC 147, set to place in Rio de Janeiro, Brazil.
I won't waste time regurgitating what took place, because just about everyone already knows. The following is a list of 10 reasons why Anderson Silva will beat Chael Sonnen.
Begin Slideshow

»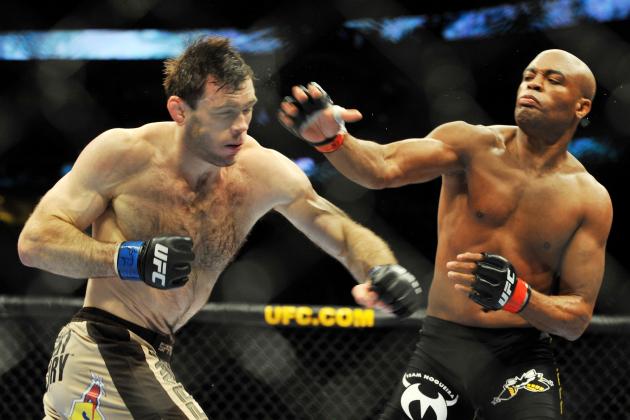 Jon Kopaloff/Getty Images

Anderson Silva is quite possibly the best striker in mixed martial arts history. It is not simply the fact that he can hit you anywhere he wants (with pinpoint accuracy), it is the fact that he has what can trump any striker and that is timing.
We have all seen it before…the cage door closes, the ref says fight and we hear Mike Goldberg tossing out the Bud Light slogan, "Here we go!" Then for the next few minutes (depending on his opponent) Anderson circles around the cage feeling out his foe and getting their timing down.
Silva is even willing to take a few shots to get their timing. The announcers continue to talk and the fans begin to boo. Then something happens. Anderson drops his hands to his side, and that usually spells the beginning of the end for his opponents. He sits there and dares them to engage, then makes them pay dearly for it.
In the first fight, Chael did not allow Anderson time to do this. He will most likely go with the same strategy as last time and rush from the opening bell. That may be Chael's saving grace—keeping enough pressure on Silva to ensure he doesn't get his timing. Even without it, Silva is still, in my opinion, a better striker than Chael. History, however, disagrees as Sonnen landed far more significant strikes in the first fight than Silva.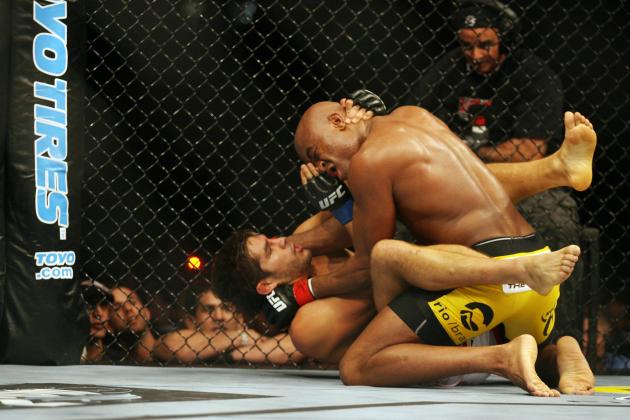 Tasos Katopodis/Getty Images

This is what saved Anderson in the final round of their last fight. Chael has shown a weakness against submissions in the past, and Chael will of course train much harder on his submission defense.
However, Silva can still pull out various submissions such as a rear-naked choke, which he used to finish Dan Henderson. Let's not forget that he is a Brazilian jiu-jitsu black belt under the Noguiera brothers.
Sonnen is an amazing wrestler, but Silva has proven that he is not completely helpless off his back, having six wins by submission. Sonnen showed against Brian Stann that he too can submit opponents, using an arm triangle to finish Stann at UFC 136.
Speaking of that fight, Sonnen said in the post-fight interview that if he could not beat Anderson he would leave the UFC forever. I don't know if he is still standing behind that statement.
Tasos Katopodis/Getty Images

Speed may be an advantage or an issue for Anderson, as he will have to not only strike with Chael (who proved his worth in that department), but also avoid his takedown attempts. Silva will have to keep moving and not allow Chael to rush in and get the fight to the ground.
Fast striking will be essential for the "Spider." That is something one can say of any fighter, but it may be more important for Silva, considering how their last fight went. Some have said that the only reason Chael did as well as he did was due to juicing. I have heard everything from his testosterone levels being 17:1 to just barely over the legal limit.
Performance enhancers tend to make you a little bit faster and stronger, but I do not know the truth about Sonnen's levels during the fight, and I won't speculate on them. Saying he was juicing is the same as making excuses about Anderson having a rib injury.
Let's just assume that both fighters will be very close to, if not, 100 percent and ready come June. That being said, if Anderson keeps the fight standing, his victory will be all but certain.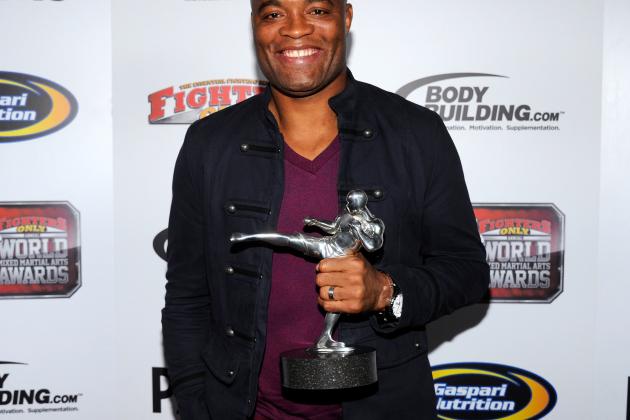 Ethan Miller/Getty Images

Both men have great chins and have proven they can take a beating and keep on fighting. At the end of their first fight, as worn out as both seemed to be, I think they had the endurance to have gone another couple of rounds. (If only that were an option...)
As previously stated, Chael landed far more significant strikes, and some of them in the stand-up. Sonnen, for the most part, seems to grind out wins (hence the 16 decision victories), as opposed to flat-out domination like Silva (16 knockout victories).
Chael almost always takes a good amount of damage during his fights. On the flip side Anderson sustains very little damage (with the exception of their previous bout of course).
Even after that fight, Silva didn't look too bad, while Chael was a bloody mess. Then again, some people bruise and bleed easier than others. Bottom line: there seems to be no quit in either of these warriors, but I still give the edge to Silva.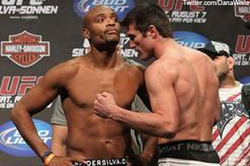 Photo from twitter.com/Dana White
Chael has pretty much talked his way back into the mix. He did have a decisive victory over Brian Stann, but there are some people who thought he lost against against Michael Bisping in January. That is debatable, I suppose.
He has run his mouth non-stop in the subsequent two years since UFC 117, running down not only Silva, but every other Brazilian in the UFC, and even the Black House gym where Silva used to train (now he is with Team Nogueira).
Chael needs to back up everything he has said over the past two years and may be desperate. If he can't win, people may write him off as just another sore loser, albeit a very entertaining sore loser.
If (and this is a big if) there is any desperation coming from Sonnen, it may lead to a big mistake by Uncle Chael, which Silva can take advantage of.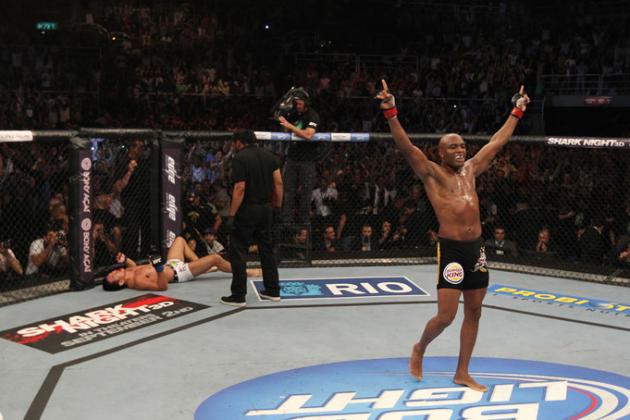 Courtesy of Fighters.com
Clearly Silva will be the hometown hero in this fight, and Chael will be walking right into the lion's den—a giant stadium filled with people who despise him.
Anderson may not be the type who needs a hometown advantage to win, but, it goes without saying, many people feel more comfortable fighting in front of a hometown crowd.
That may be a relief for Anderson. There is a flip side to that coin however, as it may put more pressure on Silva to deliver, which can lead to mistakes (however unlikely that may be).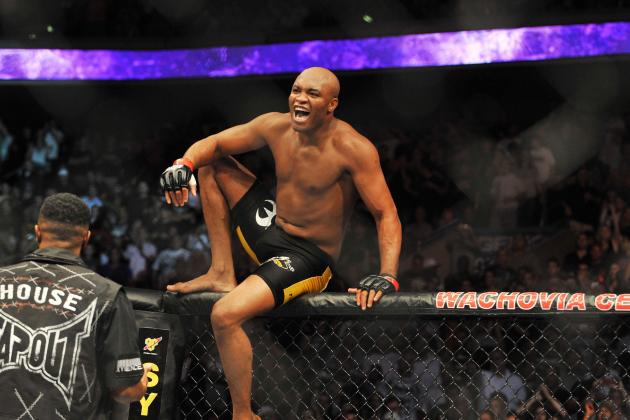 Jon Kopaloff/Getty Images

Anderson may need this win even more than Chael, as he has been questioned about Chael Sonnen in almost every interview since their bout.
Silva may feel the pressure of needing to silence his critics who think it was just a fluke or lucky win.
He needs this win to remain the No. 1 pound-for-pound fighter in the world and cement his legacy as the best. If Sonnen has managed to get inside the Spider's head, Silva may have something to prove to himself in this fight.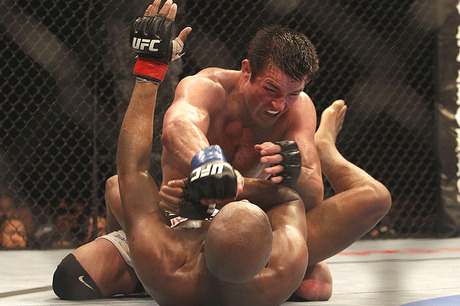 Courtesy of FightKid.com
This can be said of both men. However, I think it holds more weight for Anderson. Perhaps he was hurt, or having an off night, or may be he just flat out underestimated Sonnen the first time around.
Whatever the reasons for the first fight going the way it did, you can be certain that Anderson will not take this rematch lightly. He will train harder and do everything in his power to be more prepared.
He has to know that Chael will rush him and go for the takedown, and hopefully he will have anticipated this and worked on it during training camp.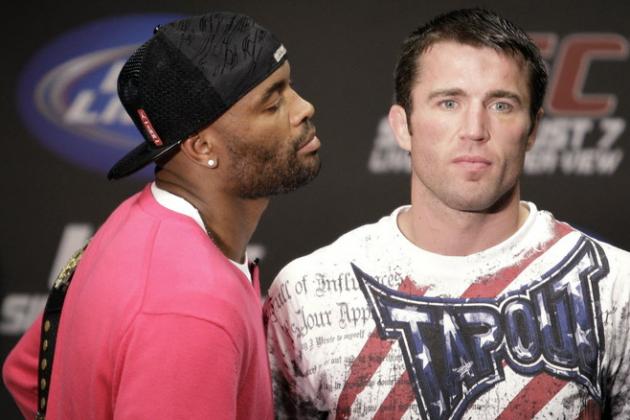 Courtesy of CageReligion.com
This one is a double-edged sword. As mentioned before, Silva may just be flat out-angry about everything Chael has said about him, his home country and his fellow teammates.
He may use that anger as fuel and motivation during their rematch. Like I said, however, that is a double-edged sword.
Time and again people have said (at least to me) that fighting angry is the worst way to fight. If Silva is indeed angry, then he will need to keep his emotions in check, or it may lead to a devastating loss.
Then again, anger/hatred is a great motivator.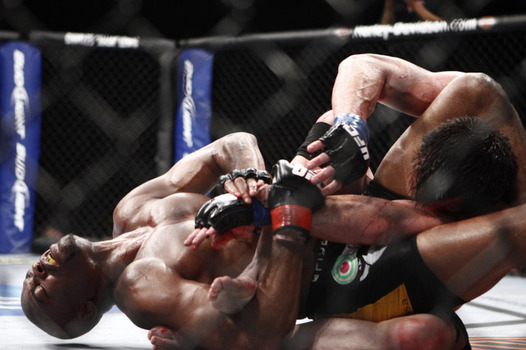 Courtesy of withleather.com
Okay, not the best reasoning. But it is as simple as that.
Silva already beat him once, so it is not too difficult to envision him doing it again. Sonnen talked a lot of trash last time and still lost the fight. History may repeat itself.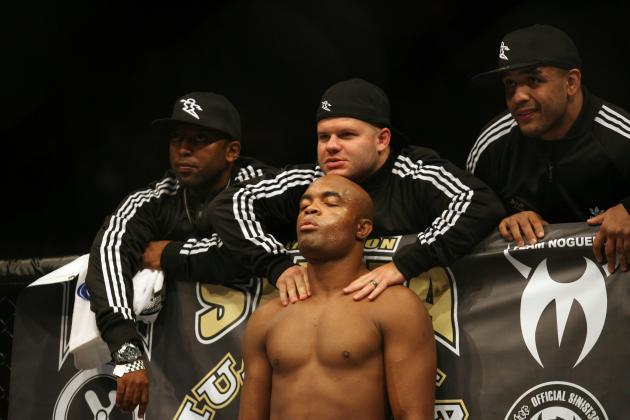 Tasos Katopodis/Getty Images

This is a fight that both men need to win, and one neither man can afford to lose.
It is my belief that the Spider will come out on top, but this is a very unpredictable sport (as we all know), and Chael could possibly take the UFC middleweight title from Silva.
I can't wait for UFC 147 in June.