Jorge Soler vs. Adonis Garcia: Which Cuban Star Should Yankees Sign?
March 29, 2012

Throughout any organization, there is a plethora of working parts focusing on a myriad of goals, many of which have nothing to do with the current MLB season. Instead, they focus on the overall future of the club.
Twelve months a year, scouts travel the globe looking for young and undiscovered talent. Within their feverish jet setting, the crescent shaped group of islands known as "The Caribbean" is a must-stop on the itinerary for an eagle eye with a clipboard.
While the Hispanic population of MLB was once dominated by Puerto Ricans, the current Latino landscape is occupied by an abundance of talent from a country on the island of Hispaniola: the Dominican Republic.
In fact, the land has become so rich and fertile with béisbol talent that 29 of the 30 Major League teams have set up their own affiliated camps within the national limits.
However, executives from every team begin to salivate when news of a baseball defect from the República de Cuba hits the airwaves. Possessing an aura of mystery and a lack of proven establishment, Cuban baseball players can attract in the most unusual ways.
With that being said, for every Tony Pérez and Luis Tiant, there is a landfill full of reject Cubano ballplayers who never panned out in the States.
So in terms of the team most associated with Los Estados Unidos, the New York Yankees, where do recent Cuban defects Jorge Soler and Adonis Garcia fit into their future?
Both prospects are described as outfielders, while some reports say the 26-year-old Garcia possesses more versatility with infield capability. Obviously, both players have youth on their side (Soler is 19 years old), so they are attractive to any team. But, their hitting is what has most experts turning their heads.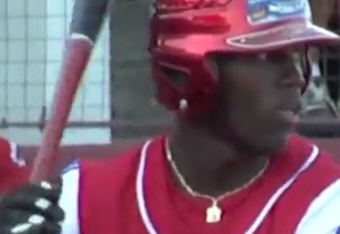 Garcia has been described as "a pure hitter," which makes him a perfect occupant in a lineup to "drive the ball to the gaps."
Another Garcia attribute, which would definitely come in handy in New York, would be his reputation as a strong competitor. Of course, sometimes these scoops are just blanket arbitrary words thrown in to boost a sagging resume. But, if the rumors are true, a fiery belly would fit in perfect in right field if the Yankees were to part ways with Nick Swisher at season's end.
And if the Yankees can't make up their minds on Garcia, his price could play an integral role. Recently, it had been reported that both the Yankees and Athletics were both offering contracts close to $20 million for his services. According the Athletics, they were never interested in the first place, leaving the Yankees to set the market.
As for Soler, his destiny has supposedly been chosen several times, which ironically was unbeknownst to all parties involved. 
Within the last two months, there have been separate reports that Soler had signed with the Cubs, who later denied both accounts. 
At 19 years old and with virtually no premium competition, the right fielder is an extremely high risk.  Little is known about his mental makeup or how he would handle the big stage. 
But, with his 6'3", 200 lb physique and tremendous power, he is quickly making teams forget about possible negatives. In fact, his potential to hit over 30 home runs a year and play a Gold Glove defense with a rocket like arm has him on high expert's charts.
For anyone to honestly proclaim that the Yankees should choose one prospect over the other purely based on heresy and reputation is silly. Obviously, with limited information on either player the choice is a difficult decision.  
However, if the Yankees want to go the conservative path it appears Garcia would be the right route.  With a probable lower price tag and more likely overall consistency, the 26-year-old could fit in and avoid some of the growing pains a younger Soler might experience.
Yet, when have the New York Yankees ever been conservative in international free agency?