Fantasy Baseball BABIP Wonders: Five Guys That Could Improve
March 29, 2012
Jeff Gross/Getty Images
Yesterday we checked out five players with high BABIPs that could regress. Today we look at the flip side of that coin.

Vernon Wells, Los Angeles Angels 
He's never been a high BABIP guy, but his .214 last year was terrible, even for him. He should see improvement there, along with the .214 batting average and .660 OPS. He should come at a nice value considering where he's being drafted (No. 202 Mock Draft Central ADP).

Alex Rios, Chicago White Sox 
Just when it looked like he had things figured out again, he went and posted a .237 BABIP, a .227 batting average and a .613 OPS. As long as he's healthy he should bounce back. If he does, he should also come at a nice value considering where he's being drafted (No. 215 Mock Draft Central ADP).

Evan Longoria, Tampa Bay Rays 
In his first three seasons his BABIP didn't finish below .309, and his batting average .272. Last year though, his BABIP was .239 and his average .244. He's too good of a hitter, with too much speed, not to improve in both categories. He won't come at a discount, but he should live up to his draft status.

Ian Kinsler, Texas Rangers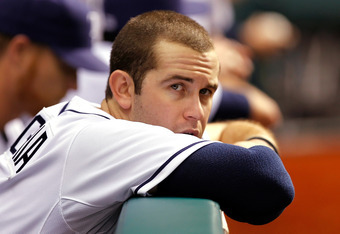 J. Meric/Getty Images
Kinsler is another heavy-hitter with speed that sported a subpar BABIP (.243) last year. When things are going good, his BABIP is north of .300. He seems to alternate every year between the good and bad marks. If he can bounce back there, his .255 batting average should climb closer to his .275 career mark.

Logan Morrison, Miami Marlins 
His BABIP fell 86 points last year to .265, and subsequently his average fell 36 points to .247. He made a nice jump in power to 23 HRs, but his average, run production (54 runs) and lack of steals (two SBs) make him a modest value pick at (No. 155 Mock Draft Central ADP).
Also check out: