24 Greatest Moments of Kobe Bryant's Career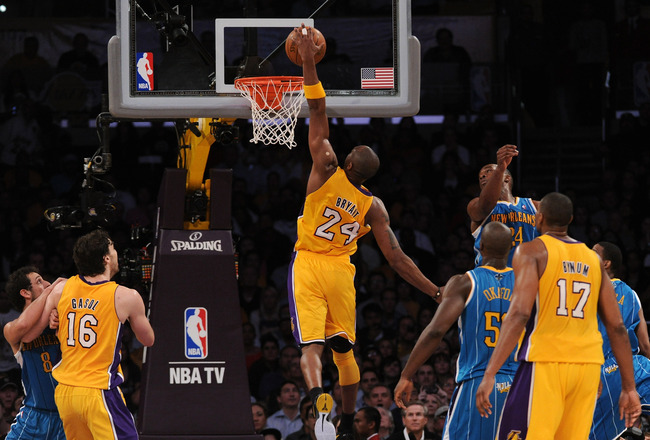 Harry How/Getty Images
Over Kobe Bryant's 15-year career, he has created an NBA masterpiece. Almost like a basketball version of Jean-Michel Basquiat, each Bryant game is a brush-by-brush or stroke-by-stroke step in a once-in-a-lifetime portrait of basketball excellence.
Bryant's game is abstract to some who choose to identify perceived weaknesses and use those to establish some sort of contrarian stance against the guard's achievements. Yet greatness can never be ignored or disregarded. Game by game, and in some instances play by play, Bryant has displayed his genius for all to enjoy.
It is imperative that we as spectators recognize and admire the beauty of greatness and appreciate its rarity. So in honor of Bryant's career, here are 24 of the guard's most memorable moments.
Now in this compilation there is an assortment of aerial assaults, but no accumulated achievements. The moments we most remember are highlighted here, and not the totality of Bryant's career.
That means these are moments, not milestones. These are singular moments or games that captivated our imagination. These are plays that caused our jaws to drop and brought us to our collective feet.
They are the games that made LA's most hated rival chant "MVP" when the Bean came to Boston and the dunks on some of the game's giants.
They are not milestones based on sustained excellence. Achievements reached after years of dominance are not featured here.
The bucket that put Bryant ahead as the all-time points scored leader in Lakers franchise history is not here. Neither is the shot that led the Lakers great past Bob McAdoo for the seventh-greatest scoring season of all time with 2,832 points.
Enjoy some of the game's most memorable moments from one of the game's most memorable players.
24) Jan. 28, 1997: Kobe's First Career Start
On this date, at the tender age of 18, Kobe Bean Bryant became the youngest player in NBA history to start an NBA game. If the Lakers won or lost is not relevant (they did win, 102-83), nor is how Bryant played (which was nothing special—12 points on 5-of-11 shooting).
What is important is this was the first brick in the foundation of success. It took 34 games for the next Lakers superstar to get his first career start, and you know somewhere in the Bryant household, this box score is tucked away and brought out only for motivational purposes.
After his first start, Bryant sat down with legendary Lakers broadcaster Chick Hearn and talked about the experience.
23) Feb. 8, 1998: Kobe's First All-Star Game
Bryant was the second-leading vote-getter among Western Conference guards and was voted in by the fans as a starter. This was despite the fact Bryant was a bench player on his own team.
Nevertheless, the pup put on a show. Bryant was the game's second-leading scorer, finishing up with 18 points, and he possibly would have won MVP honors had the West won the game.
Few players can say they took part in every All-Star weekend in some capacity in their career; Kobe is one of those few.
22) Feb. 13, 2000: Kobe Raps and Then Balls
Kobe has the distinction of being the only basketball player to perform and hoop during All-Star weekend. Now what exactly he was performing is another case entirely.
This was the lead single for the never-released album entitled K.O.B.E. Lucky for K.O.B.E., they shelved this "classic" to save him the public spectacle of promoting this travesty.
However, in retrospect, A.I. got criticized for his skills, Shaq got a few platinum plaques but Kobe got Tyra Banks. So when it was all said and done, the Bean wins yet again.
21) Dec. 17, 1997: Kobe Gives Jordan 33
Thirty-three points—that's what a young Bryant gave an in-his-prime Michael Jordan. In the ultimate matchup of "your future's my past," Jordan accepted the challenge offered by the young upstart Bryant.
Jordan's Bulls would win the game by 21 points, and His Airness was the catalyst with 36 points, but nipping at his heels was Bryant with 33.
A message was sent that day, not by Jordan, but by Bryant. The future champion put MJ on notice that he was close to wearing the crown.
20) Kobe's Early-Season Reminder
One of the many crazy dunks on this list.
19) Jan. 7, 2003: Kobe Sets Then-NBA Record with 12 Threes
Bryant set an NBA record with 12 made three-pointers, including nine straight, then an NBA record as well.
In total, Bryant made 10 straight shots at one point. One of the game's premier finishers morphed into its best sharpshooter for one evening in January.
Bryant did not make his first three until the second quarter, and it was an onslaught from there. The Lakers' guard would go 12-of-18 from the arc and drop 45 as the Lakers defeated the Seattle SuperSonics 119-98.
18) Jan. 15, 2001: Kobe's First Triple-Double
26 points, 11 rebounds, 11 assists
The Lakers great has never been known as a facilitator, which is tragic. The guard currently rests third all-time in Lakers history with 5,388 assists.
On this night, Bryant was more than just a scorer—the guard also played the role of rebounder and facilitator.
He would go on to notch his first career triple-double in an overtime thriller against the then-Vancouver Grizzlies.
The footage from that game was not available, but what is available is a montage of Bryant's passing ability.
17) Jan. 18, 1997: Kobe Leads Lakers in Scoring for the First Time in His Career
The pup scored 21 points in this contest against the Pistons, and it would be the first time he would ever lead the Lakers in scoring.
Bryant still was not a starter at this point in his career, but he was playing major minutes. The Lakers would go on to lose 100-97, but the guard was establishing himself as a major figure on the team.
16) Nov. 30, 2006: Kobe Scores 30 Points in Third Quarter
Many players have scored 30 points in an NBA game. Some can boast about doing it in a half, but few can say they did it in a quarter.
Kobe Bryant is one of those few. Just a couple of days after Thanksgiving, on Nov. 30, Bryant gave the Lakers faithful a reason to be thankful as he dropped 30 points in the third quarter against a dumbfounded Utah Jazz squad.
The Lakers would win the game by 30, 132-102. Bryant would finish with 52 on the night.
15) Feb. 10, 2002: Kobe Wins First All-Star Game MVP
After taking the 76ers' hearts out in the 2001 NBA Finals, Bryant returned to the scene of the crime for the NBA All-Star game.
The guard played with his usual laser focus and went for 31 points, five rebounds, and five assists, thus securing the game's MVP.
Bryant's performance was saluted during the trophy presentation "Philly style."
14) April 30, 2006: Kobe Sends It to OT and Then Takes It Home
Sometimes it's not how many you score—it's when you score them. Bryant has a plethora of 50-point explosions and a litany of playoff conquests. However, few are as memorable as his performance in Round 1 of the 2006 playoffs.
The Lakers were leading the higher-seeded Phoenix Suns in the series 2-1 and wanted to take what they thought would be an insurmountable 3-1 lead in the series.
After being down by as many eight points and with no timeouts, the Lakers looked dead in the water. Then Bryant hit an unbelievable layup after an inbounds steal to send the game into OT.
Once in OT, it was Bryant who would hit the walk-off elbow jumper. The Lakers took a 3-1 lead in the series but would eventually lose in seven games.
What makes this game so intriguing is Bryant was not the Lakers' leading scorer; it was Lamar Odom with a "pedestrian" 25 points. Again, it is never about how much you scored, but rather when you scored them.
13) March 21, 1999: Kobe Scores 33 Points Against Orlando
The significance of the moment takes precedence in this selection. This was Shaquille O'Neal's first time back in Orlando, and the Lakers were playing terribly. They were behind 63-43 at halftime and looked lifeless, but then Kobe took over. Bryant scored 33 of his 38 points in the second half.
Now to put that in perspective, the Lakers as a team scored 72 points in the second half, so one man scored almost half of their points. LA would win the game 115-104 behind the performance of No. 8, which was the number he wore back then.
12) April 26, 2006: Steve Nash, Take That, Take That
Sometimes the dunk speaks for itself.
11) 1997 Slam Dunk Champion
Bryant would become the youngest slam dunk champion in the history of the event with this rendition of Isaiah Rider's classic dunk.
10) Dec. 6, 2000: Kobe vs. Antawn
As the caption says, this was Bryant's first 50-point game, and it featured another 50-point scorer in Antawn Jamison. Jamison and Bryant went tit-for-tat in the game, matching each other bucket for bucket.
In the end, the Lakers would lose to the Warriors in OT 125-122. Yet the LA guard again showed why he was quickly becoming the game's next monster.
9) April 14, 2004: Kobe Does What He Does, This Time for the Division
Bryant scored 37 points in this contest, but it doesn't matter. The legend had begun to take shape for the guard.
This was the final game of the regular season, and with a win the Lakers would capture the 2004 Pacific Division crown. They beat the Blazers 105-104 and clinched the division crown for the Purple and Gold.
The three-pointer to send the game into OT was spectacular, but the game-winner was simply remarkable.
8) Dec. 20, 2005: Kobe Drops 62 Points in Three Quarters
The Lakers had won seven of their last nine games, but reports had Bryant fuming over the team scoring only 74 points the night before. So Bryant set out to put the world on notice that he could score 74 points by himself.
Bryant fell short of that mark but did drop 62 points in just three quarters. He more than likely would have reached 74 if he played at all in the fourth quarter.
7) March 28, 2003: Kobe Destroys Michael Jordan
Jordan came out firing, and it appeared early that MJ was going to steal the show, but then reality and age kicked in. What started as the MJ show turned into the Kobe Bryant series.
The Lakers great scored 23 straight points for LA and had 42 points at halftime. At one point, the Lakers had 38 points as a team and Bryant had 30 of them. It became apparent at that the student had become the teacher.
Just like when a son realizes he is now better than his father, Bryant did not let up. Jordan avoided defending Bryant at all costs, and each shot was a resounding message to the shogun: "Time for bed."
When the smoke cleared, Bryant scored 55 points and had snatched the torch from Jordan.
6) April 15, 2003: Kobe Bangs on Vincent Yarbrough
This dunk was beautiful to watch but had to be ugly to be a part of. Yarbrough was abused from start to finish, from not getting back on defense and for reaching.
Meanwhile, Bryant used Yarbrough's "indecision" to further exemplify his greatness.
5) Nov. 12, 2004: Dwight Howard Gets It
Sometimes a dunk can be too traumatic for the receiving party. Bryant did score 41 that afternoon, but those two points were all anyone cared about.
4) June 8, 2004: Kobe Avoids the Sweep
Four quarters and one overtime session of basketball and the Lakers could only muster up two players in double figures. One of the two, however, was the unconquerable Kobe Bryant.
With little time remaining and an unyielding Detroit defense, Bryant took a crappy shot and, like he has done many times before, made it smell potpourri fresh.
The shot gave the Lakers just enough life to get through overtime and steal this game. The Purple and Gold were able to tie the series up at one game apiece, yet they would fall in five games.
3) Aug. 24, 2008: Kobe Gets Gold
This is where it all changed for Kobe. This is where it became paramount to give the man his due. The Men's Olympic basketball team took home the bronze medal in 2004 and had to play perfect basketball to accomplish that feat.
US basketball looked bleak. The 2008 team was filled with youthful talent who had yet to win anything.
There were three champions on that roster: Detroit's Tayshaun Prince, Miami's Dwyane Wade and LA's Kobe Bean Bryant. All three would play invaluable roles in claiming the gold.
Yet on the court, Wade and Bryant stood tall. When big buckets were needed and most of all championship gold was required, Bryant and Wade provided it.
With Team USA's lead shrinking to just two points, Bryant and Wade took to the offensive. A few three-pointers later, the gold medals were resting around the necks of Team USA, and all was right with the world.
It was this game that illustrated what separates Bryant from his brethren. It is that insatiable desire to win. Players will always have talent, but the drive and heart to pursue goals that have been deemed too lofty by some is what separates the champions from the chumps.
2) Jan. 22, 2006: Kobe Closes the Door on the Best in the Game
It was one of those nights where everything seemed frozen in time. If you are a fan of greatness, you were glued to your television on Jan. 22, partaking in a once-in-a-lifetime moment. Rarely in sports does a player become bigger than the game, except on this night.
The Lakers looked destined to take an L until Bryant did what all champions do. He became selfish. Tired of waiting for his teammates to catch up and unable to turn garbage into fine cuisine, the Lakers guard took over, and history was made.
To say Kobe scored 81 points and end the story there would be a travesty. What Bryant did was make professional athletes look like rec-league players.
He scored ONLY 26 points in the first half, while the Lakers as a unit scored 49 points. He scored 27 of the team's 42 third-quarter points and an astonishing 28 of the team's 31 fourth-quarter points. In total, Bryant scored 81 of the team's 122 points.
He for one night was the greatest athlete in the universe, and there should be no debate. He had the glow that every athlete strives for and the perfection every coach practices for.
So be careful when you tell the story of the man who for one day was perfect, because for some, his perfection may be impossible to believe.
1) Feb. 2, 2009: Kobe Takes over the East Coast
New York was once considered the basketball Mecca—that was until Feb. 2, 2009. The game went from the concrete jungle of NYC and moved to the palm trees of Compton. Much like Kurtis Blow took hip-hop to Cali in the '80s, Bryant decided it was time to take basketball back to Cali with him.
Kobe put on a show, and what we all have chosen to ignore became evident: Los Angeles is now the basketball Mecca of the world. Simply put, the Knicks have not won a title since color TV was invented, and their most prestigious record belongs to the team that wins titles every other year.
The Knicks have not boasted a top-five player in the league since Clyde Frazier put down the Ostrich dress shoes, period.
When Bryant dropped 61 in Madison Square Garden and beat the Knicks 126-117, the jig was up. The myth that NYC controls basketball was exploited for the forest it has been since the '80s. The game changed with these 61 points, and it has not been the same since.
The most points scored in MSG being held by a Laker should now confirm that MSG is just an arena like the Omni and the Spectrum were, and that NYC used to be the place where the ballers dwelled.
Listen to Kwame every Monday 4-5:30 p.m. PT as the host of Back Page Sports on www.wpmd.org. Also read previous articles and listen to archived shows at www.kwamefisher.weebly.com.
Keep Reading

Los Angeles Lakers: Like this team?