Final Four 2012: Louisville-Kentucky Rivalry Adds Flair to March Madness
September 15, 2016
As if March Madness couldn't get any more mad, Louisville and Kentucky, two longtime rivals, are playing each other in the Final Four.
It's like the college basketball gods are hoping for anarchy.
March Madness has become the perfect term for the NCAA tournament. It highlights the ups and downs, the upsets, the crazy coaches, the maniacal fans and the general feeling that anything can happen at anytime.
But what do you call March Madness when Louisville and Kentucky play each other? March Madness almost seems like a tranquil way of putting it.
The rivalry has softened to an extent. It's no longer about race. Louisville no longer has to fight for respect academically or socially. But to call this rivalry soft, even now, would be like calling Rambo a hippie. You just don't say such things.
It is still city vs. country in a state some claim cares more about college basketball than the world as we know it. And it pits a scrappy underdog against a huge favorite. Now that's what I'm talking about.
Rick Pitino's Louisville Cardinals come into Saturday's matchup as that team that has somehow gotten to the Final Four without much of an offense. Then there's John Calipari's Kentucky Wildcats, who have all the talent in the world offensively and the athleticism and skill to be just as disruptive defensively.
Make no mistake about it: If Kentucky somehow finds a way to lose to Louisville, Wildcats fans will never hear the end of it. They will have to move out of the state to block out the abuse. And, even then, I wouldn't be surprised if Cardinals fans followed them out of state just to badger them some more. Because in this rivalry normalcy goes out the window, and every win and loss brings endless joy and endless sorrow, respectively.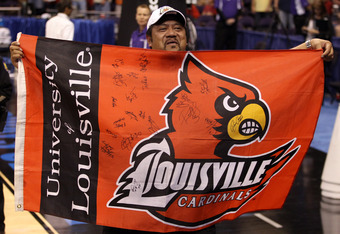 Christian Petersen/Getty Images
My suggestion? Watch Louisville vs. Kentucky in the comfort of your home. If you live in Kentucky, or in the city of New Orleans, run as fast as you can right now and never look back.
Because you haven't seen madness until you see the fans of Louisville and Kentucky after the game on Saturday.
It's the kind of thing that gives March Madness a new name.
Follow me on Twitter. We can talk about Louisville vs. Kentucky.