Why the St. Louis Rams Will Be Even Better in 2012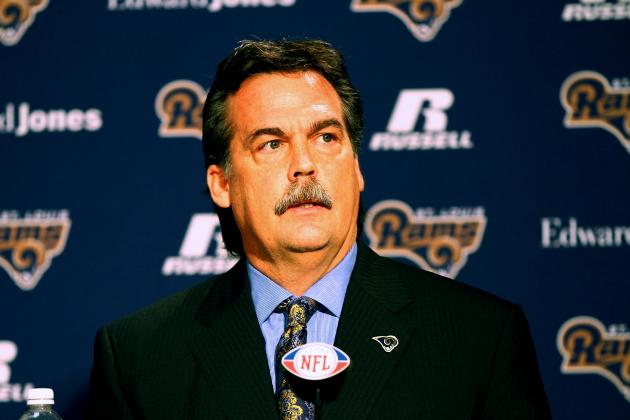 Dilip Vishwanat/Getty Images

After witnessing just 15 wins over the last five years, the average St. Louis Rams fan is struggling to find a reason why they should follow the team in 2012.
Life is short. There are far too many productive things to do on a Sunday in October. A nice afternoon is not worth wasting on a football team that not only struggles to win, but struggles to be even remotely entertaining.
The St. Louis offense scored just 16 touchdowns in 2011. Five of those touchdowns came in two games (New Orleans, San Francisco), leaving just 11 touchdowns for the other 14 painfully boring games.
And while the defense has a considerable amount of young talent, they did little to help the cause last season after finishing with the second-worst run defense in the NFL.
To make matters worse, owner Stan Kroenke and the city of St. Louis are squabbling over stadium lease issues, which has, unsurprisingly, fueled speculation regarding a possible relocation to Los Angeles.
So with the Rams playing horribly inept football, combined with the very future of the franchise coming into question, it's hard to condemn the self-loathing Rams fans.
Honestly, no one can blame a fan for not wanting to watch the Rams during the upcoming season. After all, there's no guarantee that they'll show any significant improvements whatsoever.
But after an offseason full of radical changes, there's still a good chance that the 2012 Rams will have much more to offer.
Begin Slideshow

»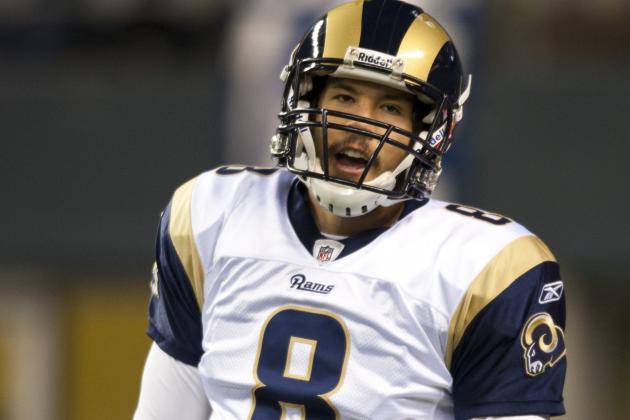 Jay Drowns/Getty Images

It's rare when a player walks onto the field as a rookie and lights it up on the very first day.
Players who enjoy immediate success are the exception, not the rule.
Typically, even the most dominate players in the NFL must go through a learning curve that lasts two or three seasons. It's just a reality of the game.
One of the only benefits of the Rams' losing ways has been the valuable draft picks, which have produced a group of young players who are loaded with raw talent and sky-high potential.
Sam Bradford, Robert Quinn, Lance Kendricks, Rodger Saffold and even Jason Smith are all extraordinary talents who haven't had a the chance to fully develop.
All of those players have the physical tools to succeed, but it has not happened yet for a variety of reasons, such as coaching, environment and injuries.
Despite the poor production, the Rams have plenty of talent already on the roster. If these players are put into a favorable situation, then the results will be unreal.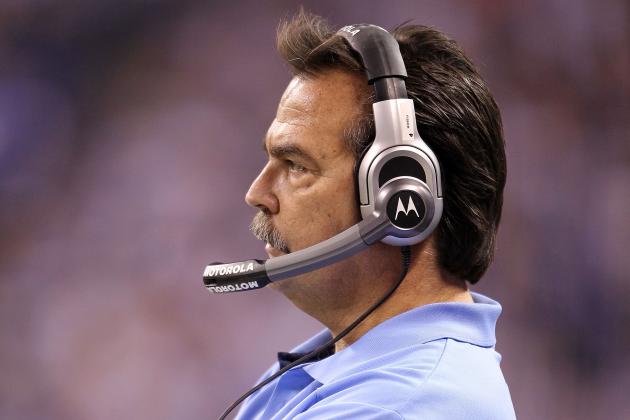 Andy Lyons/Getty Images

Many fans are expecting the team to improve through both the draft and free agency, and while those avenues are vital towards reshaping the team, the biggest offseason acquisition has been the new coaching staff.
A roster loaded with Pro Bowl-caliber talent would most likely struggle under the guidance of a poor coaching staff, but a roster with average talent can perform at a respectable level with an incredible group of coaches.
Jeff Fisher is the highlight of the staff due to his 17 years of head coaching experience, including a trip to the Super Bowl in 1999.
Brian Schottenheimer, the offensive coordinator, has experience working with young quarterbacks, which will certainly benefit Sam Bradford.
Schottenheimer's latest project, New York Jets quarterback Mark Sanchez, has not been a total success. However, he was the quarterback coach of the San Diego Chargers from 2002 to 2005 and played a role in the development of star quarterbacks Drew Brees and Philip Rivers, so he's clearly knowledgeable of the position.
Dave McGinnis was hired as the assistant head coach, but he will most likely be filling in for the suspended Gregg Williams as the team's defensive coordinator.
McGinnis has a defensive background, as well as experience as a head coach and defensive coordinator, so he'll be more than capable of running Fisher's defense.
And the other coaches, such as defensive line coach Mike Waufle and defensive backs coach Chuck Cecil, are widely respected throughout the league and will strive toward building a tough and competent football team.
At the very least, it will be interesting to see what kind of new mindset the team will possess throughout the upcoming season.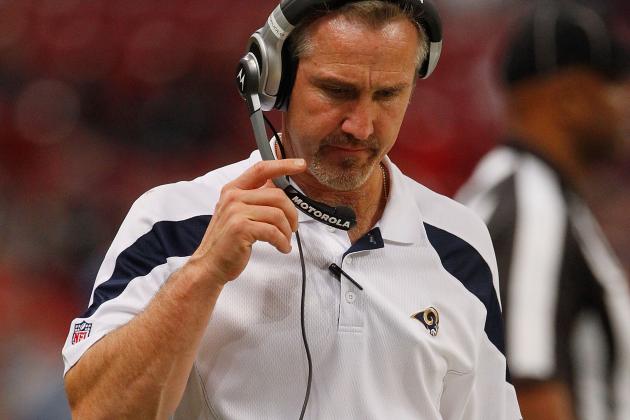 Whitney Curtis/Getty Images

"No More Cowardly Football" refers to the team's actions both on and off the field.
Former head coach Steve Spagnuolo and former general manager Billy Devaney loved to play it safe. Some might even say they took a cowardly approach.
Spagnuolo was notorious for "playing not to lose," as oppose to playing to win.
If the Rams claimed even the slightest lead over an opponent, they would completely abandon the pass and steer clear of even the most minute risks, such as passing on third down.
By the same token, Devaney refused to gamble on draft day. He made a living on picking the "safe" player rather than the prospect with greater potential. The results were usually disappointing.
Also, both Devaney and Spagnuolo refused to gamble on players with character concerns, regardless of the upside.
But now that head coach Jeff Fisher is running the team, there's bound to be a change in philosophy.
Fisher has been a head coach for 17 seasons. He knows when a lead is safe, he knows when risks are appropriate and he certainly knows how to handle players with attitudes.
These changes will also be visible on the field.
Last season, the players certainly displayed a consistent effort on the gridiron, but it rarely translated into tangible success.
The team totally lacked confidence and comfort. In other words, they appeared to be playing scared, which is not surprising given the leadership.
However, with the new regime in place, the players will have a chance to regain their confidence and win football games.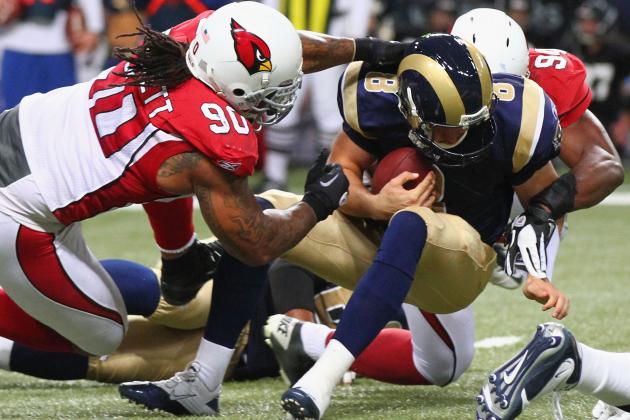 Dilip Vishwanat/Getty Images

The 2008 Detroit Lions finished with an 0-16 record, but they just enjoyed a playoff appearance last season.
The Cleveland Browns are generally viewed as one of the worst teams in the NFL, but they've experienced winning football as recently as 2008 (10-6 record).
Much like the Browns, the Washington Redskins are consistent losers, yet they had a winning season in 2007 (9-7 record).
Even the Minnesota Vikings were in the NFC Championship game just two short years ago.
At some point, regardless of who's in charge or which players are on the field, an NFL team has to snap out of it and put together a winning season.
The St. Louis Rams have not had a winning season since 2003. They finished with an 8-8 record in 2004 and 2006, but they haven't had a winning campaign in nearly a decade.
At some point, even if it's just an insane fluke, the Rams will stop losing and stumble their way into the playoffs.
It might not be in 2012, or even 2013, but it has to happen eventually.
If you're a Rams fan and you decide to take the season off in order to create more productive Sundays, then there's a chance that you'll miss out on the team accidentally succeeding.
At this point, the Rams are tied for the best record in the NFL at 0-0. Who knows what could happen next?