5 Reasons to Be Optimistic About the Baltimore Orioles in 2012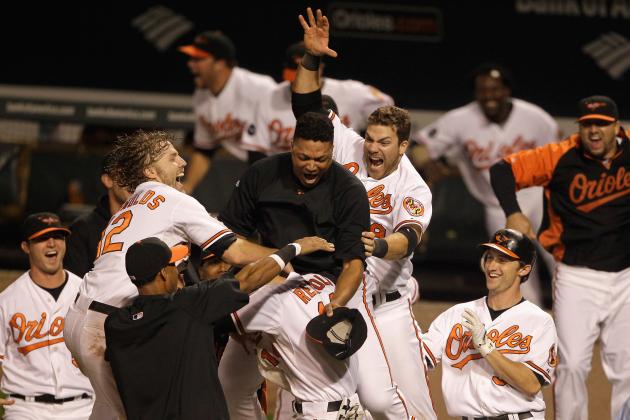 Rob Carr/Getty Images

The Baltimore Orioles haven't had much to say in the past 15 years. It's been year after year of futility for owner Peter Angelos and the Orioles organization.
But 2012 is a new season, and the team and its fans should be optimistic for this year.
I'm not saying this team is going to win the World Series or even make it to the postseason.
However, the team has been making strides in improving. After realizing that signing aging veterans like Derrek Lee and Vladimir Guerrero to one-year deals hasn't worked, the team is getting much younger—it has a solid core of players locked for several years, and it has made several international signings to help out this ballclub immediately.
Here are five reasons why Orioles fans should believe this organization is turning the corner.
Begin Slideshow

»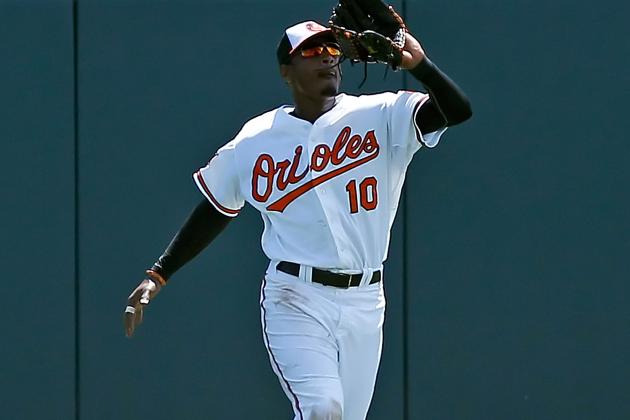 J. Meric/Getty Images

Adam Jones has become a force within Baltimore's lineup. It's take a few years, but Jones has done well.
Last season, he recorded a .280 batting average, and had career highs in home runs (25), RBI (83), doubles (26) and stolen bases (12).
Jones does what he can to drive in runs and get runners home (or at least closer to home). He led the league in sacrifice flies, with 12.
Best of all, he's only 26 and is locked for another two years with the team, which means the Orioles should keep him as the prime of his career begins.
What Adam Jones needs to improve on, though, is his defense. While he is a former Gold Glove winner, he led all American League outfielders in errors with eight.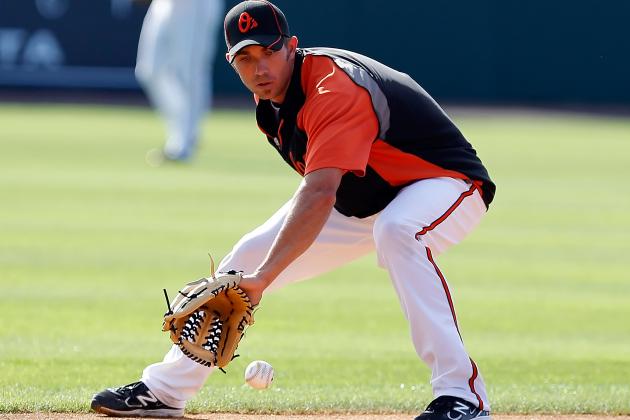 J. Meric/Getty Images

J.J. Hardy is another player who has improved significantly.
The Orioles traded for him in December of 2010 from the Minnesota Twins, and at first glance, it didn't seem like a wise move.
Hardy hit 26 home runs in 2007, and 24 in 2008 when he played for the Milwaukee Brewers. For a shortstop, he showed an impressive amount of power in his bat.
However, his power seemed to decline. In 2009, he only managed to hit 11 homers, and recorded a .229 batting average. He performed so poorly that he was demoted to Triple-A.
The Brewers traded him to the Twins soon after. His average rose back to .269, but he hit just six home runs. It seemed like the pop in his bat was gone.
But playing for Baltimore has revitalized Hardy's career. He hit a career-high 30 home runs (10th-most in the American League) in 129 games. He also had 80 RBI, and a .269 batting average.
The Orioles rewarded him with a three-year contract.
Now, at 29, he is in the middle of his prime, which means similar, if not better numbers should be expected.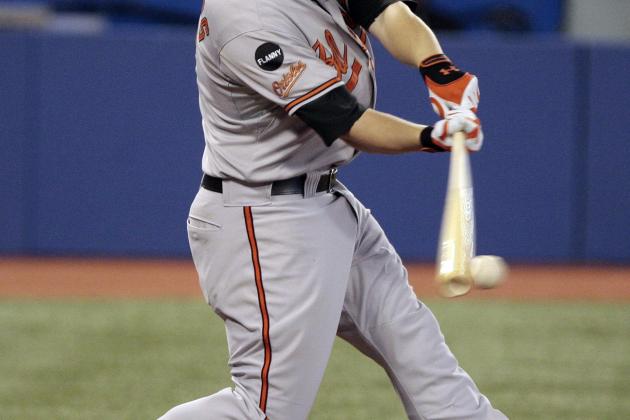 Abelimages/Getty Images

Mark Reynolds is not a contact player. Mark Reynolds is not known for his fielding at the hot corner. Mark Reynolds might record 200-plus strikeouts in one season alone.
However, Reynolds has one thing more than than anyone else on this Orioles team: power.
That's why the Orioles traded for him in December of 2010. The team needed power and a player to cover the third base position. They certainly got that.
In 2011, Reynolds may have struck out 196 times, and recorded a .221 batting average, but his numbers in most categories improved from the year before in Arizona.
He had 37 home runs, (fourth-most in the American League), and drove in 86 runs.
Reynolds is still rather young, at 28 years old, which means he still has many years to continue delivering in the middle of the lineup.
This is the final year of his contract, although the Orioles do have a club option for 2013, so they have some flexibility as to how they want handle him when the season is over.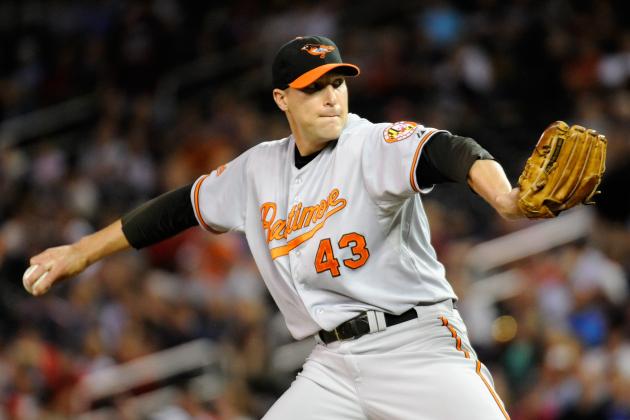 Hannah Foslien/Getty Images

It may not be Rafael Soriano/David Robertson/Mariano Rivera, like the New York Yankees.
However, the setup/closer combo of Matt Lindstrom/Kevin Gregg/Jim Johnson is still pretty solid.
Lindstrom was traded from the Rockies this offseason, along with Jason Hammel, in exchange for starter Jeremy Guthrie.
Lindstrom had a solid 2011 run in Colorado. In 63 appearances, he recorded a career-best 3.00 ERA, and allowed just 18 earned runs over 54 innings. He also converted two saves in five opportunities.
He has some experience as a closer—having done so for Florida in 2009, and Houston in 2010.
Kevin Gregg was the closer for the Orioles last year. In 29 opportunities, he recorded 22 saves. He made 63 appearances, and recorded a 4.37 ERA over 59.2 innings.
This year, he'll be used as a setup man. However, should Jim Johnson struggle or go down with an injury, Gregg would likely be the first to close games for the team.
Speaking of Jim Johnson, he'll be the closer for the Orioles this season.
He was briefly at one point in 2009, but that didn't work out so well. However, in 2011 he performed very well.
He made 69 appearances last season, recording a 2.67 ERA over 91 innings, and picked up six wins. He also converted nine saves in 14 opportunities.
It's a very solid combination, and these three players will be looking to help the Orioles keep leads (or at least, if down, keep it close) late in the game.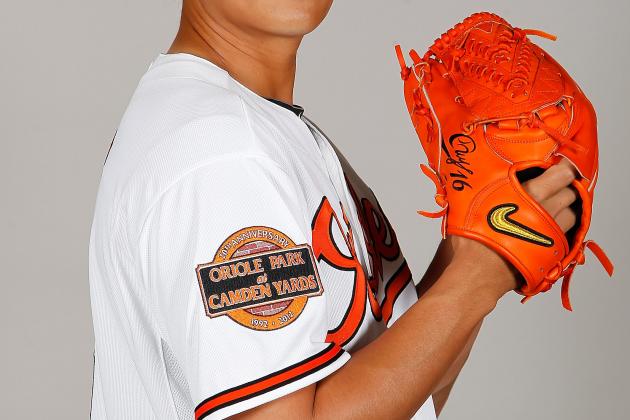 J. Meric/Getty Images

Wei-Yin Chen has never pitched in the United States before, but he has been fantastic in Japan.
Chen has been pitching for the Chunichi Dragons of Nippon Professional Baseball for the last six years. He's 36-30, and has recorded 520 strikeouts and a 2.59 overall ERA there.
In 2009, he captured the NPB Eastern League's ERA title. His 1.54 ERA was the lowest ERA in NPB since 1968.
His impressive resume caught the eye of the Orioles and he signed a three-year contract with the team.
Chen, a left-handed pitcher, has some power and a good pitching repertoire. His fastball can top out at 96 MPH, though it usually hangs around 90-92, and he commands it very well. He also boasts a slider that hits in the mid-80s, and a developing forkball, which should help in getting plenty of ground ball outs.
Expect Chen to start somewhere within the middle of the rotation, and he'll be a pitcher to look out for as the season progresses.