NFL Predictions: Ray Lewis & 10 Aging Stars Who Can Still Play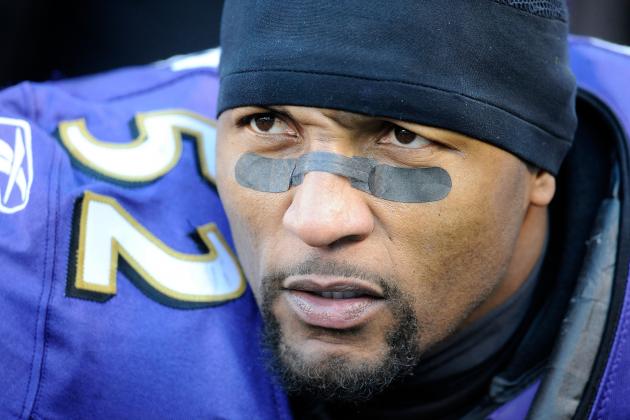 Patrick McDermott/Getty Images

With the average career of an NFL athlete being anywhere from three to six years, according to NFL Commissioner Roger Goodell, it takes a special something to be able to pull off an outstanding 12, 13, or even 14 year career. This being said, as a disclaimer, no kickers have made this list due to perks they receive from NFL rule makers and the low physicality of their positions which gives them unnatural longevity in the violent sport we call American Football.
The players that made this list are names that most will know, even if they are a moderate onlooker to the sport. These men have put life and limb on the line the line for as many as 16 years and are still going strong and will continue to go strong well into what is advanced age by NFL standards.
Begin Slideshow

»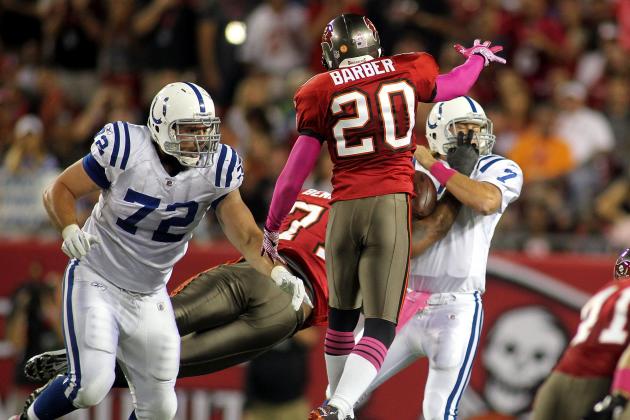 Marc Serota/Getty Images

Unlike his brother Tiki, Ronde has lasted 16 years in the NFL, starting every game since 2000. This longevity earned Barber the longest active streak by a non-kicker, a record he shares with London Fletcher, formally of the Washington Redskins.
Barber also holds five Pro Bowl selections, a Super Bowl ring (XXXVII), a place on the NFL's 2000 All-Decade team, most consecutive starts and sacks by a cornerback and holds the all-time record for interceptions by a Tampa Bay Buccaneer. Pretty impressive resume.
Most impressive though, is that over the last four years Barber's productivity is matching that of his first years in the league. Last season, Barber recorded 79 total tackles, a sack, a safety and three interceptions. To top this all off, Barber has been virtually bulletproof in a league where season-ending injuries are the norm. Again, he hasn't missed a game since 1997, his first year in the league.
If Barber continues to produce numbers like this, it would come as no surprise to me, or anyone else, that he will be around for a few more years as the Bucs try to become the dominate force they once were.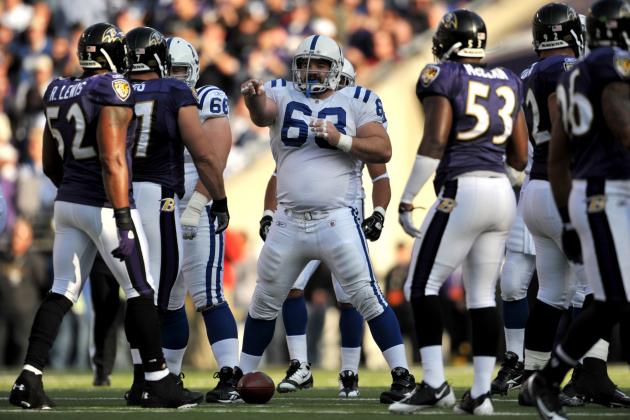 Larry French/Getty Images

Some thought the 36-year-old veteran center would either follow Peyton Manning or retire after Manning and the Colts went their separate ways at the beginning of March. This is not the case however. Saturday is now with the Packers, a move prompted by the Colts post-Peyton overhaul.
Saturday isn't in Green Bay to slink away and die though. He's there to make a serious impact with a team that is still a serious Super Bowl contender following their late season upset to the Giants.
Saturday brings 188 career starts, five Pro Bowls, a Super Bowl ring (XLI), and 2007's NFL Alumni Offensive Lineman of the Year Award.
Furthermore, Saturday has shown incredible durability despite an injury in 2008 that cut his season down to 12 games and an injury in 2004 that brought him down to 14 games.
Saturday's resilience, leadership and 13 years of experience will make the Packers an even better team and chances are, that better team will give Saturday a shot at another ring.
Saturday's contract with the Packer's is set to expire in two years, but I wouldn't be surprised if he stays in the league for at least three to five more years as long he stays injury free.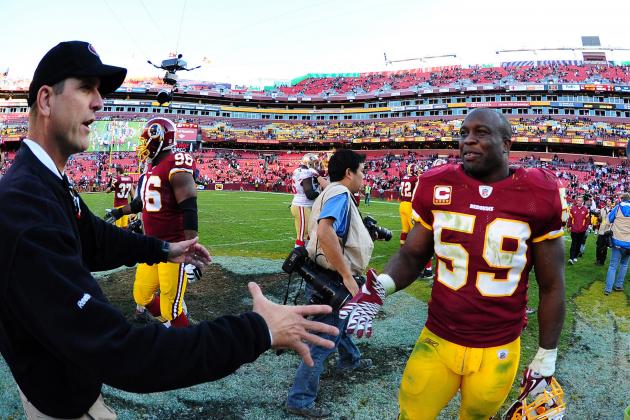 Scott Cunningham/Getty Images

The fact that a man that's closer to forty than twenty lead the league in combined tackles last season should be enough to convince anyone that at 36, London Fletcher is in no way about to retire. On top of that, Fletcher hasn't missed a game since 2000, tying him with Ronde Barber for most consecutive games played by a non-kicker.
Fletcher is coming off of a 166-tackle season including 1.5 sacks and two interceptions, making this the most productive season of his career.
For whatever reason, Washington decided to let Fletcher go to unrestricted free agency. This could be a stumbling block for Fletcher's career, as most teams are in the process of making their teams younger, not signing 14-year veterans.
If Fletcher can be picked up before teams report to training camp, then he could be a valuable asset to any team. He could give both youthful output on the field, and veteran guidance on the sidelines and in the locker room.
As long as Fletcher gets signed and stays healthy, I would not be surprised if Fletcher becomes a 20-year veteran, especially if he continues to put up numbers like he did this past season.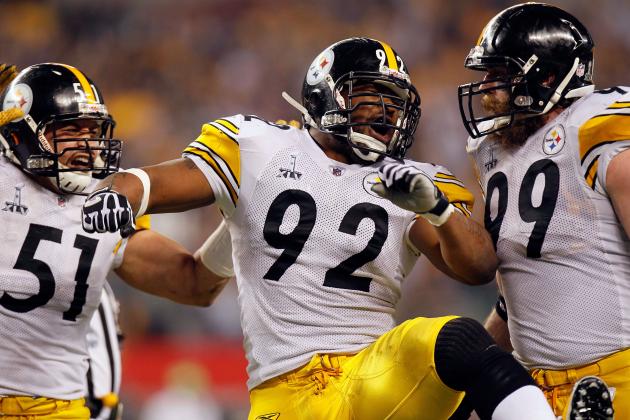 Kevin C. Cox/Getty Images

Now I know that the recent rules regarding player safety, and restrictions on tackling, have caused fans, and Farrior himself, to be skeptical on if he will retire or not.
I believe this is nonsense. James Farrior is one of the most feared and respected defensive players this game has ever seen, and to say that a rule change is what's going to end 15 years of defensive dominance is insane, and this is coming from a Cleveland fan.
Granted, Farrior has seen a few injuries and penalties in his time playing, but his numbers are still great and he shows no sign of slowing down. Farrior is coming off of a 14-game season where he racked up 78 total tackles and a pair of interceptions. Relatively low numbers compared to what he normally puts up, but that's what happens when you play like he does; you get banged up and you get suspended.
Farrior may be pushing 40, but being only one season removed from a 109 tackle and six sack season, says a lot about what Farrior has left to offer.
I can see Farrior staying in the league into his 40s as long as health and Commissioner Roger Goodell don't take him out of action.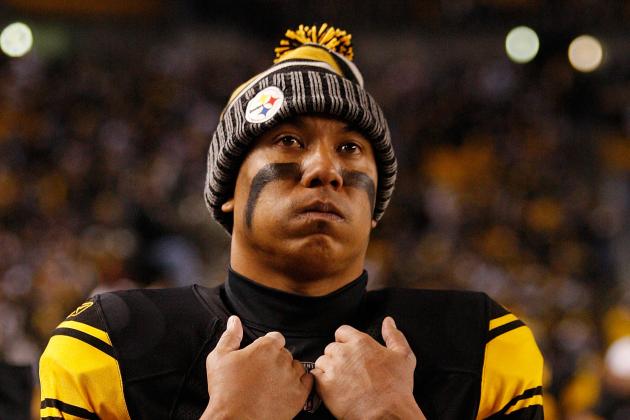 Jared Wickerham/Getty Images
He's got more games that the Steelers didn't let him play
I strongly believe that the only reason Hines Ward isn't still an active NFL player is because the Steelers let him go. Ward made a valid point in his retirement speech; he will forever be a Pittsburgh Steeler and can't see himself playing for any other team and I respect that.
That being said, Ward still has some games left in him, despite having a rough last season, playing in 15 games and starting only nine. Some also may argue that Ward's numbers haven't been there for a few years either, but I feel that is chalked up to the fact that the Steelers have brought in other younger targets for Ben Roethlisberger to throw to.
If Ward were to come out of retirement and sign with a lesser team where he would be a bigger part of the offense again, then it would be no question that he would have a few years left in him. Sadly, I don't see the three-time Steeler MVP, who went to three Super Bowls with the club, getting over the trauma of getting cut by the only team he has ever played for.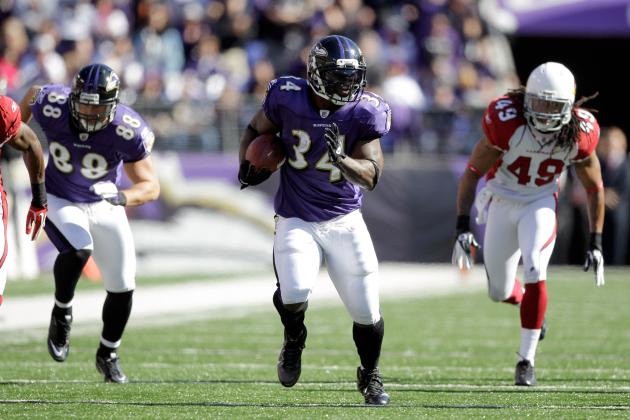 Rob Carr/Getty Images

Ricky Williams is a prime example of an athlete whose success was ruined by his past. Williams' entire career, excluding his most recent stint in the league, has been tumultuous at best. His history of being an eccentric marijuana smoker scarred his image early on while he was still playing for the Dolphins, despite the impressive numbers he was putting up on the field.
Throughout Williams' career, he has rushed for 1,000 yards or more five times and is a member of the 10,000 yard club. If Williams hadn't landed on the Ravens, who already have All-Pro running back Ray Rice, then Williams could have easily stepped into the role as the lead rusher and been around for at least five or so more seasons.
Williams did end up on the Ravens though, and as a result was reduced to a secondary role with the team. This very well could have told Williams that it was time to move on, despite still being able to play. Williams newfound maturity and mindset could have brought him back as a serious threat on the ground, but instead Williams decided to walk away from the game and retire.
Should Williams get back in the league, though I doubt he will, he would be able to find work and reestablish himself as a worthwhile runner.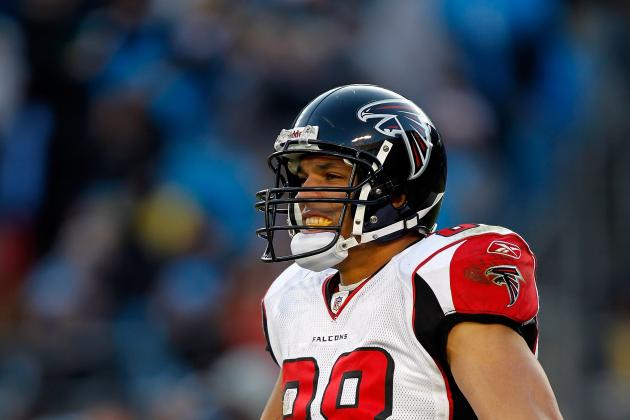 Streeter Lecka/Getty Images

Tony Gonzalez making this list should come as no surprise to anybody. Gonzalez is a 12- time Pro Bowler, nine-time All-Pro, a member of the 2000's All-Decade Team and second in all-time catches behind none other than Jerry Rice.
Fresh off an 875-yard season with seven touchdowns, Gonzales is showing now signs of shutting down.
He has been named to the Pro Bowl every year since 1999 except 2009, his first season with the Falcons. Furthermore, Gonzalez has missed only two games his entire career and has recorded four seasons with 1,000 or more yards receiving, most recently in 2008 (1,058).
Gonzalez is in no way going to retire anytime soon and will probably see play into his 40s. Being on the Falcons also places Gonzalez in the running for a Super Bowl, an achievement that has eluded him his entire career. It will be interesting to see if Gonzalez will stay around long enough to earn a ring or if speculation is correct and Gonzalez is fixing to retire.
What strikes down these retirement talks the best is the fact that Gonzalez signed a one- year contract extension worth $7 million. Even if Gonzalez's time with the Falcons ends after this upcoming season, I can see him being picked up immediately and still have the ability to perform at a Pro-Bowl level.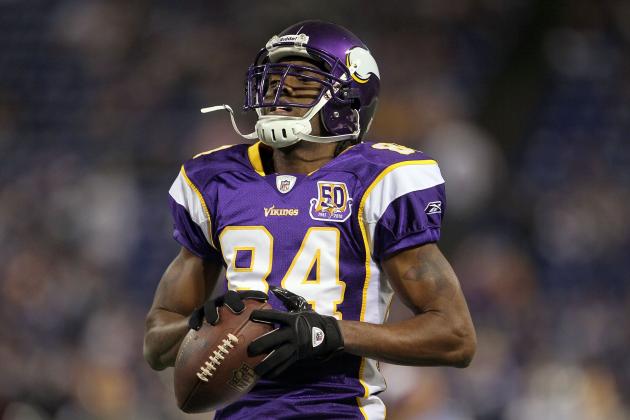 Jeff Gross/Getty Images
Viking? Raider? Pat? Viking? Titan? 49er? It doesn't matter, Moss is here to play
Now that Randy decided that he still wants to play, the league better be trembling in fear because the 49ers are now an even more serious contender for a championship. Between a high-powered, star-studded offense and a bone crushing defense, the 49ers will surely have an excellent shot at getting Moss his first ring.
The last time Moss had a full season with a team, 2009 with the Patriots, he managed to rack up 1,264 yards on 83 receptions, giving him his 10th 1,000-yard season. Despite being bounced between three different teams over 16 games, Moss still managed to rack up 390 yards with five touchdowns. This is pretty good considering the quarterbacks he had throwing to him.
Although some would call Moss a one trick pony with his excellence in down-field play, he is still an extremely valuable offensive cog on any team that he finds himself on.
Now that Alex Smith is throwing the ball to him along with being surrounded by the rest of the 49ers offense, Moss will settle right in and stay settled in for at least three to five more years as long as his health and production stay strong.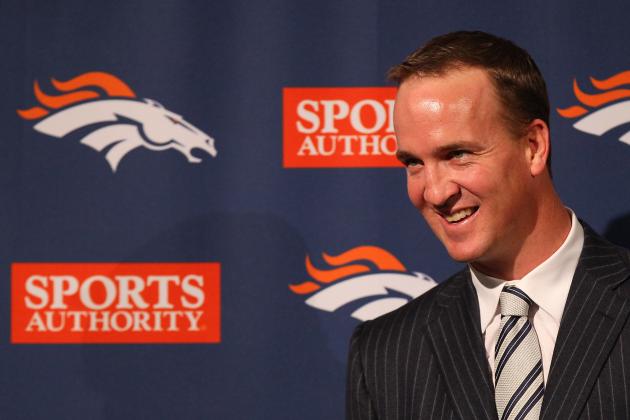 Justin Edmonds/Getty Images

This is another NFL superstar who's presence on this list should not surprise anybody. At 36, Peyton Manning is still in top form to win another ring.
Some are skeptical as to how well Manning will do this season or if his neck will hold up well enough for him to take his new team, the Denver Broncos, to a championship. There is no need to worry though, Manning is back and will continue to dominate the league, no questions asked.
Manning carries with him a 64.9 percent completion rating along with throwing for over 4,000 yards for all but three of his 14 seasons in the league. Needless to say, he's done pretty well for himself. To make things better, in Manning's last season, 2010, he passed for a career- high 4,700 yards resulting in 33 touchdowns, the second highest total of his career.
Not much more needs to be said about the 6'5" quarterback with a laser rocket arm. The numbers and his reputation says it all. Manning is back and, as long as his neck holds up, he will be around well into his 40s. I won't be surprised if he catches up to or surpasses his little brother's ring collection.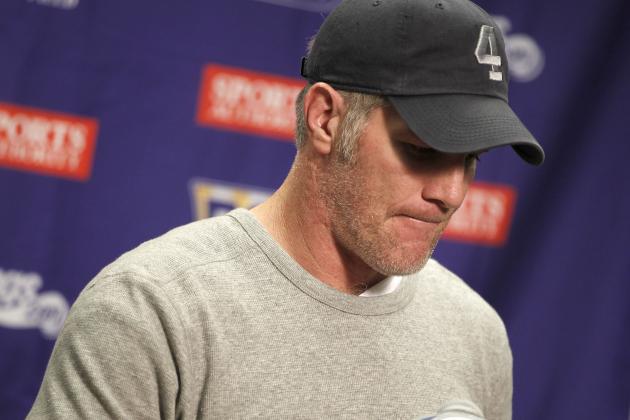 Gregory Shamus/Getty Images
HE'S BACK!!!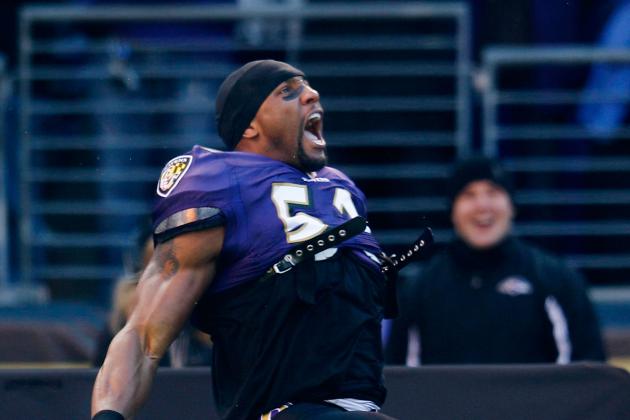 Rob Carr/Getty Images
Nothing more should have to be said. Ray Lewis is not going anywhere.
Here it is guys, the No. 1 aging player that will continue being a decisive factor in every game he is involved in: Ray Lewis. Some might argue that he is getting close to calling it quits and that maybe Manning should be first on the list, but no. Ray Lewis is here and he's not going anywhere.
Now that Lewis is over a nagging toe injury, he's going to be back in business for the Ravens and just as hungry to maim and dehumanize any and all that stand before him and his dominate Baltimore defense.
Despite missing four games last season, Lewis still managed to rack up 95 tackles and a pair of sacks. Rewind to the season before and in 16 games Lewis manage to deliver 139 tackles with two sacks. That's pretty impressive for a player who's been in the league for 17 seasons.
Even though Lewis already has a ring, year in and year out the Raven's fight tooth and nail to get back into the Super Bowl to get not only Lewis another ring, but to get players like Ed Reed and Terrell Suggs a ring as well.
Lewis is a born competitor who will stop at nothing in order to succeed and conquer the NFL one down at a time. I would not be surprised to see Lewis around when he's 40 or 41, that is if he doesn't get another ring. I have a strong feeling that if he were to make it all the way one more time, he would see that as his cue and retire.