Final Four 2012: Ranking the Four Coaches Remaining in the Tourney
March 29, 2012

Kevin C. Cox/Getty Images
There's been a lot of talk about all of the NBA talent in this year's Final Four, and the four blue-blood programs that will duke it out for the national championship.
But let's not forget about the coaches who will be guiding their teams as the NCAA tournament concludes. The four coaches left are as good as they get in the business.
So let's do what we do around these parts, which is rank 'em—considering both career achievements and the coaching job they've done this year.
4. Thad Matta, Ohio State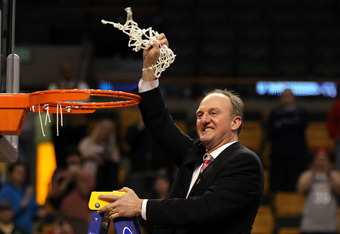 Jim Rogash/Getty Images
Ranking fourth on this list is no joke, believe me. Matta has a winning record of 323-96 with stops at Butler, Xavier and Ohio State. The Buckeyes were the NCAA runners-up during the 2006-07 season, falling to Florida in the championship game.
Matta has guided a very talented Ohio State to a place they probably should be. He's done an excellent job in that regard, but it isn't quite as impressive as some others on this list.
3. John Calipari, Kentucky
Kevin C. Cox/Getty Images
You can simply label Calipari a master recruiter and mediocre coach if you like, but you'd be terribly wrong. Coach Cal has a team of blue chippers playing unselfish, team basketball, and they are as good a defensive team you'll find in the country.
On a team with the amount of sheer talent this one has, that's no small task.
Calipari has accumulated a 503-152 record in stops at UMass, Memphis and Kentucky. He's reached two championship games, three Final Fours and seven Elite Eights, but he's never won that elusive national championship.
Not only have the two guys ahead of him on this list won a national championship, but I believe they've done more with less this season. But believe me, I've been incredibly impressed with how Calipari has this Kentucky team playing this year. I think he'll get his first national championship this year.
2. Bill Self, Kansas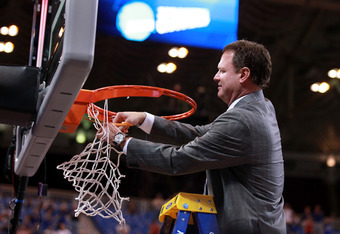 Andy Lyons/Getty Images
Self doesn't have the greatest roster he's ever worked with this year, but he has still guided this team to the Final Four. His work this year, especially with Player of the Year candidate Thomas Robinson, has been pretty special.
Self also has a national championship on his resume, beating Memphis—and Mr. Calipari—for the championship in the 2007-08 season. He has a lifetime 475-157 record in stints with Oral Roberts, Tulsa, Illinois and Kansas.
Self is rather quietly an elite college coach. He doesn't get the airtime of a Calipari, Roy Williams, Coach K or even the guy atop this list, but he's just as good at his craft as them all.
1. Rick Pitino, Louisville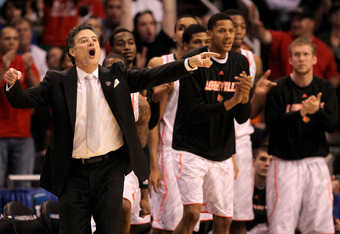 Jamie Squire/Getty Images
Pitino is one of the most brilliant college basketball minds of his generation, period. The fact that he has guided this Louisville team to a Big East tournament championship and Final Four appearance is impressive.
His resume is nothing to sneeze at either. He has posted a 616-217 record with Hawaii, Boston, Providence, Kentucky and Louisville. He's won a national championship, appeared in the Final Four six times and the Elite Eight 10 times.
If Pitino leads this Louisville team past Kentucky, he'll probably be elected the mayor of the city. If they win a national championship, they might name the city Pitinoville.
And frankly, it would be one hell of a coaching job. I don't see it happening but, then again, I didn't see Pitino leading the Cardinals this far, either.
Hit me up on Twitter—my tweets have won a lot since 2009.